The 3 Biggest Mistakes Hikers With Dogs Make
Backpacking with your dogs? Make sure you both stay happy and healthy with this advice from a professional trainer.
Heading out the door? Read this article on the new Outside+ app available now on iOS devices for members! Download the app.
Liz Claflin, a Basecamp member since May, also happens to be a professional dog trainer. We're sure dog owners who hike with their best friends want to be responsible on the trail, but sometimes they just don't know what's best. We asked Liz about the issue and here's what she had to say.
"Backpacking with your dog can be one of life's great joys," she says. "Dogs seem to enjoy traipsing through the woods even more than we do. But we dog owners don't always get it right. Here are some common mistakes backpacking dog owners make, and how to avoid them."
Myth: My dog can poop anywhere in the wilderness and I can leave it there.
Fact: While good dog owners always pick up and pack out their dog's poop on short dayhikes, many backpackers think there are no rules deep in the wilderness. Of course, the same Leave No Trace principles that you follow for yourself apply to dogs. In most environments, this means burying your dog's poop in a 6- to 8-inch deep cathole. This also means you need to pay attention to your dog so you don't miss the deed. While you don't need to interrupt Fido in the act to move him to a pre-dug hole, you do need to dig a hole next to his poop when he is done and bury it properly. If he poops on a solid surface or within 200 feet of a water source or trail, you should move it to an appropriate place and dig a hole there. If you are in an area where regulations require you to pack out your own poop, then you must pack out your dog's, too. Also, try to ensure your dog isn't peeing within 200 feet of water and be prepared to interrupt him and move him farther away if you can.
Myth: If the wilderness area I'm backpacking in allows dogs off-leash, then I never have to leash my dog.
Fact: Being permitted to hike with your dog off-leash is a privilege, not a right, and it can easily be taken away. You should leash your pup every single time you see another dog coming down the trail, even if the other dog is also off-leash. You don't know that other dog and leashing your own dog gives you some control over the greeting. Many dog owners are confused about their dog's body language and misinterpret signs of stress and/or over-arousal for friendliness, which is dangerous. Also, the other dog may be afraid of strange dogs, so having your friendly dog run up excitedly could spook the other dog. Likewise, do not allow your dog to chase any wildlife. Always leash your dog around any wildlife and all pack animals.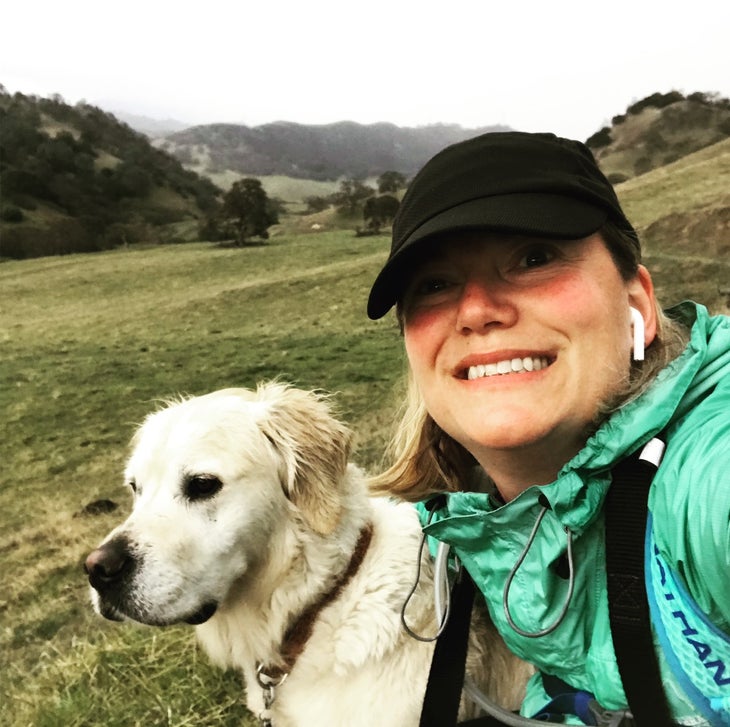 Myth: Dogs just require food and water on backpacking trips.
Fact: Food and water are just the start. At a bare minimum, you should pack first-aid supplies for your dog. Foot and paw pad injuries are the most common trail problems so you might want to consider hiking booties for your dog in particularly rough terrain. In cold weather, your dog needs a climate-appropriate sleep system, just like you do. Trim a cheap foam sleeping mat down to size for your dog (trimming cuts down on weight and bulk). Even with a fur coat, many dogs will become cold at night when the temp drops. Consider a jacket and/or a sleeping bag or quilt, sized for your dog. Lastly, about that food and water. Your dog's caloric needs will go up on a backpacking trip, so pack extra food and feed him at least three meals a day to help spread out the calories and protein. If you are hungry and in need of a meal or snack, your dog probably is, too. If you have to pack in your water, remember that your dog's water needs will also go up significantly. Also remember that your dog is susceptible to water-borne pathogens, too. Filtering water for him is the safest bet.
Editor's note: For a deep dive into training your dog (and yourself) for backpacking, check out our advice.