The Best Hikes in LA
Searching for a dayhike or multi-day trip beyond the Hollywood Hills? The choice is yours. Here are L.A.'s best local hikes.
Photo: Robert_Ford/iStock via Getty Images
Heading out the door? Read this article on the new Outside+ app available now on iOS devices for members! Download the app.
Lights, camera, adventure! Sure, you may have to sit in some traffic to get to the trailhead, but hiking near Los Angeles is a whole different kind of entertainment. Whether you're in town for a warm and sunny weekend or a longtime local, pack your bags and hit the trail (or the beach) for hikes with all the showstoppers: waterfalls, mountains, canyons, lush forests, and ocean views. 
You don't have to be a rugged backpacker or hiking expert to enjoy the trails near Los Angeles. The city is flush with hikes of all levels along the coast and in nearby forests. Beyond the Hollywood Hills and into the San Gabriels, Santa Monica Mountains, and Angeles National Forest – check out these favorite local hikes in and around L.A.
Best Dayhikes Near LA
Swap the crush of the city for scenic views at dayhike-worthy spots in and around L.A.
Best Dayhikes in the City
Griffith Observatory
Elevation Gain: 1,162 feet
This quintessential L.A. hike leads you to the historic Griffith Park Observatory on the south-facing slope of Mount Hollywood. It's a slightly longer option than other trails in Griffith Park, but hikers won't be disappointed with the sweeping views of the Los Angeles basin and the downtown skyline on this route. While there are many ways to reach Griffith Park Observatory, we recommend the Observatory Trail Extended Loop Trail for a slightly longer route. Hit the trail early to avoid the crowds and reap the rewards of a sunrise view from one of the highest points in Los Angeles. 
Brush Canyon Trail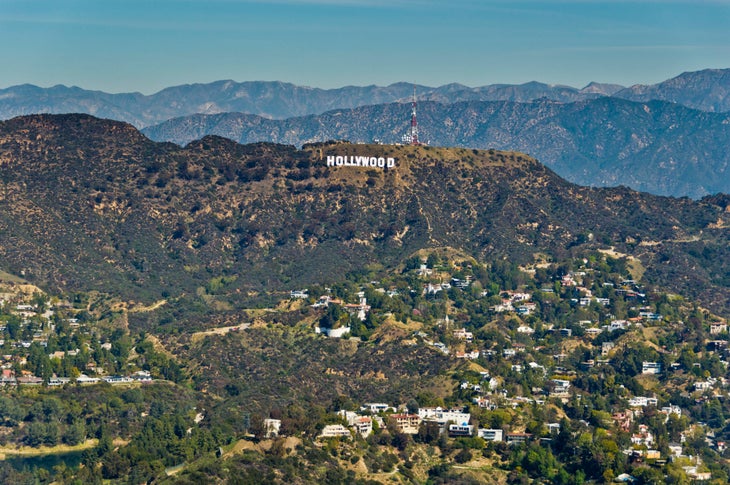 Elevation Gain: 1,622 feet 
Trail Type: Lollipop Loop
While this trail may have more foot traffic than you're looking for, let's get real: No trip to Los Angeles is truly complete without a hike to the Hollywood Sign. This "trail" is more like a well-paved dirt path, but that just means you'll be able to take in the views of the lush Brush Canyon versus watching your feet. Start your climb from the base of Brush Canyon at Griffith Park and watch the environment change from lush oak and sycamore trees to California's shrubby chaparral habitat. The route summits at Mt. Lee, directly behind the iconic white lettering, and offers unbeatable views of downtown Los Angeles along the way. 
Best Dayhikes Outside of LA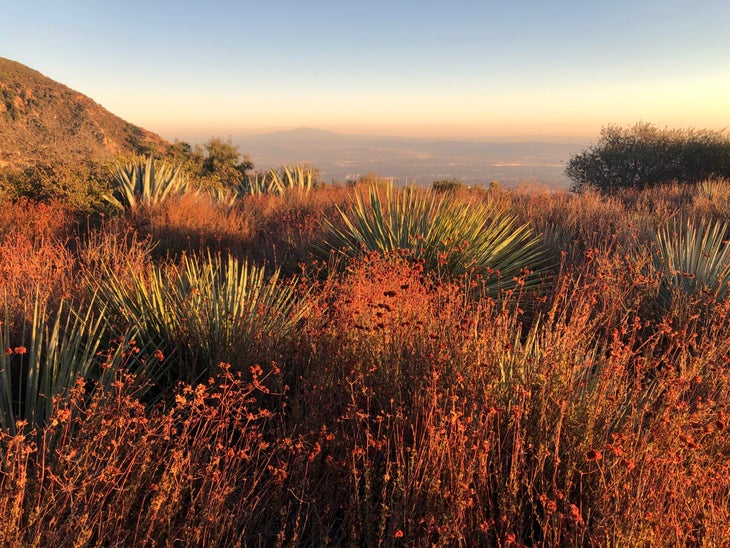 Distance from LA: 30 minutes
Elevation Gain: 1,316 feet
You won't find a larger park in any other city. You heard that right: Topanga State Park, is the world's largest wildland area within the boundaries of a major metro. Expect lots of sunlight on this fire road that doubles as a hiking and biking trail. Minimal shade on the exposed ridgeline and through open fields make this a warm hike. But on clear days you can't beat the sweeping views of the Pacific Ocean, Palos Verdes Peninsula, Catalina Island, and even San Clemente Island.
Mesa Peak Trail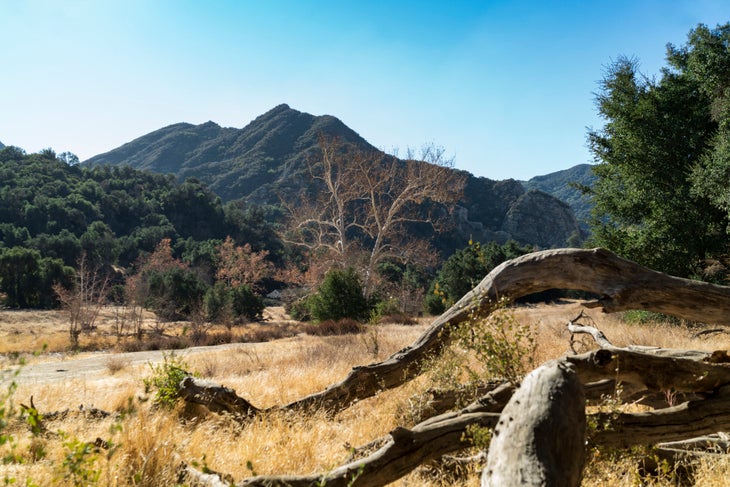 Distance from LA: 1 hour 15 minutes
Elevation Gain: 1,720 feet
No adventure near L.A. is complete until you've hiked the Santa Monica Mountains. A popular spot – Malibu Creek State Park – has a number of trails, with Mesa Peak Trail as a fan favorite. The mostly uphill hike rewards with views of snowcapped mountains on one side and ocean views on the other. While the "end" of this trail doesn't top out at Mesa Peak, you can hike another half mile further to reach the peak before turning back for the trailhead. 
Fall Creek Trail
Distance from LA: 42 minutes
Sometimes called "L.A.'s 70,000-acre backyard", Angeles National Forest on the western edge of the San Gabriel Mountains is a good way to get wild when you only have a day. This two-mile downhill start drops you at the Big Tujunga River. Follow the river north, crossing the ankle-deep water several times along the way, to a tucked-away waterfall that locals say is worth the effort. There's some overgrown brush on this trail, and it's not always the best maintained, but don't let that deter you: You'll savor the solitude.
Best Dayhikes on the Coast
Corral Canyon Loop Trail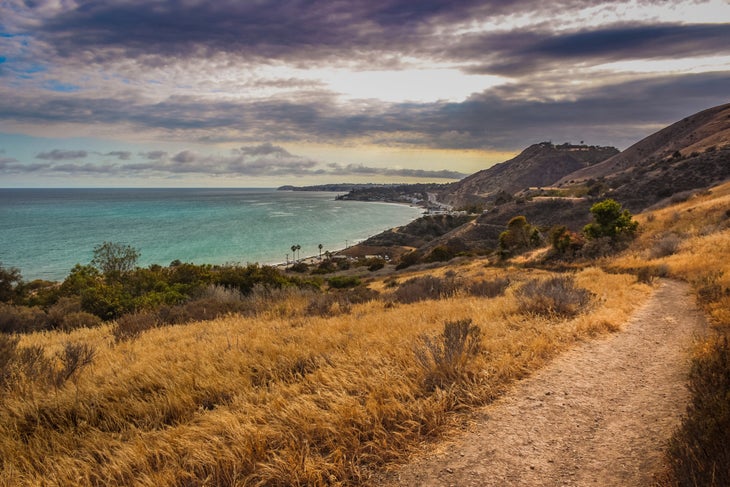 Distance from LA: 58 minutes
Sneak in a quick hike before a day at the beach at this short trail with sweet views. Known for its native bunch grasses and descent onto an ancient marine terrace, Corral Canyon is the last undeveloped canyon in this region. The mostly downhill climb (especially if you head clockwise) takes you through coastal bluff grasslands and coastal sage scrub with ocean views the entire way.
Paradise Cove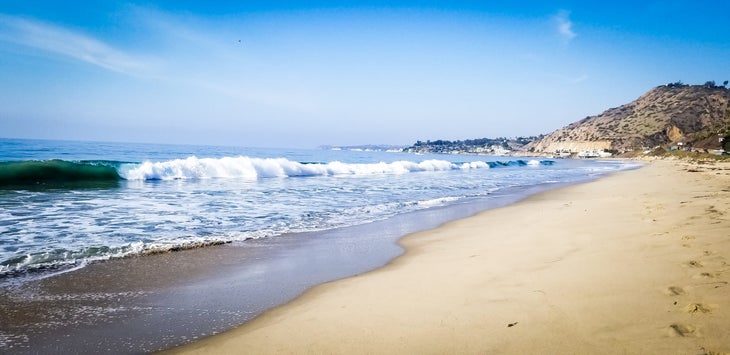 Distance from LA: 1 hour 3 minutes
If you like long walks on the beach, this is your spot. And don't even bring your boots – the trail best traveled barefoot. Along the way, explore exposed tide pools during low tide for an up-close glimpse of sea life. Pro tips: Get to the trailhead early (it's a popular spot) and check the tide schedule as water covers the beach during high tide.
Mugu Peak Trail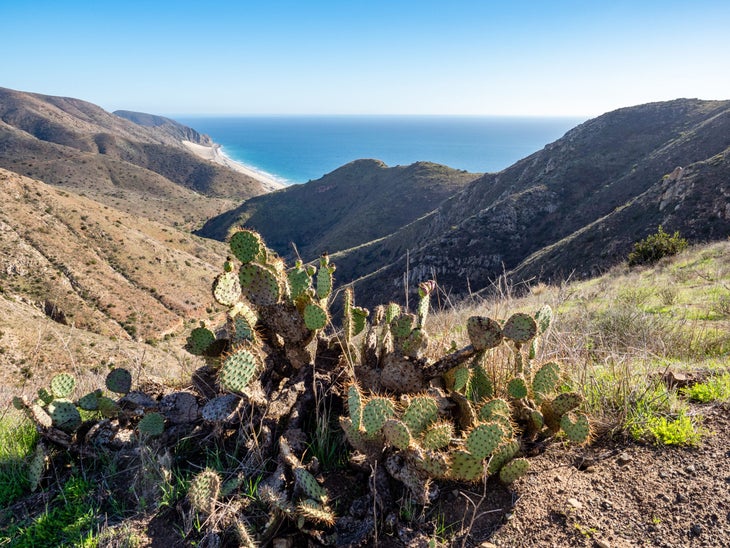 Distance from LA: 1 hour 7 minutes
Elevation Gain: 1,356 feet
Trail Type: Lollipop Loop
Get a birds-eye view of the Malibu coast as you ascend up the Big Sycamore Canyon to the summit of Mugu Peak along the Mugu Peak Trail (or Overlook Trails Loop). Plan this trip in mid-February or March, and you'll trek through wildflowers in full bloom, like purple phacelia, fiery California poppies, and yellow Coreopsis.
Best Dayhikes on the Pacific Crest Trail 
The Pacific Crest Trail – one of America's most famous thru-hikes – is just as enjoyable in smaller segments. Luckily for Los Angeles natives, there are several dayhike options near the city along the PCT.
Cooper Canyon Falls
Distance from LA: 1 hour 10 minutes
Elevation Gain: 1,358 feet
This downhill-heavy route is well-worth the strain on your toes. Your reward: A secluded spot at the base of the tranquil Cooper Canyon Falls and a glimpse of the PCT's beauty. For a shorter hike to the falls, start at Buckhorn Campground and take the Burkhart Trail three miles before doubling back to the trailhead. It's recommended hikers travel this route in the spring as this trail sees heavy snowfall in winter and vegetation peaks once warmer weather arrives.
Vasquez Rocks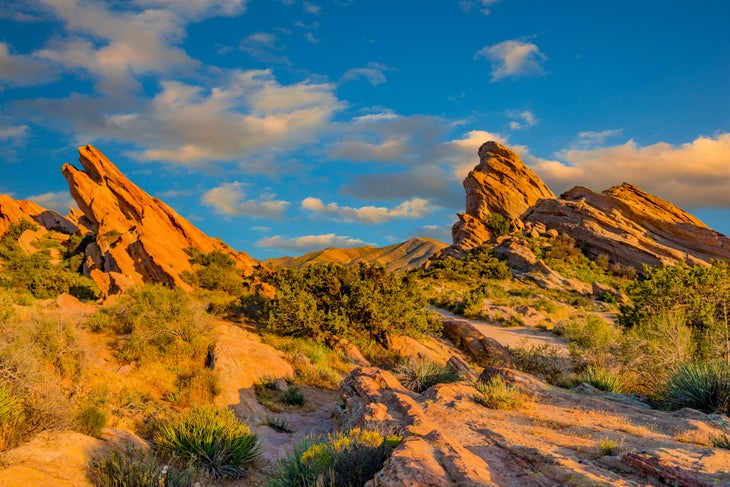 Distance from LA: 48 minutes
Venture out to Vasquez Rocks Natural Area, a memorable and iconic segment of the PCT, to hike among the multi-colored sedimentary rock formations towering 150-feet above the desert floor. Due to its close proximity to Hollywood, you may have already seen Vasquez Rocks in dozens of classic movies and TV shows like Star Trek, Mission: Impossible, and The Twilight Zone. Start your day here early for more solitude or stick around for stunning sunset views that cast a fiery glow on the rocks as the sun dips below the horizon.
Best Dayhikes for Families Near LA
Los Angeles has plenty of hikes well-suited for adventurous families with kids of all ages. Explore one of these local trails with little elevation gain and within 20 minutes from downtown Los Angeles.
Fern Dell Nature Center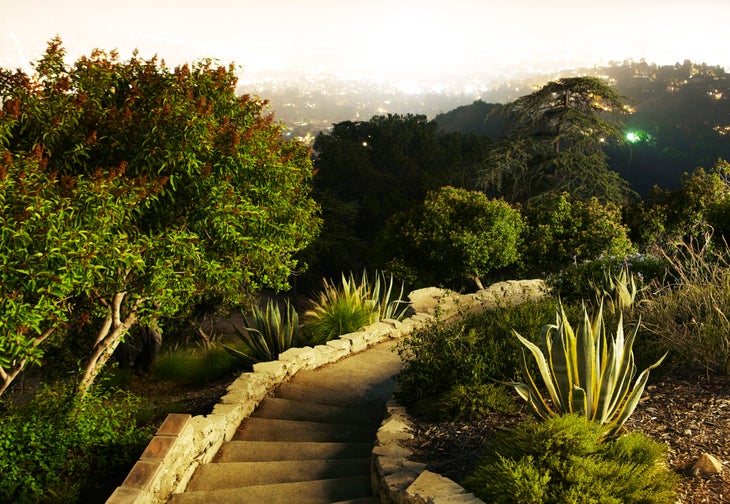 This micro-trail inside L.A.'s popular Griffith Park is perfect for little ones. Developed in the early 1900s, the Ferndell "Nature Museum" is a favorite spot for families to get a bite-sized glimpse of Los Angeles' vast biodiversity on one short hike. The lush walking path winds under the shade of sycamores, through walls of tropical plants, and alongside a trickling stream. Venture further into the park by adding about 2.5 miles onto your hike with a visit up to the Griffith Observatory via the Observatory Loop Trail.
Sycamore Canyon Trail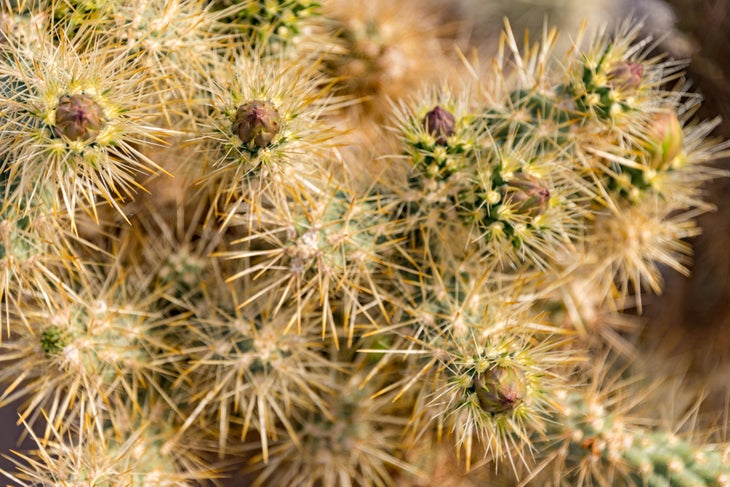 Distance from LA: 20 minutes
Searching for a hike the whole family can handle? Look no further than 20 minutes east of Downtown Los Angeles at the Rose Hills Memorial Park. Kids love cactus-spotting along this short trail where locals claim to also spot deer, rabbits, and coyotes on the regular. The route follows a gradual incline, which peaks about midway through before dropping to a small stream crossing near the turn-around point.
Escondido Falls Trail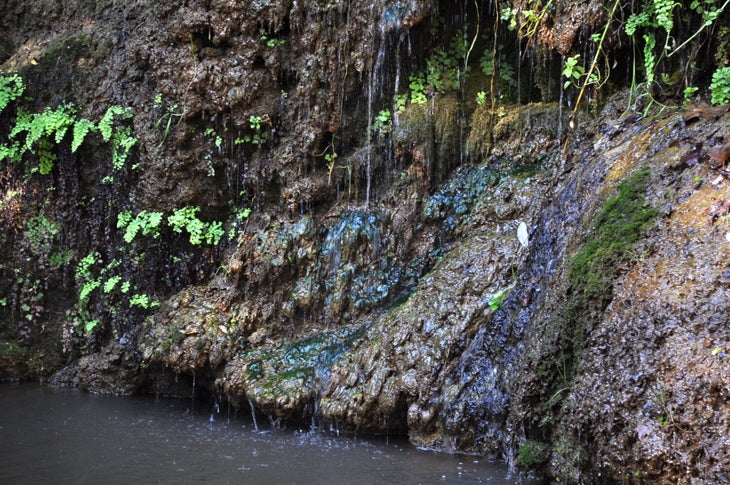 Distance from LA: 58 minutes
Waterfall hikes aren't typically known for their accessibility. But Escondido Canyon Park is a rare exception. Known for its approachable trails and scenic views, Escondido Falls Trail leads to its namesake just one mile into the hike. You'll reach the approachable Lower Escondido Falls first, but for adventurous hikers, a precarious 200-foot elevation gain up the edge of the lower falls (a stretch of rope may be available) leads to the base of Upper Escondido Falls. The payoff is a view of the stunning moss-covered 150-foot upper fall that spills into a calm and swimmable natural pool.
Best Backpacking Trips Near LA
Looking for a longer trail for a weekend getaway near Los Angeles? We've got you covered. Here are six backpacking trails worth exploring outside of city limits.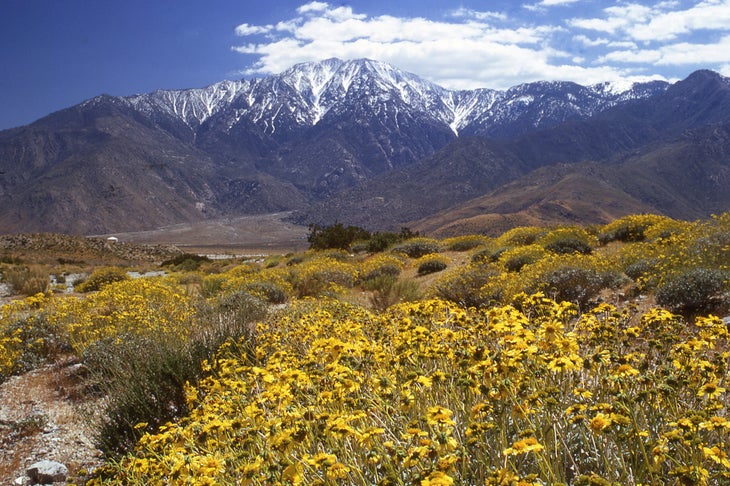 Distance from LA: 2 hours
Elevation Gain: 5,411 feet
Mt. San Gorgonio is a gem of the San Gabriels. But with over 4,500 feet of elevation gain, this trail isn't for the faint of heart. Located in the San Gorgonio Wilderness, its summit clocks in 11,499 feet – the tallest peak in Southern California – and is totally worth the trek to get there. Take the more-popular Vivian Creek Trailhead or the lesser-traveled South Fork route both equally gorgeous. For overnights, grab a permit at the Mill Creek Visitor Center for backcountry favorites like High Creek Camp or Dollar Lake. 
Pacifico Mountain Loop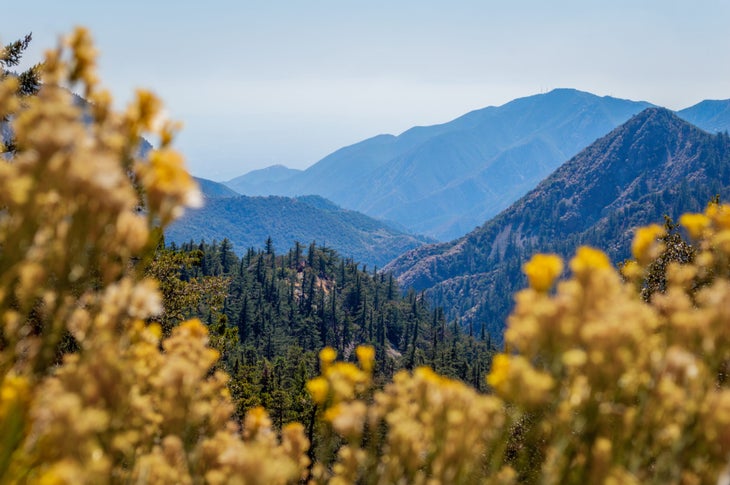 Distance from LA: 1 hour 20 minutes
Elevation Gain: 4,189 feet
Best hiked March through November, this loop offers everything you want in a backpacking trip: endless mountain views, barely-touched backcountry, and sweet, sweet, solitude. Hiking apps might suggest following the fire road, but for a more rugged option, hike this route clockwise and follow turn off onto the PCT at junction point 3. Follow the PCT straight to the summit and kick back at Mount Pacifico Campground (eight first-come, first-served sites) for the night before continuing your loop.
Backbone Trail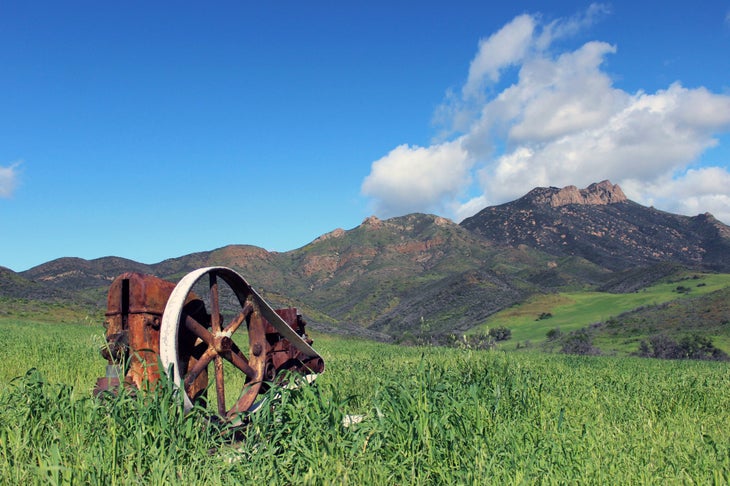 Elevation Gain: 16,868 feet
Trail Type: Point to point
This long trails runs the entire length of the Santa Monica Mountains and is most often traveled as a series of dayhikes (like the Desert Trail and Hot Spring Trail sections). But those looking for a series of overnight stays on the Backbone Trail can piece together campsites along the way. Heads up: Campsites are scarce west of Malibu Creek, so make sure to plan out your overnights accordingly. Most hikers travel east to west.
​​Trans-Catalina Trail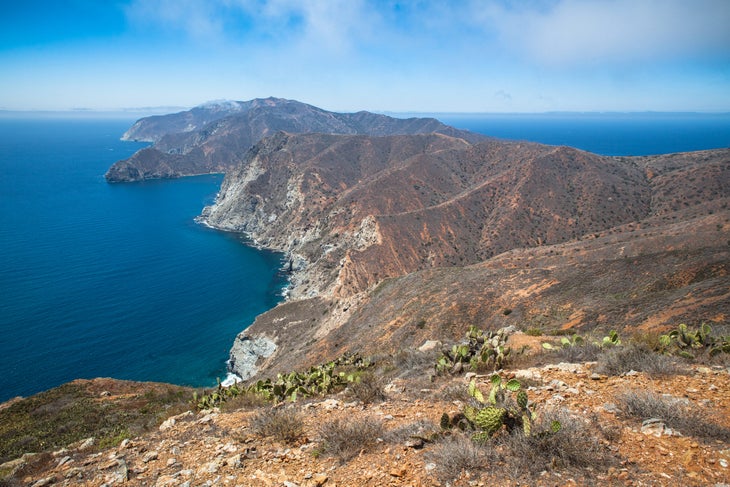 Distance from LA: 1 hour 30 minutes
Elevation Gain: 11,934 feet
Trail Type: Point to point
This steep and strenuous island hike trades challenging elevation gain with stunning ocean views. The route (typicially completed over 3 to 5 days) shows off the best of Catalina Island and you're destined to see free-roaming Bison along the way. To get there, take the hour-long Catalina Express ferry ride from Long Beach to the trailhead at Avalon. Most Trans-Catalina Trail veterans say Little Harbor and Parsons Landing as their favorite campsites, and recommend hiking in the fall, winter, or early spring when the sea breeze makes up for the lack of shade.
LA Local Tips
Weather and Packing
True locals will tell you if it's below 75 degrees, it's freezing. But in L.A., temperatures tend to stick around the upper 60s from January to March and October to December, mid-70s from April to June, and peaking to the low 80s from July to September. Pack rain gear for winter hikes and bring a light, synthetic long sleeve for summer hikes to protect yourself from sun exposure.
Gear Shops
There are plenty of gear stores to go around in Los Angeles. A local favorite, Hatchet Outdoor Supply Co in L.A.'s Downtown Arts District, is a fashion-forward shop that sells both lifestyle and tactical gear. If you're searching for the classics, you'll find a Fjällräven and Arc'teryx in La Brea shopping district, an REI in Burbank, and Patagonia in Pasadena.
Eating in L.A.
Hiking in L.A. isn't complete without a post-trip taco. The city is known for its baja fish tacos – soft shells stuffed with crispy cod, pico de gallo, and homemade dressing like cilantro ranch or avocado crema. Pick one up at Ricky's Fish Taco on Riverside Drive or Yuca's in Los Feliz near Griffith Park. For drinks, hit up All Season Brewing Company for a west coast-style lager or IPA or Big Foot Lodge, a super quirky mountain-themed bar.