The Best Camping Lanterns You Can Buy Now
Light up your tent, camp kitchen, and more with these versatile lights.
Heading out the door? Read this article on the new Outside+ app available now on iOS devices for members! Download the app.
Updated July 2023
A camping lantern is one of those pieces of gear that falls under the "nice to have" umbrella: You can do any tasks you need to do with your headlamp, but a lantern brings an undeniable level of coziness to your tent, camp kitchen, or hangout spot. Pick the right one, and it can even serve as a substitute for a campfire: a well-lit spot for you and your companions to gather around when the night gets dark. We've rounded up six of our favorite camping lanterns that you can take on any trip, long or short.
How to Shop for a Camping Lantern
The days of kerosene-fueled metal-and-glass hurricane lanterns are long gone, with lightweight, battery-powered lights taking their place. Which one you buy largely depends on what you want out of it. More or less all lanterns on the market now utilize LEDs, so you won't have to worry about replacing the bulb. The vast majority, including five out of the six on this list, run on rechargeable batteries. Beyond that, consider the following when shopping for a lantern.
Size and Weight
Size matters, especially when it comes to luxury items like camp lanterns that take up valuable space in your pack. While brightness doesn't always scale directly with weight, in general, you'll need to be ready to carry a little more if you want to light up more space. Don't need as much light? A smaller light like the Snow Peak Mini Hozuki might be for you.
Brightness and Color
The more space you want to light up, the more powerful your lantern will need to be. If you're trying to provide light for an entire camp kitchen or chillout spot, you'll want a bigger, stronger light like the Lander Cairn XL or BioLite Alpenglow. Just need to light up a tent? A small lantern like the Snow Peak Mini Hozuki is for you. Pay attention to the color of the light: For strictly utilitarian purposes, a bright white light is fine, but you may want something warmer for ambience.
Battery and Charging
Some lanterns pack a big enough battery to light your campsite and charge your electronic devices via a USB port. This usually adds a little bit of weight, but it can also eliminate the need to carry a separate power pack. Some even include a built-in solar panel for extended trips, though you'll need good sunlight to get anything more than a trickle.
Extra Features
Color-changing and candle-like modes on lanterns don't really help from a practical standpoint, but they can provide ambience when you don't have the flickering of a campfire. Some lanterns are controllable via Bluetooth, so you can set them to a timer or even make them brighten and dim as you approach and walk away from the light. 
The Best Camping Lanterns
Best Dual-Fuel Lantern: Black Diamond Apollo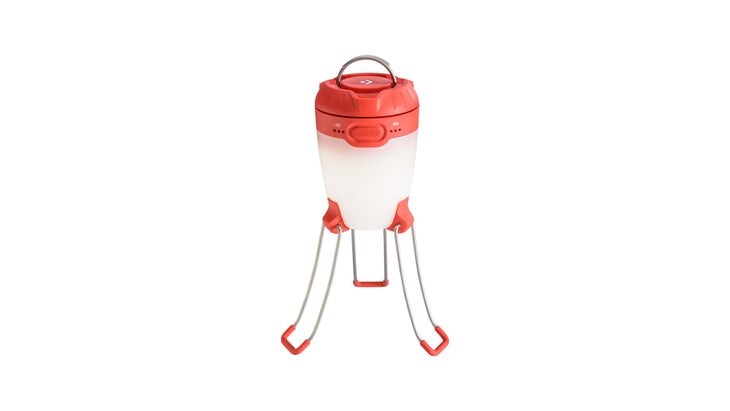 A camp lantern is a luxury item, and the redesigned Apollo feels like one. Its frosted plastic enclosure puts out 250 lumens of soft white light that dims down to a gentle glow when you hold down its single button. During a ski tour up Colorado's James Peak, our tester took advantage of the light's entire range, using the soup can-size lantern's highest setting to sort gear at an open bivy, then turning it down for glare-free bedtime reading. (He also used the USB port to charge his phone.) The Apollo can run up to 24 hours on low between its two power sources—an internal battery and an optional, three-AA backup. Ding: Luxury light means luxury weight.
"I appreciated the LED power meters for the internal battery and the AAs, which make it easy to figure out how much juice the Apollo has left," our tester says.
Best Solar Lantern: LuminAID Packlite Max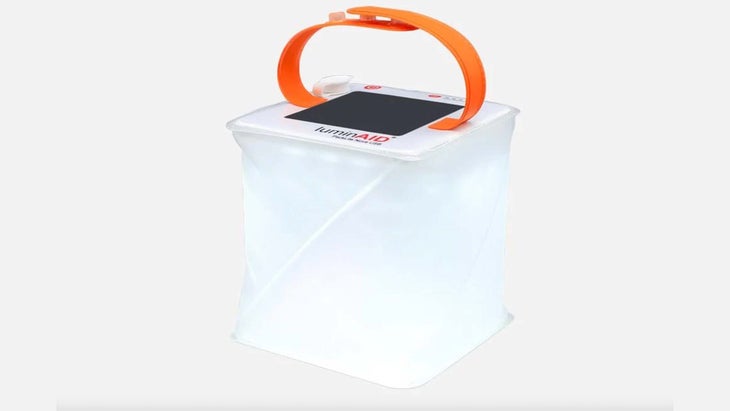 We're big fans of LuminAID's inflatable solar lanterns, which have been used in disaster zones around the world. With the Packlite Max, the company beefed up its Packlite Nova by doubling the brightness and adding a 2,000 mAh lithium-ion battery capable of charging a phone or other USB-powered device. Strap it to the outside of your pack and it fully recharges in about 12 to 14 hours, even under partial cloud cover. When it's time to use it, pull the two sides of the Max apart and it mostly inflates itself; top it off with one breath. On a camping trip in Colorado's San Luis Valley, the Max was enough light to read by, and topped up our phone while it did it A full charge (you can juice it up via USB too) nets up to 50 hours of light on the lowest setting.
Best Combo Lantern/Power Bank: Lander Cairn XL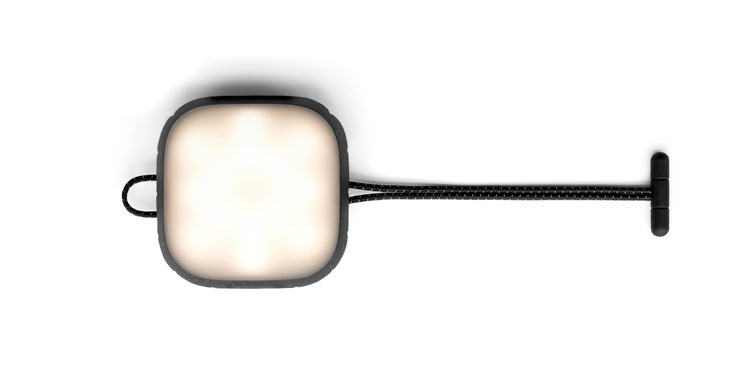 When we needed a lot of light for a group, we packed the Cairn XL. At 350 lumens on its max setting, the hockey puck-size lamp can illuminate an entire campsite. "Our group of 10 threw a happy hour without anyone fumbling the cocktails," said our tester after a trip near Copper Mountain, Colorado. The 10,000mAh battery can fully charge a smartphone three times or run the lantern on low for 10 days straight. Bonus: The companion smartphone app let us use the Cairn XL as a light-up alarm clock. (Tradeoff: weight.) We appreciated the lantern's red light as well, which let us spy on hippos on the other side of a fence at Kenya's Lake Naivasha without distracting them.
Best Mini Lantern: Snow Peak Mini Hozuki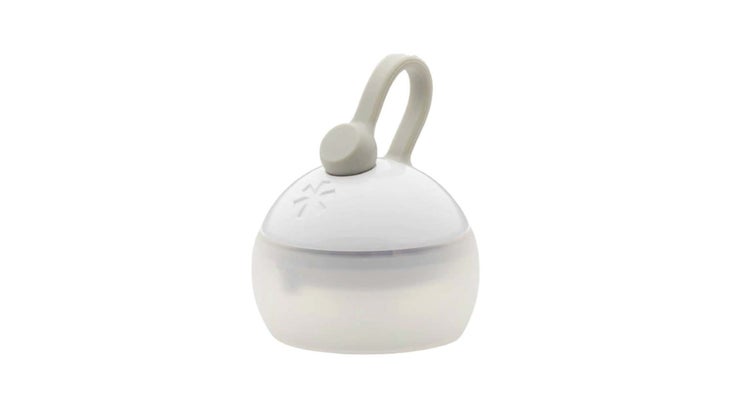 "This is the Mighty Mouse of camping lanterns," says one tester. The Mini Hozuki constantly surprised our staff with its ability to fully illuminate everything from four-person tents to backcountry kitchens, despite its diminutive size. "I strung this up from the rafters in the Stone Hut on Vermont's Mt. Mansfield, and we had enough light to easily cover a 50-square-foot table full of fondue and fixings," says one tester. Credit the silicone rubber shade, which disperses 60 lumens of warm light from two LED bulbs.
Thanks to a dimmer switch, you can adjust the brightness down to a pleasant romantic glow, which is great for the obvious reasons, but is also convenient when there are multiple people in a tent and some would like to sleep. The single beam also provides sufficient light for midnight trips to the loo. —Backpacker Editors
Best String Lights: MPOWERD Luci Solar String Lights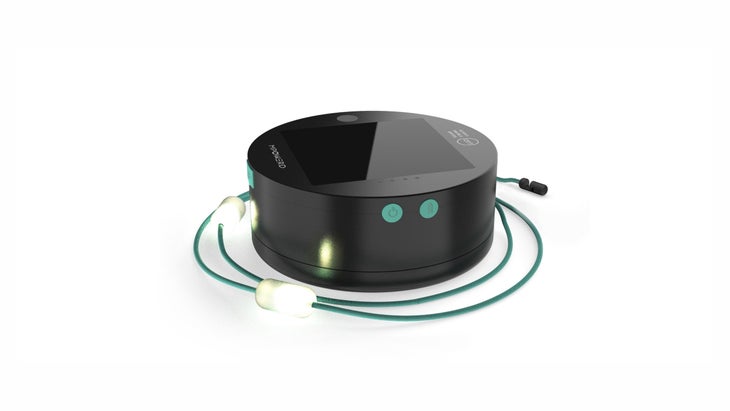 These fairy lights aren't just Instagram bait: At 100 lumens on high, they shine as bright as some small headlamps. "When I skied through a nighttime blizzard after a mountain- top Thanksgiving party, I wrapped my pack in the Luci," one Colorado tester says. "My buddies were able to follow the glow from 100 yards behind me." The Luci charges in three hours via a power outlet (or 14 hours of direct sunlight with the built-in solar panel), while a USB output let our tester use it to top up his phone. The integrated 2,000mAh battery is enough to top up a half-full smartphone or run the lights on low for up to 20 hours.
Best Basecamping Lantern: BioLite Alpenglow 500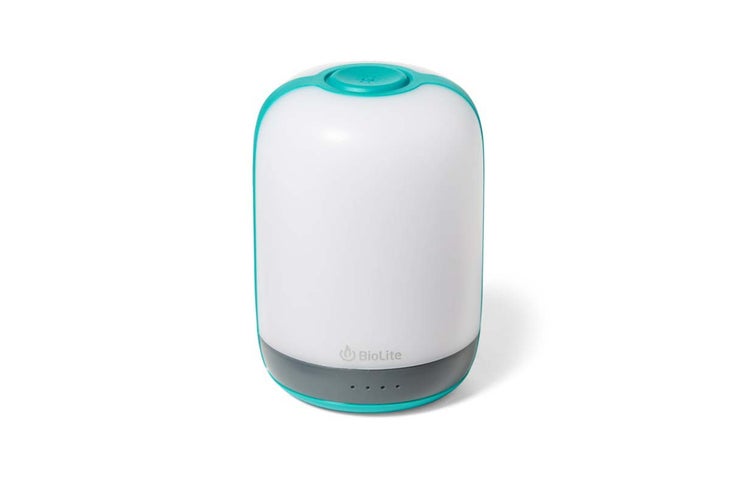 Lanterns do more than help you see in the dark. In areas or conditions where lighting a fire is unwise or impractical, they can provide a comfortable focal point for your friends and family to sit around as you sip your after-dinner beverages. With 9 different lighting modes ranging from a flickering, candle-like luminescence to colored lights to fireworks, the Alpenglow 500 can create any kind of ambience you're looking for. Swapping from one to another is easy, too: Just shake the lantern to cycle between modes. A USB port lets you charge your electronics with the lantern's 6400 mAh battery as well.
How to Make Your Own Lantern
Sometimes you don't want to spend precious pack space on a lantern when a headlamp will do. You can still enjoy the same soft, diffused lighting that a lantern provides with a little creativity. Put your lit headlamp inside a light-colored stuff sack. The thin fabric will help diffuse your headlamp's beam, providing some of the gentle light of a lantern without the extra weight. Alternatively, strap your headlamp around a translucent water bottle, beam pointing inwards.