The 4 Best Winter Sleeping Bags and Pads of 2022
Snooze warmer with this winter-proof sleep gear.
Heading out the door? Read this article on the new Outside+ app available now on iOS devices for members! Download the app.
Winter sleeping bags and pads can make or break a fourth season trip into the backcountry. Not only are you going to be spending a good deal of time snugged into your life-sustaining cocoon with short days and long nights, but temps during winter hiking trips turn downright dangerous in an instant.
The very best winter sleeping bags not only keep you warm and cozy throughout the long night, but will be comfortable to stretch out in, allow you to vent when it gets too warm, and give you the dexterity to read or cook without leaving the safety of your bag. Pads are equally important at preventing heat loss—a good sleeping bag is useless with a poorly insulated pad. These four bags and pads earned top marks during in our extensive winter testing.
Read More: Editors' Choice—The Best Winter Gear of 2022
What to Look for in a Winter Sleeping Bag
A winter sleeping bag has to do everything a three-season bag does, but better. Temperature rating is only a starting point,  as everyone sleeps comfortably at a different temperature. Waterproofing or weather-resistance is another major factor: condensation is more of an issue in winter, so having a bag that has some sort of durable water repellent finish, treated down, or a full-on waterproof membrane is an important consideration. Lastly, be on the lookout for warmth-saving features like draft tubes and collars, and convenient details like double zippers for sticking your arms out and internal pockets for stashing valuables.
Best Winter Sleeping Bags and Pads of 2022
Warmest Bag: Kelty Cosmic Ultra 0°F
Our Take
It's the details that set the Cosmic Ultra apart. Its above-average shoulder, hip, and foot circumferences (measuring 62, 58, and 40 inches, respectively) leave room for any sleep position. A 360-degree neck baffle prevents cold air from slipping in and warm air from escaping during the night, even when we shifted around. Interlocking trapezoidal baffles are angled to maintain loft above and below the seams, eliminating cold spots. "On a -5°F night in Yellowstone National Park, it kept me plenty warm along with the puffy and heavy softshell pants I wore to bed," one tester says.
The Details
While this bag doesn't pack down very well (it stuffs to the size of a small microwave), it hits an attractive price point. A two-way, full-length zipper helps as much with ventilation as with ease of entry and exit. The Cosmic Ultra's 800-fill down is treated with a PFC-free hydrophobic finish, and its 20-denier nylon shell has a PFC-free DWR to ward off moisture, which made for easy cleanup after a tea spill in the Adirondacks.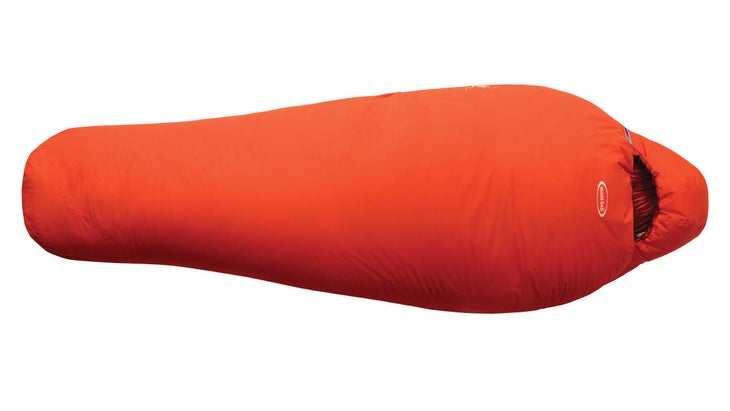 Best Protection: Montbell Seamless Down Hugger WR 900 #1
Our Take
Move over, baffles. The Seamless Down Hugger's design enhances warmth while reducing weight: A web of polyester and nylon threads hold the 900-fill down in place, preventing clumping. A spiraled elastic stitching embedded in the bag conforms to the sleeper's body—the shoulder girth can extend from 53 to 75 inches, and the knee girth from 44 to 61 inches—which eliminates dead space and allows the down (and air) to loft to its fullest potential. This kept a tester warm during a 17°F night in the Canadian Rockies: "I forgot to bring extra socks and wore damp pants to bed, but I stayed much warmer than I deserved," he says. Caveat: It's expensive.
The Details
The seams holding the bag's 13-denier, PFC-free DWR-treated nylon together are fully taped. "I was unaware that I'd been sleeping in a small puddle, and didn't notice any wetting out or a significant loss of loft," our tester says. With a half-length zipper, packability scores high as well: The Seamless Down Hugger packs as small as a loaf of bread.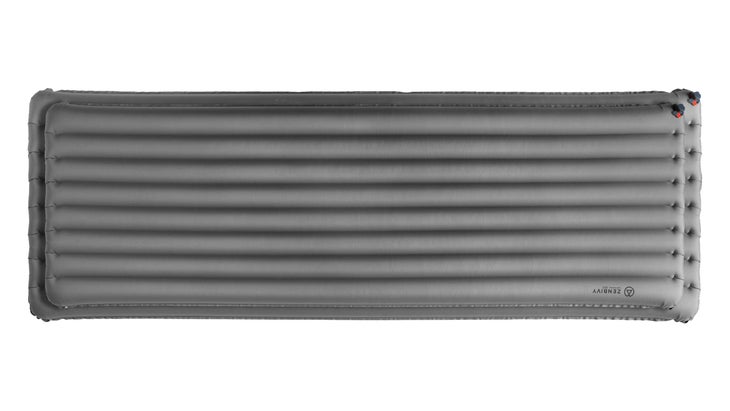 Lightest Pad: Zenbivy Light Mattress
Our Take
Wherever the trail leads, the lightweight and compact Light Mattress delivers comfort with ease. This pad rolls up a bit bigger than a 1-liter Nalgene, a score for the space-conscious cold-weather backpacker. And though small, it's warm and comfortable. Vertical baffles—which inflate to three inches thick and are supplemented by synthetic insulation to reach an R-value of 5—run the length of the pad and create a cradling effect. "I didn't feel any cold spots coming from beneath me," a tester reported after a four-day ski tour through Oregon's Wallowa Mountains, during which temps dipped below freezing each night.
The Details
The Light Mattress's 20-denier nylon taffeta covering is soft to the touch but not as durable as other pads we tested. A two-way valve expedites inflation to 90 seconds and allows for fine-tuning the pad's firmness; when it's time to break camp, the entire valve pops out for near-instant deflation. Bonus: The oversize stuff sack triples as an inflation sack and a fully welded dry sack.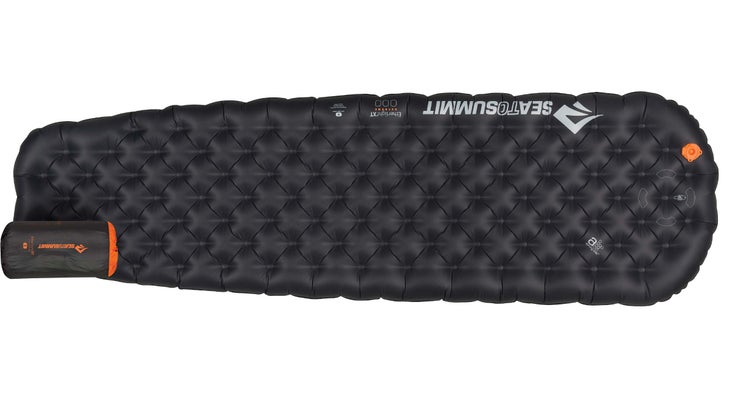 Warmest Pad: Sea to Summit Ether Light XT Extreme Insulated Air Mat
Our Take
When the mercury drops, pump up the Ether Light XT Extreme Insulated for all-night comfort. The pad inflates to 4 inches thick and is partially filled with synthetic down, which generates an R-value of 6.2. This kept a tester warm during a 4°F night on the rim of the Grand Canyon. Though the pad packs to the size of a jumbo roll of paper towels, another tester backpacked with it for 50 miles through Arizona's Kaibab National Forest and felt the extra bulk was worth toting.
The Details
The Ether Light XT's 40- by 30-denier nylon face fabric was tough enough to withstand the sticks and stones during alpine bivvies in Rocky Mountain National Park, as one tester reports, and can even double as a makeshift sled for snowy campground fun. The top doesn't crinkle loudly, and a quilted-diamond baffle sew pattern (designed like a modern pocket-sprung mattress) prevents air from shifting around and keeps the pad stable if you toss and turn. The stuff stack doubles as an inflation pump.
How to Buy the Perfect Winter Sleeping Bag and Pad
Dialing in the perfect winter sleep system requires two things: a warm, water-resistant bag and a pad that can stand up to the heat-sucking snowpack. How low do you need to go? Read on to find out.
Sleeping Bag Temperature Ratings
To safely camp in winter, you'll need something warmer than your typical three-season bag. For northern climates and higher-elevation pursuits, a 0°F bag should be your starting point. For camping in the southeast and some parts of the southwest, a 15°F/20°F bag might be all the insulation you need.
Most sleeping bags will have both "comfort" and "lower limit" temperature ratings. A comfort rating indicates the coldest temperature that a "cold sleeper" might feel comfortable in, whereas the lower limit is aimed at warm sleepers. For example, the Mountain Hardwear Phantom 0 has a comfort rating of 13°F, and a lower limit rating of 0°F. That means if you tend to run cold, that 0°F bag might not keep you warm enough for a good-night's sleep if the temperature dips below 13°F. The rating system is tested by an impartial third party (unlike most categories of gear), but it's still just a ballpark range that will vary greatly from person to person. Take your best guess based on the rating, then give it a trial run before throwing away your receipt.
Types of Insulation
Down: Down is the lightest, most efficient insulation you can buy. It's also the most compressible and it retains its loft (and therefore insulating power) longer than synthetics. A down bag's warmth depends partially on fill-power, or how many cubic inches one ounce of down can fill, along with how much down is stuffed into the bag and how large the baffles are (larger baffles are warmer). Many down winter bags have some level of water resistance, if not a full-on waterproof shell fabric to deal with condensation. Down bags are generally more expensive than synthetic. For weight conscious trips (ie, multi day backcountry excursions where you're not using a pulk), down is the way to go.
Synthetic: There are many different types of synthetic insulation, but it's generally a fluffy polyester material that doesn't absorb water, making it a smart choice for any winter camper on a budget who might be faced with wet or mixed conditions. Due to its weight and bulk, it's a no-brainer for relatively affordable winter car camping, but a challenge for long trips in the backcountry.
Roominess
Extra bag space is critical in winter camping, as you'll be spending a good deal of your time huddled inside. It's also how you'll keep temperature sensitive gear warm. If you need to stash your electronics, boots, white gas, and water filters inside the bag with you, plan on finding one with a generous cut. Campers who sleep on their sides and stomach will especially appreciate the extra space to twist and turn. The downside, of course, is that your bag will be heavier and take up more packed space.
Water Resistance
Since condensation is such an issue when camping in cold climates (wet down won't insulate unless it's been treated), a water-resistant or fully waterproof bag is essential. Something like the Marmot Col sleeping bag has a waterproof, breathable Pertex Shield shell to protect it, but it comes at a hefty weight penalty. The Rab Neutrino on the other hand, uses Nikwax hydrophobic treatment on its down to make it water-resistant—and is therefore lighter weight—but it wouldn't hold up to a heavy soaking.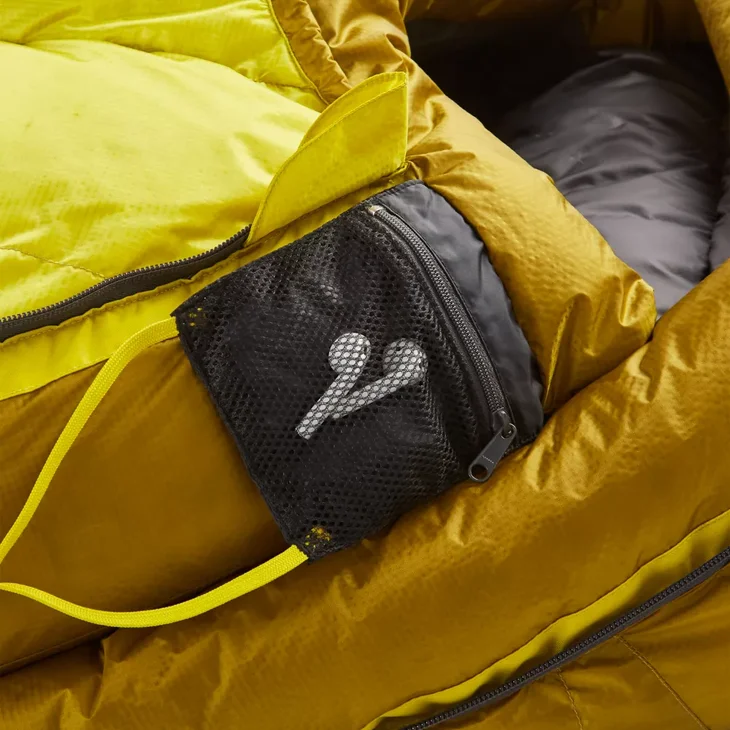 Bonus Features
Extra bells and whistles can make a difference for winter bags. Draft collars (which block cold air from your chest and back and draft tubes (which block cold air along the zipper), zipper guards to keep from snagging and a well-fitted hood are all critical features. Other bonuses like zippers that are easy to operate with gloves on, stash pockets for keeping track of earplugs and electronics or double zippers for using both of your arms while in the bag are all personal preference.
Sleeping Pad R-Value
You can have the warmest sleeping bag in the world, but if you have a pad with an underperforming R-Value, you'll still be shivering in your tent. R-Value, or a pad's ability to resist heat loss, generally ranges from 2-5 for 3-season pads, but you'll need an R-value of 5 or above to go winter camping. To make sure your pad has been rated by an objective party, check that it's been tested using the new standardized method (ASTM FF3340), established in 2020. A popular option for winter campers is to stack an inflatable sleeping pad over a foam sleeping pad, raising the R-Value. For example, an inflatable pad with an R-Value of 4 on top of an R-2 foam pad will give you a total R-Value of R-6.
Sleeping Pad Type
Foam: Closed-cell foam pads have been used since the early days of backpacking, and for good reason: they're cheap, relatively indestructible, and weigh very little. They don't insulate nearly as well as other types of pads, offer little cushioning from the hard ground, and take up tons of space. A foam pad likely won't be enough for winter camping alone, but it can be used in conjunction with an inflatable pad to protect it from punctures and to boost the overall R-Value. They also make great lounge pads for hanging out at basecamp.
Inflatable: Air pads are the most popular type of pad on the market today. They insulate well, pack down small, and can be very lightweight. Insulation is further boosted by various brands using down insulation, reflective space blanket-like material, and other techniques. (Some internal insulating layers can be noisy: an important detail for light sleepers who share a tent.) The downsides to an inflatable pad: they can be easily punctured, depending on the exterior fabric thickness, have valves that can break and leak on the trail, and can be uncomfortable for certain hikers who toss and turn at night. Certain brands offer a quilted design, which better stabilizes campers who dislike the "pool toy" effect.
What a Backpacker Editor Looks for in a Winter Sleeping Bag and Pad
Benjamin Tepler, Gear Editor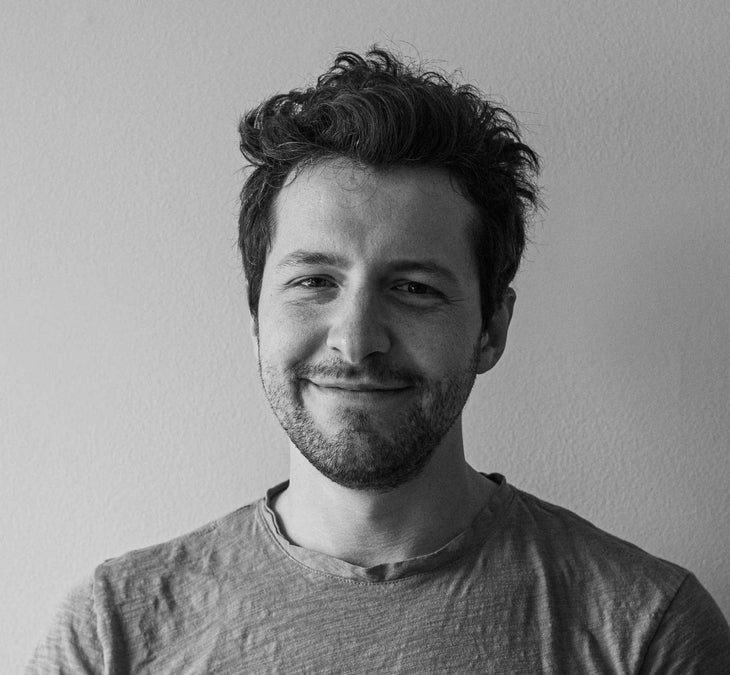 "I sleep super cold, so I definitely put warmth over packability and weight. If it's 0°F outside, I'll be sleeping in a -15°F bag, without question. Same with my pads: I've got a foam pad underneath, and an R-5.5 inflatable on top. Condensation is always a problem for me, as I tend to bring lightweight single-walled tents on my solo winter camping trips, so I bring a winter sleeping bag with a proper waterproof-breathable membrane as an extra precaution. If my bag loses loft out there, no one is coming to rescue me."