The Best Winter Packs of 2023
From shredding powder to climbing ice, these top packs keep your gear secure and dry
Heading out the door? Read this article on the new Outside+ app available now on iOS devices for members! Download the app.
Even with cold-weather sports experiencing a resurgence, good winter packs remain tough to find. And whether you're a skier, ice climber, or hiker, a specialized pack is paramount: you need material that can hold up to sharp metal equipment, plus systems for organizing and carrying winter-specific gear like ice axes, ropes, crampons, and skis.
How We Tested
To track down the best backpacks for cold-weather pursuits, we pulled samples from the best designers in the business. Our focus: 20- to 55-liter models with materials sturdy enough for winter weather and suspensions capable of handling the jarring motions of downhill skiing, mountaineering, and other high-output winter pursuits. Then, we spent a full season smashing packs at every latitude. Testers ventured from as far north as central Greenland and as far south as Colorado's San Juans, hunting for weak zippers, feature flaws, and, of course, fresh powder. All in all, 16 testers took 14 packs with them on their adventures. Bags with sub-optimal organization, insufficient weatherproofing, or lackluster durability were automatically disqualified. The remainder emerged top-contenders, capable of hauling precious cargo in the worst winter conditions.
Tester Stats
Heaviest weight carried: 50 pounds, Chugach State Park, Alaska
Longest ski tour: 12 miles, Arctic Valley, Alaska
Most vert in one day: 7,000 feet, Tordrillo Range, Alaska
Biggest season: 97,000 feet and 192 miles, Oregon-based tester Kelly McNeil
Coldest temp: 0 degrees, Turnagain Arm, Alaska
Warmest temp: 50 degrees, San Juan Range, Colorado
Highest elevation: 14,259 feet, Longs Peak, Colorado
Couloirs rappelled: 5
Meet Our Lead Tester
Corey Buhay started backpacking in college and has been wearing a pack of some kind pretty much ever since. She's a former Backpacker editor and co-author of the hiking guidebook Colorado Rockies. She's been managing the packs category for Backpacker since 2019 and has since developed very strong opinions about hipbelt pockets.
Reviews: The Best Ski Packs and Climbing Packs of 2023
Black Diamond Dawn Patrol 25 ($170)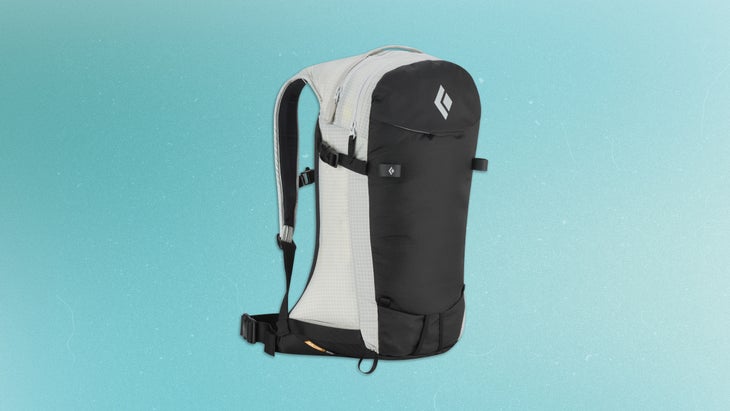 Best All-Around
Size: Unisex, S/M and M/L
Weight: 2 lbs. 9 oz
More easy-going than most of our ski partners, the Dawn Patrol 25 is just as at home on mellow tours as it is in steep couloirs. A thermo-molded plastic frame sheet contours the back and helps direct weight to the cushy hipbelt. Even without load lifters, the system was supportive enough to lug 15 pounds of gear up volcanoes in the Pacific Northwest, yet flexible enough to move with us on hard-charging descents in the Colorado Rockies. The Dawn Patrol is sewn with 100-percent post-consumer recycled 210-denier polyester throughout the body and 840-denier polyester on the bottom—the burliest in this test. Even during wet snows in the Pacific Northwest, we never experienced leakage thanks to its DWR coating. Organization is simple but smart. You'll find all the standard pockets, plus an insulated shoulder-strap pocket designed to keep reservoir valves from freezing. (It also fits snacks or a radio.) The back panel's perimeter zipper makes it easy to snatch shells and mitts from the main compartment during transitions, and the easy-access dorsal snow-safety pouch, which is big enough for standard avy shovels, provides peace of mind in steep terrain. One point of debate: Some testers loved the position of the huge, zippered hip pockets (each sits just rear of the hips and holds a full liter of volume—big enough for a phone, chapstick, snacks and sunscreen). Other testers found them tough to reach.
Bottom Line: This do-it-all pack has the durability, support, and features to handle any winter environment.
---
Evoc Patrol 40 ($240)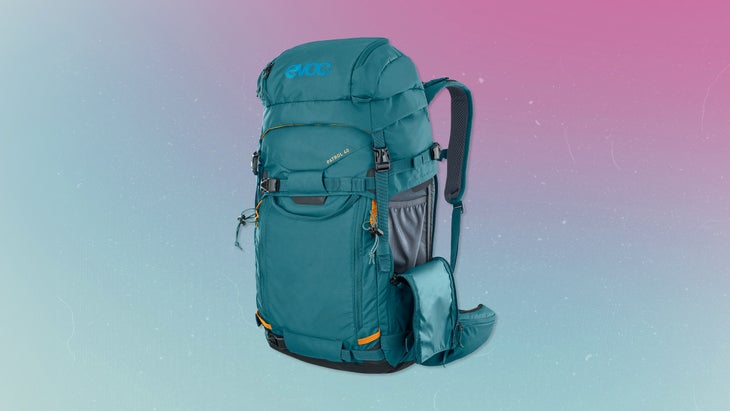 Best Organization
Size: Unisex, one size
Weight: 3 lbs. 10 oz.
Many winter-oriented packs sport some combination of straps, avy-tool storage, and sundry compartments. The Patrol 40 seems to have them all: Six compressions straps enable A-frame and diagonal ski carry as well as snowboard carry, and a side access panel makes it easy to grab camera, water bottles, and mittens during transitions. That's in addition to one hipbelt pouch, a fast-access (albeit small) avalanche tool compartment, a 3-liter hydration pouch, and a roomy toplid that fits snacks, gloves, and sunscreen. There's also a modular system of sewn loops and movable bungees, which let testers attach ski poles, ice axes, and a mesh helmet holder in various different configurations. The other good news for overpackers? Thanks to load lifters and a vertical aluminum stay, the Patrol actually has the weight-carrying chops to handle all that cargo. Guide, professor, and avalanche forecaster Kelly McNeil was able to stuff it with 20 pounds for ski tours in Oregon's Western Wallowas, and the sturdy hipbelt and spine-hugging foam backpanel kept it from shifting on steep turns. The burly, 420-denier woven-polyester outer fabric (and 840-denier, PU-coated nylon base) emerged scratch-free after brushy approaches and light bushwhacks in the Wallowas. A PU coating kept the interior dry, too, even amid wet Pacific Northwest rain and graupel. (The durability does come at a cost; this was the heaviest pack in the test.) The hip-hugging waist belt, which is padded with both soft EVA and stiff Atilon foam, kept our guide testers comfortable even over long days in the field.
Bottom Line: A ski-touring and ski-mountaineering pack for those who haul heavy loads and lots of ungainly gear, and/or those who like to stay organized.
---
Osprey Mutant 52 ($225)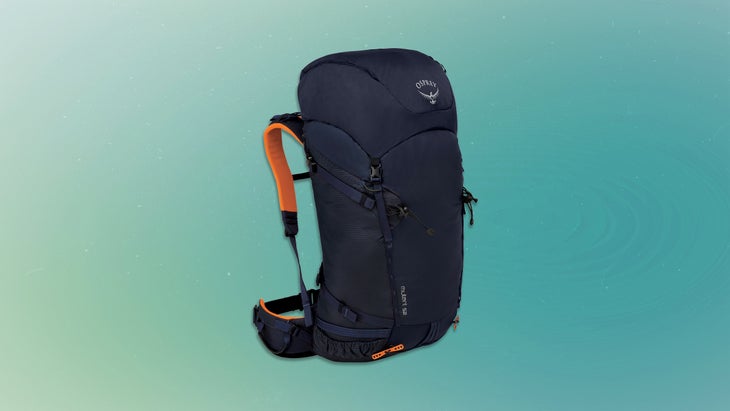 Best for Overnights
Size: Unisex, S/M and M/L
Weight: 3 lbs. 4 oz.
Got a winter-camping or hut trip on the books? The Mutant 52 is ready. Case in point: Ian Glass, an adventure photographer and videographer, was able to carry of camera gear during a four-day basecamping expedition in Greenland. That's thanks to the Mutant's dual aluminum stays and rigid plastic framesheet, which transfer loads to the EVA foam-padded hipbelt. Still, don't let the size fool you: A tapered profile and angled compressions straps let the Mutant suck down small enough for day tours. "It did equally well with a heavier load versus a day load," marveled Colin Baxter, a Montana-based gear tester. "I guess that's why they call it the Mutant." In addition to the ability to carry small loads without collapsing, that sleek silhouette also minimized sway while skiing. We were able to fit goggles, sunscreen, and snacks in the removable toplid, but sorely missed having other organizational features—like hipbelt pockets or a designated avy tool pouch. The main pack fabric is a 210-denier, high-tenacity nylon that's reinforced with a Dyneema-like grid, while a 450-denier polyester reinforces the pack bottom. (Both fabrics are fully recycled and have yet to show signs of wear.)
Bottom Line: An overnight pack that pulls double duty for day trips—ideal for those who do most of their touring on overnights and don't want a second pack for shorter excursions.
---
Mammut Aenergy ST 32 ($169)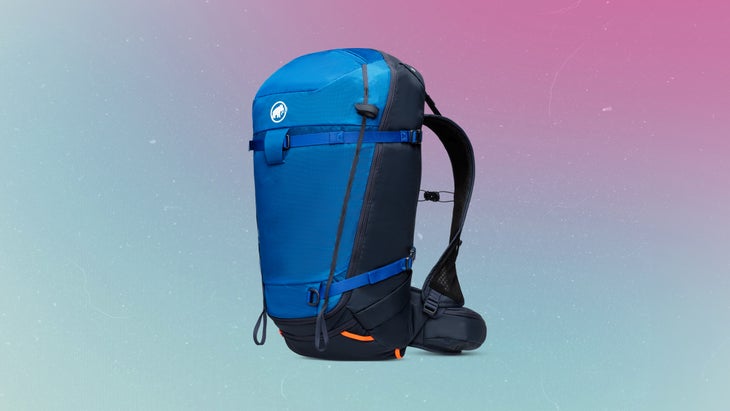 Best Women-Specific Design
Size: Men's one size / Women's one size
Weight: 2 lbs. 2 oz.
The Aenergy was the only pack in this year's test to come in a women's-specific fit, but that's not the only reason it earned our lady testers' good graces. A V-shaped, two-millimeter aluminum frame let us carry up to 25 pounds on a Colorado hut trip (though, given the light padding on the hipbelt, we were happiest with loads under 20). The Aenergy was burly enough to keep up with both ski guides and hut keepers during resupply runs. Lauren Danilek, an adventure photographer and volunteer hut keeper, put the pack's 105-denier ripstop nylon to the test while breaking trail through a snowstorm in a quest to stock Colorado's high-altitude Opus Hut. Even fully stuffed, none of the seams or zippers strained, and the Aenergy proved plenty water-resistant: "The pack's DWR coating held up, even as graupel and wet flakes pummeled the outer fabric," she reported. Ergonomic contouring on the hipbelt and shoulder straps accommodates curves, and the elastic sternum strap provided security without squashing our assets. The Aenergy also comes with everything you need for a full day on the slopes: both A-frame and diagonal ski carry, integrated helmet carry, and dual ice axe loops. Testers loved the side zip and small hipbelt pockets for easy gear access. One fail: You have to get past two zippers to reach the inner avalanche pocket. "That's too much time wasted if someone's buried and the clock is ticking," noted Danilek. At least the zipper pulls are glove-friendly.
Bottom Line: A rugged ski pack built for women.
---
CamelBak SnoBlast 22 ($120)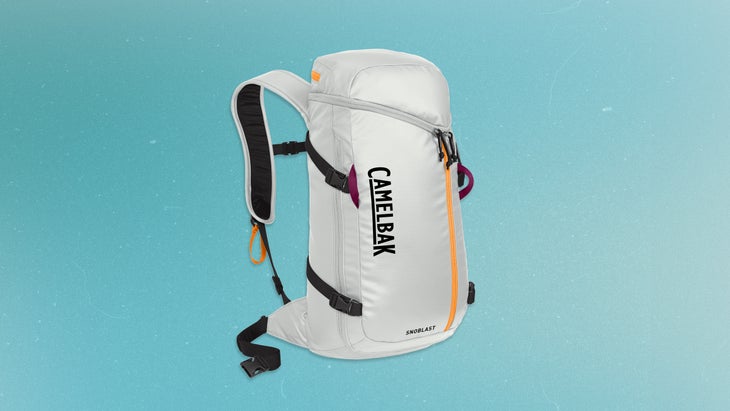 Most Budget Friendly
Size: Unisex, one size
Weight: 2 lbs. 4 oz.
At just over a Benjamin, the Snoblast hits a sweet spot between comfort and affordability. The simple webbing hipbelt—designed more for stability than load transfer—is sewn into the backpanel via two triangular fins. But because the broad shoulder straps distribute loads across the chest, Wyoming skier and renewable energy product manager Will Finnie was able to lug 15 pounds on tours in the Tetons without any shoulder ache. That said, descents are where the Snoblast really shines: it sits high and clings to the upper back, eliminating sway on hard-charging turns. The main compartment flays open via three outer zippers that converge like spokes on a wheel. The design lets you rip open the main pack bag, which meant Finnie could grab snacks and shells quickly during transitions. The pack is pretty small for its stated volume, and there are neither hipbelt pockets nor a dedicated compartment for avy gear, but a toplid pocket fits snacks and goggles and the hydration pouch holds an included two-liter reservoir. The Snoblast's dual waterproof coatings—TPU on the outside and a PFC-free DWR on the inside—present two lines of defense against slush and sleet, and its 450-denier polyester emerged scratch-free after knocking through tree branches on Wyoming's Mt. Taylor.
Bottom Line: An affordable, stable sack for hard-charging resort days.
---
Blue Ice Taka 30 ($185)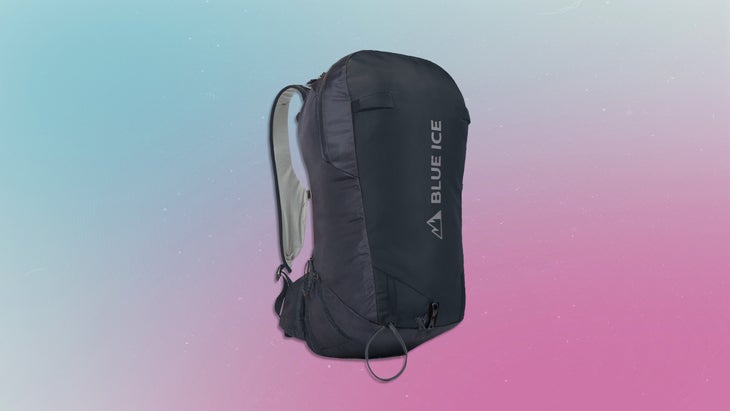 Best for Alpine Objectives
Size: Unisex, one size
Weight: 1 lb. 15 oz.
Over a long season in the Tetons, the Taka 30 became our go-to for gnarly alpine objectives. Its light weight—achieved by ditching the hipbelt and excess external pockets—shone during peak-bagging missions, and a close fit lent itself to breezy, unimpeded turns. EVA lumbar padding and flaring shoulder straps kept us comfy, even skiing steeps under 15-pound loads. "The back panel was super plush, but had enough structure that it didn't barrel out when I stuffed it full of gear," noted Eli Bernstein, Backpacker's former gear editor. The Taka's biggest miss is that its avalanche tool compartment is tucked within the main compartment, a design that reduces weight but limits accessibility. But the Taka is otherwise organizationally sound: A small inner pocket fits wallet and keys, and the main pack bag fits layers, mitts, and water (or a 60-meter rope). Testers also loved the vest-style pockets on the chest straps, which each fit sunscreen and snacks, or a 500 milliliter soft flask (not included). As for keeping all that gear safe: High-wear areas on the bottom, front, and sides of the pack sport a high-tenacity 210-denier nylon, which offers better abrasion resistance than regular nylon. Case in point: It remained undefeated even after skirmishes with scrub and trees in Grand Teton National Park.
Bottom Line: Plush durability for fast climbs.
---
USWE Hajker Pro 30 Winter ($300)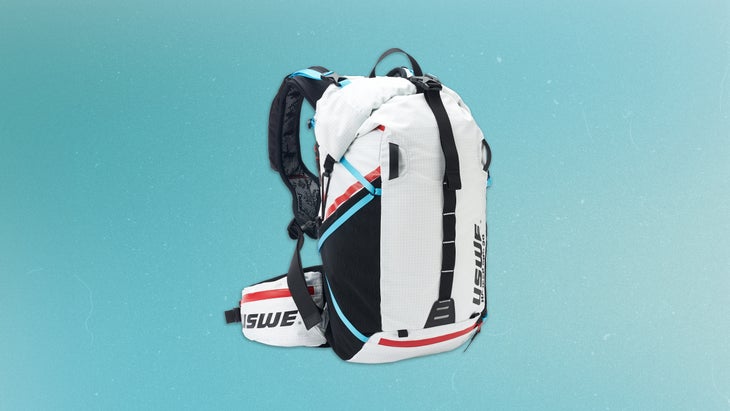 Best Carry
Size: Unisex, one size
Weight: 2 lbs. 6 oz.
Things we usually hate doing with a pack on: jump turns, fifth-class ridge scrambling, and ski racing. Things that suddenly felt easy with the Hajker Pro: all of the above. Thanks to a high-tech, torso-hugging suspension, we were able to achieve maximal radness with nary a jostle. Sway-free skiing is easy with a tiny pack. With one this size and fully loaded, however, it's a feat of engineering. The system relies on a moderately elastic, X-shaped shoulder harness that's padded with EVA foam and wide enough to evenly distribute weight across the chest and shoulders to absorb bounce. That held true even when we were loaded down: According to legal assistant and grad student Lang Van Dommelen, the pack supported up to 20 pounds of food, water, and gear comfortably over full-day tours in Alaska's Arctic Valley. (Ding: Fantastic carry ain't free. This was the most expensive pack in the test.) A running vest-style organization system sports 11 total pockets, including two voluminous hipbelt pouches and two insulated chest pockets, one of which zips around a reservoir hose. The only pouch missing is a dedicated avalanche compartment. Durability exceeded our expectations for such a sleek-looking pack: The Spectra-reinforced, 210-denier Robic Nylon withstood brushes with trees and rock over a full season in Alaska.
Bottom Line: Sketchy terrain and the steepest of steeps are no match for this harness-style daypack.
---
Rab Latok 38 ($220)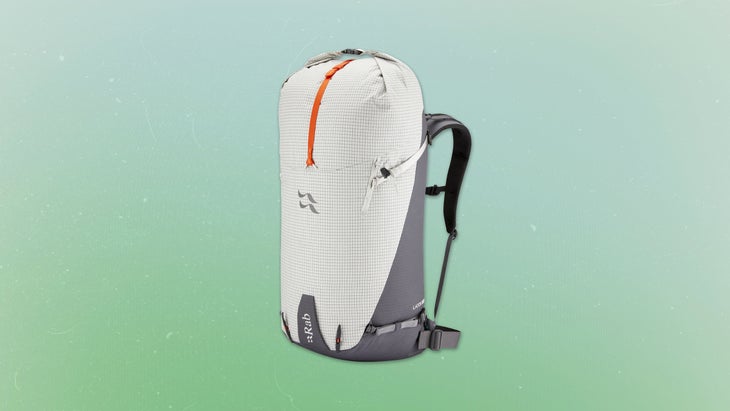 Most Durable
Size: Unisex, one size
Weight: 1 lb. 15 oz.
After four days of alder bushwhacking in Alaska's Tordrillos—conditions that would have shredded a lesser pack—the Latok emerged with no more than a pinprick. Thank the burly 210-denier nylon Cordura, which is reinforced with Spectra ripstop and a proprietary DWR coating. But the Latok isn't all brawn: The curved, EVA-laminate backpanel and 2.5-inch shoulder straps provide a smart balance of structure and comfort for an otherwise minimalist pack. "Dropping into an intimidating, 3,000-foot, 50-degree technical spine in the Tordrillo Range in Alaska, the pack felt like an extension of my body. I was able to flow down the line with ease," says Christmas-light installer and carpenter Ryan Irvin, who also used the Latok for both ski mountaineering and ice climbing in Alaska's Knik Gorge. He also appreciated that the hipbelt, sternum strap, and compression straps were all removable, allowing him to shave the pack down to just 1.4 pounds for weight-sensitive alpine missions. There's no dedicated avy pouch, but the A-frame ski carry was easy to use, and small internal and external pockets kept us fairly organized.
Bottom Line: An adjustable hauler with seriously thick skin.
---
Osprey Nimsdai Mutant 90L ($330)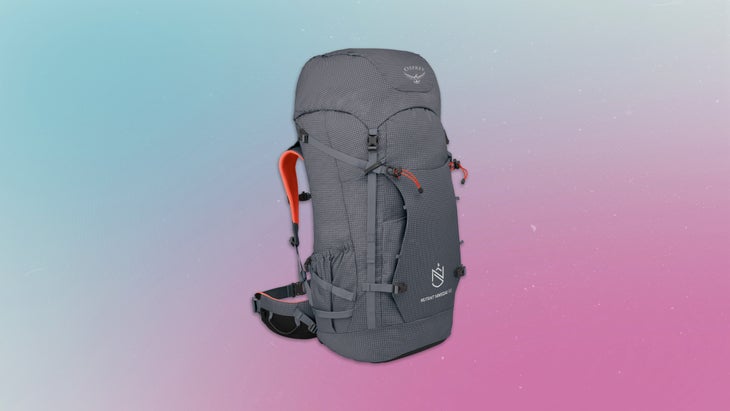 Biggest
Size: Unisex, S/M and M/L
Weight: 4 lbs. 8 oz.
If you're the type who likes punishing yourself with massive loads in horrific winter terrain, we've got some bad news: The Nimsdai Mutant takes all the masochism out of hauling. Geology professor Dorn Van Dommelen reported uncompromising comfort, even under 50-pounds of gear during a season of fieldwork in the Alaskan backcountry. Put simply: "This is the winter pack of my dreams," he said. Thank the hearty, plastic framesheet and four-millimeter steel perimeter frame (the highest-diameter frame we tested this season), which directs loads to the plush, EVA foam-padded hipbelt. Organizational features are simple: A dorsal shove-it sleeve, lateral water bottle pockets, and a removable toplid pocket that fits a hat, gloves, and lunch. The user-friendly A-frame ski carry was also (perhaps literally) a lifesaver: "I was happy not to fuss with too many straps while my life passed before my eyes," said Van Dommelen, who was able to quickly tuck his tails into the lateral ski-carry loops during a harrowing transition on the Chugach Traverse. Through it all, the pack's 210-denier nylon main fabric (a 600-denier high-tenacity nylon reinforces the boot) never suffered a tear.
Bottom Line: Packing in gear for a whole season in the mountains? This supportive, plush, large-volume backpack will take the sting out of your heavy load.
---
Blue Ice Warthog 40L ($200)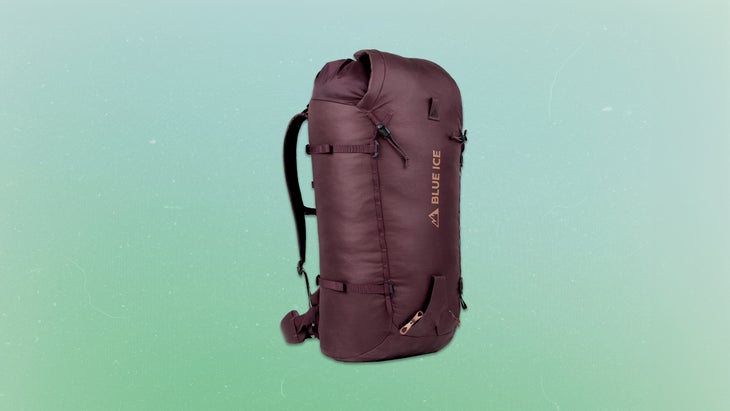 Lightest
Size: Unisex S/M, M/L
Weight: 1 lb. 9 oz. (1 lb. 5 oz stripped)
Why count grams when you can count ounces? A pack designed for technical alpine ascents, the Warthog 40 was the lightest (of any volume) we tested this season. On top of that, the framesheet, compression straps, and hipbelt are all removable, shaving a full 3.5 ounces off the pack's total weight. It's a difference we appreciated on steep winter hikes and big-wall climbs alike. But the Warthog's light weight doesn't mean it lacks substance. A framesheet made of Atilon, a rigid foam used in structural applications, provides enough support for 20-pound loads, and EVA padding on the backpanel and hipbelt wings gave it a surprisingly cushy carry. The Warthog's main fabric is a PFC-free, 210-denier Robic Nylon ripstop covered with a slick carbonate coating that sheds snow and repels water. Even after a weekend of drippy ice climbing in central Colorado, geologic engineer Ryan Marsters never had an issue with wet gear. Axe toggles, a pick tunnel, and dual ski-pole loops and bungees cater to the mountaineering-minded. The only downside? There's just one internal zippered pocket (big enough to fit keys, a headlamp, and basic first aid), and zero external pockets.
Bottom Line: A sleek, no-compromise, ultralight daypack for ice-climbing, snow-climbing, and mountaineering ascents.
---
Rab Khroma 30L ($220)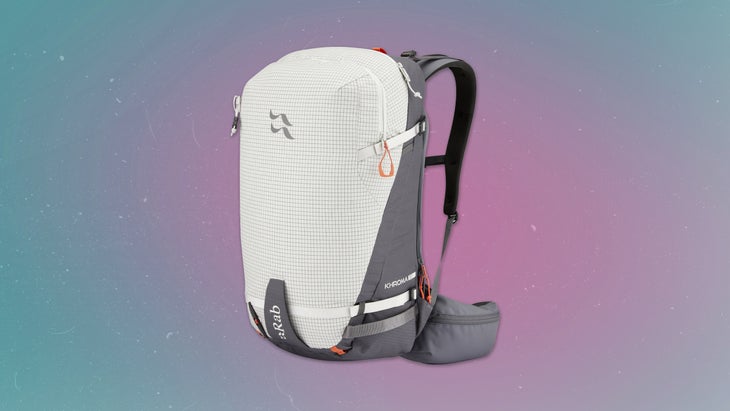 Most Versatile
Size: Unisex, one size
Weight: 2 lbs. 11 oz.
It doesn't matter what you're doing in the mountains—if the terrain is rough and the day is long, the Khroma 30 has the no-nonsense stability to carry you through. We trusted it both mountaineering in the rugged San Juan Mountains and skiing in the Arctic reaches of Greenland. That's because the Khroma blends the best features of alpine packs—like a sleek profile, reinforced haul loop, and secure ice axe attachments—with the best of ski packs—like a goggle pocket, back panel access, and avalanche-tool pouch. Thanks to a broad, wraparound hipbelt and load-lifters, the Khroma held firm even when stuffed with 25 pounds and buffeted by 30 mile per hour gusts on Colorado's Red Mountain Pass. The 210-denier Cordura fabric is gridded with Spectra ripstop and reinforced with panels of 420-denier nylon. A proprietary waterproofing coats the whole package, and former Gear Editor Eli Bernstein never reported damp gear, even during a rainy Greenland spring. We also loved the removable helmet holder, capacious hipbelt pockets, and an inner valuables pouch that spared us from gear-spelunking on long tours.
Bottom Line: If you need one winter pack for every possible sport, the Khroma is it.
---
How to Buy
Because fit is the biggest single factor in pack comfort and carry, we recommend going into your local gear shop wearing the layers you plan to tour in. The hipbelt should securely wrap your iliac crest, and the back panel shouldn't hit you in the back of the head when you've got a helmet on. Also make sure that your avalanche shovel easily slips in and out of the dedicated avy pouch, and that the pack is both big enough and sufficiently organized for your touring preferences.