The 10 Best Winter Jackets for Hikers of 2022
Bring it on, winter: The top insulated jackets of the year will keep you toasty no matter how icy the temperature gets.
Heading out the door? Read this article on the new Outside+ app available now on iOS devices for members! Download the app.
Let's face it: You may love the cold, but no one loves being cold. Catching a chill is a quick way to turn a fun day out in the mountains or the woods into an ordeal that leaves you dreaming about a hot drink and a roaring fire while you slog through the snow. And when it comes to keeping yourself comfortable in the fourth season, picking the right insulation is key.
A perfect winter jacket won't just let you survive in the cold, it will let you thrive in it. To find the best insulation of the year, we sent testers across America to put the candidates through their paces on subzero backpacking trips, long ski days in the backcountry, mountain ascents, and more. These 10 rose to the top for our best winter jackets: Pick your perfect one, and the cold will never keep you inside again.
Read More: Editors' Choice—The Best Winter Gear of 2022
What to Look for in a Winter Jacket
There's no such thing as a a perfect winter jacket: Like any apparel, the best way to shop for a jacket is to match it to your intended use. Need something for active use, like fast hikes or backcountry skinning? Fleeces are toasty midlayers, and vent heat well; they also tend to be relatively low-profile, which is ideal when you're layering them under a shell. The downside is that they don't block out wind.
For maximum warmth, consider a puffy, either down or synthetic. Insulation-filled baffles provide maximum warmth for minimum weight and bulk, meaning you can store your jacket in your pack until its needed. Durable water-repellent puffies can usually shed mild to moderate precipitation, and often block wind without the need for a shell, too. Downside: They usually don't vent heat as well as a fleece or hybrid jacket.
Best Winter Jackets of 2022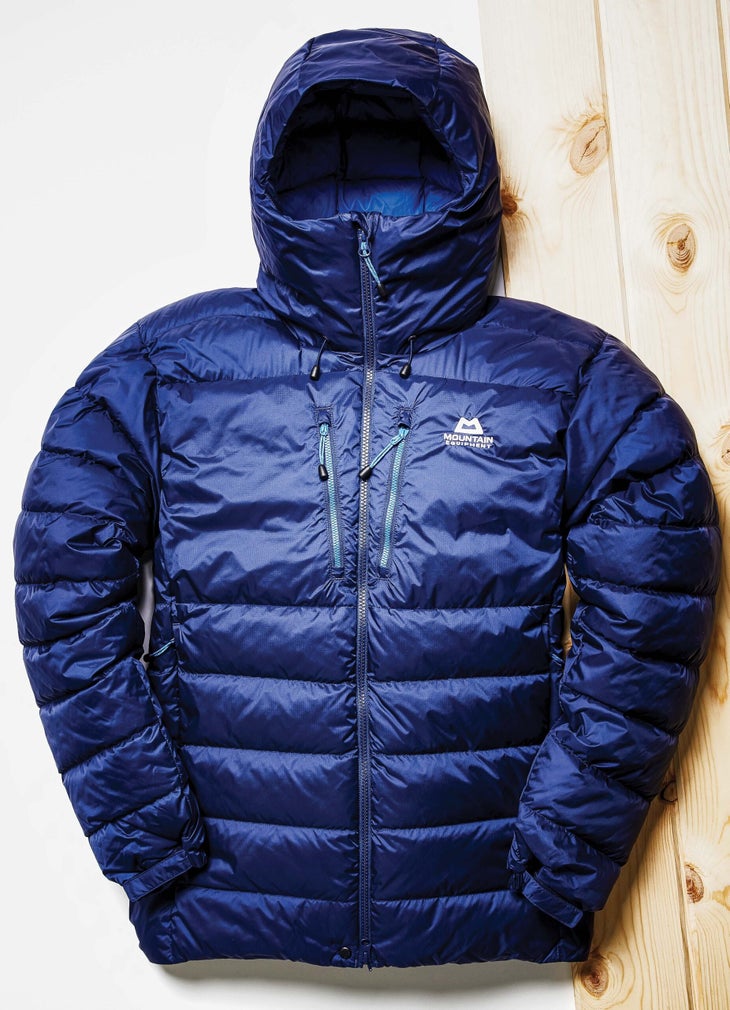 Warmest Insulated Jacket: Mountain Equipment Trango Jacket
Our Take
Foul weather on New Hampshire's Mt. Washington is a cliche at this point, but cliches make good testing environments. With temps at treeline during a January ascent dropping to -11°F, the Trango locked in heat and prevented sweat generated on the climb from freezing us when we stopped for a break. Offset double layers of 700-fill down baffles—combined with a reflective aluminum-coated internal fabric and snug, draft-baffled zippers, adjustable cuffs, and a drop hem—kept us toasty no matter what we were doing. "What better way to test wind penetration than r iding a snowmobile at 40 mph?" asks one tester. "With the Trango's cuffs cinched tight and the zipper to the top, I was still warm."
The Details
Don't expect breathability with a jacket this insulated: According to one tester, he had to open the zipper any time temps got above 20°F in camp, and the Trango was too hot to wear while moving over about 10°F. This bulky jacket packs into an included stuff sack to about the size of a rugby ball, but for our tester, that was reasonable considering its warmth. The 40-denier nylon face fabric never saw any damage. Considering how cold the Trango's ideal environment is, rain was never an issue, but a PFC-free DWR coating prevented snow from wetting the material. Testers also lauded the number of storage options: two hand pockets, two chest pockets, and two drop pockets inside.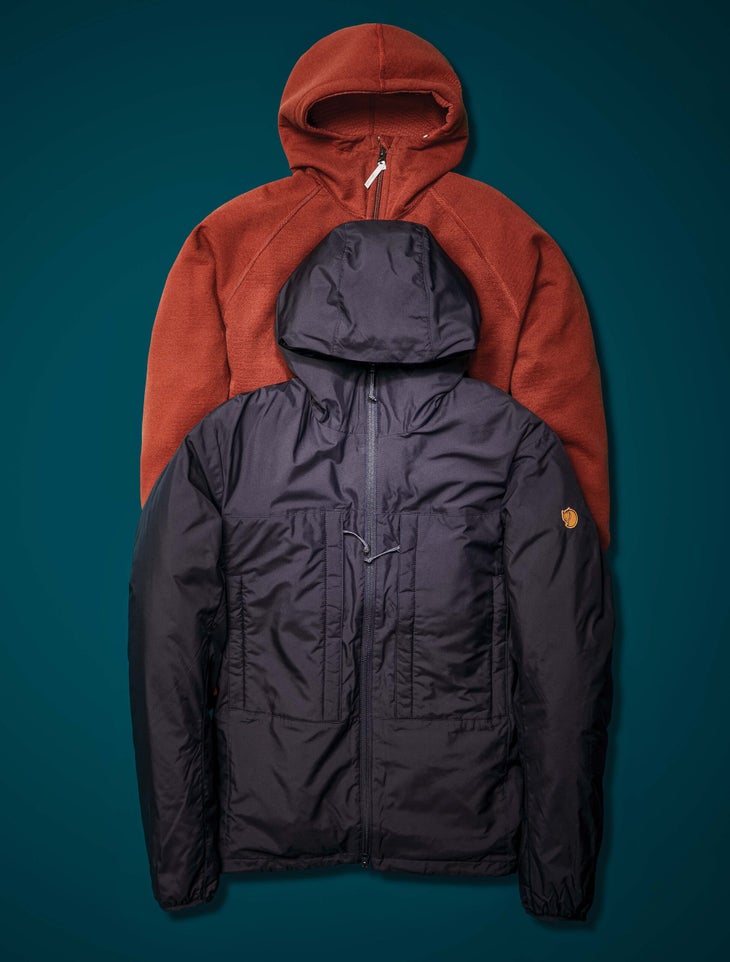 The Houdini Mono Air Houdi solves a problem with traditional fleece, while Fjällräven's Keb Wool uses an unusual filling. (Photo: Matthew Stacey)
Most Eco-Friendly Insulated Jacket: Houdini Mono Air Houdi
Our Take
As much as we can talk about jackets pushing the boundaries of warmth, packability, weight, or features, insulation that doesn't hammer the environment is more important than any of those over the long term. The Mono Air Houdi is at the forefront of that trend. Houdini partnered with Polartec to improve on the latter's Power Air fabric so it now sheds 80 percent fewer microfibers compared to a standard fleece. (Rather than using short fibers that can fall out, it uses much longer ones woven into "cells" that do a better job of holding tight to each other.) The material is also fully circular: It's made from recycled plastic waste and is 100 percent recyclable itself. But the Mono Air doesn't skimp on performance. Our tester was comfy hiking in the jacket while wearing it over a light baselayer on days in the low 30s (or using it as a layering piece in colder temps), and it breathed well while we rock climbed in New York's Shawangunks in the mid 40s. The best part: Houdini made the design fully open-source, meaning other manufacturers can copy pieces of the recipe to make similarly green garments.
The Details
One tester lauded the jacket's durability: "I wore this as an outer layer while bouldering near Great Barrington, Massachusetts, often brushing against abrasive rock, and the Mono Air's tightly woven face fabric shrugged it off." That weave didn't help with wind, though, which moved right through it, and can't handle much more than a sprinkle. The jacket also has two zippered hand pockets.
Most Versatile Insulated Jacket: Fjällräven Keb Wool Padded Jacket
Our Take
You heard it here first: Wool is the most versatile textile, full-stop. The Keb leverages this common— yet underrated—material for do-it-all temp control. One Adirondacks-based tester kept this jacket on him everywhere from a sweaty mid-teens skin up Mt. Colden, to cross-country skiing at the freezing mark, to resort skiing in the upper 30s. The lofted wool insulation, which successfully regulates a wide range of temps, proved to be the ideal quantity in almost every scenario. A 50-denier polyester face fabric with a PFCfree DWR coating held light snow at bay, and the Keb layered easily under a shell or heavier puffy. "I think I wore it every day between January and March," our tester says. "It was a fit for every activity."
The Details
As is typical with a "master of none," the Keb doesn't move moisture or dry out as quickly as some of the more breathability-oriented jackets in this test. But when it didn't fit the bill, it packed down to the size of a cantaloupe to tuck in a pack. The two exterior chest pockets (big enough to slip skins into) and two hand pockets all zip shut, and the hood cinched comfortably for hikes and summit transitions, but wouldn't fit over a helmet.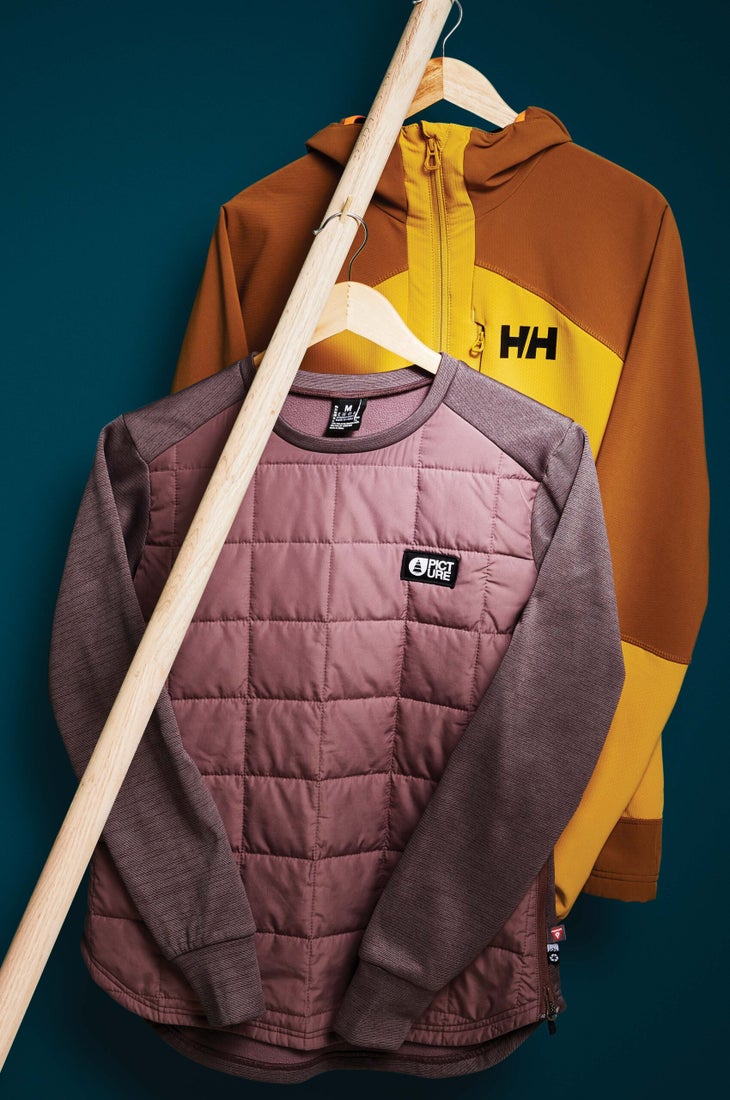 Best Fleece Midlayer: Helly Hansen Elevation Shield/Aurora Shield Fleece Jacket
Our Take
The Aurora Shield couldn't help our tester stay on her feet during a windy ski tour on Colorado's Loveland Pass, but it didn't let the gale force her inside. "It was the windiest day I've ever experienced, with gusts up to 50 mph," she says. Tightly-woven polyester/elastane face fabric with a PFC-free DWR held the wind and flying snow at bay, and just the jacket and a baselayer were enough to keep her toasty while she tried (and failed) to find a sheltered spot with temps in the 20s. Our tester wouldn't have wanted to wear the Aurora Shield in a rainstorm, but even heavy snow couldn't wet it out after an hour of exposure.
The Details
The light, four-way stretch fleece fabric kept us warm on ski tours with temps down into the single digits. The Aurora Shield (the Elevation Shield is the men's version) breathed well enough to be worn over just a baselayer while skinning up a resort on warmer 30°F nights. One tester lauded the jacket's snug-but-stretchy fit, hand pockets, and phone-size chest pocket, but wished the elastic-rimmed hood was slightly bigger to fit more comfortably over a ski helmet. (Though without a helmet on, it snugged down tight enough to not be affected by wind.)
Most Comfortable Midlayer: Picture Organic Clothing Junip/Lixi Tech Sweater
Our Take
The Junip (for men) and Lixi (for women) is Picture's take on an ultracozy sweater, but with real outdoor chops. Brushed polyester fleece throughout is paired with PrimaLoft Black Eco across the front, from the neck down to the hem. The result: A supersoft, relaxed-fitting pullover that moves moisture, plays nice with other layers, and kept us warm on everything from shoulder-season bike rides to desert camping trips to winter ski missions. The Junip hardly ever came off one tester during a weekend camping trip outside Moab, Utah, where temps hovered in the upper 30s. On mellow treks outside Ridgway, Colorado, it was comfortable over a T-shirt well into the 60s. Best of all: After a half-dozen washes, it hasn't lost that new-sweater softness.
The Details
The Lixi has a short zipper on the side, which made getting it on and off a little easier, while the Junip has a small zipper near the neckline for the same reason. Our tester was able to pack her women's size small down to the size of two stacked softballs. As expected, light rain and wind fared better on the polyester chest than the softer arms and back, but the fleece dried quickly. Our tester's only complaint: no pockets.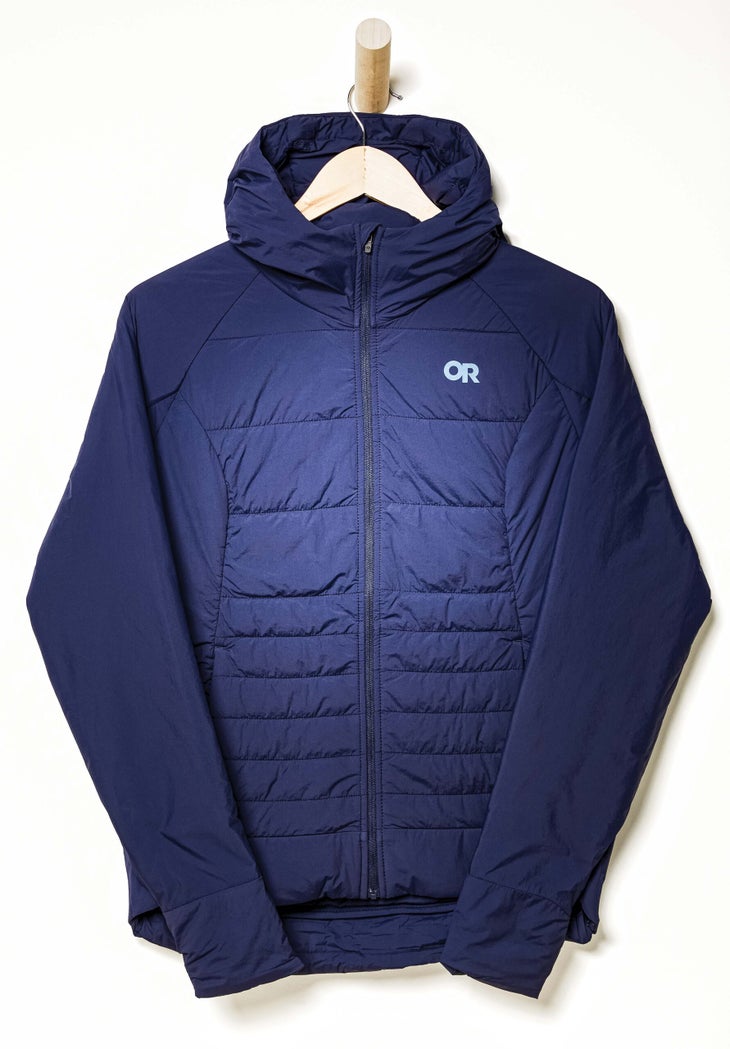 Best Value: Outdoor Research Shadow Insulated Hoodie
Our Take
There are plenty of budget-friendly synthetic puffies, but one that strikes such an ideal balance between warmth and breathability for $200 is a true bargain. The Shadow's proprietary insulation—made from a combination of recycled polyester and a corn-based textile called Sonora—kept us warm while we hiked in below-freezing temps on Colorado's Grand Mesa with a light baselayer underneath. An airy, 20-denier nylon-and-spandex shell and lining let moisture escape, even on sunny days spent snowshoeing. "When hiking uphill on a mid-40s, sunny day in Colorado, the sun really started to warm things up. I expected to get sweaty and swampy, but when I reached under the jacket, my skin and baselayer were dry," one tester says.
The Details
The Shadow has two hand pockets, as well as two internal drop pockets big enough for a light pair of gloves (but not skins). The hood (non-helmet compatible) is insulated like the rest of the jacket and cinches at the back. A non-PFC-free DWR coating kept sprinkles at bay, but not much more. The whole thing packs down to slightly larger than a 1-liter Nalgene bottle.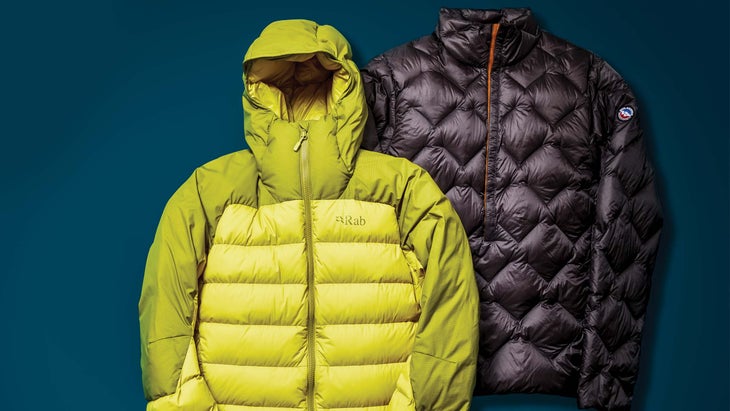 Best Waterproofing: Rab Infinity Alpine
Our Take
When a late-May storm rolls through Denali's lower elevations, you're probably going to want a shell: It's cold enough to need insulation, but just warm enough for the snow to fall heavy and damp. But if you're our tester, descending the West Fork of the Ruth Glacier during nasty weather, the fortress-like Infinity Alpine was all you needed. Its Gore-Tex Infinium Windstopper material, switch-back seams (which puts stitching only on the inside of the jacket, limiting places for water to enter), and a resilient, PFC-free DWR kept him warm and dry. Fewer seams in high-exposure areas—the upper arms, shoulders, and hood—as well as an insulated storm flap behind the zipper eliminated weak spots for wind or snow to seep through. The Infinity Alpine has 30-denier nylon on those high-exposure points (13-denier elsewhere), and our tester found it tough enough to stuff in his pack among pickets and ice screws.
The Details
All that weather protection guards 800-fill hydrophobic down, enough to keep our tester warm during a windy, low-teens summit push on Mt. Baker, though the Infinity Alpine was a little warm for days above 45°F. With the included stuff sack, it packs down to roughly the size of a butternut squash. A double zipper on the front made the jacket easy to use with a harness, the hood fit over a climbing helmet, and the Infinity Alpine has two hand pockets and one internal chest pocket.
Lightest: Big Agnes Danvers/Cora Pullover
Our Take
At just 7 ounces (by far the lightest puffy in the test) and packing down to the size of coconut, the Danvers (for men) and Cora (for women) are compressible and warm enough to pack for any type of mission, year-round. Offset, 850-fill diamond-shaped baffles limit cold spots, making the Danvers a key component of one tester's layering system (with a heavy baselayer underneath and a softshell on top) on a -12°F day spent cross-country skiing outside Flathead, Montana. During the summer, the Danvers has just the right amount of insulation to make it an ideal summit or evening puffy for temps into the high 20s.
The Details
The jacket lacks a hood and has a half-length snap opening, which our testers appreciated for its quick venting access, but they grew frustrated with how slow it is to close, especially with gloves. A DWR coating (with PFCs) held light showers at bay while we dayhiked in Washington's Charles L. Pack National Forest. The Danvers' 12-denier ripstop nylon face fabric showed no sign of wear after a full season. And we appreciated the big kangaroo pocket (rather than individual hand pockets) for warming up our hands while we were skiing.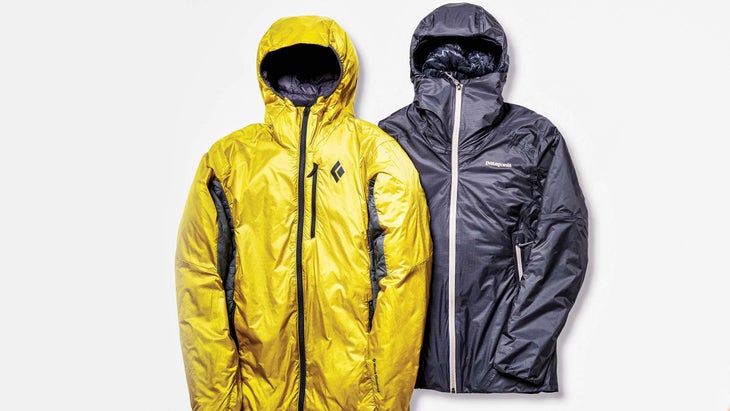 Most Breathable: Black Diamond Vision Hybrid Hoody
Our Take
This jacket has weather protection where you need it, as well as moisture management in areas that tend to get sweaty. The Vision Hybrid pairs a tight-woven nylon on the front and arms with a more breathable stretch-woven nylon on the back and under the arms, all overtop PrimaLoft Gold with Cross Core, to make one of the more airy jackets for its warmth that we tested. "On a breezy and overcast 40°F morning, this jacket was great to wear while hiking out from a backcountry campsite in Idaho's Craters of the Moon National Monument," one tester says. "The front of the jacket blocked the wind, while the material on the back and under the arms allowed heat to dissipate and prevented me from getting clammy." We're not even sure how long it takes for the jacket to dry—our tester could never get the Vision Hybrid so wet that he needed to investigate.
The Details
Cross Core, which adds aerogel to the synthetic fill, contributes some extra warmth to the Vision Hybrid without sacrificing weight or packability: The jacket packs down slightly larger than a loaf of banana bread (it does stuff into one of its pockets, but we found it to be a pretty tight fit). A 20-denier face fabric on the chest and upper arms doesn't tell the whole story, either. The non-stretchy face fabric is coated with an ultratough liquid crystal polymer weave that boosts durability. The only wear issues our tester noticed was some pilling on the back, but after 50 days in the field, we didn't see much else. A PFC-free DWR coating was just enough for snow or very light rain, and the Vision Hybrid comes loaded with a helmet-compatible hood and hipbelt-compatible hand pockets, along with a zippered chest pocket and an internal drop pocket that can hold a pair of gloves.
Best Ski Touring Jacket: Patagonia Micro Puff Storm
Our Take
Over the last few years, the Micro Puff has become a staple of our winter kits: Warm, packable, durable, and the ideal weight for a massive range of temperatures and conditions. This new Storm version checks all those same boxes and adds a waterproof exterior, making it our one-jacket quiver for backcountry ski missions. On a hut trip in Colorado's San Juan Mountains, it was the only jacket—insulated or shell—that we carried. On low-20s, blustery morning tours, the combination of its synthetic insulation and two-layer H2No waterproof/breathable outer fabric provided enough warmth to keep us from sweating and was tough enough to keep wind and blowing snow from cutting through the insulation. The waterproofing wasn't quite as protective as a true hardshell during rain, but our testers were hard-pressed to want to ski in temps that warm, anyway. The Micro Puff Storm is comfortable and breathable enough for temps into the mid 30s.
The Details
This jacket packs down to the size of a football, about average for a synthetic puffy. Its nylon outer shell with a PFC-free DWR held up to winter abuse, including carrying a 40-pound pack for a ski-touring backpacking trip. Two hand pockets are positioned high enough to avoid pack straps but could be a little awkward to actually get our hands into. The biggest thumbs down: You could buy both a regular Micro Puff and a cheap shell for the same cost, though the Storm will likely be lighter.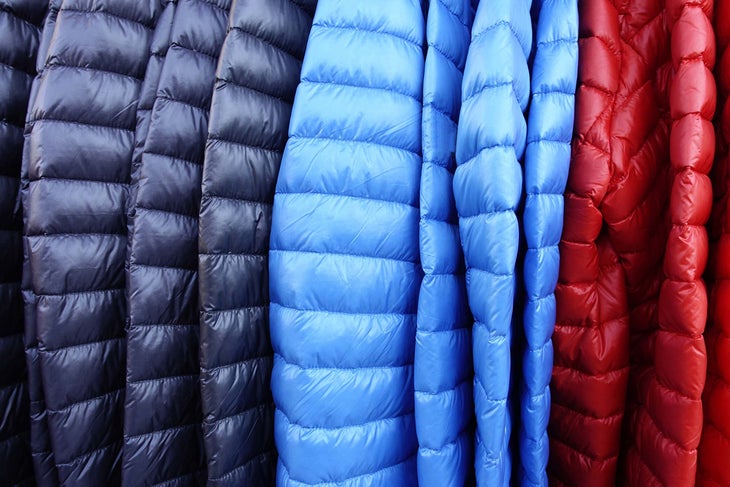 How to Buy the Perfect Insulated Jacket
Few pieces of gear are quite so tempting as trendy new puffies. But do you really need an ultralight jacket or a burly expedition parka? That depends on what you plan to do with it. 
Features
Bells and whistles can be nice or add unnecessary weight, depending on what you plan to do with them. Well-sealed cuffs, storm plackets over zippers, and tightly-cinching hoods and hems, make for warmer jackets overall. Helmet and harness-compatible jackets are key for climbers, mountaineers, and backcountry skiers. 
Consider packability: If you plan on only wearing your jacket during breaks, in camp, or at belays, you'll want to make sure it takes up as little space as possible in your pack. (Downside: You'll pay for packability.) A midlayer that you plan on wearing most of the day, however, doesn't need to be as compressible.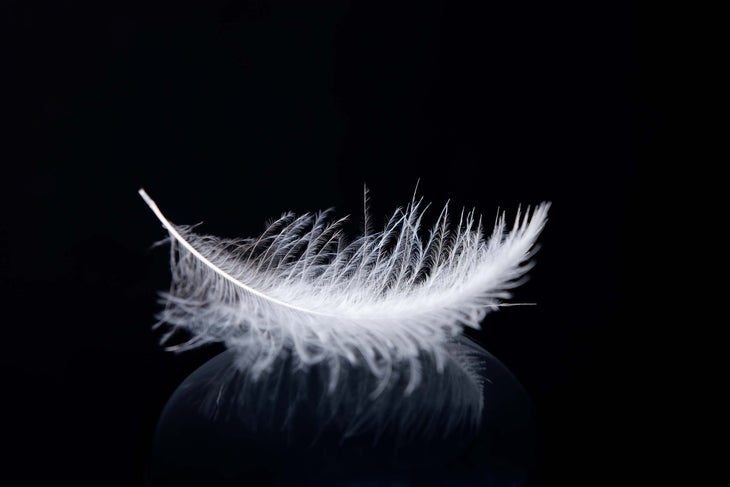 Types of Insulation
Down is warmer and compresses better than any other insulation, but will not keep you warm if it gets wet (unless it's treated with a DWR finish). Fill-power, or how many cubic inches one ounce of down can fill, partially determines the warmth along with how much down the jacket contains. Water-resistant down falls somewhere between synthetic and normal down in terms of providing warmth when wet. Down can be significantly more expensive than other types of fill, but it excels where weight is key or temperatures are extreme. 
Synthetic insulation, typically made from polyester filaments, will insulate even when wet, but doesn't compress well and tends to be heavier. It isn't great in terms of longevity: several years of stuffing and unstuffing can cause the fibers to break apart, decreasing their warming ability. Synthetic fill is also not particularly environmentally friendly, unless the fill is made with post-consumer recycled materials. Belaying a climber during a sleet storm or camping in a temperate rainforest? Synthetic may be the way to go.
Natural insulation, usually a wool blend, breathes incredibly well, insulates when wet, and keeps you from stinking longer than with other types of insulation. The downside? It's not particularly light or packable and takes a long time to dry; it's also not as widely available as down or synthetic. High-output missions like cross-country skiing or climbing steep switchbacks in the shoulder season are the time to use natural insulation. 
Durability
The thicker and more durable the exterior material is, the heavier and bulkier the jacket will be. For example, the Patagonia Micro-Puff weighs around 8 ounces, and has a paper-thin Pertex face fabric; the Rab Nebula Pro weighs 20 ounces but has thicker, 30-denier nylon face fabric. Thin fabrics snag and tear easily, especially if you're bushwhacking, doing a lot of scrambling, or carrying a heavy, abrasive pack.
Waterproofing and Breathability
Traditional down and synthetic insulating jackets don't breathe particularly well; their job is to keep you warm and retain heat while stationary or doing low-impact activities. If you're heading on a high-output activity like backcountry skiing, you'll want either a fleece or an active insulating layer, which use layers of lighter insulation and stretchy, breathable fabrics to help dump heat. The Arc'teryx Atom LT and Patagonia Nano-Air are both prime examples of this category.
In particularly wet climates, having a waterproof or weatherproof puffy like Columbia's Outdry Infinity Down Jacket can be great for preserving warmth. However, that waterproofing generally comes at a weight penalty; consider whether you can just layer your insulated jacket under a shell instead.
What a Backpacker Editor Looks for in a Winter Jacket
Adam Roy, Senior Digital Editor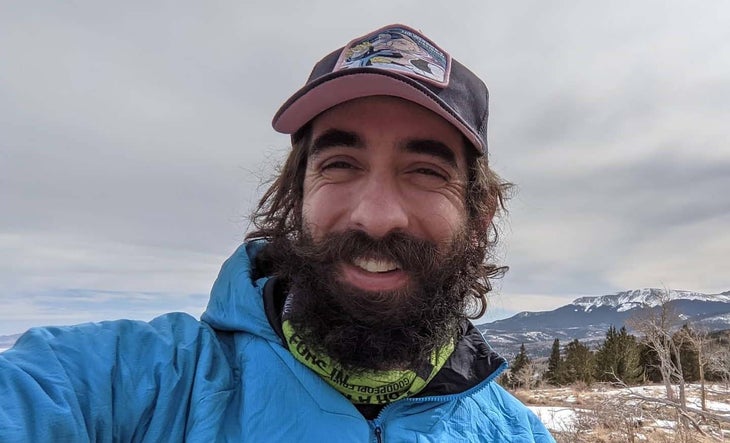 "Packability is key for me. I spend most of my winter backcountry skiing, which means I'm moving fast and usually generating enough heat that I only need a light midlayer or even a heavy baselayer most of the time. When I stop, though, I get cold fast, so I usually keep a puffy stashed in my pack. Space is at a premium, so finding that sweet spot between compressibility and warmth is important."