The 10 Best Softshell and Hardshell Jackets of 2022
Block wind, rain, and snow with these protective outer layers.
Heading out the door? Read this article on the new Outside+ app available now on iOS devices for members! Download the app.
It's as miserable to get wet and cold from precipitation as it is to sweat buckets inside your jacket. That's why a good hardshell or softshell jacket is such an impressive thing: it needs to breathe well enough to keep up with your high-energy winter activities, while protecting you from all manner of wind, snow, and rain.
We equipped out testers with a wide range of jackets and sent them out in heavy downpours, up steep alpine routes, and back down deep, snowy valleys. These 10 hardshell and softshell jackets stood out from the rest for their protection, breathability, and nifty features. With the right shell, there's no challenge you can't tackle.
Read More: Editors' Choice—The Best Winter Gear of 2022
What to Look for in a Winter Jacket
There are no do-it-all shells (although some can come close). You'll need to pick between a softshell, which excels at breathability, or a hardshell, built for waterproofness. High-output missions, like backcountry skiing or steep snowshoeing, with little or no precipitation are the ideal conditions for a softshell. Expecting heavy rain or snow? A hardshell might be a better choice.
The features of an outer shell are especially important for your intended activity. Pit zips, generous pocket space inside and outside, and extras like a snow skirt are all things to consider. Simply ordering your typical size might not be so easy: sizing requirements will change depending on things like how many layers you hope to have on underneath and helmet compatibility. For softshells, especially, check out the level of waterproofing used in the jacket, as it can vary drastically.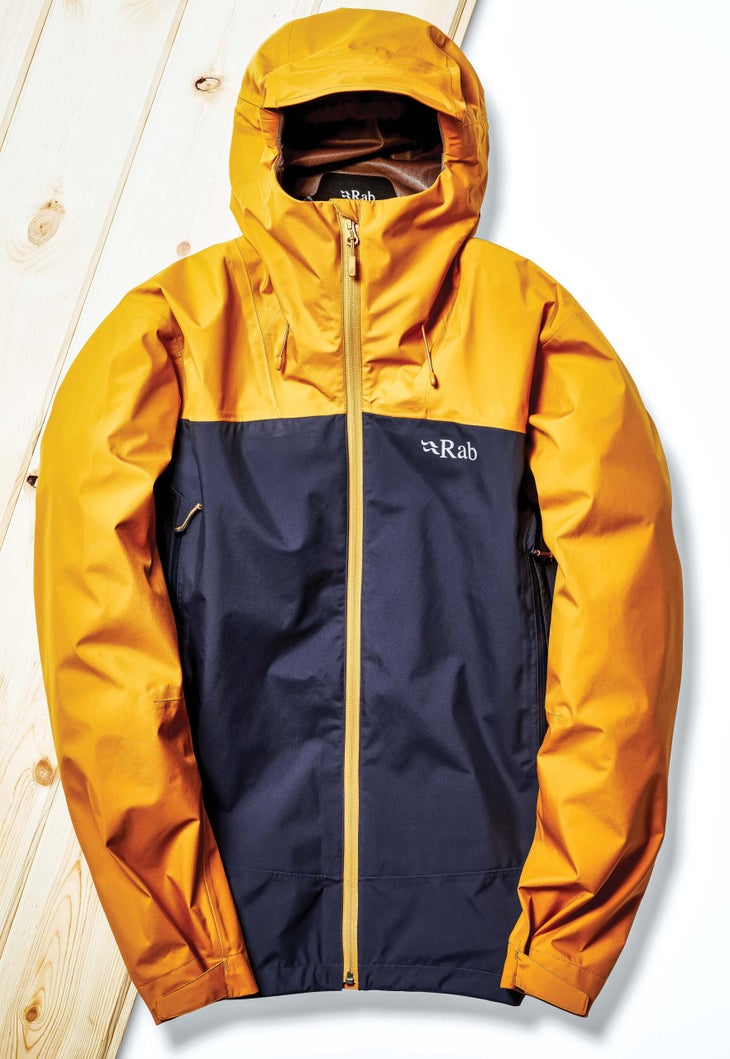 Greenest Shell: Rab Arc Eco Jacket
Price: $230
Weight: 15.1 oz.
Best for: Sharp, pokey terrain
Our Take
Plenty of shells incorporate some recycled materials, but it's not often you see a three-layer waterproof/ breathable fabric boasting environmental cred like the Arc Eco's Pertex Shield Revolve. It's made from 100 percent post-consumer recycled material, and Rab uses the same polyester base fiber for the jacket's face fabric, membrane, and liner, which means it's theoretically recyclable, too (though there's no infrastructure in place at Rab to do so at press time). Fortunately, we don't expect its reincarnation to be necessary anytime soon: The durable, 50-denier face fabric held up to navigating slot canyons in Utah and maneuvering over deadfall in the Tetons, and the shell kept us dry in everything from extended sleet to dumping rain.
The Details
The Arc Eco's generous cut let us pile on layers underneath, and a drop hem adds extra coverage; hand pockets sit above a hipbelt. And the recycled material proved quite breathable while we gained 1,700 feet through wintry mix in Bryce Canyon National Park (with the 9-inch long pit zips deployed). The jacket's helmet-compatible hood provides excellent face protection in wet, breezy weather. Tradeoff: The hood's stiffness somewhat obstructs peripheral vision.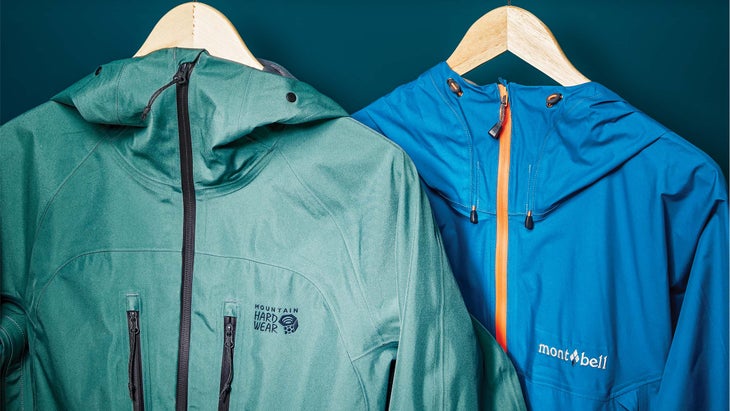 Warmest Shell: Mountain Hardwear Boundary Ridge
Price: $475
Weight: 1 lb. 10 oz.
Best for: Whiteout conditions
Our Take
When warmth is more important than weight or packability— say, for winter camping, frigid hiking, or ski excursions that start on the lift but flirt with the backcountry—this cozy shell has you covered. The Boundary Ridge's three-layer Gore-Tex fabric with a supersoft backer adds a touch of warmth and more plushness than a typical tricot lining. The material felt great against bare arms on warmer days and slid smoothly over heavier layers on cold ones, helping keep us comfortable down to 5°F. It's all business on the outside, though: "While I ski toured near Japan's Sapporo Kokusai resort, this shell endured a whiteout with snow blowing sideways on the peak and waist-deep powder on the way down while I stayed dry and comfortable," reports one tester. Though it's too heavy and bulky for extended uphills (it packs down to the size of an oatmeal container), the Boundary Ridge still let body heat escape before we got totally swamped out while hammering laps thanks to long pit zips.
The Details
The Boundary Ridge's 75-denier face fabric looks great after months of tree skiing and ski hauling, and while it's not stretchy, the shell's roomy cut let us move freely. The helmet-compatible hood sports three-way adjustment that we battened down in driving snow. You also get plentiful pockets: two hand, two chest, one wrist, and two interior mesh.
Bargain Ultralight Shell: Montbell Rain Trekker
Price: $159
Weight: 6.9 oz.
Best for: In case of emergency
Our Take
Most shells at this low of a price come with compromises on breathability and packability. And most shells at this scant weight are low on features but high in price. The Rain Trekker dodges all those pitfalls, making it ideal for milder winter climates. When a cross-country skiing outing in Washington's Methow Valley turned rainy, "I was sure I'd get clammy, but I never felt like I was wearing this jacket in the rainforest," one tester says. Credit an ultralight version of Gore-Tex Infinium Windstopper fabric, a two-layer, fully waterproof material with a coating on the membrane to protect it from your skin's oils. The Rain Trekker also squashes down to the size of a bratwurst.
The Details
A medium cut adds versatility, accommodating two light layers and a puffy vest underneath, but never feeling baggy over just a baselayer. Smallish hand pockets fit thin gloves or a snack, and you also get an adjustable (but not helmet-compatible) hood and cinching hem and cuffs. The 20-denier nylon face didn't show any wear after a season of testing, but it's not suitable for rough treatment. And though the Rain Trekker lacks the features and durability for the most demanding backcountry missions, one seasoned tester called it "the happy-medium shell—it'll do a great job in all but the most extreme conditions."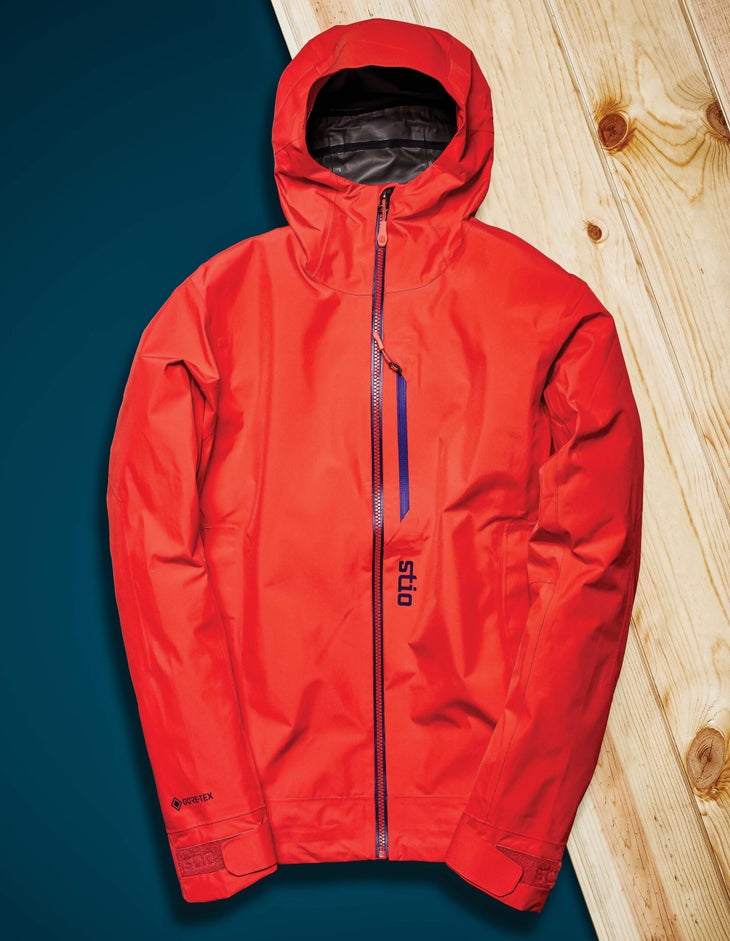 Best Value Shell: Stio Ender Paclite Hooded Jacket
Price: $249
Weight: 14 oz.
Best for: Winter packing on a budget
Our Take
Looking for just one shell to take you through every season? It should be durable yet relatively light, breathable, and fully featured—and a nice price wouldn't hurt. In other words, it should be the Ender. This shell performed equally well in gusty graupel, light snow, and relentless spring rain; credit the two-layer Gore-Tex Paclite material (a carbon coating protects the membrane on the inside). Its good (though not stellar) breathability kept us from totally swamping out on Alberta's Wasootch Ridge in a winter storm with temps in the 30s. Zippered side vents spread coolness across your torso when opened, and the Ender Paclite squishes down to cantaloupe size.
The Details
The features strike a balance between winter-ready and lighter weight: Just one of the two large hand pockets fits mittens and a neck gaiter (there's also a chest pocket that fits a smartphone), an adjustable hem seals out breezes, and huge hook-and-loop wrist tabs are easy to adjust with gloves on. The hood has a single adjustment cord around the back, but stayed in place without obstructing vision (it fits only low-profile helmets). And the impressively durable, 75-denier recycled polyester face fabric stood up to bushwhacking down a steep, thickly forested slope in the Canadian Rockies.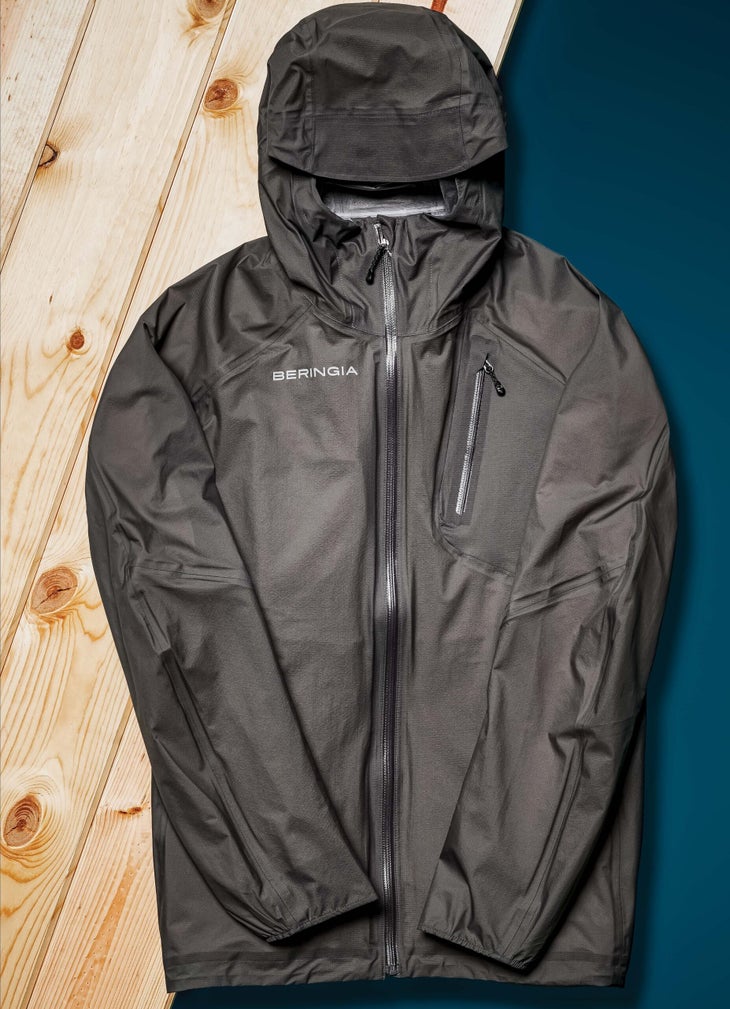 Lightest Shell: Beringia Dragonfly Waterproof Jacket and Pant
Price: $279 (Shell); $180 (Pants)
Weight: 6.2 oz (Shell); 4.6 oz (Pants)
Best for: Fast and light missions
Our Take
If you're as likely to encounter rain or sleet as you are snow on your winter excursions, this two-piece set will keep you dry without weighing you down. The brand's proprietary, three-layer, ultrathin fabric protected us from Shenandoah National Park downpours, brisk winds while snowshoeing in Alaska's Tongass National Forest, and seven hours of sleet during a Virginia ultramarathon without flinching. Breathability is very good, keeping us out of the red zone while we hiked at 50°F, and the whole kit packs down to the size of a couple of russet potatoes.
The Details
Even at this weight, the minimalist Dragonfly kit still has a few features: You get a chest pocket that fits a phone, a one-way adjustable hood and hem, always-open pit vents, and zips on the pants that run from ankle to knee for extra venting. (Nitpick: The hood brim flops around). And though the material is too delicate for substantial bushwacking, it held up well on-trail. "The nylon fabric is paper-thin, but after 100 miles of backpacking, hiking, and trail running, it still looks new," one tester says. Fit note: This kit runs small for men, so consider sizing up.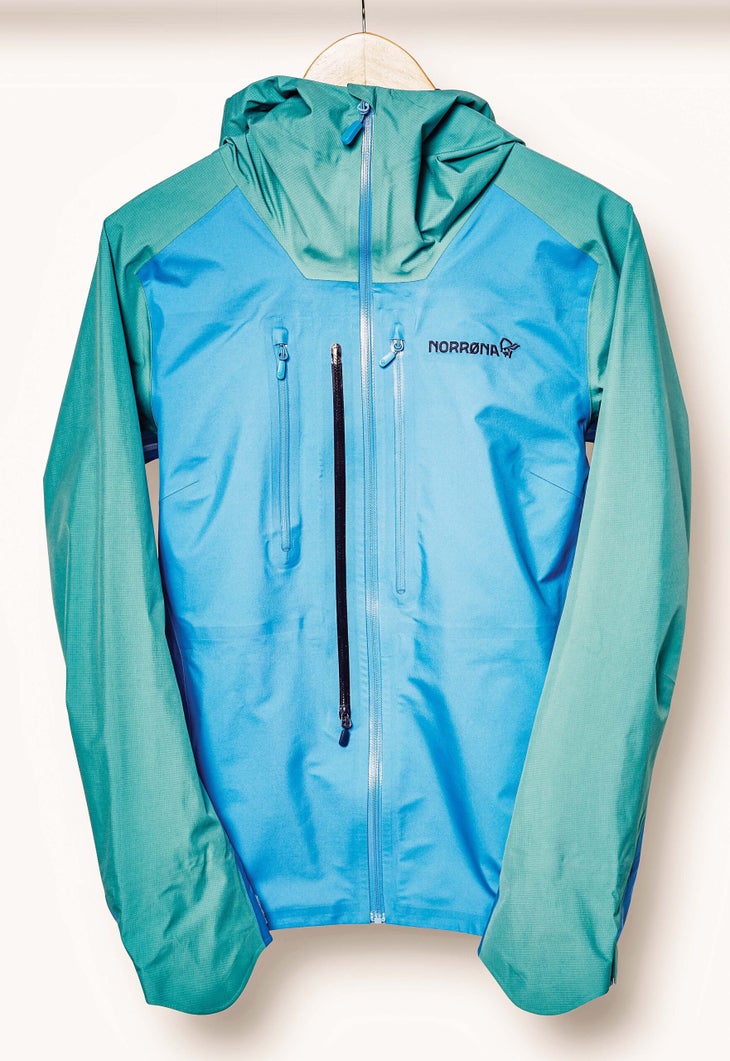 Best Shell for Ski Touring: Norrona Lyngen Gore-Tex Jacket
Price: $529
Weight: 14.2 oz.
Best for: Hut-to-hut protection
Our Take
This lightweight shell was purpose-built for ski touring, and it shows. Weighing at least a half-pound less than comparable shells and packing down to cantaloupe size, the Lyngen came with us on skimo races, snow camping trips, and day tours all winter. Its hybrid construction places recycled Gore-Tex Active Shell fabric on the body and back for greater breathability and recycled Gore-Tex with C-Knit material on the shoulders, sleeves, and collar for added toughness. Both fabrics use 30-denier nylon faces, which keeps weight down (the C-Knit is a burlier recycled nylon fabric), yet the jacket still survived a 40-foot slide on Mt. Rainier ice without a mark (the tester survived, too). We found the Lyngen's overall breathability to be merely moderate, but a front zippered vent and pit zips with two-way zippers helped air us out.
The Details
Thoughtful details abound, such as a well-designed, helmet-friendly hood with a high, roomy collar: On a windy Mt. St. Helens tour, "I could zip the jacket over my nose and still comfortably breathe without my goggles fogging up," says one Washington tester. The absence of hand pockets means the shell layers smoothly under hipbelts and harnesses, and the two chest pockets provide enough storage for one skin each. Stretchy hand gaiters help the sleeves easily tuck into gloves. A relaxed fit layers easily over a light puffy.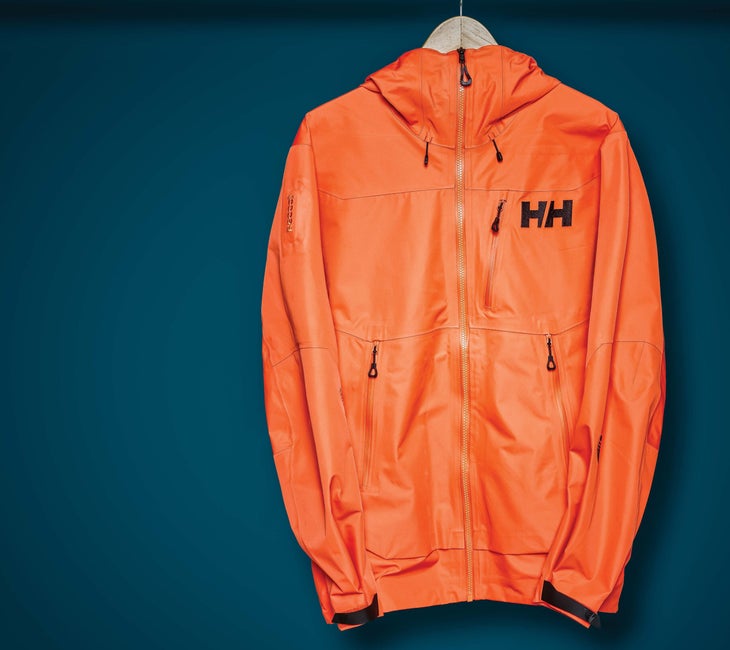 Best Protection: Helly Hansen Odin Mountain Infinity 3L
Price: $700
Weight: 1 lb. 5 oz.
Best for: Absolutely hellish conditions
Our Take
If you're in the market for this winter's premium alpine shell—and you have the funds to treat yourself— look no further. This svelte-yet-durable jacket "sheltered me from fog and blowing snow that were freezing my eyelashes shut," reports a Colorado SAR volunteer. "It was nearly impervious to wind, which made all the difference in being able to stay out at treeline on longer SAR incidents." The proprietary, three-layer Lifa Infinity Pro fabric also proved supremely breathable, thanks to an airy membrane paired with 14-inch pit zips. And the production process is chemical-free: The membrane's pores are made with heat and stretch instead of solvents—the first shell we've heard of to do so—and it uses special hydrophobic polypropylene face fabric fibers with low water absorption instead of a chemical DWR (the company says it never has to be re-treated, and we didn't see any lapse in water-repelling power in our months of testing).
The Details
This shell wants for nothing: You get a helmet-compatible hood, adjustable everything, hand pockets that fit skins, interior and chest pockets, and a removable powder skirt that kept us dry on a tumble in 20 inches of powder outside Steamboat Springs. Plus, though it handled tree skiing with nary a ding, the Odin still feels luxurious, with a "crème brûlée, soft-and-silky" handfeel. Note: The women's version is cut tightly in the chest, so consider sizing up.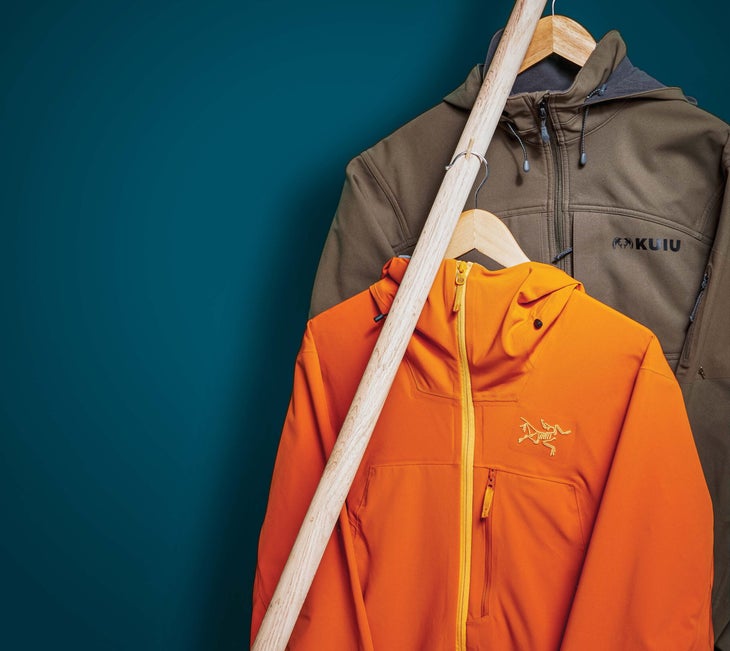 Most Versatile Shell: KUIU Guide DCS Jacket
Price: $239
Weight: 1 lb. 8 oz.
Best for: Basically anything
Our Take
From backpacking to ski touring to snowshoeing to climbing, we couldn't find a winter activity that this do-it-all softie couldn't handle. The fit is trim and feels best over just a baselayer and a light midlayer. But the Primeflex polyester fabric offers excellent flexibility, thanks to a spiral-shaped yarn that stretches without the addition of spandex (a technical trick that makes it dry faster). Design tweaks like articulated elbows and gusseted underarms also let us reach and twist without the hem riding up. "Whether I was rock climbing, hauling a backpack, or riding my bike, this shell moved with me," notes a tester.
The Details
With pit zips opened, the Guide DCS's breathability kept up with backcountry laps at Colorado's Berthoud Pass in temps just below freezing: "While I skinned, the fleece liner never became saturated with sweat, and my baselayer was never soaked," one tester says. Ample pockets (two hand, two chest, shoulder, and interior) kept accessories at the ready, and zippers are easy to operate with gloves on. The adjustable hood feels stiff and awkward. Bummer: no women's version.
Best Shell for Touring: Arc'teryx Procline Jacket
Price: $500
Weight: 1 lb. 9 oz.
Best for: High output in a blizzard
Our Take
Why ski in a softshell instead of a fully waterproof hardshell? One word: breathability. This shell's Gore-Tex Infinium fabric breathed like it had lungs on long grunts up Coal Bank Pass in Colorado with temps in the 20s, keeping us more comfortable than even the airiest hardshell. But you don't give up much in the weather protection department, either: "It snowed every day on a three-day avalanche course on Colorado's Red Mountain Pass, and I couldn't have been happier to be wearing something that kept me dry, but that I could also climb comfortably in," one tester says. "For 95 percent of snow, it's OK." There's also a PFC-free DWR; 30 minutes of slushy snow did wet out the face, but didn't reach our baselayers.
The Details
The Procline's hood slides over ski helmets and stayed in place without blocking peripheral vision on a blizzardy descent from 12,200 feet in the San Juans. The stretchy powder skirt kept the flakes out, and the adjustable cuffs fit over thick gloves. You also get tons of storage in the form of pockets both external (hand, chest, sleeve) and internal (another three). And we never worried about the tough, 70-denier nylon face fabric when we skied the trees. But ouch: that price.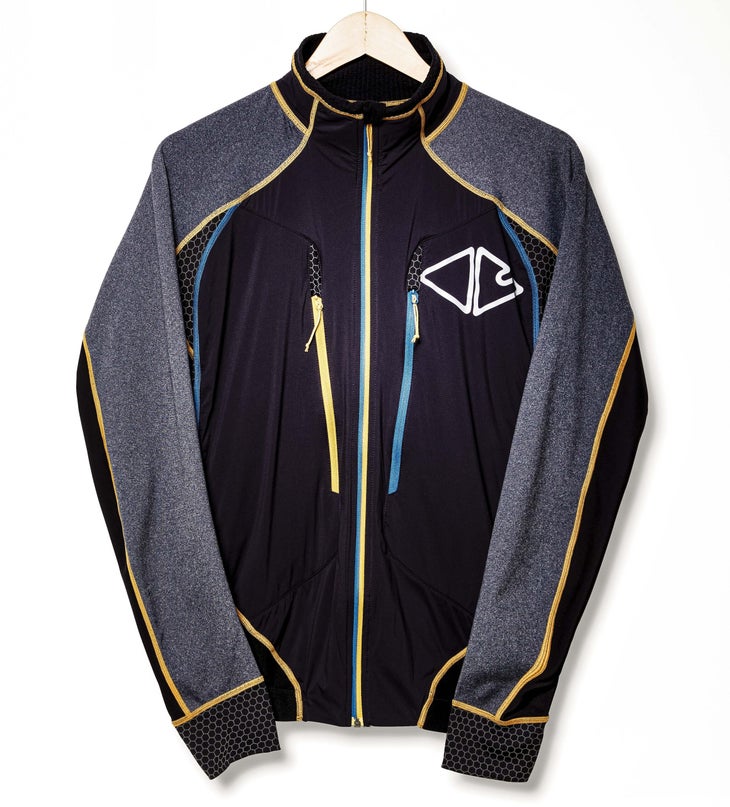 Price: $230
Weight: 13.2 oz.
Best for: Near-vertical climbs
Buy Now
Our Take
When your heart really starts working, so too does this ultrabreathable number. It might look like a midlayer, but the Pull Cervino has the weather-resistant chops of a softshell. A hybrid design places airy fleece on the back and arms, which kept the sweat at bay on a ski tour up Montana's Bass Creek Canyon with temps in the 20s. Deep, mesh-backed chest pockets add to the venting. A water-resistant, windproof nylon torso offers plenty of protection (the men's version is slightly more robust than the women's, though), and shed an hour of dry snow at Utah's Fisher Towers. However, this top isn't meant for extended wet weather.
The Details
"The jacket has a snug fit, but the stretchy fabric moved with me," said one tester after scrambling in Utah's Hidden Valley. The Pull Cervino layers easily under a hardshell, but is best worn over thin layers. Two large internal pockets swallow skins, and a third holds a beacon. Nonadjustable elastic wrists and hem have a trim fit, keeping gusts out, and the chin-high collar adds welcome warmth when fully zipped. Cheers: the wide, comfy thumbholes.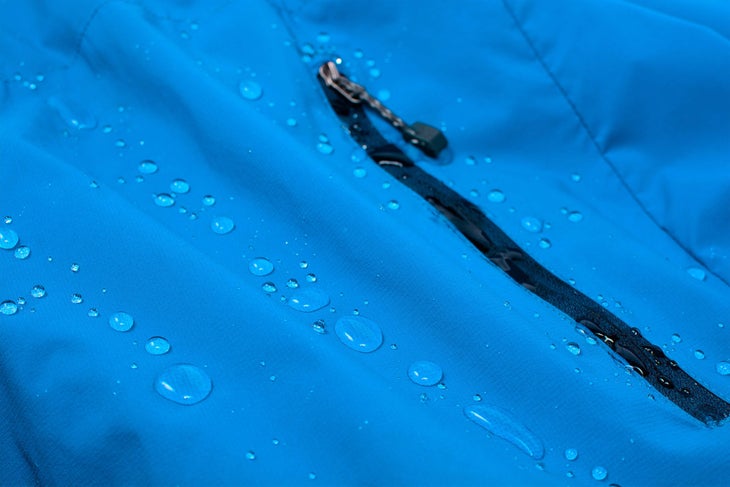 How to Buy the Perfect Winter Shell
A winter shell is the main barrier between you and the elements, so it's critical that it does the job well. Not all shells are the same, though. Confused about softshells versus hardshells? Not sure if you need pit zips? Here's what to look for in a protective outer layer.
Hardshell vs Softshell
The difference between the two main categories of jacket is that hardshells are generally waterproof, and softshells are typically water-resistant and more breathable. If you're headed to a climate where it's nuking snow or pouring rain, a hardshell is for you. If you need a shell for high-output activities where you'll be sweating and don't expect a deluge, a softshell can be a much more comfortable option.
Waterproofing and Breathability
Winter-worthy hardshells are often made with a three-layered material that's been the industry standard for decades: a protective face fabric on the outer layer, a waterproof/breathable membrane in the middle, and an inner, wicking layer next to your skin or baselayer. These differ from rain shells, which typically have fewer layers, and are much less durable. The trade off for waterproof three-layered fabric is that it doesn't breathe particularly well when compared to a softshell. No matter how expensive or advanced the technology, you will get clammy or have to ditch the layer at some point if you are exerting heavily.
Softshells are typically made of DWR-treated nylon, and are often stretchy thanks to elastane weaves. Weather resistance on softshells ranges from barely waterproof to almost hardshell-level waterproofing. Because they lack waterproof membranes, softshells breathe well and are better suited to fast-paced, high-exertion activities like backcountry skiing or snowshoeing in steep terrain. The stretch is particularly useful for climbing, or any activity where range of motion is paramount.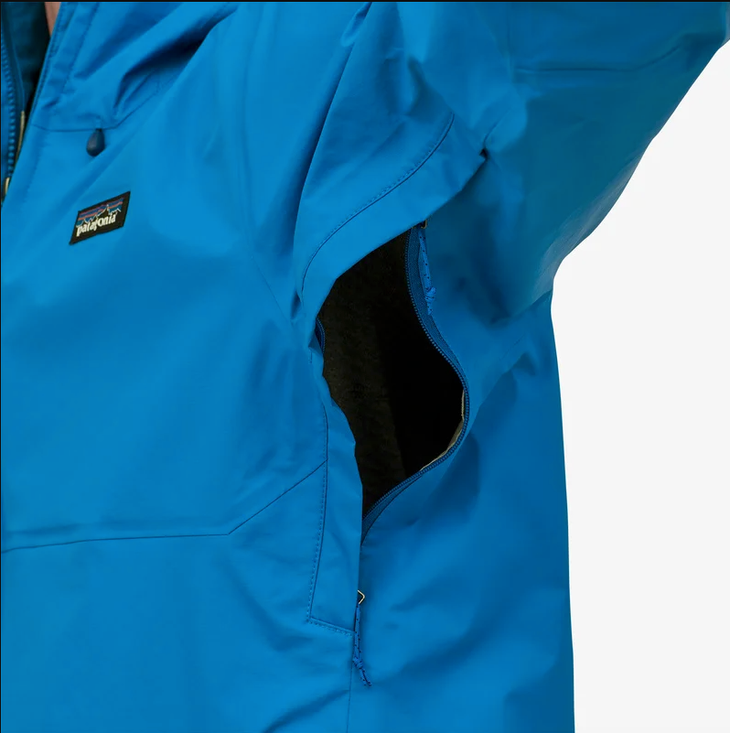 Sizing
Many shells are sized to be worn with layers underneath: If you plan on wearing a bulky midlayer, keep that in mind. Hoods should fit correctly, whether you are wearing a helmet or not: a brim directs precipitation away from your eyes, peripheral visibility should be good, and the sides should cinch down to prevent drafts. Collars, when zipped up, should come nearly up to your nose for the best weather protection without causing chafing. Sleeves should extend all the way down to your hands without leaving a gap above your gloves.
Features
Activity-specific features on both hardshells and softshells are important to consider: helmet- and harness-compatibility for mountaineering and cold-weather climbing, or a snow skirt for keeping powder out while skiing. Pit zips are the most efficient way to dump heat without taking your jacket off, especially for hardshells. Make sure your jacket has generous slits with large zippers for opening and closing with gloved hands. Number, size, and location of pockets are important for stashing things on the go; make sure you can access what you need with a backpack or harness on without taking off your gloves. Sleeves should have closures that are easy to manipulate while gloved, and inner thumb loops if snow penetration is an issue.
What a Backpacker Editor Looks for in a Winter Jacket
Shannon Davis, Editorial Director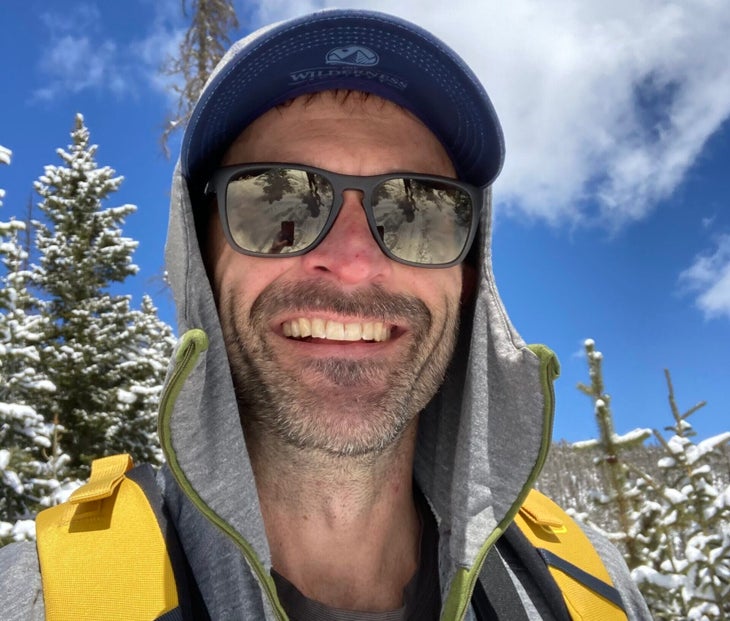 "Three things concern me more than anything else in a winter shell: blocking wind, pocket-space, and venting. Nothing zaps heat like the wind; in arid climates, I often wear a beefy softshell for wind protection and enhanced breathability, but a hardshell is a great do-it-all when you're also expecting moisture. I like plenty of pocket options on a winter shell so I can stash energy bars and keep my phone close to skin (body heat keep bars pliable and preserves battery life) as well splitboard skins or another set of gloves. Managing sweat is also key, so I dig pit-zips that are both effective and easy to operate on the go with gloves on."