Your Next Ultralight Pack Could Be from a Hunting Brand
A new crop of brands are creating specialized ultralight gear for hunters—and they're making inroads with backpackers too.
Heading out the door? Read this article on the new Outside+ app available now on iOS devices for members! Download the app.
Traditionally, there isn't much crossover between backpackers and hunters, and that's doubly true for backpackers of the ultralight variety. In terms of equipment, backpackers see hunting gear as heavy and overbuilt—not to mention splattered with too much camouflage. 
But in recent years, hunters have begun to embrace ultralight gear, perhaps even more so than backpackers have. A number of small and cottage manufacturers have cropped up in the past decade or so, as well as several brands that have quickly ramped up to larger-scale production. For three years running, Stone Glacier, a Bozeman-based ultralight hunting brand, has landed on Inc. Magazine's list of the 5000 Fastest Growing Private Companies. In 2017, KUIU, a direct-to-consumer hunting brand, made headlines after receiving a $50 million investment from a private equity firm. Today, these brands are not only reaching hunters, but finding customers among backpackers and ultralight hikers, as well. So what's behind the newfound interest in highly technical, ultralight hunting gear?
For starters, there was a serious need for it, spurred by the growing popularity of backcountry hunting. As more hunters, especially those in the American West, embarked on longer and more committing trips, gear designed for tree stands and short jaunts to and from pickup trucks proved inadequate. New companies popped up to fill that need. 
KUIU, founded in 2012, was among the first hunting brands to explicitly chase lightweight performance. "Backcountry hunters are doing all the things that mountaineers, backpackers, and thru-hikers are doing, and then adding another element to it," says Brendan Burns, KUIU's "Chief Hunting Officer" and product designer. "I don't think hunters get the credit for the remote exploration that we're doing, often in terrible weather for 10 to 15 days." For the types of expeditions Burns prefers to take (think several weeks chasing bighorn sheep in remote Alaska), traditional hunting gear was too heavy, while backpacking gear wasn't durable enough. 
Other brands were born out of similar experiences. Seek Outside, a cottage hunting brand based in Grand Junction, Colorado, offers ultralight backpacks made to carry game and other heavy loads. Kevin Winn, the company's founder, says he designed the packs to bridge the gap between hunting and backpacking. "When we designed our first pack in 2012, it was a different world. No one in the hunting market was using X-Pac fabrics or roll top designs," he says. "Hunting packs tend to be heavily pocketed, and they're very traditional—I think they are kind of artifacts."
Winn knew these hunting packs, which routinely top six or seven pounds, were overkill. But ultralight hiking packs were too flimsy to haul game. The compromise he landed on was a three-pound pack with a burly external suspension and the minimalist sensibility of an ultralight hiking pack. "Backpacking at its core should be a simple, even elegant activity," Winn says. "Hunting is really the same. It's a backpacking trip with some extra tools."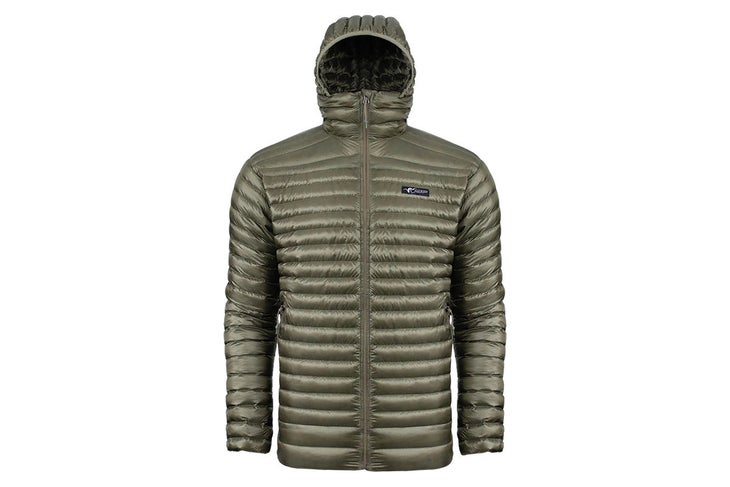 Now, the word is getting out among hikers about this high-performance hunting gear. At Seek Outside, Winn says that his customer base is not just hunters, but ultralight backpackers, packrafters, and other multisport adventurers, too. The brand now offers hunting packs, hiking packs, and packs designed to excel at both. KUIU, meanwhile, has seen their apparel accepted by an unlikely crowd—extremely weight-conscious ultralighters and thru-hikers. A few pieces, like the five-ounce Peloton 97 fleece midlayer or the hot-weather Tiburon pants, now rival offerings from Patagonia and Outdoor Research when it comes to ultralight buzz. 
For his part, Burns says that he remains focused on designing hunting gear, and is largely unaware of KUIU's growing influence as a hiking brand. "Everything we make, we build it because we need it on hunting trips," he says. If it catches on with other users, Burns chalks it up to a happy accident.
It helps that modern hunting gear looks increasingly similar to backpacking gear. While there is still camouflage and blaze orange to be found, popular hunting brands like KUIU, Sitka, and Stone Glacier are favoring solids and earth tones more than ever. A down jacket from any of these companies wouldn't look out of place around town, much less on a hiking trail. 
Technically, the hunting gear is up to snuff, as well. Stone Glacier offers down jackets with 850 fill waterproof down and a Pertex Quantum shell. KUIU has an exclusive partnership with Japanese textile manufacturer Toray, and about 90 percent of the brand's fabrics are proprietary. At Seek Outside, Winn uses Ultra 200 and 400, the most durable ultralight pack material to date. 
For some in the ultralight hunting world, there's hope that this crossover gear will help break down barriers between hunters and other recreational users. "There's no good reason for us to be as segmented as we are," says Winn. "There are people who buy our packs to go hiking, and then send a photo three years later of their first elk hunt. We're always trying to bridge the gap between the two."