How Does the '70s' Lightest Backpacking Gear Stand Up to Today's?
We combed through vintage magazines and catalogs to find out how low you could go back in the day.
Heading out the door? Read this article on the new Outside+ app available now on iOS devices for members! Download the app.
Viewed through a modern lens, going on a backpacking trip fifty years ago looks like a tortuous affair. The gear was heavy and uncomfortable. Everyone cooked meals in cast iron skillets and hiked in blue jeans. For an ultralight hiker in the 21st century, a vintage gear catalog advertises nothing but nightmares. Is this picture wholly accurate, though? Could an aspiring ultralighter outfit themselves using only gear that was available in the 1970s? We combed through gear catalogs and back issues of Backpacker to find out.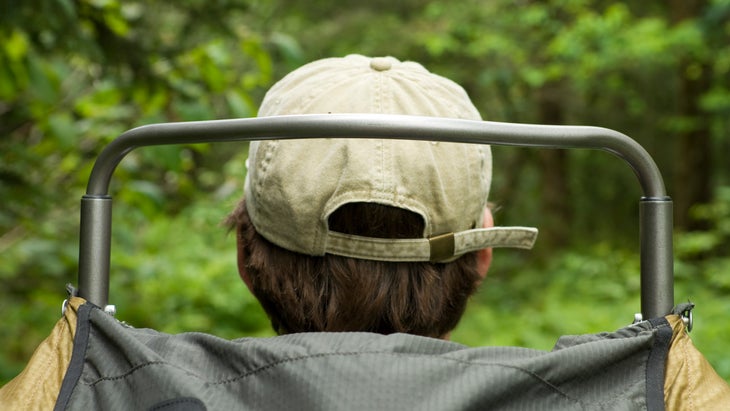 Backpacks
There's no question about it: In the 1970s, external frame packs were king. Sure, Greg Lowe developed his first internal frame model in 1967, but at the time, they weren't widely popular, nor did they offer significant weight savings over external frame packs. In fact, Backpacker editors issued a statement in a 1975 backpack round-up that seems ridiculous today: "The advantage of the [external, aluminum frame pack] lies in its light weight." So it's safe to say that even the aspiring lightweight hikers of the 70s would opt for an external frame. 
One of the top choices in that 1975 round-up was the Jansport Cascade F2C10, which Backpacker rated the most comfortable as well as the lightest in the test. It featured about 40 liters of volume, weighed three pounds, and cost $55. 
Today, Zpacks makes a hybrid internal/external frame model, the Arc Haul, that more than measures up. The 60-liter version has 50 percent more carrying capacity, and weighs in at just 21.4 ounces.
Verdict: Fail. While the Jansport Cascade is no heavyweight, it can't be considered ultralight either. Clearly, pack design and material innovation has come a long way.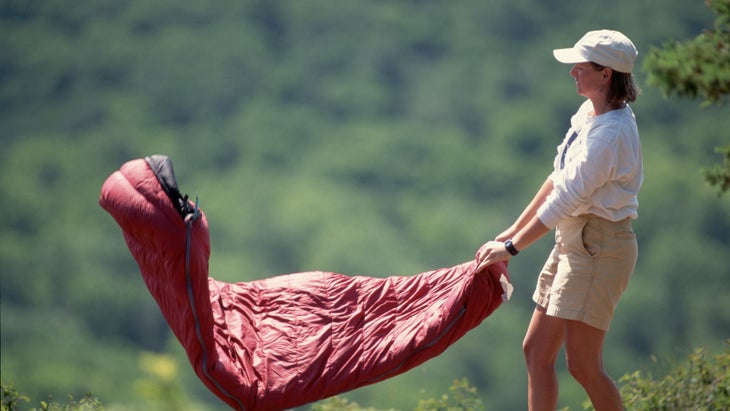 Sleeping Bags
A high-quality sleeping bag is a fairly simple concept: high-loft down insulation wrapped up in the lightest fabric you can find. And since goose down had long since been discovered by the '70s, it stands to reason that sleeping bags from the era would compare well to modern options, despite obvious improvements in fabric weight and durability. 
Take, for example, the Fairydown sleeping bags produced by Arthur Ellis and Company in Dunedin, New Zealand. The Everest Sierra model weighed in at 3 pounds 8 ounces and featured chevron-shaped baffles for additional loft. Temperature ratings for bags weren't commonplace then, but since the Everest Sierra was tested in Arctic conditions and endorsed by none other than trailblazing explorer Sir Edmund Hillary, it's safe to say it was designed to handle properly cold conditions. 
In contrast, a modern zero-degree down bag from a reputable brand, like the Kodiak from Western Mountaineering, weighs in at 2 pounds, 12 ounces. The weight savings are substantial, but not massive.
Verdict: Pass. A modern sleeping bag will save you a few ounces, thanks to lighter fabrics. It also might contain waterproof down, a serious quality-of-life upgrade. But the fill power (and therefore overall weight) of down insulation has barely budged over the decades, making a '70s-era bag perfectly serviceable today.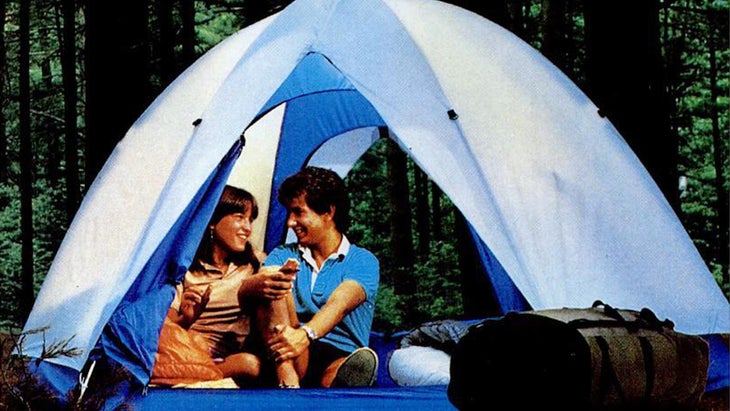 Tents
By the '70s, freestanding tents were all the rage. They quickly replaced finicky pup tents that required careful staking and numerous guylines, and manufacturers went all-in on the new designs that flexible tent poles enabled. Many tents from the era were palatial, oddly shaped, and quite heavy. One of the simpler and more enduring designs was the Eureka Timberline, a freestanding A-frame that the brand contends was the world's first double-wall shelter. It was constructed of 1.9 oz ripstop nylon (not featherlight by today's standards, but still in wide use), but still tipped the scales at nearly eight pounds. It's still in production today, though you won't find many deep in the backcountry.
In comparison, nearly every 2-person backpacking (and car camping) tent weighs less nowadays. One of the lightest freestanding, double-wall options, the Big Agnes Copper Spur HV UL 2, clocks in at 2 pounds, 11 ounces (trail weight.)
Verdict: Fail. The difference between a modern tent and one from the '70s is stark. Trying to eke out a 10-pound baseweight with a tent like the Timberline would be virtually impossible. One caveat, though: Tarp users would do just fine. Lightweight tarps sold as emergency shelters were widely available fifty years ago.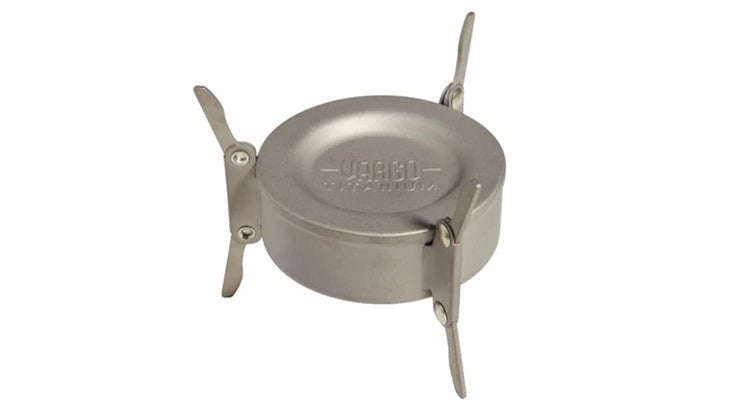 Camp Stoves
White gas stoves and early iterations of butane canister burners dominated the pages of magazines and catalogs in the '70s. But tucked away in a 1976 Backpacker stove review we found the REI Alcohol Stove. At the time, editors referred to it as an "emergency backup stove," clearly unaware that in a few short decades, hordes of ultralight backpackers would consider it all the stove they'd ever need. 
At 3.5 ounces, the vintage REI stove is a bit portly compared to modern alcohol burners—a Vargo Triad weighs just one ounce. Still, the overall weight difference is small.
Verdict: Pass. The REI Alcohol Stove wouldn't look out of place in a modern gear store. For the '70s-era backpacker, the difficulty would be getting over the stigma of alcohol stoves as an emergency tool.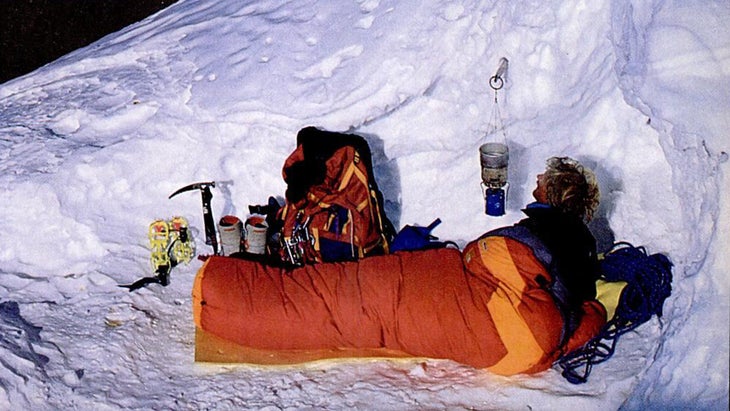 Sleeping Pads
Perhaps unsurprisingly, closed-cell foam pads—the pad of choice for committed weight weenies—have been around for decades. But there are plenty of us who aren't devoted enough to sacrifice a comfortable night's sleep for weight-savings. In the '70s, pads like Cascade Designs' original Therm-a-rest proved much more supportive, but also far heavier. Lightweight and luxurious options were few and far between, but the Hampshire Air Mattress was one such choice. 
The full-length version clocked in at only 15 ounces, in line with modern pads. According to reviews, however, it wasn't nearly as user-friendly. It had six baffles, each of which needed to be inflated separately, and felt like "sleeping on six elongated balloons." Rather than filling each tube to capacity, users had to inflate each tube about two-thirds full and equalize the air in each baffle to ensure a flat sleeping surface. It was also uninsulated, and likely uncomfortably cold except in summertime conditions. 
Today, there are a number of options to choose from among air mattresses, most of which are insulated, remarkably comfortable, and lightweight—the Thermarest NeoAir Xlite weighs in at just 12.5 ounces. 
Verdict: Fail. Despite their low weight, '70s-era air mattresses were basically glorified beach rafts marketed to backpackers. A modern pad would be warmer, more comfortable, and easier to inflate.