The Right Poles: A Game Changer
With more than 40 options available for trail lovers, LEKI has a trekking pole for every occasion
If you're looking for a quick fix to help you go faster and feel better while adventuring on the trails, consider trekking poles. These often-underrated magical sticks can reduce joint impact, improve balance, and burn extra calories—all while helping you get to where you need to go. But how do you know which pair of poles are best suited for your chosen trail activity? Easy: we help you out. Our team at Backpacker sorted through LEKI's extensive collection of poles to help you determine which trekking poles to take on your next adventure.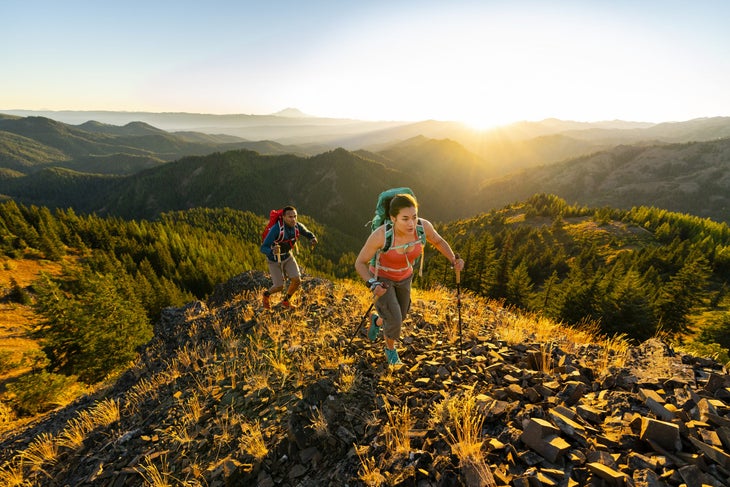 Best for Backpacking
It doesn't matter if you're an ultralight speedster or an everything-and-the-kitchen-sink type of backpacker; trekking poles make the sport easier. Backpackers inherently carry large quantities of weight on their back, throwing their hiking balance off kilter and adding extra weight to their joints on the downhills. But, poles like LEKI's Makalu Lite Cor-Tec ease these physical woes. Not only do the adjustable, three-section poles help with potential balance issues, but the high-tensile aluminum shaft shaves ounces while maintaining the bomb-proof durability you need on rugged backcountry terrain. And, the hybrid cork-and-rubber grip on the Makalu hits that coveted sweet spot: lightweight and sweat-absorbent thanks to the cork and hardwearing due to the rubber. 

Want to dial back the features in exchange for saving a few dollars? Then consider the Journey Lite. The innovative EVOCON grip is rugged enough for backcountry trails and the full-aluminum shaft will withstand any backcountry rigors you throw at it. At just over one pound per pair, they're also light enough for your backpack to swallow them up.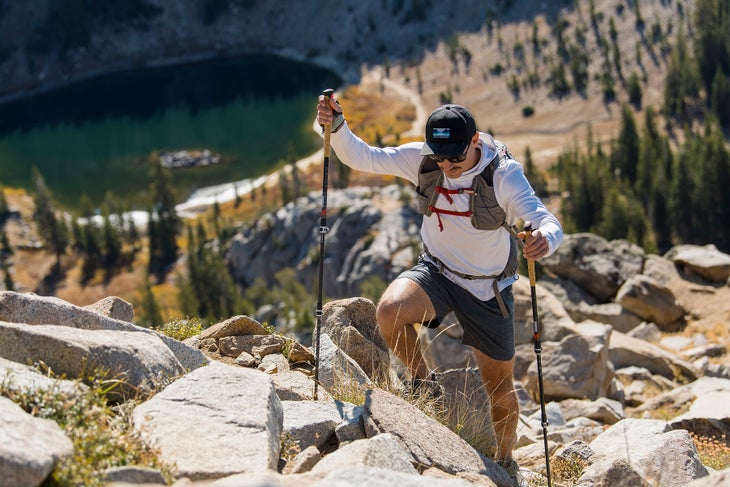 Best for Steep Terrain
Did you know that carrying a pair of trekking poles on steep climbs is akin to having a second set of legs to power you up the mountain? If you use them properly, poles can support and redistribute some of your weight away from your leg muscles during steep climbs, helping you go longer and with less fatigue. This is why it's so important to choose a pole like the  Micro Vario Carbon that can withstand the pressure of tough ascents.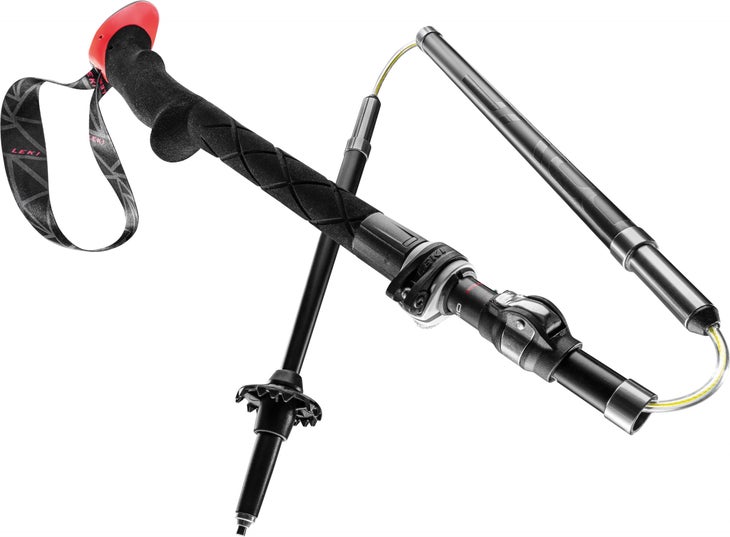 To vary the pole length, LEKI uses a Speed Lock 2 adjustment system that boasts a 20% higher holding force than previous iterations. What's this mean for the billy goat climbers in the group? The Micro Vario Carbon can carry its own weight–and some of yours–on the uphills. With the push of a button, these adjustable poles collapse into three small (40 cm) foldable sections, making it a breeze to stow them away in your pack when not in use.
But what goes up must come down. If you're looking at a day filled with steep descents, reach for a pole like the Micro Vario Cor-Tec AS, featuring LEKI's proven Aergon Grip and the new Dynamic Suspension System (DSS). This anti shock system is a refinement that reduces peak pole implants by as much as 40% protecting muscles and joints while on the trail, ensuring you're fit to do it all again the next day.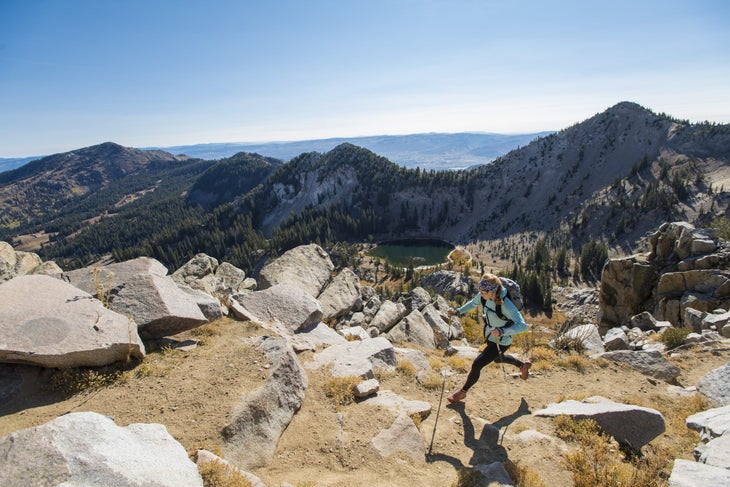 Best for Fastpacking
The sport of fastpacking–a hybrid of trail running and ultralight backpacking, designed for those who want to move quickly with as little gear as possible—is growing more popular every year. For many fastpackers, this activity is the pinnacle of outdoor exploration: you can swiftly reach the backcountry and stay out longer than traditional trail runners. It's a sweaty endeavor since it's mostly running with a little power hiking, so poles such as the Cross Trail 3 Carbon are the perfect fit. The foam grip is absorbent so sweaty-and-slick palms are a thing of the past while the breathable mesh frame strap lightly cradles your hand without any added moisture. And, thanks to the three-section, 100% carbon shaft, the Cross Trail 3 Carbon won't slow you down; they're only 14 ounces per pair.

LEKI's Cross Trail 3 TA has many of the same features only the brand swaps in an aluminum shaft in place of the carbon. While this does add a couple ounces of weight, it increases durability and logs the Cross Trail 3 TA as a more affordable option for fastpacking fans.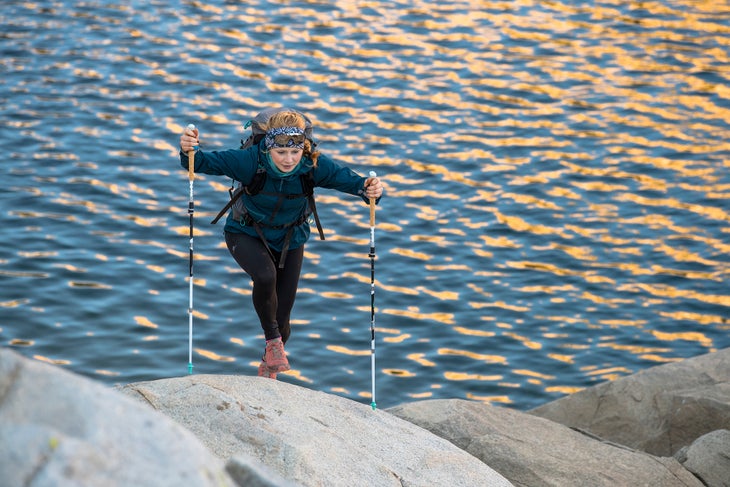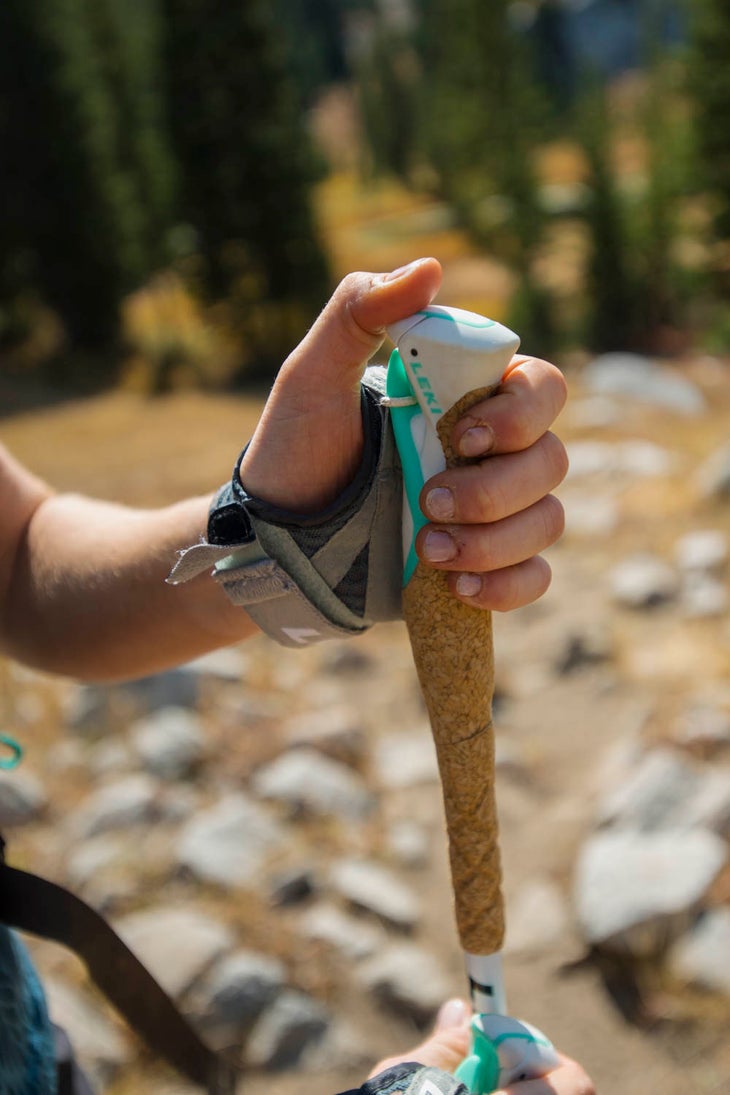 If there is one set of sticks to rule them all, it's the MCT 12 Vario Carbon, a tricked-out pair of poles that will make the most discerning of outdoor enthusiasts giddy with happiness. The secret: sheer versatility. These three-section, adjustable poles easily collapse to be tucked inside a running vest or backpack. Crediting the all-carbon shaft, they're a mere 14 ounces per pair. But, the durability and strength is also top-notch, making the MCT 12 Vario a go-to option whether you are trail running after work or taking them out for weekend backpacking trips where heavy loads and long miles are on the schedule. The ergonomic foam grip absorbs hand moisture, but the real magic happens in the hand strap. A clever one-button release disengages the strap, making it easy for hikers and runners to swap hands while on the move.