This is the Gear Cal Swartzentruber Used to Set a New FKT on the Sheltowee Trace Trail
Pocket-laden shorts, an old Timex watch, and a half of a Gatorade bottle were his keys to success.
Photo: Courtesy Cal Swartzentruber
Heading out the door? Read this article on the new Outside+ app available now on iOS devices for members! Download the app.
Cal Swartzentruber's record-setting hike on Kentucky's Sheltowee Trace Trail stretched the limits of his gear and his body. On day three, aggressive local dogs backed him into a thicket for a half-hour, robbing him of valuable time. On day five, sleep deprivation hit hard near Cumberland Falls. Motivation was difficult, and despite trying to push deep into the night, he set up camp early, making a long charge to the finish necessary for the record. On the last morning, knowing his window for an FKT was closing, Swartzentruber covered over 60 miles in 24 hours with only three short naps. When the sprint ended at Charit Creek Lodge and the record (7d 11h 18m 30s) was secure, Swartzentruber sat down and felt like he might never get back up.
This wasn't Swartzentruber's first time on the Sheltowee Trace Trail. His first attempt in 2017 ended after 90 miles because of gear failures and weather issues. But in 2019, he returned to complete it. Then, after notching the Wonderland Trail, Uinta Highline Trail, and, most recently, the Pacific Crest Trail, he came back to his home state with plans to snag the title of Unsupported Fastest Known Time. To beat the previous record, Swartzentruber knew he needed to choose both his weather window and gear wisely.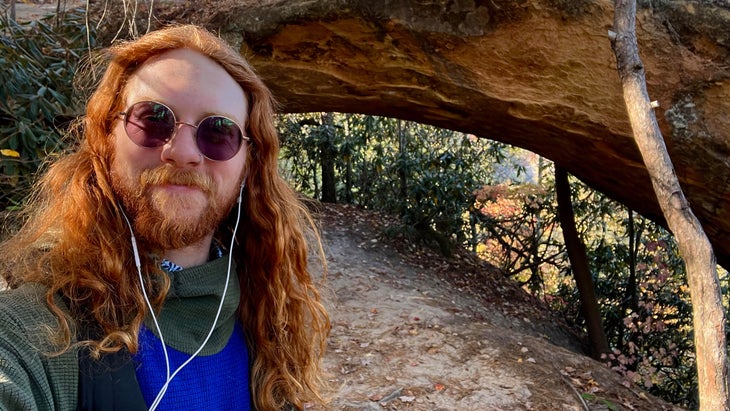 The Route
The Sheltowee Trace National Scenic Trail is a 343-mile trail crossing all of Kentucky and a bit of Tennessee through the Daniel Boone National Forest and Big South Fork National River Recreation Area. The Sheltowee is named after the nickname the Shawnee people gave Daniel Boone, and translates to "Big Turtle." The trail has slowly expanded by nearly 40 miles over the past 8 years, with plans to expand to a total length of more than 354 total miles within the next couple of years. The trail is in the heart of Appalachia, covered by deciduous trees, surrounded by hemlock, and running through black bear and copperhead snake territory. 
The Plan
Coming off a Pacific Crest Trail thru-hike, Swartzentruber had his backpacking gear dialed in, but the key to transitioning to an unsupported FKT kit was cutting more weight and adding more food. The seven-and-a-half-day food carry was his longest ever, and compensating for the extra calories came at the expense of gear. 
"I decided to go without certain 'necessities," says Swartzentruber, "like a shelter, water filter, or puffy, despite forecasted cold temperatures with the possibility of rain." It was a risk, but one that would allow him to carry the one thing that most worried him in the planning process—food. He planned to simply snack his way through the seven-day attempt until Ella Raff, who had recently set the FKT on the Washington section of the PCT, talked him into adding rice and beans for cold-soaked meals to break up the calorie drip of snacks throughout the long days. The last part of the plan involved finding a weather window that would allow him to travel without a shelter or warm clothing. On October 18, 2022, he set off with a 30-pound pack and no plan for a resupply along the way.
What Worked
Efficiency is key in any record-setting attempt, and to that end, Swartzentruber focused on making every critical piece of gear accessible without having to take his pack off. A major factor in his speedy water breaks was a small scoop made out of half a Gatorade bottle, which allowed him to collect water out of shallow sources. It worked well enough that Swartzentruber was able to keep his two Smartwater bottles topped off using tiny trickles and puddles along the trail that many other hikers might pass up entirely.
The rest of his limited gear and clothing strategy worked perfectly, and Swartzentruber praised the pockets in both his Janji shorts and his compression shorts: "Having everything I might need in a day without having to dig through my pack would be impossible without easily-accessible pockets." 
Despite some of the nights and mornings being uncomfortably cold, the weather window held out, and Swartzentruber was content with the combination of a Melanzana Fleece Hoodie and cheap Frogg Togg rain jacket to keep himself warm. He pushed his gear to the limit, starting with more weight than his 25-pound-rated 28-liter Nashville Packs Cutaway backpack called for. With a base weight of under seven pounds, the majority of that was food. 
What Didn't Work
Leaf litter covering the trail proved to be a major issue throughout the record attempt. Swartzentruber continually had to wade through a sea of dead shrubbery—continually stubbing his toes on hidden rocks, stepping in streams, and even falling in holes. Taking the lightweight Altra Superiors was one of his biggest regrets. What the shoes offered in weight-savings, it lacked in support and protection on the rough rocks and road-walking sections of the trail. The foot pain started three days in and continued to worsen. Swartzentruber says it took nearly a month to walk pain-free again. 
Contrary to the advice he had been given, the cold-soak food strategy did not work. Meals were the one time throughout the day that Swartzentruber had to take off his pack—once to start the cold soaking process and again to eat it. It was frustrating, and not long after starting, he wished he had simply brought snacks. Cal also brought too much food. He had several pounds left over by the end.
Even with those two setbacks, Swartzentruber snagged the unsupported Sheltowee Trace Fastest Known Time on October 25, 2022. Curious about his full kit? Here's the list.