The Right Tools For Every Adventure
For outdoor excursions big and small, here's everything you need to be more than ready
Even minimalist adventurers know the value of solid, reliable equipment. The right tool can save time, save space in your pack, or even save the day. And quality wins every time. Wherever adventure takes you, these multi-purpose, high-quality tools will help you have more fun, eat well, and be a responsible steward of the environment.
Camp
Whether you're camping in the backcountry, popping a rooftop tent, or even glamping, you want to be prepared for everything from prepping kindling to fixing a balky stove to pulling up tent stakes. But when space is limited, pairing down your toolkit is key. A camping-specific multi-tool, like the Gerber Stake Out, can help with everything from happy hour to packing up and all the fun (or fixes) in between. 

The Stake Out checks all the boxes, with 11 distinct tools in a compact, 3.32-ounce package. On your way in, clip the built-in carabiner to your pack. At camp, cut, saw, snip, measure, tension cords, strike a match, or pop a bottle. (You've definitely earned it.) And when you pack out, pull up the most firmly planted tent stakes with ease.

Pro tip: Wood too wet to start a campfire? Use the Stake Out's 2.2-inch locking blade to whittle off the wet, outer layer and then cut tinder from the dry inner wood. Add a fire starter to your emergency kit as a backup for soggy matches. The Gerber Fire Starter features built-in water-resistant tinder storage to use in a pinch.
Upgrade Every Outdoor Meal
Some of the most memorable meals you'll ever have are the ones outside, after a long day of adventure. But you don't want to remember eating trail mix out of a bag. Elevate your camp cooking with quality ingredients and purpose-made utensils for cooking and eating. Whether your dinner is a meal made over a backpacking stove or gourmet campground fare, Gerber ComplEAT food-safe tools have you covered. The set includes a fork, spoon, and spatula that converts into tongs. The included multi-tool functions as a bottle and can opener, a serrated tool for opening packages, and even a veggie peeler. All four components weigh less than 2.5 ounces combined and nest together for easy packing.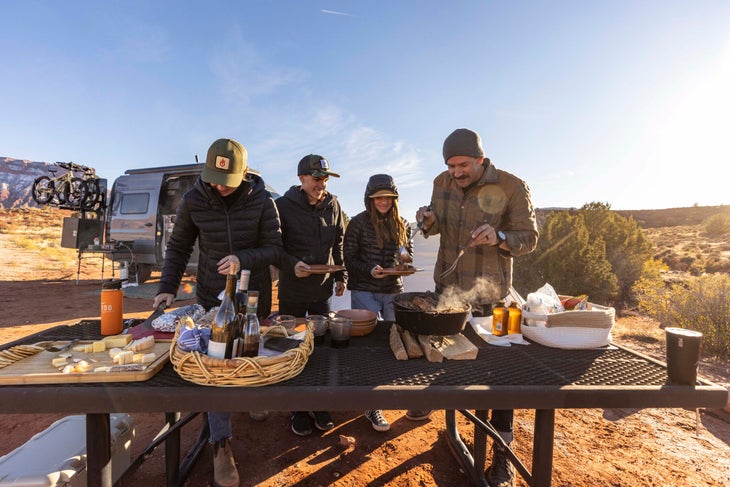 Pro tip: The dual sided spatula isn't just for cooking. It's also a helpful tool when it comes to the clean up. Use the silicon edge of the spatula to scrape food off pans, griddles, and plates. Make your life even easier by putting a pot of water on the camp stove while you eat so you have warm water for dishes when you've finished your meal. 
Leave No Trace
Being prepared for outdoor adventures means being prepared to follow Leave No Trace principles. Sometimes that means simply staying on trail and choosing appropriate spots to camp. Other times—like when you're disposing of human waste or mitigating fire risk—tools can help get the job done. A portable shovel is a must for backpacking and car camping. 
The Gerber Gorge is a lightweight shovel (28 ounces) that folds down for easy transport. Use it to dig a pit to bury human waste responsibly. Or clear debris and dig a pit for a fire. The carbon steel blade also works well for stirring water and ash to put your fire out completely. Bonus: the built-in hammer feature at the base of the shovel works well for hammering tent stakes. 
Pro tip: Even when you're not camping, carry a lightweight shovel in your car in case you need to dig your car out of snow or mud. 
---
Founded in 1939 and based in Portland, Oregon, Gerber is an outdoor brand dedicated to creating problem-solving tools that allow you to adventure with confidence. With expertise, longevity, and a storied history that few in the industry can match, Gerber is equipped with a deep understanding of how to create gear that consumers want and need.  Gerber's commitment to quality is steadfast, and all products are backed by the Gerber Guarantee, a limited lifetime warranty.