The New Science of Hiking
The North Face VECTIV™ line of footwear helps you move with confidence and power further no matter the trail.
It's easy to love hiking for its simplicity. Just lace up your shoes and hit the trail, right? But it's a mistake to think it's as simple as putting one foot in front of the other. Your legs absorb impact on every step, your ankles have to adjust to rocky and uneven terrain, and maintaining momentum on hills saps energy. No wonder hikers are always looking for an edge—footwear to lighten their load, to move faster and more nimbly.
The Evolution of Hiking
Hiking has evolved considerably over the past decade as the disciplines of fast-packing and trail running have made the simple act of walking on trails a faster and more athletic endeavor. But no matter if the hiker has been using a light-and-fast strategy to cover a lot of ground in a short period of time or engaged in traditional backpacking, it's clear there's a need for hiking footwear to evolve, too. And that's precisely what The North Face set out to do.
In developing its VECTIV™ technology to minimize fatigue and maximize energy return in trail running, The North Face investigated how it could create more agile and responsive footwear for modern hikers. Its research revealed that participants in ultramarathon running races spent more than half of their time hiking in order to move as efficiently as possible over undulating terrain while their legs were fatigued. Delving into the science of each activity, The North Face footwear team studied how it could optimize its innovative technology specifically for hikers.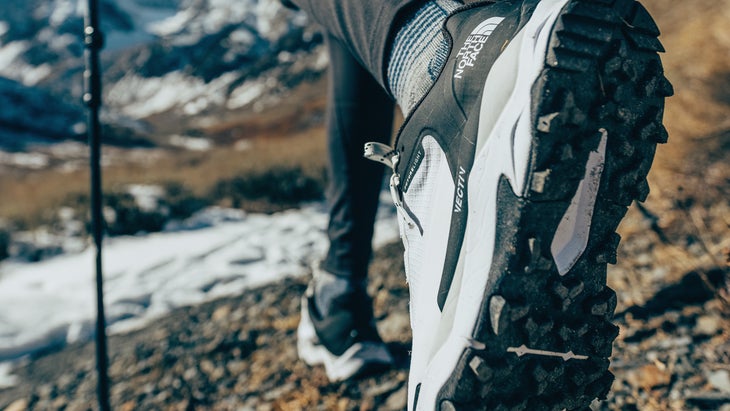 The result is the new innovative line of energy-returning VECTIV™ hiking shoes, which feature an optimized fit, feel and ride that reduce the impact of a hiker's feet and legs. In developing the technologically enhanced footwear, The North Face designers looked at what today's hikers need and made shoes to match, reinventing hiking footwear with a big helping of science and inspiration from trail running. The payoff: lightweight, agile shoes with a boost of energy, reduced impact, and greater stability in every step.
The VECTIV™ system employs a patented 3D TPU plate technology and progressive midsole rocker geometry to transform the downward force of your footstrike into forward propulsion. Combined with a resilient foam midsole and secure, foot-wrapping upper, it means an energetic rolling sensation with every stride, which helps you move faster and also allows you to move easier at any pace. Research has shown the design reduces impact without compromising efficiency. That's something you'll appreciate whether you're trying to squeeze a day's worth of scenery into an afternoon, looking to set an FKT or setting off on the backpacking trip of a lifetime.
All of the trail running and hiking shoes in the VECTIV™ line are designed to have a high degree of inherent stability. That's key on tricky terrain, where you're constantly making micro adjustments with your feet, ankles, and lower-leg muscles to stay upright and prevent injury. Instead of your feet and legs doing all of that work, the VECTIV™ provides some major assistance with a high-traction outsole and nimble design that make it easier to maintain confident footing on any terrain.
Which model is right for you? Check out the Exploris Mid Futurelight and Exploris Futurelight if you want superlight footwear that's capable of big adventures. Both models are waterproof and highly breathable, thanks to a Futurelight membrane, and are ideal for moving fast over all types of terrain. The other three models—the Escape, Taraval, and women-specific Hypnum—are even lighter, and a great choice for crossover adventures on urban and wilderness trails.
In all of the VECTIV™ models, the size, shape, and positioning of the plate technology have been specifically tuned for women's gait patterns and preferences. The women's shoes also have padding in the tongue and heel collar for improved comfort and control, truly optimizing the fit, feel and ride for women.
The best part: Once you put on a new VECTIV™ shoe, you'll forget all about the science and just appreciate that hiking really is simple—when you feel good.