The 6 Best Ultralight Tents for Backpackers
Drop pack weight while staying comfortable and protected with these shelters.
Heading out the door? Read this article on the new Outside+ app available now on iOS devices for members! Download the app.
Trying to shed weight from your pack? The best place to start is with your heaviest item: A big, bulky tent. An ultralight tent offers the convenience of a traditional tent but cuts weight with lighter fabrics, simpler structures, and alternative methods of pitching. They're a middle ground between user-friendly three-season backpacking tents and uber-minimalist setups like tarps and hammocks, providing basic features like no-see-um mesh and a tent floor. We've rounded up five of the best ultralight tents reviewed by our experts, plus advice on starting your ultralight tent search.
What to Look For in an Ultralight Tent
Size
Start your search by settling on tent capacity: ultralight tents are typically sized anywhere between one and four occupants. Sizing up is an especially important consideration for ultralight tents, as they tend to be more compact to save on weight. Consider a two-person tent, for example, if you plan to bring gear (or your entire pack) into the tent with you. 
Single or Double-wall
Ultralight tents come in the typical double-wall (a separate tent body and a rain fly) and single-wall designs. A double-wall system adds a few more ounces to your pack, but allows for better ventilation than a single-wall tent when the fly is removed and prevents condensation from dripping down into the sleeping space—a common problem with single-wall shelters.
Pitching Style 
There are three common styles for ultralight tents: freestanding, semi-freestanding, and non-freestanding. A freestanding tent doesn't need stakes to stay pitched—a bonus for rocky or other hard-to-stake surfaces. A non-freestanding tent goes the other route, saving valuable ounces but requiring the use of tent stakes to stay pitched. Semi-freestanding tents fall somewhere in between. Freestanding tents require a separate pole system, while semi-and non-freestanding tents often use trekking poles instead to further save weight.
Materials
The conversation around ultralight materials can get a bit silly at times, but learning the differences can ensure you pick the right tent for your trip and budget. Ripstop nylon, the most-used tent fabric out there, isn't as strong as many other materials in the category, and sags when wet, but offers the best price point. Silnylon, a nylon infused with waterproofing silicone, offers better durability and waterproofing, but also sags when wet. Dyneema, formerly known as Cuben Fiber, is a polyethylene material that is super lightweight and strong, but costs dramatically more than other tent fabrics.
Features
Like normal tents, ultralight tents have various bells and whistles to suit a backpacker's specific needs. And like other ultralight gear, they tend to have fewer features, like a single door instead of two, ultra-minimal stakes, or fewer pockets. Decide what's on your must-have list and go from there.
The Best Ultralight Tents on the Market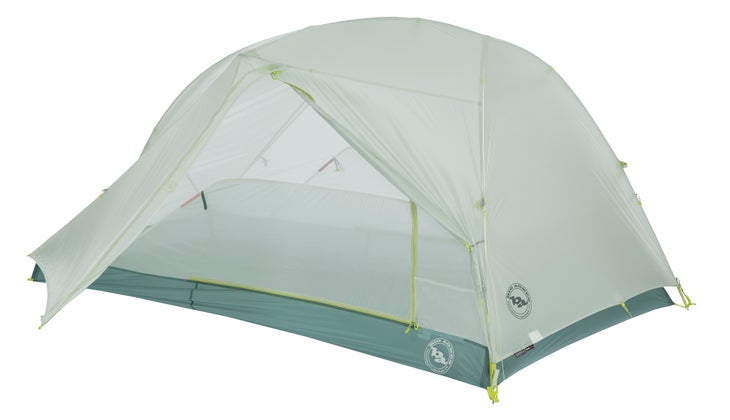 1. Best Full-Featured Ultralight Tent: Big Agnes Tiger Wall UL2 Platinum 
Price: $600
Weight: 1lb. 15oz.
Buy Now
Tent makers have been flirting with the 2-pound barrier for years. Like the four-minute mile, the challenge seemed forever out of reach—until it wasn't. This is the first two-person tent we've tested that sneaks in below 2 pounds and doesn't come with a host of caveats. It has two doors and two vestibules, double-wall construction, and a hassle-free pitch. At 28 square feet, the floor proved comfy for two, and the 8-square-foot vestibules each easily fit a pack and a pair of boots. While the Tiger Wall isn't technically freestanding (you have to stake out the foot for a taut pitch), it's easy to move around when picking a site. A full mesh body offers superb breathability: "Even though we camped in snow on an 18°F night, there was no moisture on the interior," one tester says. The hubbed-pole system held up to 25-mph winds and rain in Nevada's Lahontan State Recreation Area. And while the price is a bit of an eye-popper, a tent that's lighter than most solo shelters and roomy enough for two is a splurge we can get behind. —Eli Bernstein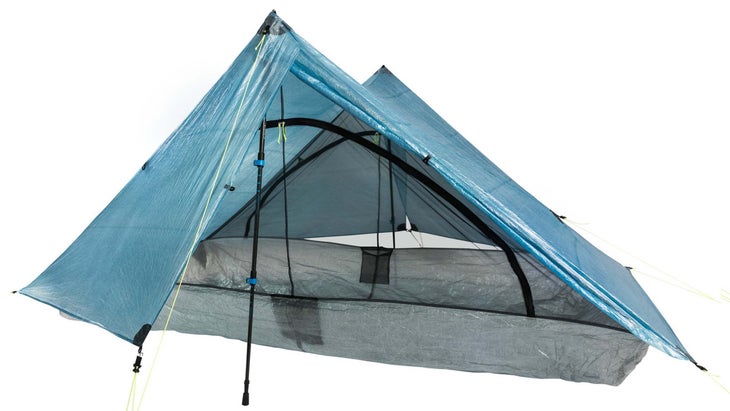 2. Lightest Two-Person Ultralight Tent: ZPacks Duplex
Price: $699
Weight: 1 lb. 3 oz.
Buy Now
If you're already carrying trekking poles, this gossamer shelter can cut down your pack weight while keeping creepy crawlies out of your sleeping space. A bathtub floor keeps moisture from creeping in during wet weather, while the four storm doors open up to provide superior ventilation in good weather. "It feels flimsy, but the Dyneema Composite Fabric on the Duplex is tougher than it looks," said our tester after taking the tent backpacking in Arizona's Saguaro National Park. "We set it up straight on the ground night after night, and the rocks and prickers didn't leave a scratch." —Heather Balogh Rochfort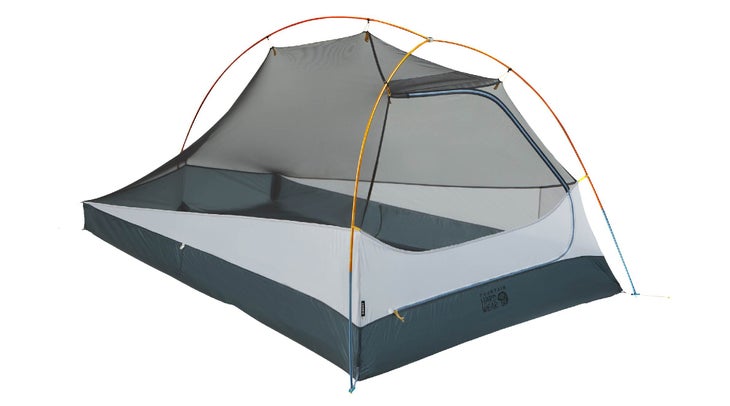 3. Most Packable Ultralight Tent: Mountain Hardwear Nimbus UL 2
Price: $400
Weight: 2 lbs.
Buy Now
Planning a trip where pack space is at a premium? Consider taking the freestanding, double-walled Nimbus UL 2. The tent body and fly compress down to the size of a Nalgene, and the single pole folds down to 17 inches in length. "It doesn't even need its own stuff sack," one tester said after a multiday trip in Colorado's Gunnison National Forest. "I was able to pack it into a medium-size dry sack alongside other items." The Nimbus UL 2 has a single, hubbed aluminum pole, and the back sides are guyed out using pre-installed loops. A three-quarter mesh body creates 28.1 square feet of floor space. That said, the Nimbus UL 2 is a tight squeeze for two sleepers, and you'll have to climb over your bags to get out of the single door and its small, 7.6-square-foot vestibule. —Will McGough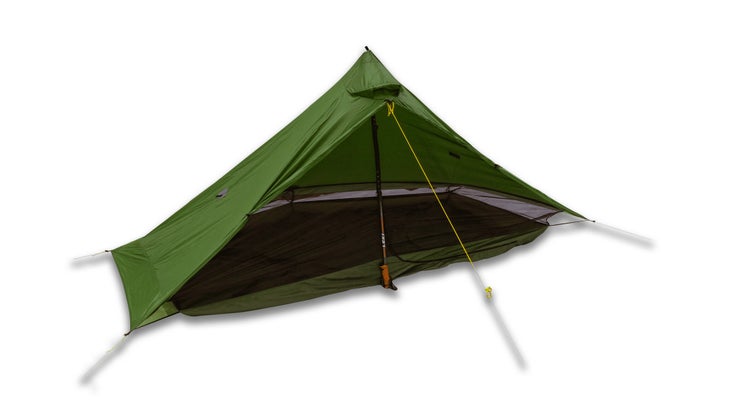 4. Best One-Person Ultralight Tent: Six Moon Designs Lunar Solo
Price: $250
Weight: 1lb. 10oz.
Buy Now
It's with great pleasure that we discovered the Lunar Solo, which uses workaday materials (20-denier, siliconized polyester on the fly; 40-denier in the floor) and a clever-but-not-too-clever pitch with a trekking pole—and still has more floor space (26 square feet) than pretty much all other tents in its class. And it's cheaper to boot. Ventilation is superb for a single-wall. Credit the 4-inch-tall band of mesh that wraps around the canopy just above ground level and the vestibule design, which leaves a 12-inch gap between the bottom of the fly and the ground (pitch the door on the lee, pull your boots close to the canopy in heavy rain, and you'll be fine). A 48-inch-tall peak height was good enough for our 6'2" tester to change shirt layers without brushing the walls, and there's space inside for all the gear you don't want to store in the 8.5-square-foot vestibule. —Casey Lyons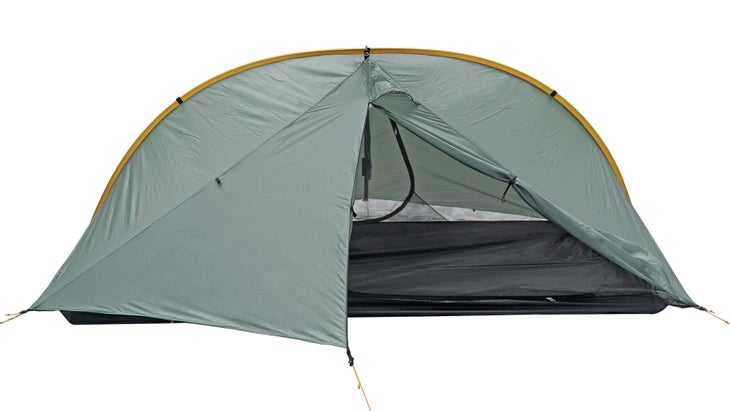 5. Best Affordable Two-Person Ultralight Tent: Tarptent Double Rainbow
Price: $319
Weight: 2 lb. 10 oz.
Buy Now
In 2010, we lauded the Double Rainbow for its low weight, livable space, and affordable price. This new version is improved in almost every way: A 42-inch peak height combines with a wider top strut to expand headroom. "I never fit in tents, but my 6'1" dad and I were each able to sit upright," says one 6'6" tester. (The 31.5-square-foot floor is a hair larger than the previous iteration and easily fits two full-size pads). A 5-inch-high bathtub floor and low-to-the-ground fly prevented moisture from entering during a storm with 35-mph winds, fixing a common complaint about the original Double Rainbow. The top strut is now also fully collapsible for easier packing. Bummer: Even for a single-wall, condensation is excessive; we experienced significant moisture on a cold night in the Pyrenees. —Backpacker Contributors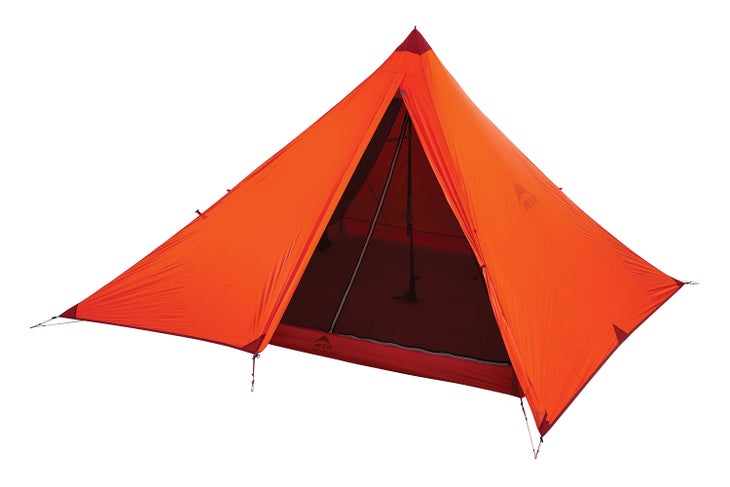 6. Best Group Ultralight Tent: MSR Front Range 4 Person Ultralight Tarp Shelter
Price: $320
Weight: 1 lb. 10 oz.
Buy Now
At less than half a pound per head for four people, this floorless tarp (an insert is sold separately) offers a lot of space for not a lot of weight. The Front Range is lighter—and larger—than most pyramidal shelters on the market, making it a good bet for groups of up to four people yet a viable option for a duo that wants to spread out. (The floor area measures a massive 81 square feet.) A to-the-ground fly means it offers laudable weather protection, as three Colorado testers learned during a gusty rainstorm near Cameron Pass. As with all pyramid tents, the Front Range's central pole is always in the way, even if you're sleeping solo. Thanks to the Front Range's 64-inch peak height, tenants can easily suit up before heading out on the trail, but the sloped walls caused issues for our taller testers. Two trekking poles connected with the included ski straps pitch the 20-denier ripstop nylon tarp within minutes (optional fixed pole with sleeve sold separately; $40, 10 oz.). Snag the Front Range Mesh Insert ($250; 1 lb. 15 oz.) if you hate sleeping with creepy crawlies, but note: It effectively reduces capacity to a 2P. —HBR
What a Backpacker Editor Looks For in an Ultralight Tent
Benjamin Tepler, Gear Editor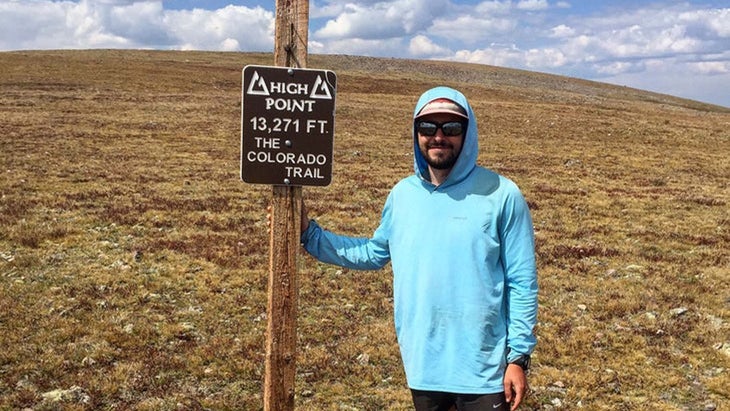 "I often hike in desert climates with soft sand and solid bedrock, which makes staking my tent in the ground a gamble at best. That's why I opt for a fully freestanding ultralight tent, which—with a moderate weight penalty—allows me to pitch wherever I want. As an added bonus, the-double-walled tent regulates the desert's swinging temperatures better than a single-walled tent ever could."
How to Maintain your Ultralight Tent
Ultralight tent care and maintenance is nearly the same as with a typical three-season tent, but with one big caveat: Take extra precautions when you pitch your tent—the fine (and expensive) materials tend to be thinner, more fragile, and prone to tears. That means avoiding rocky, prickly, or abrasive campsites. 
During your trip, make sure to dry out your tent daily, if possible, to avoid mildew. After your trip, set it up in the backyard or garage to dry out any remaining water. For a deeper clean, wash by hand with Nikwax Tech Wash in a bathtub or basin, then hang dry. Store your packed tent in a cool, dry place.