The Best 2-Person Tents for Backpackers
The best small tents can be as decadent or as minimalist as the hikers carrying them.
Heading out the door? Read this article on the new Outside+ app available now on iOS devices for members! Download the app.
Consider this an ode to the perfect tent size: it's small enough to carry on a solo mission, but big enough to bring a partner. After taking these everywhere from Colorado to New Zealand, our testers called these the best 2-person tents around.
Cotopaxi Inti 2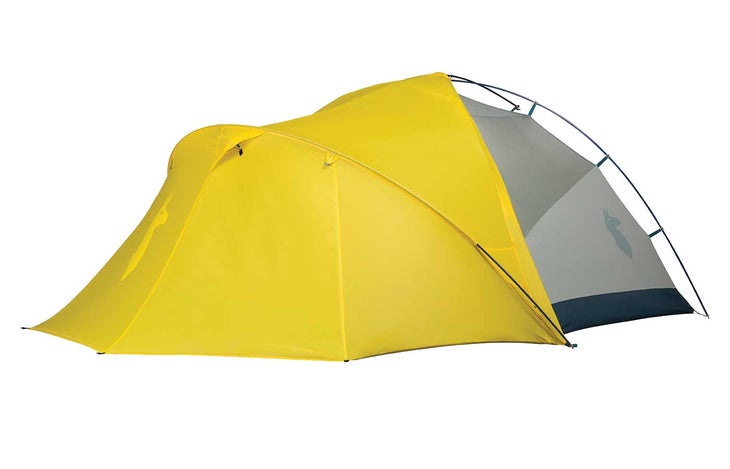 Our take This chameleon-like shelter changes configurations, letting it expand or contract to fit different size groups. The two-person standalone tent with 31.8 square feet of interior space and a tall, 43-inch peak height is the core of the system. Two doors and average-size vestibules (6 square feet each) make for easy exits and storage in two-person mode. Need more space? Attach the single-wall, doorless Alcove ($130; 2 lbs. 8 oz.) via floor snaps and toggles, adding enough square footage to sleep two more without squeezing. Testers praised the interior space, but noted the Alcove attaches over one door, making for negotiated entries and an overwhelmed vestibule. Need less space? Fastpack the Alcove for a minimalist option that pitches with a trekking pole and shelters one or two.
The details The Inti is built to last with tough 40-denier nylon floors. The 20-denier nylon fly finds a balance between low weight and durability (many tents now use 10-denier fabrics). Ding: While the tent repelled rainy weather in the Olympics, the single 21-by-5-inch vent at the head of the tent didn't provide enough airflow for two people in humid conditions.
Trail Cred "It's like the multitool of tents with an option for every occasion," says one tester. "We used the tent for camp and hauled the Alcove to the beach as a makeshift sun shelter."
$300; 4 lbs. 9 oz. Buy Cotopaxi Inti 2 Now
Mountainsmith Bear Creek 2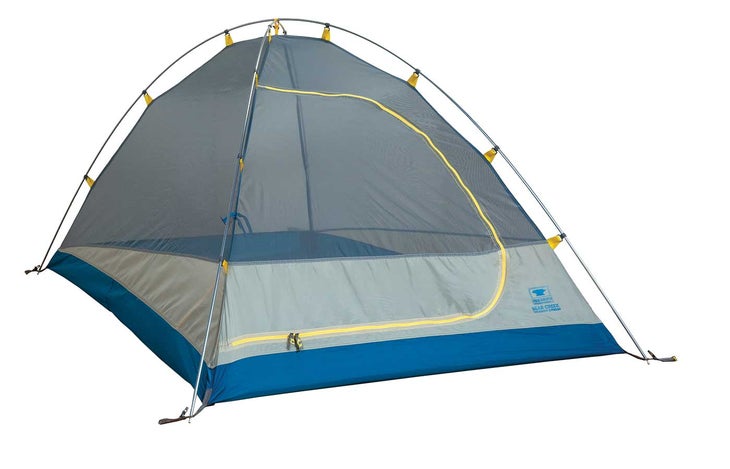 Our take Backpackers who prefer to save dollars instead of ounces will love the Bear Creek. Fortunately, heavier in this case also means roomier and burlier. This two-person shelter with an above-average 30.5-square-foot floor can withstand abuse, thanks to the 68-denier polyester used throughout. The real compromise for the low price? The tent can handle moderate rain and wind, but even fully guyed out, the two-pole structure isn't stout enough for the full brunt of bad weather.
The details There's an absurd amount of headroom (48 inches), even for our 6'2" tester. He and his wife (5'5") found the living in this two-person tent to be easy, and they slept well even when their 50-pound dog joined them inside. The tent has only one door, but since it's at the head of the tent neither person needs to crawl over the other to exit. Bummer: The tiny vestibule (5 square feet) feels disproportionately small compared to the spacious living quarters; store boots out there, but the rest of your gear either has to come inside or stay out in the weather.
Trail cred "Rocks, roots, branches: The Northeast is brutal on tent floors and this one doesn't even have a scuff," said our tester after eight nights in the Adirondacks.
$140; 4 lbs. 3 oz. Buy Mountainsmith Bear Creek 2 Now
Slingfin WindSaber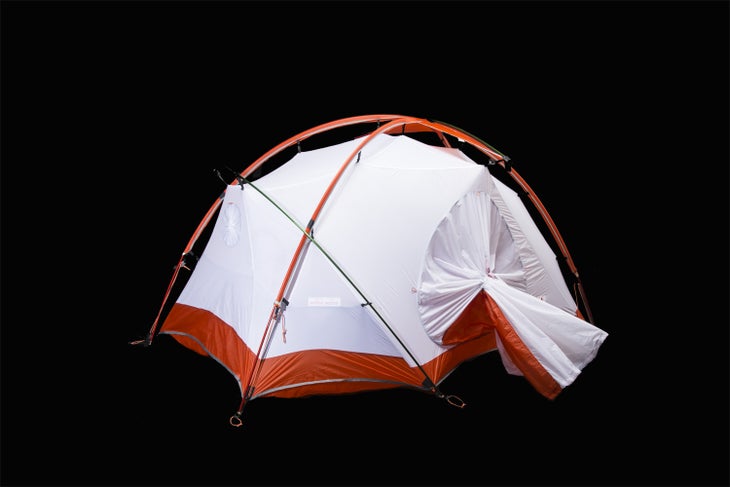 Our take At less than 5 pounds, this four-season double-wall is a windproof fortress that weighs a fraction as much as comparable two-person shelters.
The details Condensation stays under control thanks to a small tunnel at the head of the tent. This fabric tube draws in cooler air from the vestibule. Use the drawcord to seal it shut on dry nights.
Strength "It's like a tent skeleton," says one Colorado tester of Slingfin's WebTruss system. This framework of fabric sleeves cradles the tent poles and spreads wind loads over a larger area. The result? A super-strong structure. But if you don't need all that stability, leave the WebTruss at home, use the included twist clips to connect the canopy to the polls, and save 5 ounces.
Livability The 40-inch ceiling is better than most tents in its class, although the 28-square-foot floor is snug for two. A pair of 5-square-foot vestibules offers limited storage space, but the tunnel entrance adds to the total. Similar to an elephant's trunk, this 5-cubic-foot nylon tube pulls double duty as a zipperless door and a third storage area. "Not only does this cut out failure points, but fewer zippers make it a lot quieter," our Colorado tester says.
Trail cred A 30-denier nylon fly and 15-denier nylon body kept testers happy in blowing snow in Colorado's Roosevelt National Forest. True to its name, the WindSaber handled 60-mph gales with ease. "The gusts were so strong that they started to pull the stakes out of the ground, but the tent handled it like a spring breeze," one tester says. 
$750; 4 lbs. 12 oz. Buy Slingfin WindSaber Now
MSR Remote 2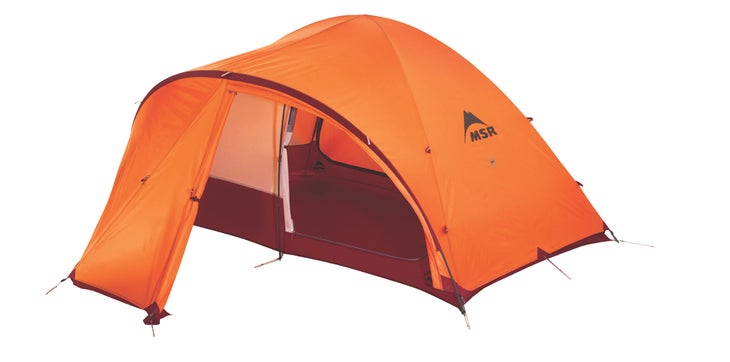 Our take At less than 7 pounds, this MSR two-person, double-walled shelter is at the lighter end of its class but still has room for livability. A 33-square-foot floor kept our 6'5" tester and his buddy comfy during a three-day ski tour of New Zealand's Craigieburn Range, and a massive, 15.5-square-foot side vestibule swallows two packs with plenty of room to spare for a cook station. Tradeoff: At 5.5 square feet, the second vestibule is too small for entry and exit. We liked it for storing extra gear—but that means you have to crawl over your tentmate to use the larger door.
The details A third cross pole provided stability when strong winds buffeted the tent in New Zealand's Southern Alps, and near-vertical walls end in a 43-inch peak height, pleasing our tallest testers. Waterproofing is also top-shelf: One tester pitched the tent during a three-day rainstorm and not a drop got in from above or below.
Trail cred "We loved the snow flaps—fabric that extends all the way down to the ground from the bottom of the vestibule," said one tester after eight nights above treeline in New Zealand. "They kept us cozy inside during a day of heavy snows and gusting wind."
$800; 6 lbs. 8 oz. Buy MSR Remote 2 Now
NEMO Spike 2P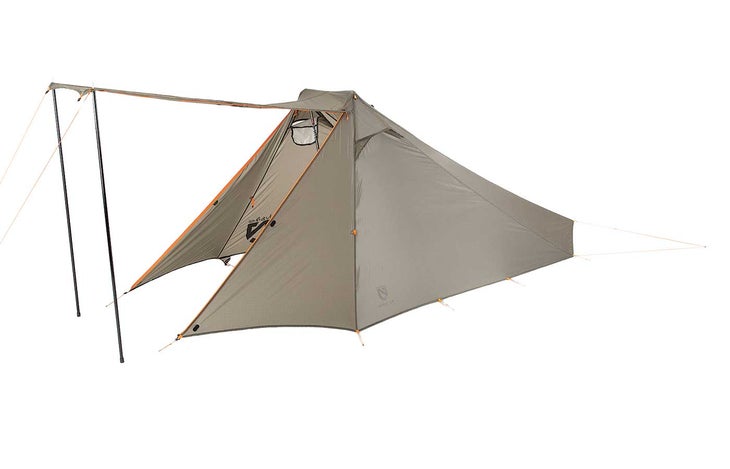 Our take If you want to carry less than a pound each for a two-person tent, you have to ditch the floor. Like other floorless shelters, this one lacks bug protection, and you'll want to be careful to pitch it away from pooling water. Unlike others, it solves one of our common complaints about going floorless: rain and snow splashing or blowing under the sides. Built-in skirts, up to 18 inches tall, around the perimeter prevent moisture from sneaking in and the 30-denier silnylon walls shrugged off rain and 20-mph winds without issue. A pair of trekking poles holds up the two 47-inch peak corners, while an optional second set can be used to prop up the vestibule door that doubles as an awning. The 41-square-foot interior is plenty big for two campers and their gear.
The details Six stake-out points make the Spike's setup similar to a tarp's, although testers reported a learning curve to find the proper angles with the guylines. Two vents help with airflow, but the shelter gathered some condensation when pitched on a snowfield during a chilly (high 30s) evening. Tip: Pop that awning up with trekking poles for ventilation or views.
Trail cred "This tent went through a lot with me: sharp rocks, a shower of glacial silt, and a High Wind Advisory with sustained winds in the 30s and gusts around 55 mph," says our Alaska tester. "It still looks as good as new."
$300; 1 lb. 10 oz. Buy NEMO Spike 2P Now
Big Agnes Copper Spur UL2 Platinum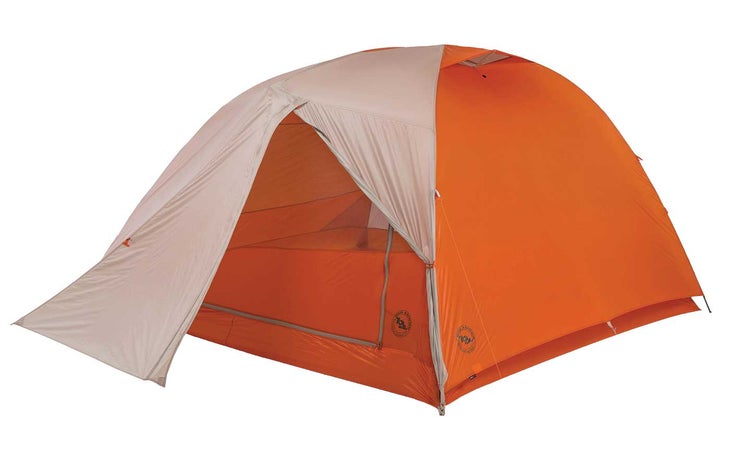 Our take If you're willing to pay more to have it all—double-wall performance, plenty of space, rock-bottom weight—the Copper Spur is your tent. The 29-square-foot floor is about average for two-person backpacking tents, but the 40-inch-tall ceiling offers a bit of extra head room. Double doors and vestibules (9 square feet apiece) make the tent seem larger than it is, and two testers (both over 6 feet) easily fit thanks to the 90-inch-long floor. On good-weather nights, leave the fly off and the livability extends to the heavens: The orange mesh is nearly invisible, making for prime, bug-free stargazing.
The details The fly and floor use 7-denier ripstop nylon, which helps cut 9 ounces from the original model (and gooses the price). The fabric is strong enough for real weather, thanks to a hubbed pole structure and a taut pitch, and easily shed 1.5 inches of heavy, wet snow in Colorado's Indian Peaks Wilderness. Ultralight materials always require careful site selection, but once you've got a good spot, the tent goes up in seconds. Nitpick: The stuffsack is also made of 7-denier nylon, which means you have to roll your tent rather than stuff it to avoid rips.
Trail cred "On a night with sustained winds of 18 mph and gusts up to 30 mph, we put in ear plugs and slept like kittens, confident that our shelter wasn't about to whack us in the face," said our tester after a trip to Wyoming's Wind River Range.
$600; 2 lbs. 4 oz. Buy Big Agnes Copper Spur UL2 Platinum Now