What We're Testing Now: Winter Tents to Keep You Out of the Cold
The lowdown on four-season shelters that might be your home on future winter trips.
Photo: Blackbird Mountain Guides
Heading out the door? Read this article on the new Outside+ app available now on iOS devices for members! Download the app.
While many hikers insist that winter lasts too long, you'll hear no such complaints from us here at Backpacker.  Each year, we venture out into the cold to test next season's most interesting and innovative gear. I'm in charge of the tents testing category, which means a lot of nights spent out in the snow—some more comfortable than others. 
This year, I've been testing an array of winter shelters that will hit the market this autumn, each catering to a different adventure style. I'll have a full report in our upcoming Winter Buyers Guide later this year, but here's a preview of what I've been taking out lately.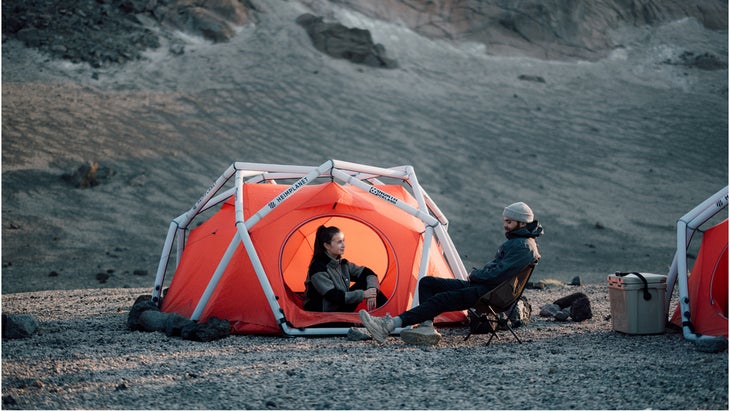 66 North and Heimplanet Cave XL
This group-friendly tent is a collaboration between the Icelandic outerwear brand 66° North and the German camping outfitter Heimplanet. The Cave XL is a basecamp fortress in every sense, meant to be hauled into the backcountry and used as a home from which to begin your adventures. And when we say haul, we mean it: It's a load, weighing nearly 14 pounds. The Cave XL wouldn't even fit in our packs, so we towed it behind us in a simple sled while we snowshoed into the snow-covered, high-alpine forest on Colorado's Grand Mesa. 
What makes the Cave XL unique is its design and setup. This tent doesn't use poles; instead, you pitch it with an included air pump, inflating high-pressure tubes that cross to create its dome shape. Hook up the pump to the valve, pump for about 45 seconds, and the tent will be standing tall, ready to be staked down.  
The speed of pitch bodes well for setting up in the face of inclement weather. We also found the three-person interior to be spacious and well-ventilated, with 58 square feet of living space, a peak height of 44 inches, and five top vents to keep the air moving, so you can ride out winter storms in comfort
Remaining questions: Do the air poles have the durability to withstand the wear and tear of the backcountry? Will they stand tall when weighed down by fresh snow? Or, are we one puncture or leaky valve away from being in big trouble?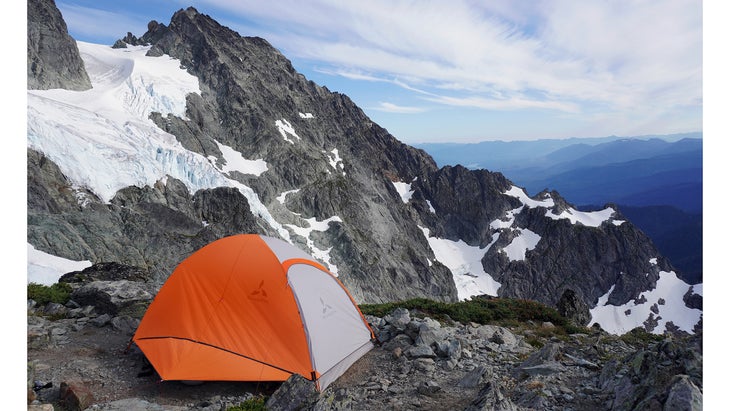 Slingfin Hotbox
The four-season, two-person Hotbox is a double-wall tent that utilizes the strength and durability of full-length pole sleeves to create a tight pitch and offer elite weather protection and stability. 
Weighing just 3.5 pounds, this shelter is built for multi-mile backcountry adventures, and given its tight, taunt pitch, we have no doubts about its reliability in winter weather – the poles didn't bend or sway in 20-mph wind gusts in Arizona's Coconino National Forest, with snow anchors (not included) holding the body firmly in place.
A large, single door made entry in bulky clothes and boots easy, but it was a sardine situation come bedtime: The Hotbox has a small footprint with just 25 square feet of interior space that must swallow you, your partner, and winter gear. Each side of the tent has a small opening, operated by a drawstring, that allows access to a small, 3 square-foot vestibule that can hold small items, like dry sacks, boots, or loose clothing.
Remaining questions: Livability. We know you can carry the Hotbox anywhere, and that it will protect you from the elements. But is it practical for the large gear loadouts and increased tent time associated with winter travel?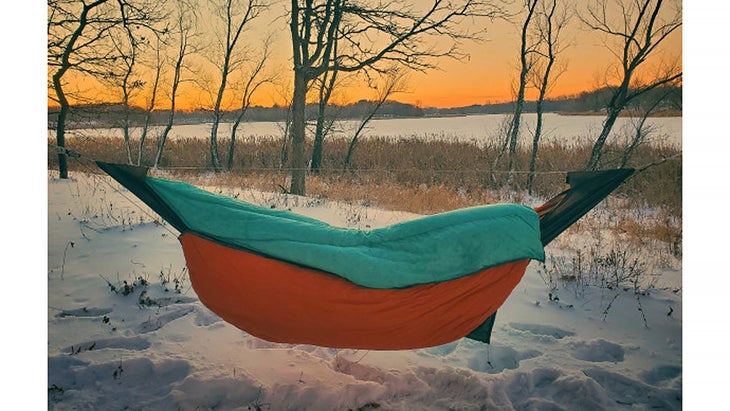 Superior Hammock
If sleeping in the snow isn't your thing, how about hanging out above it? 
The updated-for-2022 Superior Hammock swaps out its snap-closure system (which we lamented in a past review for being finicky) for a new zipper closure that promises a better night's sleep. In addition, Superior also introduced some extra reinforcement with a new down-filled top quilt, appropriately called the Cocoon, that zips into the system, adding another layer of warmth for winter adventures. 
Brand new to our testing class, we are just getting acquainted with this new version of the Superior Hammock, and March will be a big month for testing. In theory, we love the potential of a winter hammock, which allows us to get our bodies off of the cold, snow-covered ground. 
Remaining questions: Does the new zipper system keep us warmer than the old snap system? Does the Cocoon provide enough insulation to combat the airflow above and below? And, as with all hammocks, what becomes of our gear?