What We're Testing Now: This Rooftop Tent Makes Car Camping Easier Than Ever
The Roofnest Falcon XL is simple to set up and offers plenty of livable space.
Heading out the door? Read this article on the new Outside+ app available now on iOS devices for members! Download the app.
In just a few years, rooftop tents have gone from being a novelty to darn near ubiquitous—at least where I live in the foothills of Colorado's Front Range. Until recently I wondered: Why bother?
I used to live in a van, have owned two VW campers, and also built a bed in the back of a Tacoma, so I understand the appeal of having a place to sleep wherever you go.Somehow, though, rooftop tents seemed different. If you already own a tent, why lug a really heavy one around on top of your vehicle? If you don't already own a tent, why pay potentially as much as a used car for one? 
It was this curiosity and skepticism, combined with seeing their mass adoption, that led our team to put a few popular rooftop tens through their paces. I raised my hand to test the Falcon XL from Roofnest. I've been cruising around with it on my 2015 Toyota Tundra for about a month, and have camped in it four times with both adult- and kid-size camping partners. 
My first impression is: Wow, I actually really like this thing. 
For starters, the Falcon XL has a very slim profile, at just 6.5 inches high when closed. Depending on the height of your vehicle, you may still be able to park it in a garage. It's also a whopping 60 inches wide (the same as a queen-size bed), a luxurious amount of space for two sleepers and even doable for three (though i haven't tried that yet). The tent comes with an integrated, 3-inch-thick foam mattress, sidewalls made from a supertough PU-coated polyester and cotton blend (more on that later), a huge bungie-net gear loft, and a strip of LED lights to illuminate the interior. The kicker for me is that, thanks to two gas struts on the clamshell design, setting up camp takes literally three seconds.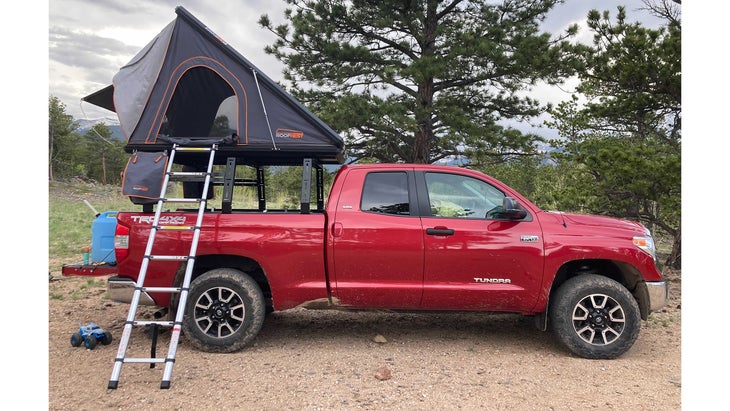 On the maiden voyage with my 10-year-old son to a national forest outside of Allenspark, Colorado, the Falcon XL's lightning-fast pitch was a game-changer. We had more time to explore a nearby cliff, gather firewood, and play games and race RC cars. It effectively eliminated some of the "work" of car camping and afforded us more time for fun. 
After dousing our campfire, we climbed the telescoping 7.5-foot ladder and climbed in. We put our shoes in one of the two large included detachable pockets that hang from a utility channel outside the tent and explored the new bedroom. At the tallest end, my son was able to stand up. At the shortest end my toes touched the ceiling while lying on my back. The gear loft held our puffy jackets, and two additional internal pockets kept our headlamps and books organized. 
The Falcon XL has three doors, and each has a zippered bug net and an exterior flap made of the same material as the tent walls. The tent material is significantly thicker than a backpacking tent, and Roofnest claims that it's three times more waterproof than a standard backpacking tent fly. I haven't yet experienced rain yet while sleeping in the tent.) We have ridden out high winds: While the tight pitch helps eliminate some flapping, the broadest wall is 60-by-60 inches, and we woke in the night during 25-mph wind. To be fair, this wind would rattle any tent wall, but wind hitting the broadside of the Falcon XL will have some unavoidable flap. 
In the morning, after unloading our sleeping bags, taking down the Roofnest was just about as easy as set-up. Place an integrated bungee around the middle of the tent walls (this collects the tent walls to keep them inside the clamshell), then pull the closure strap, and lock the clamps. The clamps take some muscle to close, but Roofnest says this gets easier over time. 
I'll be continuing to test and hope to get it in some rain'—and figure out how to get my 105-pound dog included in the fun.