What We're Testing Now: Argali's Absaroka Is the First Backpacking-Friendly Hot Tent We've Ever Tested
This wood-heated mid could change the game for cold-weather overnights.
Photo: Courtesy Will McGough
Heading out the door? Read this article on the new Outside+ app available now on iOS devices for members! Download the app.
Winter backpacking isn't for everyone. Sub-freezing nighttime temperatures make off-season camping seem more like a survival mission than recreation, leading many adventurers to opt for yurts and cabins. And while winter tents and bags have gotten lighter and more technical, staying warm while ski-touring and snowshoeing is often Type II fun. On the flip-side, old-school wood stove-capable canvas tents built for luxury basecamps and hunters aren't practical for most foot-powered adventures.
Boise-based hunting brand Argali has developed a way to both stay warm and keep weight down with its new Absaroka tent and collapsible titanium stove. From the outside, it looks like a typical silicone-polyester three-season pyramid tent (think Black Diamond Mega Light). Inside, however, the carefully-designed titanium stove puts out impressive heat and—so far—hasn't burnt our tester's tents down. The weight, shape, and size of Argali's stove improves upon other lightweight options on the market, offering extreme packability and functionality with an extra-long and easy-to-assemble design. 
Just how warm are we talking? When testing in Colorado's Grand Mesa National Forest on a night in the mid-30s, our testers were able to sit comfortably inside the tent stripped down to their baselayers. Throwing in a few bigger rounds right before bed and adjusting the damper for a slow burn, the stove provided substantial, sleep-inducing heat. That slow heat continued throughout the night, even when the fire had gone out, thanks to the radiating power of the stove. By morning, the stove was completely cool and ready to be disassembled (or relit for brekkie).
"I see this as the future and a complete game-changer for people who are serious backcountry skiers and fall and winter backpackers," said Bradley Brooks, Founder and CEO at Argali. Why aren't there more wood-heated backpacking tents out there already? Brooks postulates that mainstream tent companies have probably avoided making a "hot tent" thus far because, among other things (fire safety), they see them as a niche product for hunters. But with the line between ultralight backpacking and hunting equipment getting blurrier each year, this fusion of old- and new-school tech could make winter camping more accessible to a huge swathe of recreationalists.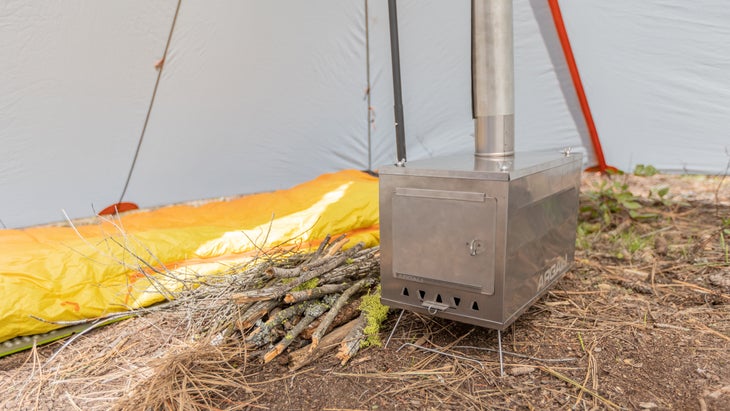 Here's how it works: Argali's collapsible Skyline Ti Titanium Wood Stove ($435) sits in the center of the four-person Absaroka's 84-square-foot interior. The stove pipe, which rolls down to the size of a liter water bottle, runs through a heat-resistant, silicone-coated fiberglass stove jack atop the tent (and is removable for warm-weather camping). The stove disassembles down to the size of a laptop case, and the tent smaller than a paper towel roll. Total weight? Just 4 pounds 10 ounces.
You can assemble to the stove in a few minutes with hand-tightened wing bolts (no tools needed). All six pieces (top, bottom, two sides, two ends) and hardware fit in a small carrying case. Once constructed, the 15 by 9 by 8.5-inch stove can hold logs that will burn for several hours, and its rectangular shape means you can boil water or cook on top of it (compared to many collapsible, cylinder-shaped stoves on the market). You insert wood through a sliding door on the front of the stove, and a damper controls airflow and burn rate. A lightweight, backcountry folding saw and a good pair of work gloves to handle the stove come in handy. (The greatest danger, says Brooks, is accidentally touching the stove when it's still hot.)
The Absaroka can also be paired with a bathtub floor/mesh wall insert for use in warm weather without the stove. When using the stove, however, the tent must be pitched without a floor or insert for safety reasons. In July, Argali plans to introduce a "half insert" that will allow campers to enjoy both the luxury of a floor and bug net along with the benefits of a wood stove. The Absaroka also comes in a 2-person version, but keep in mind that the stove takes up the space of one camper.
We still have questions about the long-term durability of a tent that undergoes a constant heating-cooling process, not to mention the potential for human error, such as accidentally leaving the stove door open and allowing hot ash or embers to escape. But, structurally speaking, all the tent components are durable, from the materials (20-denier ripstop Silpoly) to the center pole, which uses a push-button assembly system instead of a shock cord for added durability. 
The major downside to the Absaroka is its price. The silver lining, however, is that it's not just a next-gen winter tent. Stow the stove in summer, and you have yourself a sub-two pound fairweather shelter as well. 
$833 (4p tent + stove); 4 lbs. 10 oz. with stove; Buy Now