These 6 Budget Tents Are Low-Cost, Not Low-Performance
The cost of your backpacking tent shouldn't keep you awake at night. These double-wall, two-person shelters are all $300 or less, and will put your mind—and body—at ease with their dialed combinations of performance and price.
Heading out the door? Read this article on the new Outside+ app available now on iOS devices for members! Download the app.
How We Tested the Tents
Tents are some of backpacking's biggest-ticket items, with two-person shelters routinely costing $400 or more. I set out to find what lower-cost but still high-quality options are available on the market. To be considered for review, the tents had to fit two people and cost $300 or less. At this price point, I was able to test offerings from both major and lesser-known tent manufacturers and keep the focus on affordability. As always, our evaluation occurs in the field, not on paper—from Hawaii to Colorado to Florida, we judged the tents based on our experiences and how their specs played out in practice. For example, while a tent may have a high peak height on paper, a pitch with narrow sidewalls and little livable space is less than ideal. On the other hand, a tent with a small footprint can feel larger if it has well-designed storage. In all cases of evaluation, we looked for the sweet spot between performance and price point. We do our best to explain our reasoning in the detailed reviews here.  —Will McGough, Tents Category Manager 
Lightest: Big Agnes Salt Creek SL2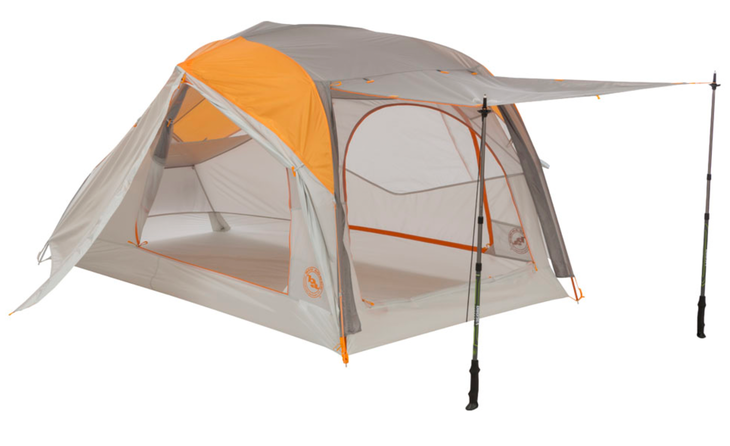 Overall: 4.8 / 5
$300; 3 lbs. 11 oz. Buy Now
Livability:
4.9
The Salt Creek SL2 is the most expensive tent in the test, but it's also the lightest. Testers raved about its three doors—two on the sides, one on the front. The front door has a sizable awning that you can pitch using two trekking poles, which our testers enjoyed on sun-filled days in Utah's Canyonlands National Park. The Salt Creek's hubbed-pole design creates near-vertical sidewalls and a top-of-class peak height of 44 inches. Its one drawback: a 28-square-foot floor that's the smallest of all the tents here. Two occupants on full-size sleeping pads can fit, but it's a tight squeeze.
Features:
4.8
Thanks to two large vestibules (10 square feet each) the Salt Creek SL2 doesn't lack for storage space, which helps free up room inside. It also has five interior pockets, including a 26-inch by 20-inch shelf halfway up the back wall that can hold items like water bottles, clothes, and other gadgets with limited sagging. "With everything stashed away in the pockets or on the big shelf, my girlfriend and I had no trouble sleeping side by side, and we had plenty of room around our heads and shoulders," one tester says.
Strength/Durability:
4.8
DAC aluminum poles support a half-mesh, half-20-denier polyester ripstop canopy. The poles, bathtub floor, and tough canopy material gave our testers confidence in the Salt Creek SL2's longevity as a whole; however, certain design elements raised concern. "The plastic clip-in fly connectors need to be handled carefully so as not to break them way out in the wilderness," one tester reported after a weekend in Colorado National Monument (none broke during our testing, though). The tent stayed dry during passing showers (thanks to the polyurethane coating on the fly) and handled wind gusts of 20 mph. Ding: The included aluminum stakes are chintzy.
Breathability:
4.5
The Salt Creek SL2 strikes a balance between protection and ventilation with its half-mesh canopy, which puts it in the middle of the pack in terms of breathability. "Even without a breeze, we only saw minor condensation on the bottom half of the tent," one tester reported after a few humid nights in the Florida Everglades.
Best Features: NEMO Aurora 2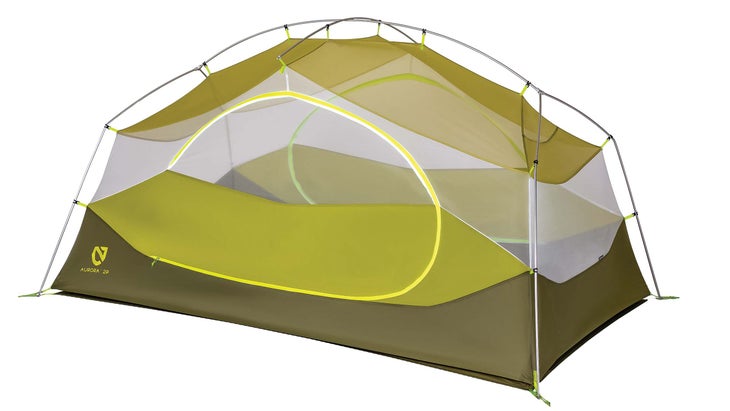 Overall: 4.7 / 5
$250; 4 lbs. 9 oz. Buy Now
Livability: 4.7
Not only did the 32-square-foot Aurora 2 tie for longest interior (88 inches) and tallest peak height (44 inches) in the test, but its cross-pole pitch ensures there's ample headspace throughout: One 6'2" tester was able to sit anywhere in the tent without hitting his head. Its D-shaped doors are above-average size at 52 inches by 28 inches, and they're easy to exit and enter thanks to smooth zipper action.
Features: 4.9
The Aurora 2 offers the most interior storage space of any tent in the testing group. There are five interior pockets—two on the ceiling for small items like a light, two on each end that can hold a Nalgene, and one triangular mesh net that spans the entire rear width of the tent, 52 inches across. "The storage shelf along the back of the tent is gigantic," our tester says. "It's like having a dresser drawer in there." Add in two 9-square-foot vestibules, and you'll have no trouble finding room to stash your stuff. 
Strength/Durability: 4.8
This tent comes in at less than 5 pounds but is armored with 9-inch bathtub floors on all sides that rise to 16 inches at each end—the highest in the test. Metal eyelets connect the fly to the poles at the corners, which bodes well for the long term, as does pairing its 68-denier, PU-coated polyester floor with the included ground sheet of the same material. The Aurora has one four-section hubbed main pole that's reinforced by a small cross pole, which keeps setup easy while still providing a strong pitch. The design withstood 32-mph wind gusts and its 68-denier polyester fly (with a waterproof coating) kept us dry in rain showers on Colorado's Grand Mesa.
Breathability: 4.4
The Aurora has a three-quarters mesh design at its head and foot, but its doors are only half mesh. This adds extra protection from strong winds and dust, but it does sacrifice some airflow. "You can peel the fly back at night to see the stars and not worry about wind or dust blowing in the doors," our tester said after a trip through Colorado's San Juans. "But we did get condensation some nights along the sides of the tent when the fly was buttoned down."
Strongest: ALPS Mountaineering Helix 2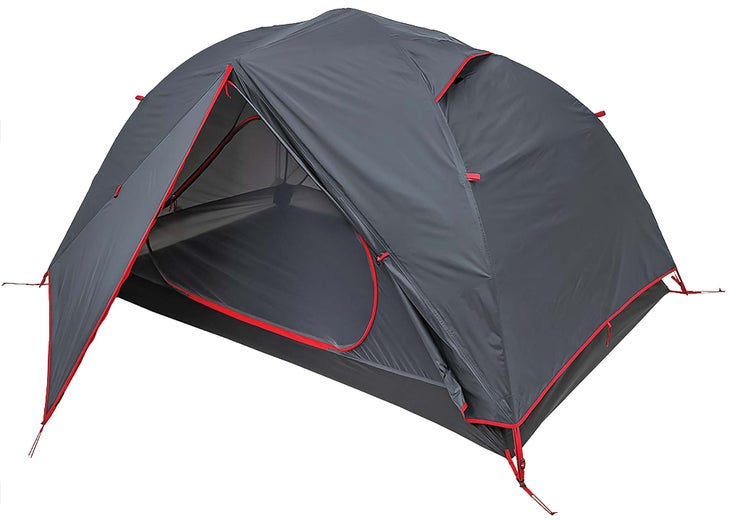 Overall: 4.6 / 5
$250; 4 lbs. 2 oz. Buy Now
Livability:
4.4
With 31.5 square feet of interior space, the Helix 2 is roomier than average for tents in this class, and our testers were able to sleep without rubbing shoulders or brushing up against the tent walls during the night. However, it also has one of the lowest peak heights in the test at 41.5 inches, sacrificing some space for its low weight and best-in-class packability—about the size of a two-liter soda bottle. 
Features:
4.3
This tent has one pocket at each corner that's big enough to hold a water bottle. It's a solid start, and not lacking in practicality, but the internal storage did leave our testers unenthusiastic when comparing its features to other tents in this test.
Strength/Durability:
4.8
The Helix 2 is the only tent in the test to use nylon in its canopy and fly. Those in humid climates should consider that nylon absorbs more water than polyester and is more prone to stretching; however, our testers found the fly's silicone/PU coating mitigated sagging even in hot, humid southern Florida. The three-pole design is the result of splitting one of the cross poles into two, cutting weight by eliminating the need for an additional pole. Instead of meeting in the middle, the poles angle out above the door (spreading out the ceiling) and slip directly into aluminum eyelets, reinforcing wind and weather protection. "We had 30-mph gusts in the Everglades and there was no flapping of the fly," our tester says. The 20-denier nylon floor with a silicone/PU coating provides strength without adding a lot of weight. Durability in the details looks good as well thanks to metal eyelets and solid aluminum stakes that refused to bend.
Breathability:
4.7
The Helix 2 has 6.5-inch-high bathtub floors, but otherwise, its canopy is completely made of mesh. Two strut vents on the fly kept the air moving during 80°F days, and condensation was never an issue. 
Best Ventilation: Mountain Hardwear Mineral King 2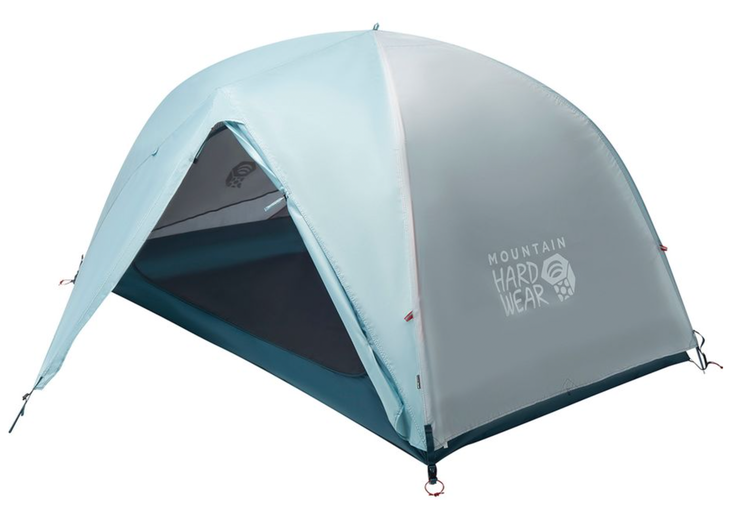 Overall: 4.5 / 5
$250; 5 lbs. 13 oz. Buy Now
Livability:
4.4
A long center pole laying across two cross poles makes the Mineral King's walls vertical and its interior headspace nearly rectangular, complementing its 43-inch peak height. A higher-than-average 33 square feet of floor space and two vestibules (9 square feet each) provided plenty of space for two 6' tall men to sleep comfortably without touching the walls or each other. "I had plenty of wiggle room on either side of my head and feet when I laid down," one of them says.
Features:
4.5
The Mineral King has five pockets for storage, two of which are big enough to hold large water bottles. Most notably, it sports the largest doors of the test, a best-in-class 64 inches in width by 29 inches in height. If ease of entry and exit is important to you, we tested nothing better than the Mineral King. 
Strength/Durability:
4.4
A 68-denier polyester fly, a tent body that includes 68- and 75-denier poly, bathtub floors, and an included ground tarp made our testers feel equally confident camping in rainy south Florida and on rocky ground in southern Utah. The two pre-bent, hubbed DAC aluminum poles pair with a small cross pole to offer a stable pitch. "We didn't experience any instability, even with gusts of 20 mph," one tester says. Plastic clip-in fly connectors and hook-stakes that bend easily require you to be cautious at the corners, though.
Breathability:
4.8
The Mineral King has 7-inch-high bathtub floors but is made of mesh otherwise, helping it score top-of-class for ventilation. Two fly vents atop the vestibules kept air moving even when we were hunkered down on a hot, low-80s day.
Most Spacious: Poler 2+ Person Tent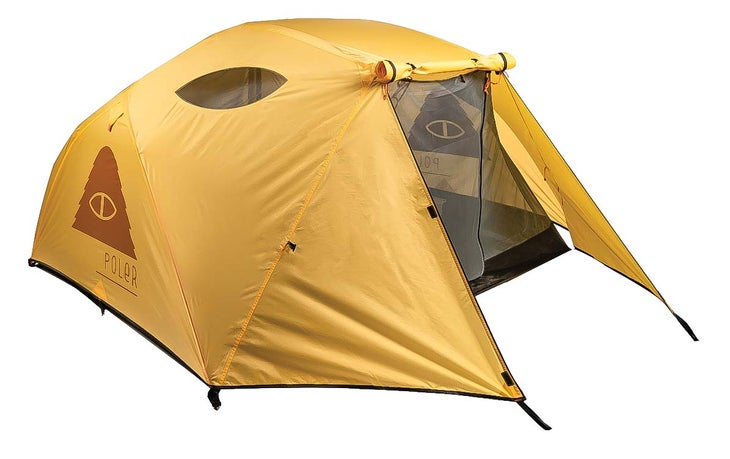 Overall: 4.4 / 5
$250; 6 lbs. Buy Now
Livability: 4.9
With two cross poles (most tents have just one) over a center pole, the 2+ Person has the most vertical walls in the test, maximizing the interior space of its broad, 35-square-foot floor plan. Two relatively large doors (26 inches by 54 inches) and huge vestibules (11 square feet each) make this tent a good pick for basecampers, dog owners, or overpackers who need a ton of space.
Features: 4.2
The 2+ Person has one eye-catching feature: two 16-inch-wide plastic porthole windows on the fly that allow you to stargaze without sacrificing weather protection. What seemed gimmicky at first grew on us during a cold, clear night in  Moab, Utah, as the windows blocked the desert breeze while still allowing us to fall asleep with a view of the stars. However, this tent only has two interior pockets—unexpectedly low for a shelter this size.
Strength/Durability: 4.3
One eight-point, hubbed aluminum pole supports a large-for-its-class trapezoidal pitch, but its flat top leaves the 2+ Person susceptible to  heavy rain. "Passing showers sometimes left small pools of water on the fly," one tester says. A 75-denier polyester floor showed no sign of wear after several trips on rocky, dry terrain in Colorado's Grand Valley and Moab, though the seams located along the floor line—the 2-Man is the only tent in the test without a bathtub floor—could become a weakness over time.
Breathability: 4.2
The majority of the 2+ Person's canopy is mesh, but the top of the tent body is covered by polyester. This design helped create a bit of shade during the day, but it also enabled condensation. "We had some water drops come from the ceiling," a tester reported after a 40°F night in Red Rock State Park, Arizona.
Best Value: Kelty Wireless 2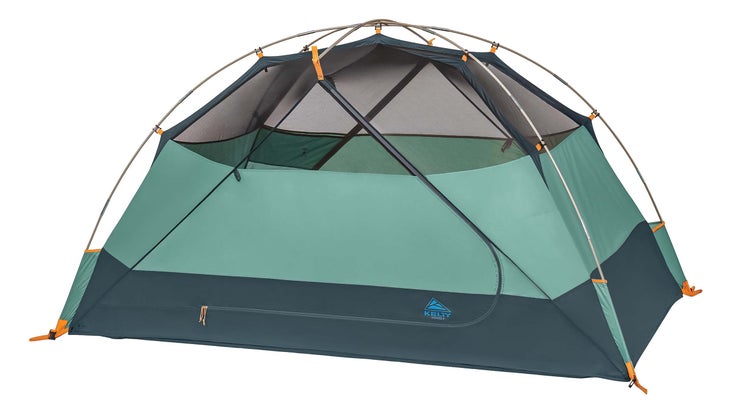 Overall: 4.2 / 5
$120; 7 lbs. 5 oz. Buy Now
Livability:
4.4
If you're looking for the most affordable tent that can still perform, the Wireless 2 is a steal at $120. Its 29 square feet of floor space is reasonable enough for two people, although it is necessary to take advantage of the tent's 20 square feet of vestibule space—second-most in the test—to get all your gear out of the way. "If you have anything inside, it starts to feel a bit cramped," one tester says. A 43-inch peak height helps offset claustrophobia.
Features:
4.0
At over 7 pounds and a packed size equivalent to two watermelons, this tent isn't ideal for the backcountry (although it could work in a pinch, especially if split between two packs). The Wireless 2 forgoes interior pockets entirely, so you'll have to settle for hanging your own gear nets from the provided ceiling loops. The price tag is the main feature here, so don't expect anything flashy. "There are no bells or whistles," one tester says, "but if you're willing to get creative and don't mind using the vestibules, the affordability is alluring."
Strength/Durability:
4.4
One reason this shelter is so heavy is its resilient materials. A 68-denier polyester fly and three thick fiberglass poles provide a rock-solid pitch once you reach your destination, with pole sleeves at each corner (as opposed to grommets) that pull the tent bottom taut and solidify its stance. "The Wireless stood tall against 25-mph gusts and its three-quarters fabric canopy provides good insulation," our tester said after a breezy night on Oahu, Hawaii's windward side. Kelty's included aluminum stakes scored top marks as they refused to bend, even when hammered into rocks, but be careful with the plastic fly clips.
Breathability:
4.0
A three-quarter fabric, one-quarter mesh tent body offers additional protection from the elements when you're not using the fly, preventing dust or sand from blowing inside. It also provides further insulation in cold temperatures. However, this design also lowers the tent's breathability, and the Wireless 2 is susceptible to condensation. "The side walls were damp when we woke up, even though it didn't rain," our Hawaii tester says.  
Scenes from a Mission
It was one of those classic, clear, early spring weekends in Canyonlands, a time of year when the desert is just perfect—wildflowers in bloom, blue skies, warm sun. Our hike took us through slot canyons, grassy prairies, and over smooth, exposed slickrock. We climbed atop a canyon wall at sunset, watching the colors of the rock change as the sky darkened and the stars came out. With the sun gone, a sharp chill entered the air. I was sad to miss the stargazing, but with no fires allowed, I felt compelled to retreat to my tent. Upon returning to the Poler 2-man, I was met with a pleasant surprise: I had forgotten about the two portholes on the fly. Protected from the wind and chill, I laid on my back, warm and happy, staring up at the night sky until I fell asleep.  –Steve Donaldson, tester