What We're Testing Now: A Well-Rounded Camp Stove For Hangry Hikers
The new Primus Lite XL has a host of updated features.
Heading out the door? Read this article on the new Outside+ app available now on iOS devices for members! Download the app.
Whether it's the middle of summer or a chilly fall morning, the minute I open my eyes it's a race to boil water as quickly as possible. I'm always eager to get a warm bowl of oatmeal into my hands, and I have a strong appreciation for efficient, easy-to-use stoves that can get me from sleeping bag to breakfast in the shortest time possible. Cue the Primus Lite XL. 
A larger version of the original Primus Lite Plus stove, the updated Lite XL has been a great addition to my summer and fall camping trips in Wyoming's Tetons and Washington's Alpine Lakes Wilderness. It has a 1-liter integrated pot that boils enough water for two people in a light and packable 460-gram package that fits a burner and a 230-gram gas canister (not included). The updated dimensions—6.4 inches tall and 4.6 inches wide—are taller and thinner than the previous version, which makes it easier to pack.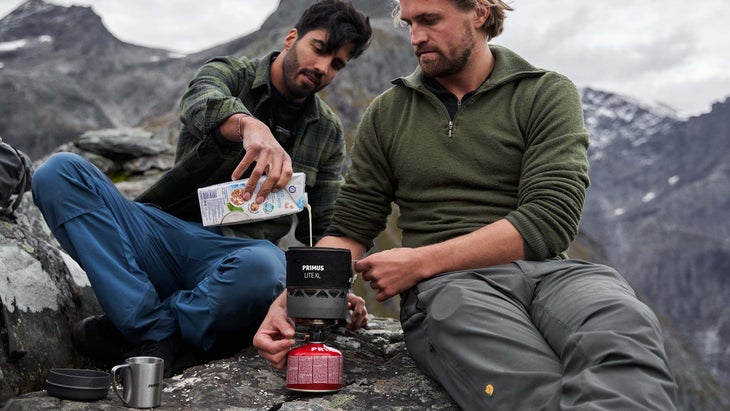 Also new for this iteration: The Lite XL's fuel control knob is now a wire adjuster (instead of a small round knob), which folds down when packed and allows for more precision when firing up the stove. Boil time is nothing revolutionary, but on par with other stoves in its class; when whipping up a round of bedtime tea in Moab for a group of three, it took just over two and a half minutes to bring the 1-liter pot of water to boil. The Lite XL is fuel-efficient considering its size, with an accurate stated burn time of about 50 minutes for a 3.5-oz. gas canister. (I haven't tested it in windy conditions yet, though). On a three-day bikepacking trip in New Mexico, other testers never tapped into their second fuel canister after boiling water for two meals per day. 
The stove's plastic lid, which has holes on one side for use as a colander, is deep enough to double as a cup or small bowl—the perfect size for a single pack of oatmeal or a small cup of coffee, but not much else. The cork-insulated sleeve wrapped in G-100 ECO Lite fabric (a blend of recycled polyester and organic cotton canvas) is another update for 2022 that makes it soft to the touch and gives you the ability to pour boiling water without burning your hands. There's also a removable, dual-purpose aluminum handle that slides into the side of the pot while cooking, and slots in vertically to hold the lid on securely for travel. 
The Lite XL will debut in spring 2022 and will retail for $140. So far, it's looking like a solid, feature-rich addition to the canister stove category.