Pouch Wars: The Best Dehydrated Shepherd's Pie
Only one rib-sticking potato mash took top marks.
Heading out the door? Read this article on the new Outside+ app available now on iOS devices for members! Download the app.
Welcome to Pouch Wars, a monthly taste-test of dehydrated backpacking meals. We've surveyed the market, sampling both big, corporate brands and tiny cottage operations in our search for the very best. While we certainly take note of caloric value, food weight, and the use of unhealthy dyes and stabilizers, this is first-and-foremost about taste. Is it delicious? Does it have texture? Would you happily eat this rehydrated pouch if you weren't starving in the backcountry? 
This homey, one-pot tavern dish from across the pond has become a popular offering from dehydrated pouch brands. (Sadly, fish and chips never made the transition to American backpacking audiences.) The trick with Shepherd's Pie is maintaining some semblance of separation from the meaty beef or lamb stew and the mashed potato raft that sits on top like a delicious Anglo-Saxon lasagna. Which backpacking meal-makers managed to pull it off? Read on to find out.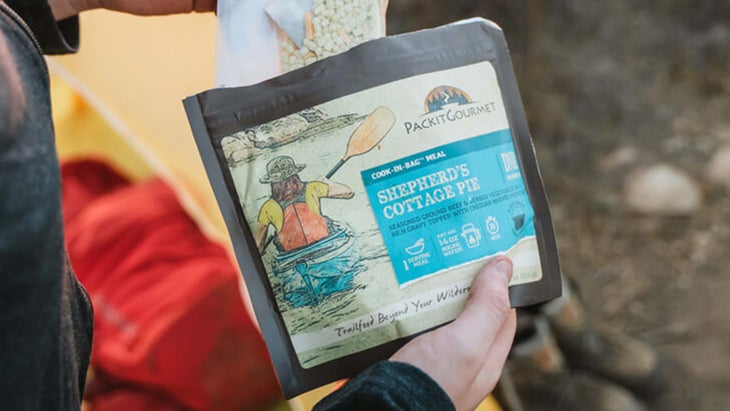 First Place: Packit Gourmet Shepherd's Cottage Pie
Score: 4.5/5
Packit's remarkable beefy flavor likely comes from its separately packaged "beef au jus," which includes rendered beef fat and a healthy dose of MSG to bring the savory quotient to 11. Generous bites of juicy ground beef helped round out its distinctly bovine profile. The potatoes, also packed in a separate container, maintained a truly luxurious mashed consistency, especially compared to other test pouches, and came blended with Colby cheese, butter, and garlic. The end result is a sweet, slightly spicy stew with enough comforting, fatty goodness to keep you warm on the coldest of nights. Despite its undeniable pull, we taxed a half point for its lengthy, unpronounceable ingredient list, which includes palm oil and corn syrup. 670 calories; 5.5 oz; 15 minute rehydration time
$14; Buy Now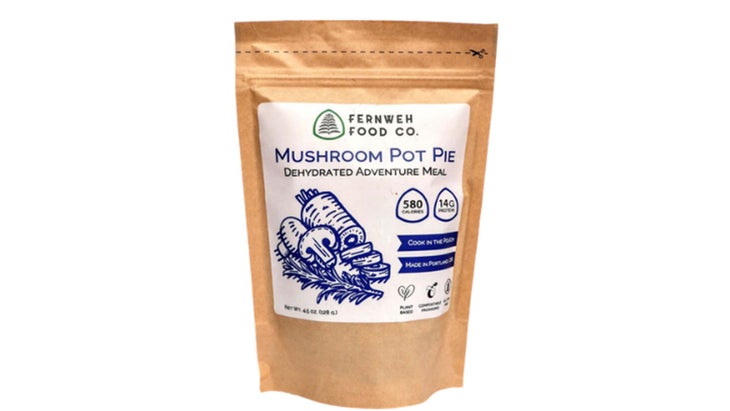 Best Vegetarian: Fernweh Mushroom Pot Pie
Score: 4/5
We are consistently blown away with Fernweh's plant-based meal offerings for their clean, flavor-packed concoctions. Meaty cremini mushrooms were more satisfying than the beef in most dehydrated renditions we tried while cayenne-spiced vegetable stock and a jumble of herbs including sage, thyme, and rosemary gave refreshing complexity to this pouch. With pillowy potato dumplings in the mix, this veggie pie packs in a surprising caloric hit. Unfortunately, Fernweh's dried mix did not rehydrate in the promised 20 minute time—expect a hefty, 35-minute wait for your vegan feast. 580 calories; 4.5 oz; 20 minute rehydration time
$13.75; Buy Now
The Rest: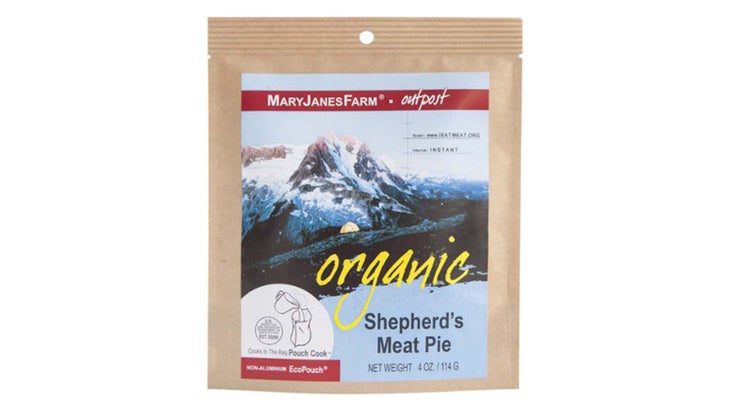 MaryJanes Farm Organic Shepherd's Meat Pie
Score: 3.5/5
This is the kind of deliciously low-budget shepherd's pie that'll make you feel guilty while you're eating it. It's mostly mashed potatoes (from potato flakes, no less), teriyaki-style beef jerky shreds, and a hefty handful of super sharp white cheddar flakes. It's undeniably crave-worthy, and, thanks to its finely ground ingredients, rehydrates in a record five minutes. The downside? The texture is a little gluey and may leave you hankering for some fiber. 380 calories; 3.4 oz; 5 minute rehydration time
$11.50; Buy Now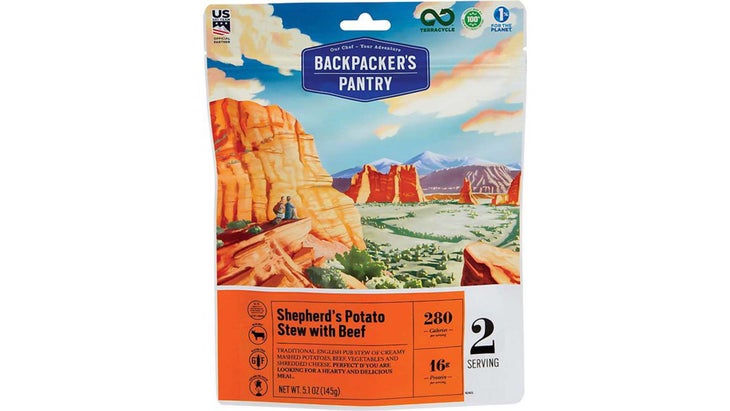 Backpacker's Pantry Shepherd's Potato Stew With Beef
Score: 3/5
This entry from BP doesn't offend or delight with its neutral veggie-mash flavors. The mix is a little out of balance: it's light on potatoes and heavy on corn and peas, with some overly dominant notes of thyme and black pepper. The beef itself is disappointingly grainy. But in a pinch, it'll do the trick. 4.2 oz; 460 calories; 20 minute rehydration time.
$11; Buy Now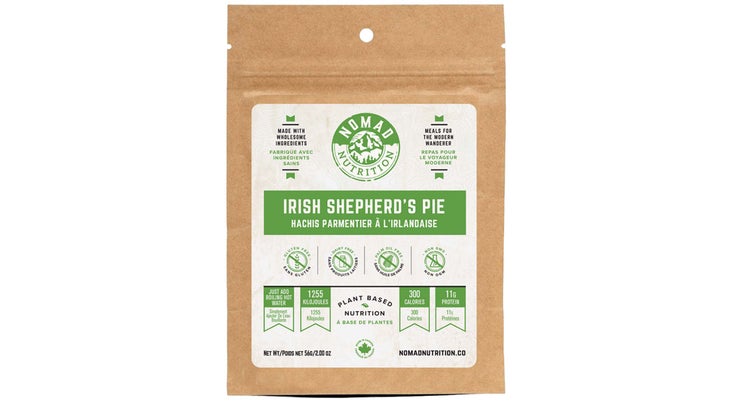 Nomad Nutrition Irish Shepherd's Pie
Score: 2/5
If you're looking for shepherd's pie, you may be disappointed with this one. There are no potatoes, nor is there meat or a meat substitute. Instead, you'll find a rosemary-heavy lentil bowl overflowing with corn, carrots, and peas and a few indistinct spices. Extra bummer? It was still crunchy after its 12 minute cook time. 4 oz; 790 calories; 12 minute rehydration time.
$12.74; Buy Now