Pouch Wars: The Best Dehydrated Burrito Bowls
Which take on beans and rice deserves to end up on your tortilla?
Heading out the door? Read this article on the new Outside+ app available now on iOS devices for members! Download the app.
Welcome to Pouch Wars, a monthly taste-test of dehydrated backpacking meals. We've surveyed the market, sampling both big, corporate brands and tiny cottage operations in our search for the very best. While we certainly take note of caloric value, food weight, and the use of unhealthy dyes and stabilizers, this is first-and-foremost about taste. Is it delicious? Does it have texture? Would you happily eat this rehydrated pouch if you weren't starving in the backcountry? 
"Burrito bowls" or "Southwest bowls" are mainstays in the dehydrated meal world. Primarily made of rice and beans, they range between standalone meals loaded with meat, cheese, and toppings to merely a fiber-rich base for augmenting with avocado slices and sour cream. Whether you roll it into a tortilla or spoon it into your mouth directly like a spicy bean stew, our rigorous taste-testing shows that some burrito-stuffers are just plain better than others.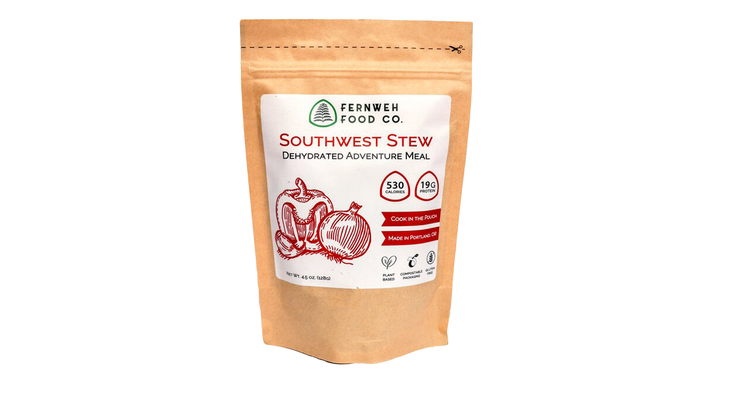 First Place: Fernweh Food Co. Southwest Stew
Score: 4.5/5
As we've come to expect from Portland, OR-based Fernweh, this stew is complex, deeply satisfying, and incredibly healthy. Cloaked in a thick, spicy tomato and chipotle sauce, the jumble of meaty roasted sweet potato, yams, onion, and hearty black beans has an addictive savory quality. The cumin-heavy spice blend, boosted with cinnamon, paprika, oregano, and thyme kept us coming back for more. As a bonus, it's vegan, gluten-free, and comes in 100% compostable packaging. What's not to love? 530 calories; 4.5 oz.; 18-20-minute rehydration
$13.50; Buy Now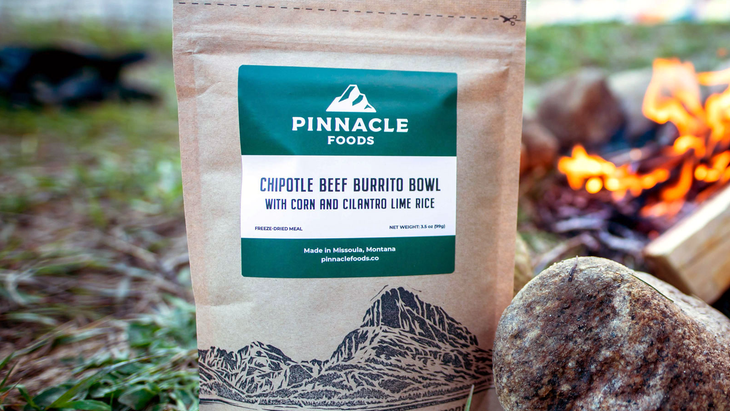 Runner Up: Pinnacle Foods Chipotle Beef Burrito Bowl
Score: 4/5
We didn't know quite what to think of this burrito bowl from small, upscale dehydrated pouch-maker Pinnacle. It's absolutely luxurious: a rich, chicken stock stew holding grass-fed ground beef, black beans, corn, and basmati rice and thickened with sour cream and butter for good measure. It's also well-seasoned, with healthy spritzes of citrus and apple cider vinegar. But with the one and a half cups of recommended water, this ends up being more of a meaty Southwest chicken soup than a burrito bowl. We also would've liked more of that namesake chipotle smokiness. With a little tweaking, this bowl has the potential to be truly great. 700 calories; 3.5 oz.; 12-minute rehydration
$14; Buy Now
The Rest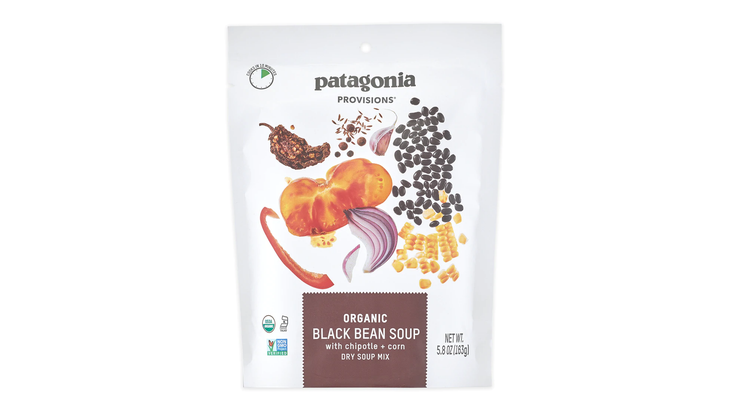 Patagonia Provisions Organic Black Bean Soup
Score: 3.5/5
This "black bean soup" won the texture game. Hearty, whole black beans, sweet corn kernels, and big slices of red pepper and tomato offered a satisfying sporkful. Chipotle peppers give it a nice, even heat. The downside? As a standalone meal, it's a bit spare. As a base for toppings, it's a top-notch choice. Note: As with all Patagonia dehydrated meals, this was the only dinner that could not be cooked inside its own pouch. 570 calories; 5.8 oz.; 10-minute cook time
$7; Buy Now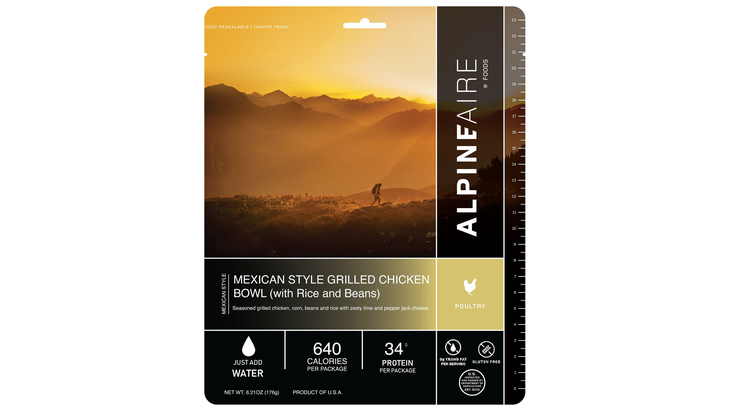 AlpineAire Rice Mexican Style Grilled Chicken Bowl
Score: 3/5
This REI mainstay brand's version of a burrito bowl left us pleasantly sated. As with most AlpineAire meals, the jumble of rice, corn, hunks of chicken, and stringy melted pepper jack had a rib-sticking, belly-filling quality. But it also hits the requisite sweet, savory, spicy and sour notes with a heavy sprinkling of crystalized lime that helps buoy this meal. 640 calories; 6.2 oz.; 12-minute rehydration
$10; Buy Now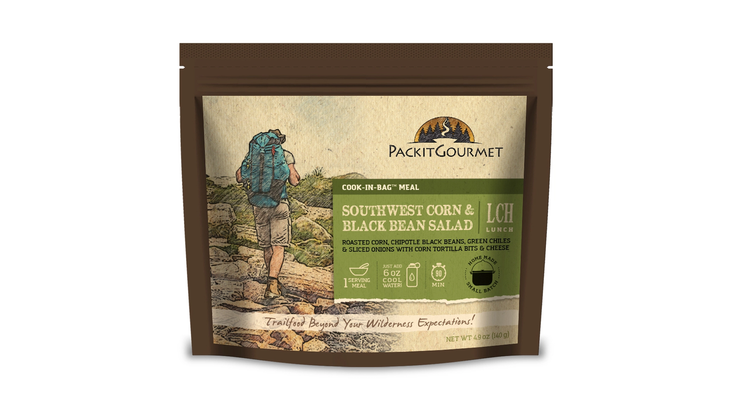 Packit Gourmet Southwest Corn and Black Bean Salad
Score: 2.5/5
It's not easy to make a rehydrated "salad," even for a beloved brand like Packit Gourmet. Their texture-filled attempt at this pouch falls on the other hydration extreme of the burrito bowl category: With a scant 6 ounces of water, the beans, fire-roasted corn, and sweet white onion strips are left slightly crunchy, and not in a good way. The included malt vinegar, hot sauce, and olive oil pouches left us feeling like we had accidentally sleep-eaten our entire pantry. 530 calories; 5 oz.; 15-minute rehydration
$12; Buy Now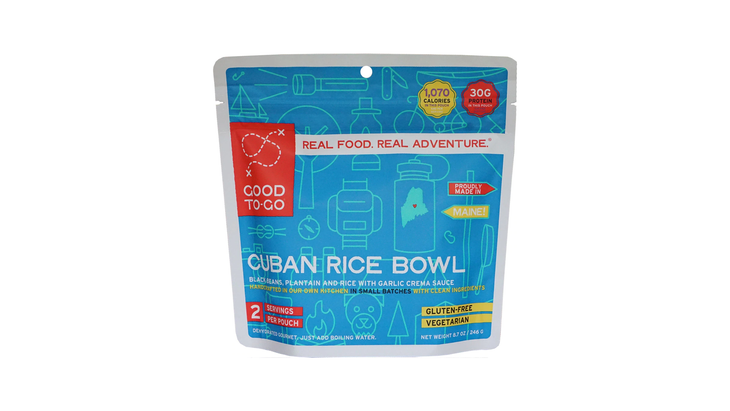 Good To-Go Cuban Rice Bowl
Score: 2.5/5
"Mouth-puckering" is what comes to mind with this take on a "Cuban" rice bowl. We're talking enough crystalized lime to qualify as a Sour Patch Kid. We found some redeeming qualities in the nice, steady Poblano pepper heat and toothy long grain texture, but a lack of salt and soggy plantain chips—who wants mushy chips?!—kept this pouch near the bottom of the list. Extra bummer? It costs nearly $15. 640 calories; 4.3 oz; 12-minute rehydration
$14.75; Buy Now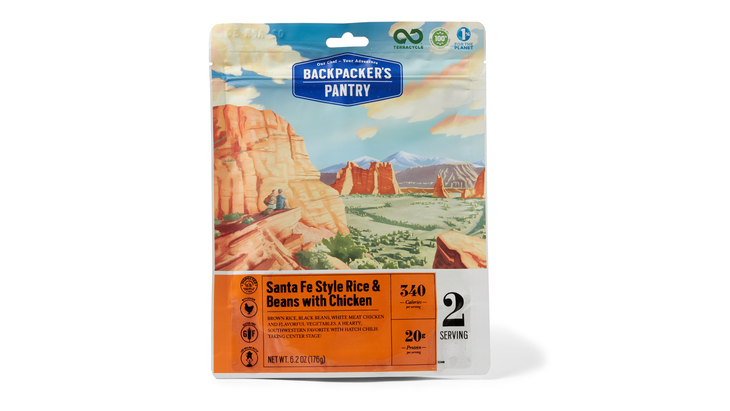 Backpacker's Pantry Santa Fe Style Rice & Beans with Chicken
Score: 2/5
This was not the first time a BP pouch offended with its off-putting undertones. We attribute the acrid, gasoline-fume taste to a badly calibrated "mesquite smoke powder". While we appreciated the big hunks of chicken, green chile, and a filling mix of brown rice and black beans, it was—on top of the off-flavors—notably bland and underseasoned. 680 calories; 6.2 oz; 20-minute rehydration
$12; Buy Now