Pouch Wars: The Best Dehydrated Backpacking Curry
Nine international spicy stews go head to head.
Heading out the door? Read this article on the new Outside+ app available now on iOS devices for members! Download the app.
Welcome to Pouch Wars, a monthly taste-test of dehydrated backpacking meals. We've surveyed the market, sampling both big, corporate brands and tiny cottage operations in our search for the very best. While we certainly take note of caloric value, food weight, and the use of unhealthy dyes and stabilizers, this is first-and-foremost about taste. Is it delicious? Does it have texture? Would you happily eat this rehydrated pouch if you weren't starving in the backcountry? 
When most backpackers think of dehydrated curry, they imagine the Southeast Asian, coconut milk-based variety that usually graces REI shelves. In our call for curries from over a dozen brands, we were thrilled to find entries as diverse as the dish itself, with spicy stews from African, Indian, and Caribbean cuisine all entering the fray. If the bag included a curry spice blend from any part of the world, it was eligible.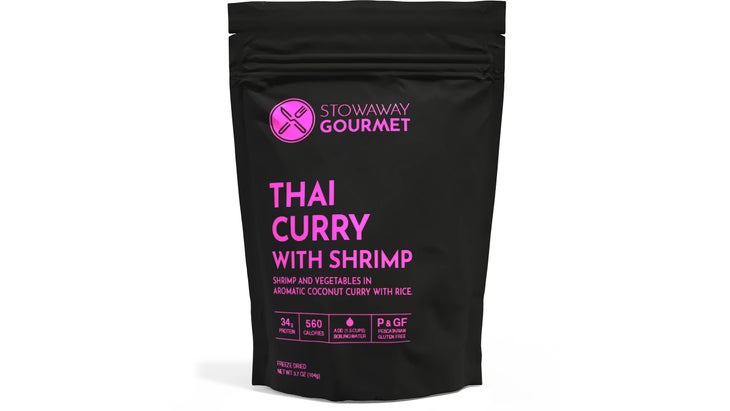 First Place: Stowaway Gourmet Thai Curry with Shrimp
Score: 5/5
"Is this for real?" was the first utterance from my hiking partner's mouth after a bite of Stowaway's Thai Curry. Indeed, this rice-based coconut curry sets a new bar for the category. For starters, the generous use of whole shrimp in this pouch is remarkable: Each plump crustacean seems to have retained its sweetness and juiciness, despite being dehydrated and vacuum-sealed. The heat from this curry is exceptional—fruity and slow-building, like the Thai chile-spiced staples at our favorite Southeast Asian restaurants. The rice, which is reminiscent of a seafood risotto, pops with herbs and roots, including thin ribbons of lemongrass, basil, ginger, galangal and Makrut lime leaves. Crunchy bites of bamboo shoot, meaty mushrooms, and those standout shrimp give this pouch stellar texture. Backpackers, take note: This is a brand to watch.
560 calories; 3.7 oz; 10 minute cook time 
$15.95; Buy Now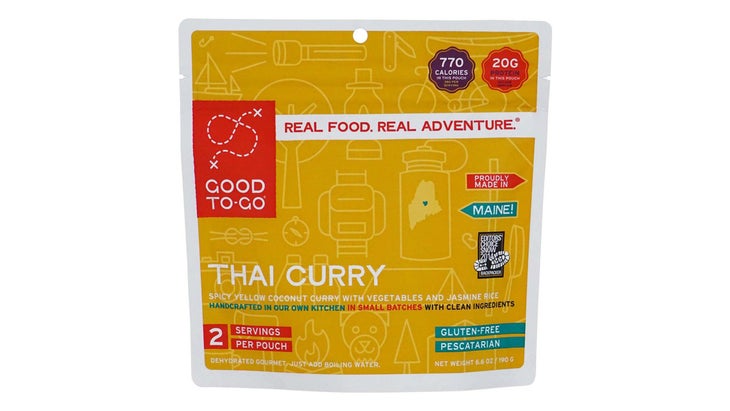 Runners Up:
Good To Go Thai Curry
Score: 4.5/5
In 2014, when the dehydrated meal market was still, shall we say, underdeveloped, this Thai curry rocked our world and earned an Editors' Choice award. Seven years later, in a more crowded and competitive field, this Thai curry still outranks most others. Its brilliance lies in a few special ingredients: fish sauce, tamarind, and Makrut lime leaf. All three are commonly used as seasonings in actual, bonafide Thai curry and do wonders to move beyond the usual coconut milk, chile, veggie-mix facsimile seen in many backpacking meals today. The result? An intensely sweet, savory, complex, and funky pouch with meaty hunks of green bean, broccoli, and cauliflower. 770 calories; 6.6 oz; 20 minute cook time 
$14.75; Buy Now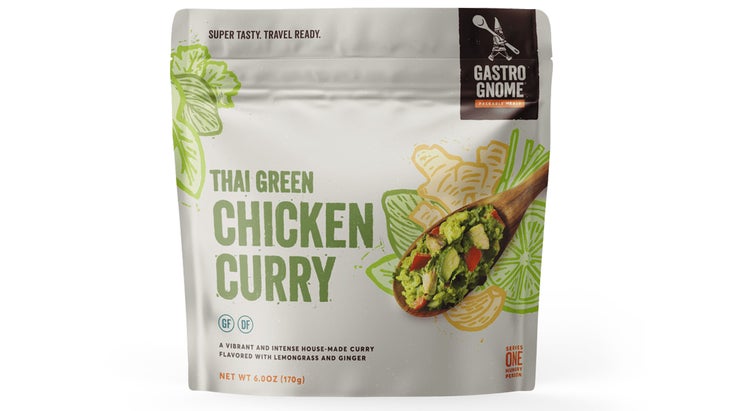 Gastro Gnome Thai Green Chicken Curry
Score: 4.5/5
This green curry rocks, especially when it comes to Gastro Gnome's studious use of traditional Thai seasonings. All the essentials for a good curry are here: shallots, lemongrass, ginger root, cilantro, and Thai bird chiles. This pouch smells and tastes like the first few whiffs of freshly-ground curry paste after being pounded in a mortar and pestle. Excellent seasoning comes from the use of salty fish sauce and tart lime (both juice and zest), while ribbons of zucchini give this curry a distinctive crunch. If we have one complaint, it's the chicken breast, which is a tad on the dry and stringy side after rehydration. 760 calories; 6 oz.; 20-minute cook time
$14.70; Buy Now
The Rest: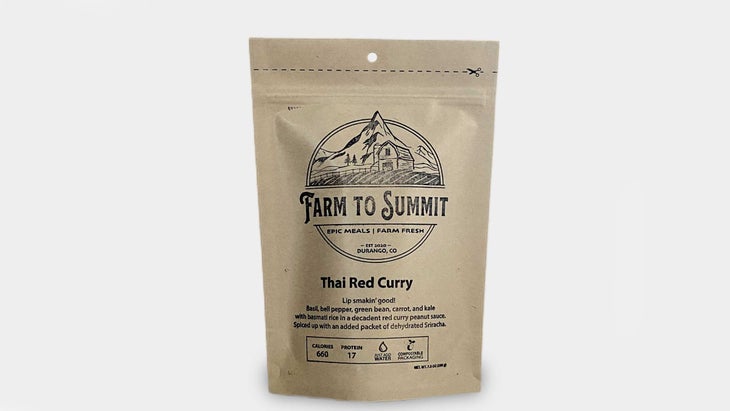 Farm To Summit Thai Red Curry
Score: 4/5
This was our favorite vegetable-focused curry by a long shot. Big, leafy bites of kale, Swiss chard, and spinach filled every bite, while a creamy coconut-peanut butter sauce spiked with sriracha had us coming back for more. Farm To Summit nails this pouch in the seasoning department, with coriander, cumin, cardamom, and fenugreek all elevating this rice dish above many of the others in this category. A few dings? It was slightly deficient in its use of salt and acid when compared to the other top-shelf brands in this test and requires a very long rehydration time. 660 calories; 7.5 oz.; 25-minute cook time
$14.50; Buy Now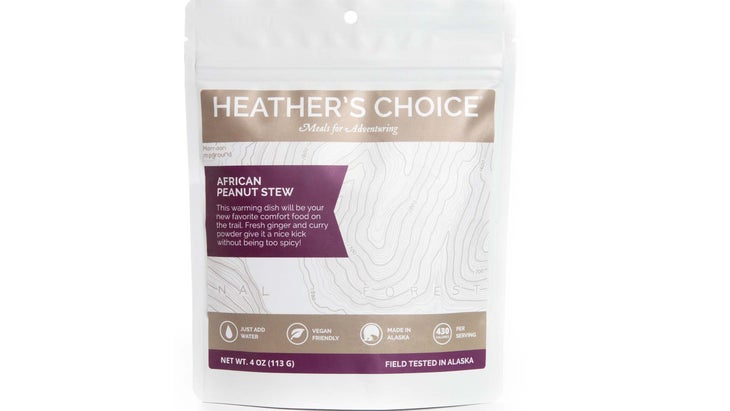 Heather's Choice African Peanut Stew
Score: 3.5/5
Maafe, or West African peanut stew, comes in dozens of variations, but is often served with starchy legumes, greens, and some kind of spice or chile blend. Heather's Choice uses a curry mix, ginger, and a subtle spoonful of peanut butter powder to season this spicy, sweet, satisfying stew. Sweet potatoes, swiss chard, and precooked rice make this just about as comforting as chicken noodle soup (with a kick, of course) on a cold day. 440 calories; 4 oz; 20 minute cook time
$10; Buy Now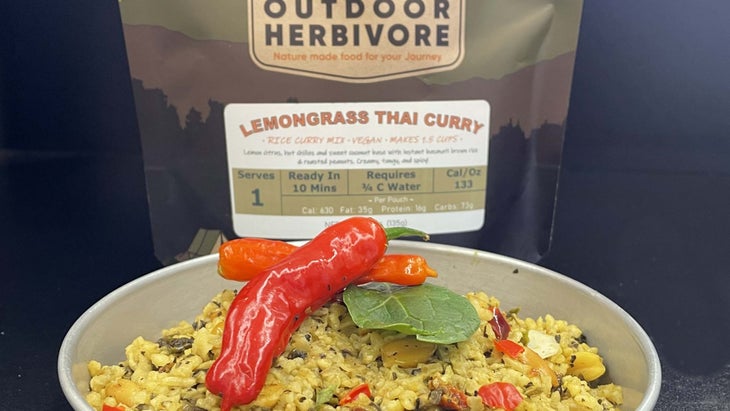 Outdoor Herbivore Lemongrass Thai Curry
Score: 3.5/5
This is a solid entry into the dehydrated Thai curry market, but light in substance. Lemongrass hits big right off the bat, with big slices of spicy chile mixed into this predominantly rice-based pouch. The lack of veggies and protein (apart from red pepper) is noticeable, but we love the texture and pop that salty, chopped peanuts add to this mix. 630 calories; 4.75 oz, 10 minute cook time
$9; Buy Now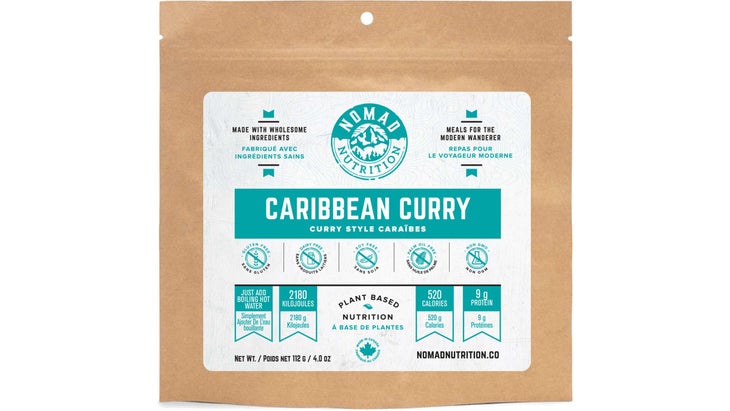 Nomad Nutrition Caribbean Curry
Score: 3/5
There is nothing inherently wrong with this take on a Caribbean/ Jamaican curry, although we expect a bit more of that island spice boldness typically found in the form of seasonings like turmeric, nutmeg, allspice, and—if you're lucky—Scotch bonnet pepper. This curry brings a steady heat and nice grain variety in the form of quinoa, but the mash of broccoli, yam, and green pepper tastes a bit like a college co-op lunch special. 520 calories; 4 oz; 8-12 minute cook time
$12; Buy Now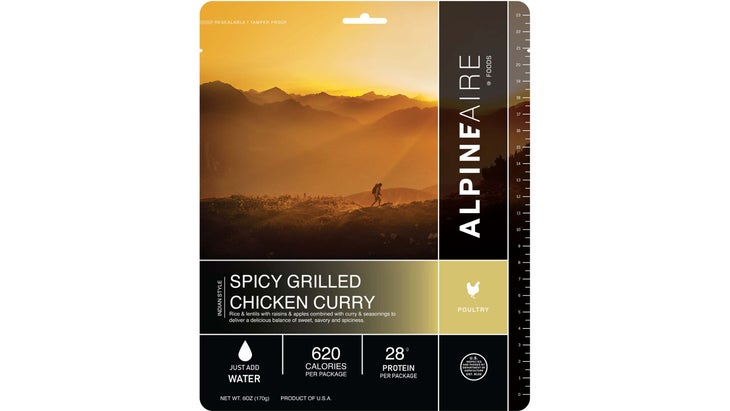 Alpine Aire Spicy Grilled Chicken Curry
Score: 2.5/5
While the rib-sticking mix of instant white rice and lentils is certainly hearty, and the sweet pop of currants offers some variety, this pouch is overwhelmingly one-dimensional and certainly doesn't do the Anglo-Indian curry style any favors. No word from the aforementioned "grilled" chicken in the char department. 620 calories; 6 oz, 12 minute cook time
$9; Buy Now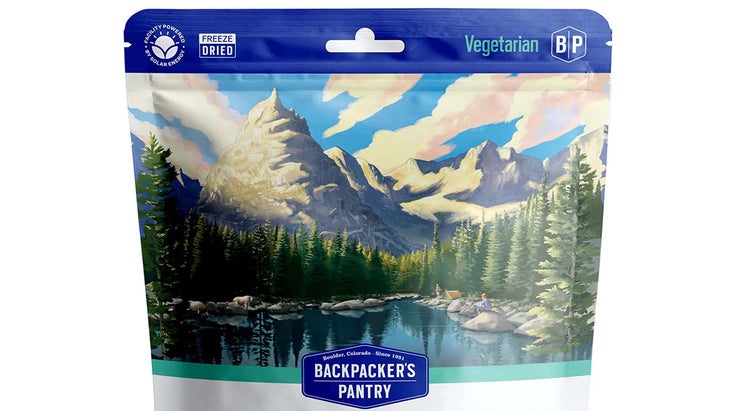 Backpacker's Pantry Green Curry 
Score: 2/5
While we appreciate how coconut-creamy this stab at Thai green curry is, we can't get over the overwhelmingly soapy flavor associated with it (we've also experienced this with BP's Chiang Mai Coconut Curry). Unrefined coconut oil, which is rich in lauric acid, can taste soapy to certain individuals (in the same way that cilantro tastes like soap to certain palates), but we didn't experience any of the bitter, unpleasant aftertaste with other coconut-based curries in this taste-test. For those less sensitive to the soapy aftertaste, the potent heat from jalapeño pepper powder and zing from crystalized lime might make this pouch worth your consideration. 780 calories; 6.1 oz, 15 minute cook time
Available in 2022
Last updated May 2022