Pouch Wars: The Best Dehydrated Backpacking Pasta
Nine meals were sampled. Only one was crowned king.
Heading out the door? Read this article on the new Outside+ app available now on iOS devices for members! Download the app.
Welcome to Pouch Wars, a monthly taste-test of dehydrated backpacking meals. We've surveyed the market, sampling both big, corporate brands and tiny cottage operations in our search for the very best. While we certainly take note of caloric value, food weight, and the use of unhealthy dyes and stabilizers, this is first-and-foremost about taste. Is it delicious? Does it have texture? Would you happily eat this rehydrated pouch if you weren't starving in the backcountry? 
This month we tackle Italian pasta—no ramen or Strogonoff allowed. Entries ranged from deconstructed lasagna to chicken pesto, with tomato-based sauces dominating the lineup. A common technique for decreasing cook time on dehydrated pasta meals is to use the thinnest possible noodle, broken up into little pieces. To that end, pasta that retained its structural integrity was a major bonus in our testing, as was sauce consistency and depth of flavor.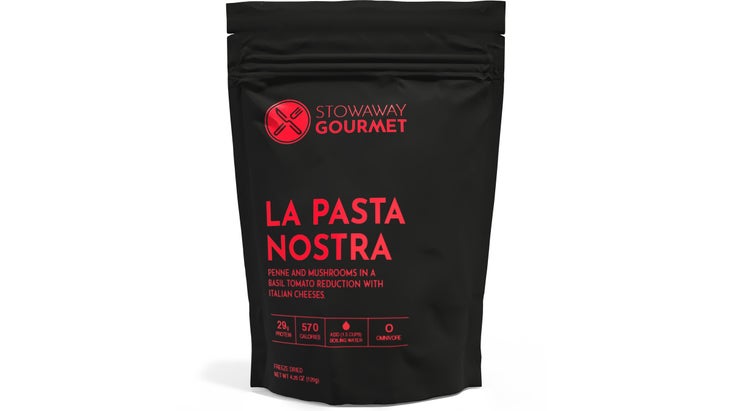 First Place: Stowaway Gourmet La Pasta Nostra 
Score: 5/5
This tomato-based pasta meal is the new benchmark for all others going forward. For starters, semolina flour penne offered a perfect al dente bite—not an easy mark to hit for partially-cooked, rehydrated pasta. The sauce—a thick tomato reduction cooked with fresh tomatoes, wine, garlic, and basil—was shockingly rich and complex. That's thanks to the addition of anchovy paste (an essential ingredient in many Italian pasta dishes), and both parmesan cheese and pecorino romano, its saltier cousin. Meaty, cheesy bites of tomato-drenched mushroom gave this pouch as much oomph as a full-blown bolognese. It's a dinner that would make the cut with any nonna, let alone a hungry hiker. 570 calories; 4.25 oz.; 10 minute cook time
$15; Buy Now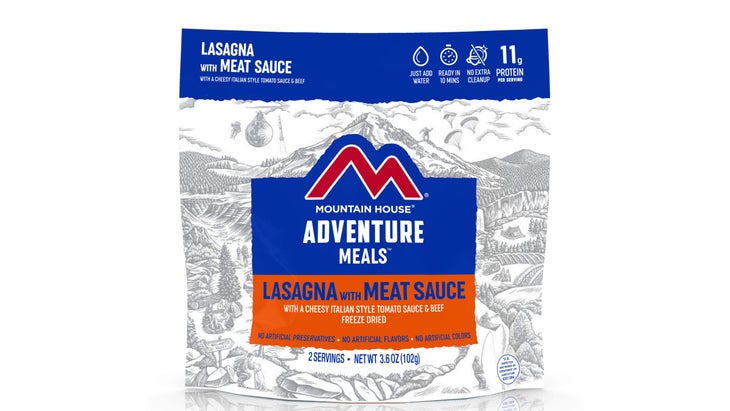 Runner Up: Mountain House Lasagna with Meat Sauce
Score: 4/5
High marks from a budget dehydrated food brand shows that fancy packaging and expensive ingredients aren't a requirement for a top-notch backpacking meal. The Oregon-based industry giant puts out a truly crave-worthy pasta, headlined by lasagna ribbons that nailed the texture and mouthfeel of the actual layered Italian dish. A creamy, meaty tomato sauce stewed with beef and three types of cheese—including gooey mozzarella—was hard not to wolf down after a long day on the trail. Only downsides? A slightly rosemary-forward undertone that doesn't belong in lasagna and the relatively low fat content, which might not be enough for hikers with high caloric needs. 440 calories; 3.6 oz.; 9 minute cook time
$11; Buy Now 
The Rest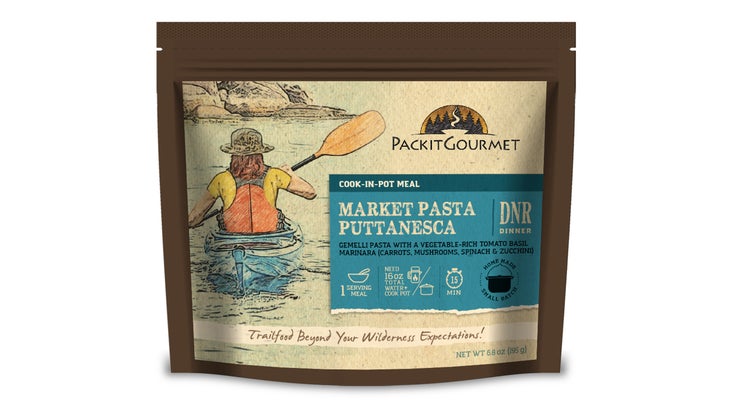 Packit Gourmet Pasta Puttanesca
Score: 3.5/5
Great texture from the twisted gemelli pasta and a rich, tomatoey marinara kept this entry from one of our favorite dehydrated meal brands in the running, but it had a lot going against it. First and foremost, it's not a true cook-in-a-pouch meal—it requires cooking the pasta separately in boiling water before mixing it into the pouch with the rest of the ingredients. The pouch includes three separate sub-pouches, making microtrash an issue. Flavor-wise, this puttanesca missed the mark. Instead of the typical olive and caper-studded sauce, we found heavy, discordant red and green pepper and celery flavoring the mix. To top it all off, the pouch contains a hefty 25 grams of sugar—as much as you'll find in a Twix bar. 710 calories; 6.8 oz.; 15 minute cook time
$12; Buy Now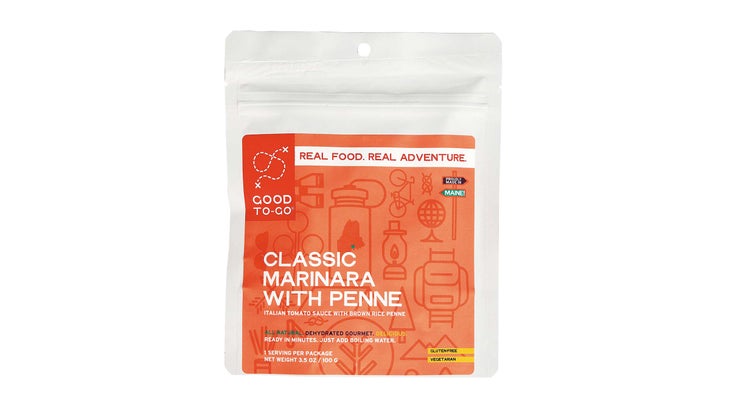 Good to Go Classic Marinara with Pasta
Score: 3.5/5
A vegan, sun dried tomato-ey reduction and brown-rice alternative pasta will surely win over certain palettes, but for us, the marinara didn't fire on all cylinders. The brown rice pasta—cut into micropasta pieces—had an off-putting buckwheat taste that colored the entire pouch while the tomato sauce itself was far too acidic. Extra bummer? The long cook time.  430 calories; 3 oz.; 20 minute cook time
$15; Buy Now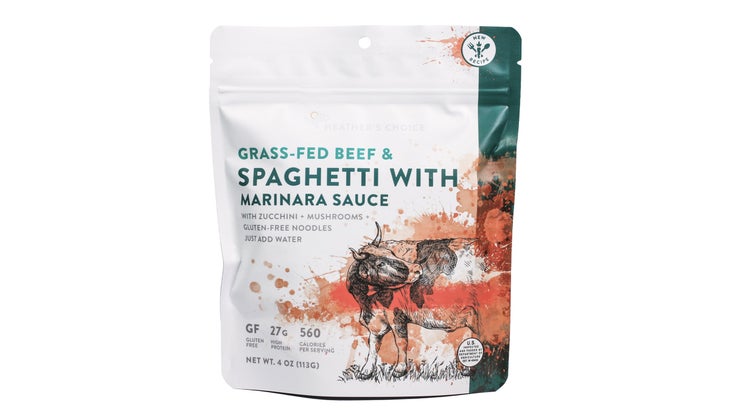 Heather's Choice Mom's Spaghetti with Beef and Marinara Sauce
Score 3/5
We had high hopes for Heather's Choice, which utilizes grass-fed beef in many of its excellent meals, including this one. Unfortunately, beef was the only thing we tasted in this particular pouch, along with a lack of salt and too much acidity. Micro-shreds of spaghetti were also a bummer. Note: Heather's Choice recently released an updated recipe, which we are looking forward to trying. 630 calories; 4 oz.; 20 minute cook time
$16 | Buy Now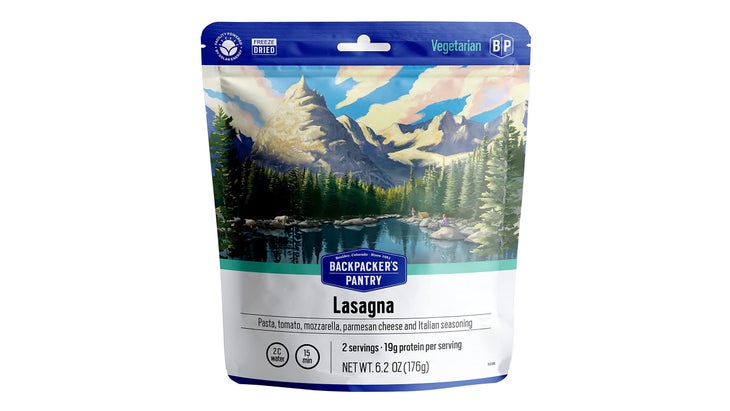 Backpacker's Pantry Lasagna
Score: 3/5
This lasagna used glommy tagliatelle noodles rather than its namesake pasta. While we appreciated the creamy consistency aided by the butter and milk powder-infused tomato sauce, the overall flavor was reminiscent of nondescript cafeteria mash—a common refrain in testing for Backpacker's Pantry pouches. 620 calories; 5.5 oz; 15 minute cook time
Coming in 2022 (a previous version is available here.)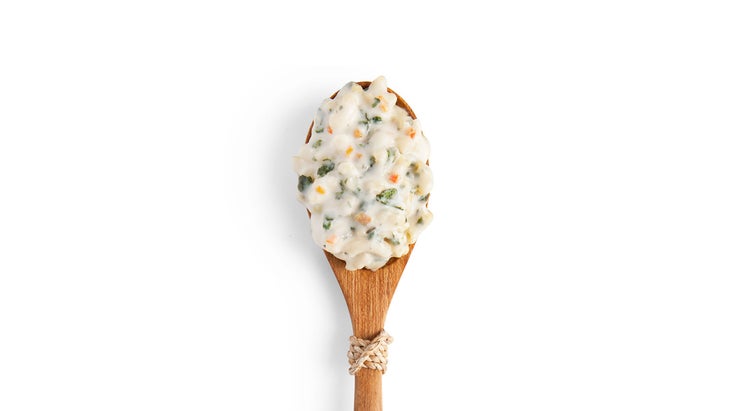 Mary Jane's Farm "Eat Your Veggies" Pasta
Score: 3/5
Mark this "primavera" down as a bait-and-switch. It's really just mac n' cheese with dehydrated confetti shreds of spinach. As with most of the MJ dehydrated meals we've tried, there's a definite yum factor, but at the cost of complexity and substance. 490 calories; 4.1 oz.; 10 minute cook time 
$7 | Buy Now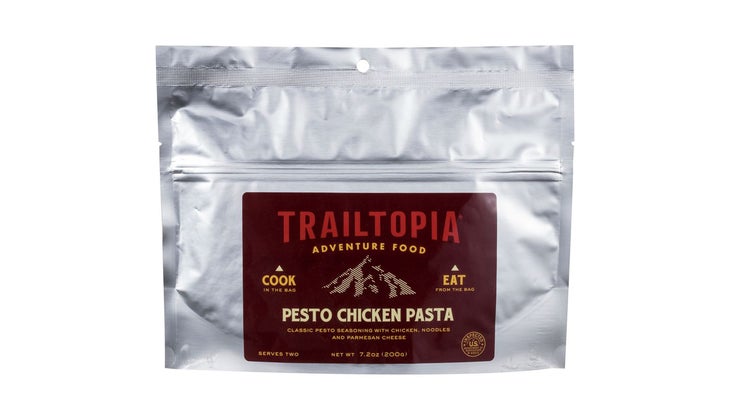 Trailtopia Pesto Chicken Pasta
Score: 2.5/5
Springy rotini noodles and big hunks of roasted chicken couldn't quite make up for the shortcomings in our sole pesto entry. With the recommended 2 ½ cups of water, this sauce is watery and under-pestoed. 740 calories; 6.9 oz.; 10 minute cook time
$10 | Buy Now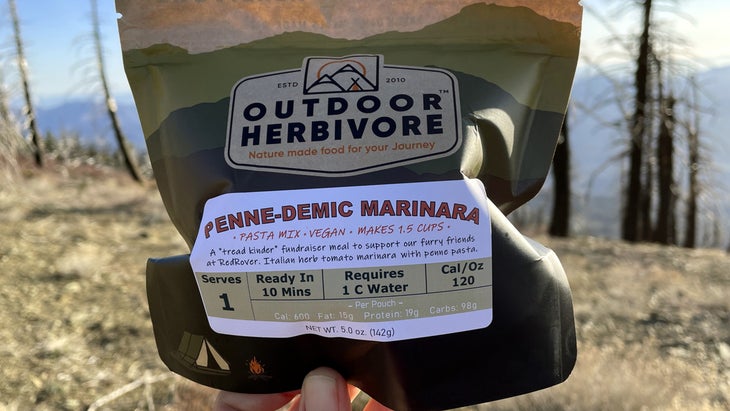 Outdoor Herbivore Penne-Demic Marinara 
Score: 2.5/5
Much as we love a good pun, this "marinara" didn't live up to its name. Whole bites of penne were the one bright spot in a dish with an unsettling Play-Doh flavor, likely owing to the addition of lentils and quinoa powder. 600 calories; 5 oz.; 8-10 minute cook time
$9 | Buy Now