Pouch Wars: The Best Dehydrated Backpacking Chili
Only one smoky bean bowl earned top marks.
Heading out the door? Read this article on the new Outside+ app available now on iOS devices for members! Download the app.
Welcome to Pouch Wars, a monthly taste-test of dehydrated backpacking meals. We've surveyed the market, sampling both big, corporate brands and tiny cottage operations in our search for the very best. While we certainly take note of caloric value, food weight, and the use of unhealthy dyes and stabilizers, this is first-and-foremost about taste. Is it delicious? Does it have texture? Would you happily eat this rehydrated pouch if you weren't starving in the backcountry? 
Who's judging: Backpacker editor Benjamin Tepler spent nearly a decade as a food editor at a major city magazine testing recipes and reviewing restaurants before joining the BP team and holds two actual culinary degrees. That said, taste is completely subjective: one hiker's Proustian ideal might not make the cut for the next person. Our goal, as always, is to point you towards the tastiest backcountry experience possible. Bon Appétit!
First up? Chili—the quintessential backcountry rib-sticker. We looked at both vegetarian and carnivorous versions of the hearty stew, so long as it included beans and chili seasoning (typically a dried blend including cumin, chile peppers, and garlic/onion powder.) Note: All caloric values and weights are per pouch.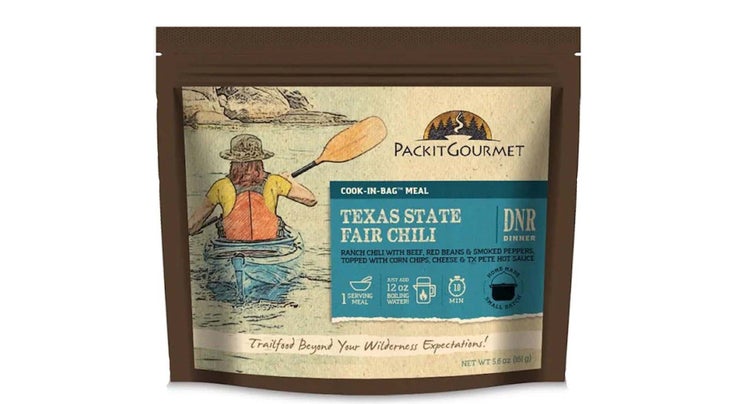 First Place: Packit Gourmet Texas State Fair Chili
Score: 5/5
It's no surprise that the winning entry comes from Austin, Texas-based Packit Gourmet, where good chili is a birthright. The base of this chili, which includes big crumbles of ground beef, beef stock, and chunky kidney and red beans, gives it a meaty, umami-rich undertone that lends more depth than most of the meals we tried. But what pushes this chili over the top is an included toppings packet with corn chips (which add salt and crunch), Monterey jack cheese, and a pouch of Texas Pete hot sauce that lends it the elusive tangy zing of a truly exceptional bowl. 680 calories; 5.6 oz.; 10-minute cook time 
$13; Buy Now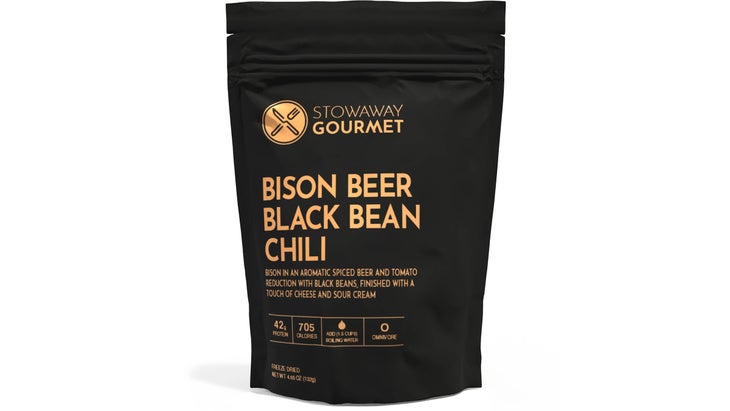 Runner Up: Stowaway Gourmet Bison Beer Black Bean Chili
Score: 4.5/5
Take one look at the ingredient list on this pouch and you'll know Stowaway Gourmet is doing something different—to great effect. Bison, beer, and unsweetened chocolate are all power players in this top-shelf chili. Acid levels are perfectly balanced thanks to the heavy use of tomatoes and tomato paste, with a big dose of dairy goodness from sour cream, cheddar, and Monterey jack. Texturally, this chili is spot-on, with whole rehydrated black beans and big bites of sautéed onion. Only criticism? It's on the salty side. 705 calories; 4.6 oz.; 10-minute cook time 
$16.95; Buy Now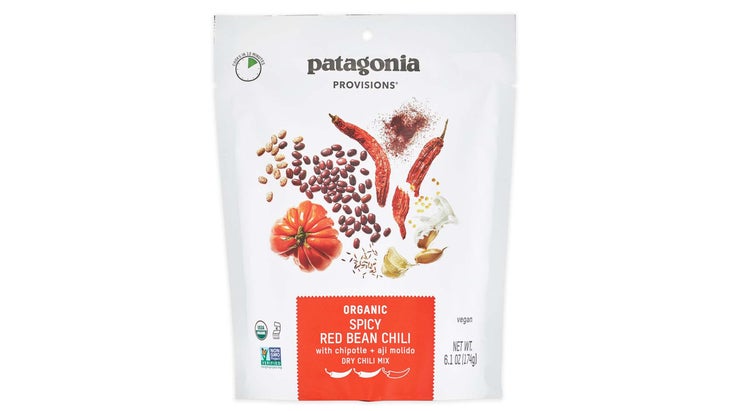 Best Vegetarian Option: Patagonia Organic Spicy Red Bean Chili
Score: 4/5
The coveted apparel brand's take on chili is an admirable effort: It's got a great tang, with the tomato really shining through, a nice, medium heat from chipotle, and a good range of textures from red and pinto beans. Honestly, though, we expected a bit more nuance and complexity of flavor to this chili, considering Patagonia's curated use of organic Argentine aji molido and chipotle peppers. Anyone who's chowed down on earthy New Mexico chiles or fruity habaneros knows the range of potential. Note: this was the only dehydrated chili in our taste-test that you could not cook in its pouch. 600 calories; 6.1 oz.; 10-minute cook time 
$7; Buy Now
The Rest: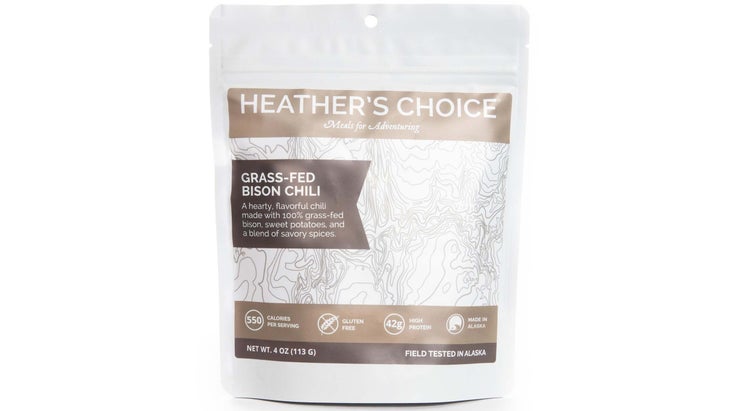 Heather's Choice Grass-Fed Bison Chili
Score: 4/5
This chili quite nearly made it to the top tier with its well-rounded flavor profile. It derives sweetness from sweet potatoes, a gamey-beefy flavor from The Honest Bison stew meat, and a whole lotta complexity from the clever addition of unsweetened cocoa powder and espresso. Its minimal ingredient, paleo- and gluten-friendly recipe left us feeling full and satisfied without the regretful after effects of highly-processed backpacking chili. 550 calories; 4 oz.; 20-minute cook time 
$15; Buy Now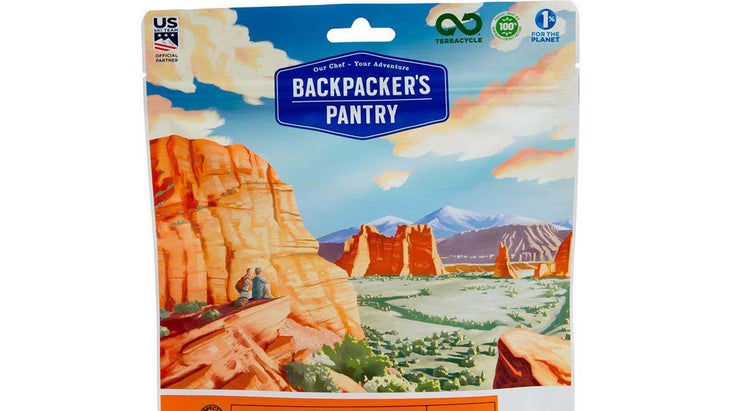 Backpacker's Pantry Wild West Chili & Beans
Score: 3.5/5
Tasting Notes: Big, chunky bites of onion and bean with a good spice level. Texturally diverse. Some strange, strong flavors going on here, potentially from the use of hickory smoke powder and Worcestershire sauce. Never thrilled with the use of palm oil, which is responsible for a lot of deforestation. 530 calories; 5.2 oz.; 15-minute cook time 
Available in 2022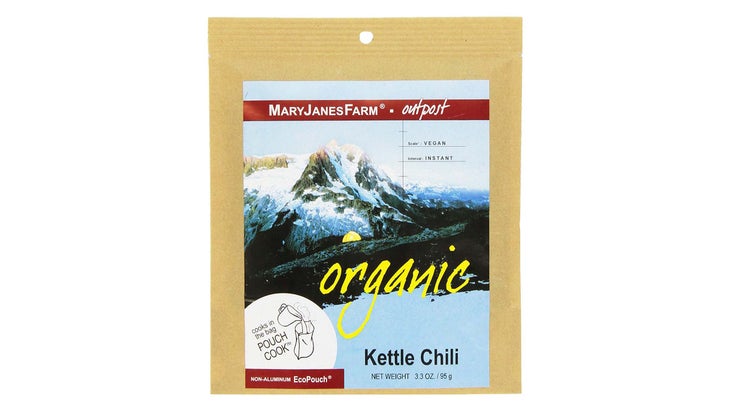 Mary Jane's Organic Kettle Chili
Score: 3/5
Tasting Notes: Lentils make for a nice, hearty bite, but black and pinto bean flakes give it a gruel-like texture. Garlic powder comes through a bit too strong. 380 calories; 3.8 oz. 7-minute cook time 
$6; Buy Now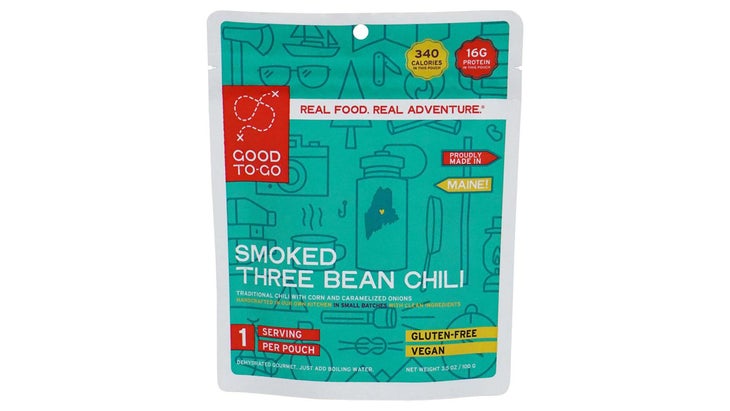 Good To-Go Smoked Three Bean Chili
Score: 2.5/5
Tasting Notes: Surprisingly low marks from a Backpacker brand favorite (we've given Good To-Go two Editors' Choice awards over the years). A good level of acid and big chunks of tomato, corn, and smokey chile were a plus, but it was under-salted and soupy, even after its 20 -minute soak time. (Yes, we measured exactly). 340 calories; 3.5 oz.; 20-minute cook time 
$14; Buy Now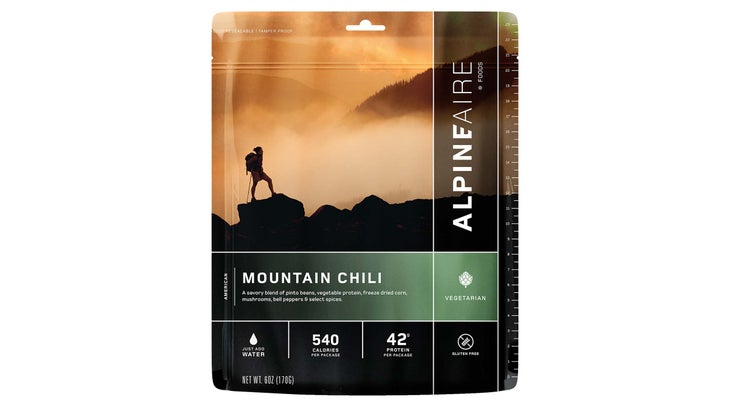 Alpineaire Mountain Chili
Score: 1/5
Tasting Notes: Bottom marks to this gritty, flavorless mush. Not a single distinct flavor came through during our taste test. The "caramel-colored textured vegetable protein" probably doesn't help. If you threw a bunch of MREs into a blender, this would be the result. 580 calories; 6 oz.; 10-12-minute cook time 
$6.50; Buy Now