This Reusable Ziploc Bag Is Changing How I Cook in Camp
Goodbye clunky plastic containers and disposable packaging: This is how I'm rehydrating my meals from now on.
Heading out the door? Read this article on the new Outside+ app available now on iOS devices for members! Download the app.
I've been making my own dehydrated meals for years. There are a couple of reasons why. One is that it's more economical. Another is that I actively avoid packaged meals with disposable plastics. But figuring out how to carry and rehydrate my dehydrated meals is where things get tricky. Screw-top containers are great, but they take up a lot of room in my pack even empty. Reusable zip top bags work, but after warping a couple of them with boiling water and having a good think about how much plastic tea I was likely swallowing, I ditched those too. 
Now, I think I've finally found the solution I've been looking for with the Ziploc Endurables bag, a $14, abuse-proof, packable container. 
Endurables are ultra beefed-up, reusable versions of the Ziploc bags you know and love. Made of heavy-duty silicone, the company promises that they can handle being boiled, baked in an oven up to 425° F, microwaved, or frozen. They come with two grabbable tabs on the end of the closure to make handling them easy even when they're filled with hot food. They're also available in a container style with a wide, flat bottom that can stand up on its own—handy when you're trying to pour water from a Jetboil without scalding yourself. And unlike rigid plastic containers, they can roll up and stuff in the bottom of a pack when they're not in use.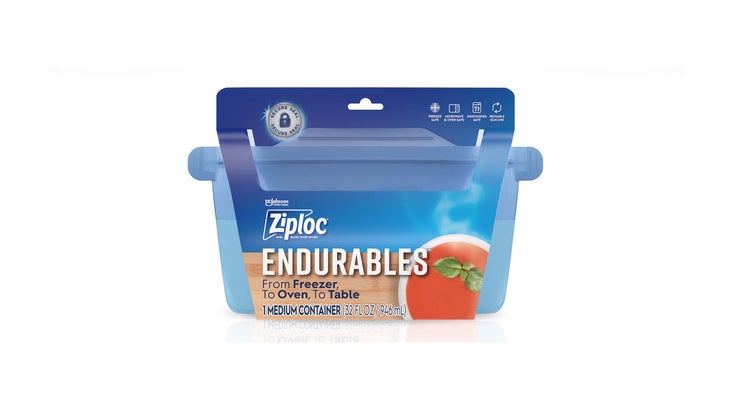 Testing it Out
I picked up a size medium, which is big enough to hold four cups of liquid—a reasonable size meal for me on most days—and tested it out by rehydrating a block of ramen with boiling water. While the silicone helped insulate the heat a bit, it was still a little too warm to pick up comfortably with my bare hands; I was able to hold it through the sleeves of my shirt with no problem. The closure felt secure; when I tested it by turning the container upside down, it didn't spill at all, even when I agitated it. When the noodles were done, I cracked the closure open at one end and drained most of the water, then mixed in a block of instant curry sauce with what was left. The wide-bottomed bag stayed stable while I ate, which was a nice improvement over eating straight out of a freeze-dried meal bag or a standard reusable zip-top. When I was done, it cleaned out easily with water and a drop off biodegradable soap; one of the advantages of the flat base is that it lacks corners for bits of food to get stuck in. 
I'll definitely be taking the Endurable on my next trip; I can see myself storing my pre-made meals in lighter reusable zip-tops and busting out the Endurable as a sealable bowl at breakfast and dinner. With the beefy closure, I'd even be comfortable cold-soaking my dinner on the trail in this, though I'd be careful how and where I stuck it in my pack. I'm confident that the thick silicone will stand up to rough use, and happy to be bringing home a little less trash.