This Camp Coffee Gear Will Make You a Backcountry Barista
Heading out the door? Read this article on the new Outside+ app available now on iOS devices for members! Download the app.
Good camp coffee is one of those simple luxuries that puts the magic in backcountry mornings. There's the warmth seeping through an enamel cup into your palms. There's the bright joy of a caffeine kick perfectly harmonized with the rising sun. And there's the whole routine and ritual of the brewing—but that last piece, arguably the most comforting part of the whole process, is tough to get dialed if you don't have camp coffee gear suited to your particular trip.  
Whether it's an ultralight mission, a weekend overnight, or a deluxe car-camping vacation, there are a few essentials you should have in your camp coffee kit. Here are our top picks. 
The Ultralight Setup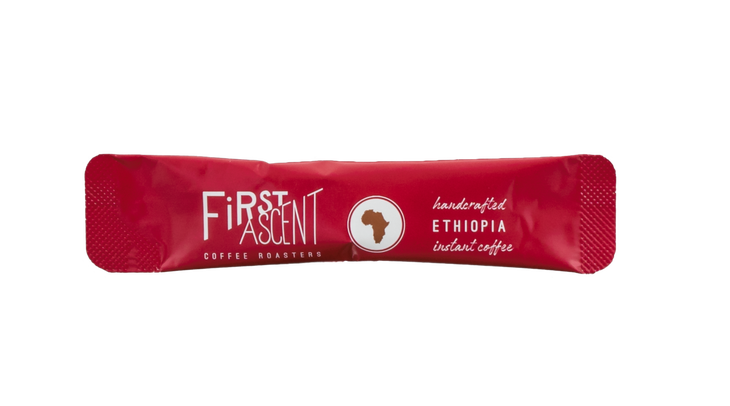 First Ascent Ethiopia Handcrafted Light Roast Instant Coffee
It's hard to beat the light weight and mess-free convenience of instant coffee. It's also hard to make it taste good. But in a head-to-head test of four top instant coffee brands, First Ascent's Ethiopia Light Roast Instant Coffee emerged the clear winner. Testers were pleasantly surprised to see a light froth (carbon dioxide bubbles are one hallmark of fresh coffee, and tend to be rare in instant brews) and to detect a bright, balanced taste. 
"It has that fruity sweetness that's associated with naturally processed or dry processed coffees," said our barista tester, who enjoyed the small-batch brew on cold mornings before guiding in Rocky Mountain National Park. "It also has a heavier mouthfeel than other brands, which is hard to achieve." 
$20 for 8 packets; 0.2 oz. per packet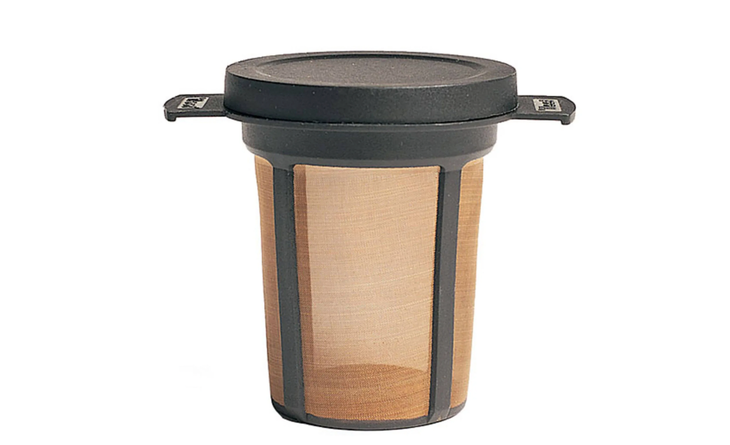 MSR MugMate Tea/Coffee Filter
If instant powders just don't do it for you, the MSR MugMate offers another lightweight solution. The fine-mesh filter weighs just about an ounce and lets you steep medium- to coarse-ground coffee without letting grains into the brew. The result: All the charm of cowboy coffee with none of the grit.
"I loved having a filter I could drop into my favorite insulated cup," said one tester, who used the MugMate on climbing trips to Shelf Road, Colorado (the non-collapsible filter fits most camp mugs). "It's also very easy to clean with a quick rinse."
 $17; 1 oz.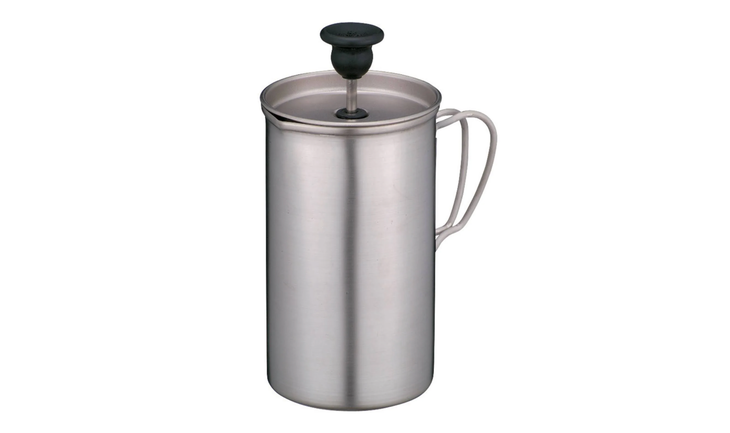 Snow Peak Titanium French Press 
There probably aren't a lot of ultralight hikers setting FKTs with a full French press in their packs. But Snow Peak's take on this classic brewing system makes it actually feel possible. French presses are popular for their ease of use and their ability to produce larger volumes of coffee. That makes them ideal for group trips. 
This press is essentially a handle-equipped metal cook pot with a custom-fit filter plunger. It's big enough to brew two cups at once, and a fine plastic-mesh filter blocks all but the tiniest grains. The titanium construction keeps the whole thing light—just 6.3 ounces—and lets you put the press directly on top of a heat source to boil water. Ultralight bonus: The pot is a little narrow, but if you're going solo and not picky about mixing flavors, you can use it as your cooking and eating vessel, too.
$56; 6.3 oz.
The Weekend Warrior Kit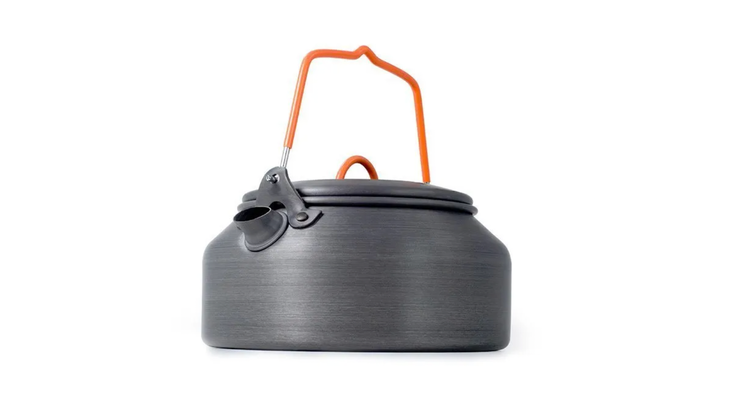 GSI Outdoors Halulite Tea Kettle
If you're going to attempt a fine backcountry coffee, you're going to need a good kettle—something that heats up fast, pours a narrow stream, and isdedicated to water boiling (read: no leftover cheese dust or oatmeal bits.) The Halulite Tea Kettle is our first pick. Its compact body fits a full liter of water, and it's small enough to sit comfortably atop a Pocket Rocket stove. The wide opening means you can nest a small stove and fuel canister within the teapot for easy packing.  
The Halulite's hard-anodized aluminum has proved durable on both car-camping and backpacking trips throughout the west. "We've used this thing everywhere—from base-camping in the North Cascades, to road-tripping through the Utah desert," said one tester. "And the thin titanium heats up so fast and the narrow spout pours so evenly that it's become our go-to at home, too."
$32; 10.7 oz.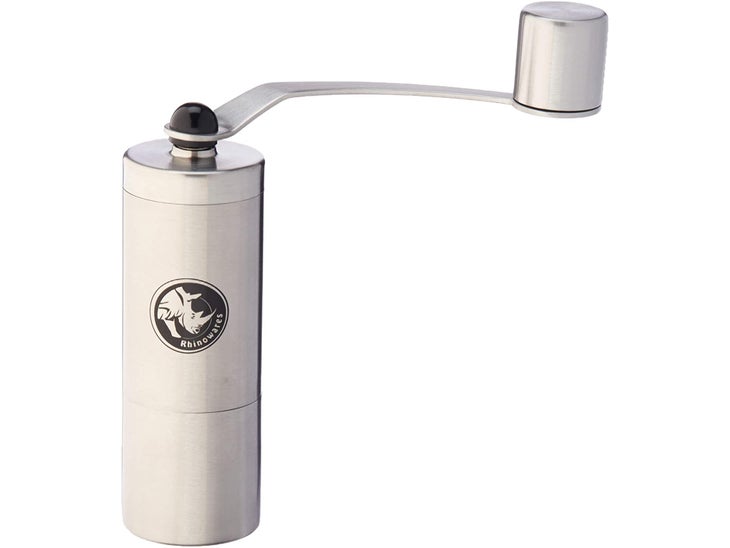 Rhino Compact Hand Grinder
Sure, you can pre-grind your coffee. But if you've got time on your hands and room in your pack? The Compact Hand Grinder from Rhino Coffee Gear is a worthy addition to get the maximum flavor and aroma of fresh-ground coffee. It's a little on the heavier side, but the hard, grooved, plastic burrs perform better and have a smoother grinding action than lighterweight options from some of the better-known outdoor brands. Another bonus: It fits into an AeroPress cylinder for compact travel.  
$40; 12 oz.  
AeroPress Coffee Maker
The AeroPress has become the gold standard for mess-free, espresso-like coffee, and for good reason: A cylindrical plunger pushes hot water through fine grounds, creating enough pressure to brew a strong, smooth cup of java without bitterness. "It's my favorite piece of gear for overnight trips," said one tester. "It's super easy to use, and you can knock the grounds right into your trash bag—no messy cleanup or washing required." (Note: AeroPress also makes a more compact travel version, the AeroPress Go, which comes with a mug. However, it's smaller and produces less volume; and our coffee fanatics found they had to make two batches with it to get a satisfying serving.)
$30; 8. oz.
The Luxe Car Camping Setup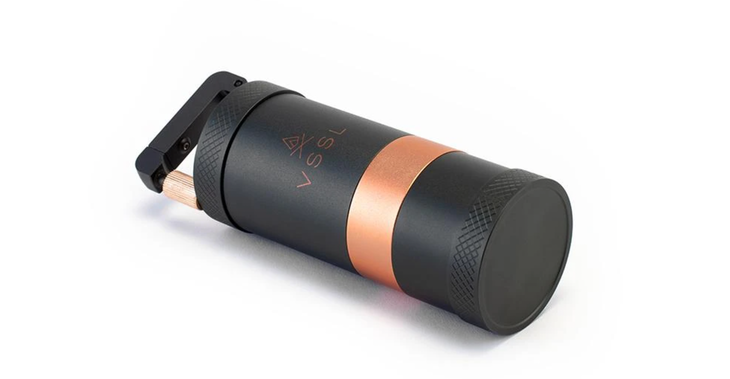 VSSL JAVA
If you've been making coffee long enough, you know that a really nice grinder can make a huge difference—both in how fun it is to make your coffee and how smooth and consistent the result is. For us, the VSSL JAVA coffee grinder ticks all the boxes. It's a little pricey, but the VVSL JAVA's stainless steel burr blades and ball-bearings produce a much smoother and faster grind than any other travel grinder we've used, something we appreciated at early trailhead breakfasts just outside Rocky Mountain National Park. We were able to change settings easily with a clearly labeled dial. The finest settings produce an extremely even, espresso-style grind. For more sophisticated brew methods like the AeroPress or Nanopresso, this is our top choice grinder. 
$145; 12.7 oz.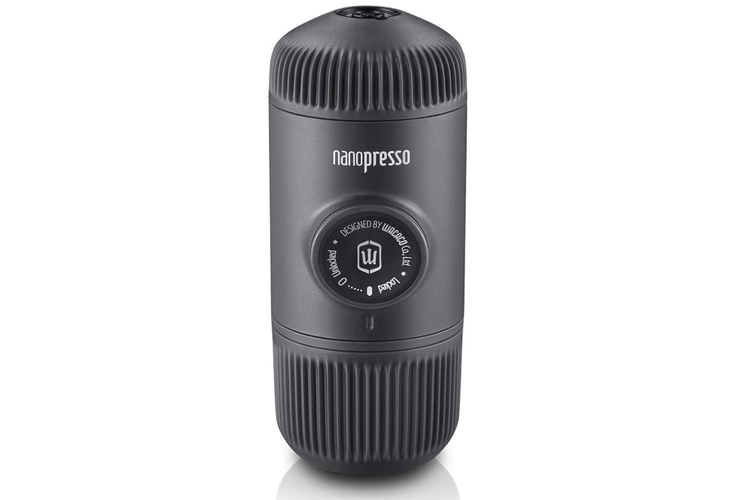 Wacaco Nanopresso
Coffee is an art form, but it should also be fun. The Wacaco Nanopresso's sleek shape, easy-to-use hand-pump, and velvety brew make it both. The manual pumping system can deliver up to 18 bars of pressure during extraction (over 35 times that of the AeroPress), producing a golden crema layer and a dense, fully flavored espresso.
"Usually, I have my barista boyfriend make the coffee," said one brewing novice after a trip near Red Canyon Park in southern Colorado. "But this thing is so much fun to use that I've pretty much taken over. Plus, with the Nanopresso, I can turn out an Americano just as good as his."
$65; 11.8 oz.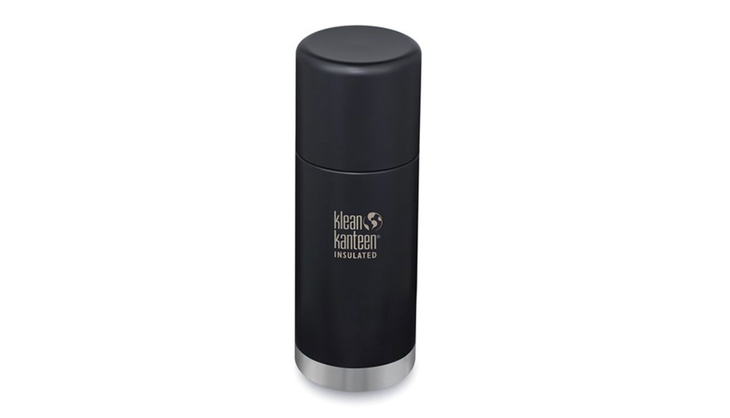 Klean Kanteen Insulated TKPro 25 oz.
Nothing says luxury like a second cup of coffee. (Or maybe a third.) No matter how many cups deep you like to roll, the Insulated TKPro has the capacity and double-walled insulation to keep them right-off-the-kettle hot. A double cap system prevents heat loss: The first cap seals the bottle closed, and the second doubles as an insulated serving cup. (And because the serving cup is all metal, it ensures a drinking experience worthy of a good coffee.) We found our brew was still too hot to drink after 6 hours, and still piping after 12. 
We used the leak-proof, double-walled thermos over a full season of ice-climbing and backcountry skiing in the Rockies. "Hot coffee made the perfect afternoon pick-me-up on cold days," said one tester. "And I was always stoked to find it just as hot at noon as it was at 6 a.m. when I brewed it."
$35; 1 lb. 6 oz.