The Best Backpacking Food and Cooking Gear of 2023
The days of broken tines and stomach aches are over
Heading out the door? Read this article on the new Outside+ app available now on iOS devices for members! Download the app.
Cooking in the backcountry is a delicate balance of luxury and weight-savings. Will a plastic, $5 spork suffice? Probably, but we'd rather dine in style. We gorged on cozy pasta dinners, sipped canned rosé, and poured cold brew all summer long to bring you our favorite camp meals and kitchen accessories of the year.
The Winners at a Glance
Opinel Picnic+ Cutlery Complete Set with No.08 Folding Knife
UCO ECO 4-piece Mess Kit
GSI Outdoors 2-Can Cooler Stack
Miir Stainless Steel Cold Brew Filter
Editor's Choice: Stowaway Gourmet
How We Test
Number of Testers: 4
Vertical Feet Hiked: 12,800 ft.
Number of Dehydrated Meals Sampled: 93
Number of Burnt Tongues: 3
We spent the summer season testing backpacking kitchen gear in the Tetons, the foothills of the Wind River Mountains, the high peaks in Colorado's Uncompahgre National Forest, and the wandering trails in Washington's Alpine Lakes Wilderness. Our four testers, spanning in age from early 20s to late 50s, hit the trail in search of packable, durable, lightweight, unique, and easy-to-use products that made their lives infinitely easier (and more fun!) when it came to feeding and watering hangry hikers.
Meet Our Testers
Category manager Lily Krass is a Jackson-based freelance writer in the outdoor industry who spends summers hiking, mountain biking, trail running, and camping in the Tetons. As the co-author of Beyond Skid: A Cookbook For Ski Bums, eating outside is (almost) as important as playing outside, so putting camp kitchen accessories to the test in the field is the perfect marriage of food and adventure.
Benjamin Tepler is Outside's gear editor in charge of all things hiking, backpacking, and car camping. A former food critic and professional cook, he takes his backcountry dining experience very seriously.
The Reviews: The Best Camp Kitchen Accessories of 2023
Opinel Picnic+ Cutlery Complete Set with No.08 Folding Knife ($35)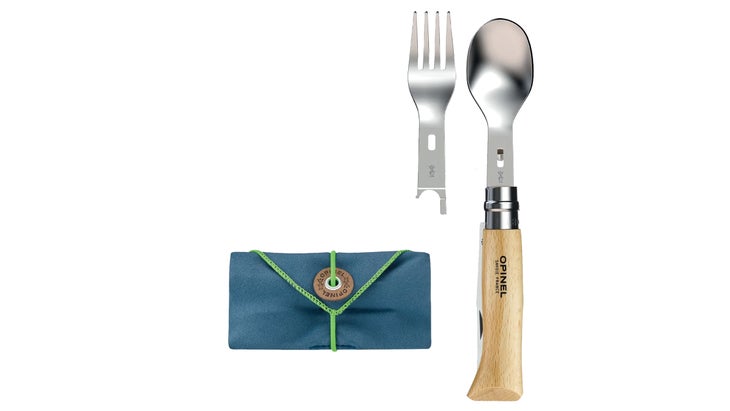 Weight: 3.5 oz
Pros: Versatile; sturdy; good-looking
Cons: Heavy
The antidote to plastic sporks that snap in half and chip their tines, the Picnic+ set made our freeze-dried meals feel like a real dining experience thanks to the sturdy wood handle, which securely holds both a stainless steel spoon and fork insert. The same wooden handle also hides a folding, 3-inch stainless steel blade that proved useful while slicing up cheese for a breakfast quesadilla on a hurried morning in the Bridger-Teton National Forest. The microfiber carrying case doubles as a napkin, which we used to wipe garlicky pesto sauce off our puffy jackets. At 3.5 ounces and roughly the size of a LaraBar when folded up, it is a slight bump up in weight compared to sub one-ounce plastic cutlery, but given the sharp, capable blade and multi-use napkin, it was a trade-off each tester was happy to accept.
Bottom Line: The Opinel Picnic+ Cutlery Set is a good-looking utensil set sturdy enough for a proper picnic
UCO ECO 4-piece Mess Kit ($20)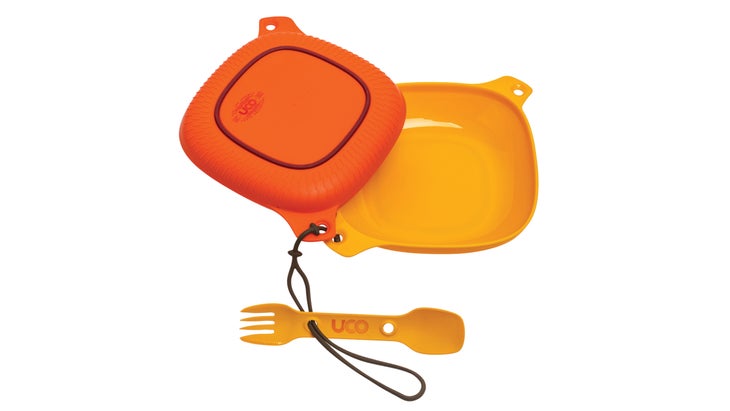 Weight: 8.3 oz
Pros: Made with recycled materials; watertight seal
Cons: None
What's more environmentally-friendly than eating off of a reusable mess kit? Using one made of recycled plastic, like this kit from UCO. The all-in-one setup is now made with the brand's ECO Ware recycled plastic, a proprietary blend of post-consumer recycled polypropylene. Compared to the brand's previous mess kit, this one ditches the two-piece utensil design for a single spork (we didn't miss the butter knife with a pocket knife in our packs), and it's cheaper, too. "I like that there's a watertight seal," said one Wyoming-based tester after a three-day trip to Sinks Canyon in Lander. That tight seal came in handy when they used the Mess Kit as a tupperware to keep noodles warm while prepping pasta with veggies and vodka sauce. A silicone tether loops through the spork and cinches the 8-by-8-inch kit tightly, keeping it secure even while getting jostled at the bottom of a backpack.
Bottom Line: The UCO ECO mess kit is an all-in-one setup with a tight seal for leftovers
GSI Outdoors 2-Can Cooler Stack ($30)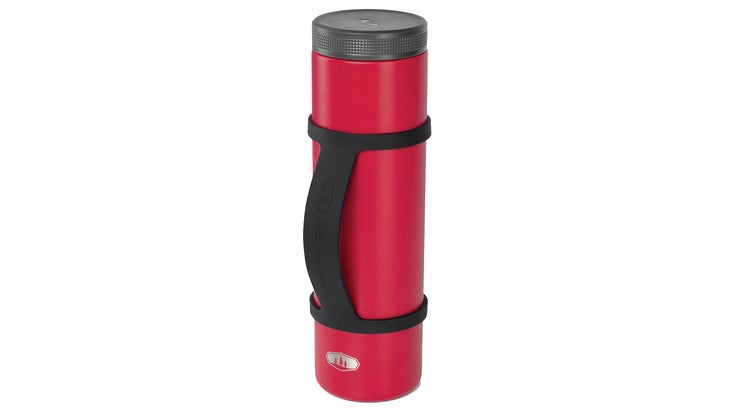 Weight: 12.8 oz
Pros: The ultimate backcountry party trick
Cons: Impractical for long trips
How many times have you wished for a cold beer to crack after a long day of hiking? For a small, three-quarters of a pound weight penalty, the GSI Outdoors 2-Can Cooler Stack can fulfill those dreams. Admittedly, it's a luxury item, but testers agreed that the extra load was well worth it after the double-wall insulated cooler kept two 12-ounce cans of sparking rosé perfectly chilled for 12 hours on an overnight trip in Wyoming's Gros Ventre Range. The roughly 11-by-3-inch tube slots easily into the water bottle sleeve of a pack, but one hiker in Washington opted to carry it in his hand with the removable silicone handle for the 2.5-mile walk to Snow Lake near Snoqualmie Pass. "A little unnecessary, but definitely fun," summed up one Wyoming tester. "Laugh if you will, but you'll be eating your words after you crack open a can of chilled rosé at camp."
Bottom Line: With the GSI Outdoors 2-Can Cooler Stack, you'll be the most popular person in camp, as long as there's only two of you.
Sponsor Content
Jetboil Stash Cooking System ($144.95)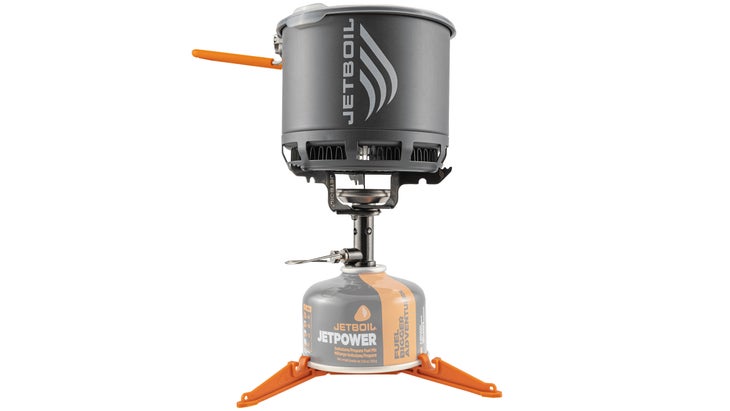 Take your camp kitchen to the next level with the lightest and most compact Jetboil stove yet. The Jetboil Stash cooking system weighs only 7.1 oz, making it 40 percent lighter than the Zip. Plus, with FluxRing technology that ensures a rapid 2.5 minute boil time and a nesting system for easy storage, the Jetboil Stash is your ticket to faster cooking and cleanup.
Miir Stainless Steel Cold Brew Filter ($15)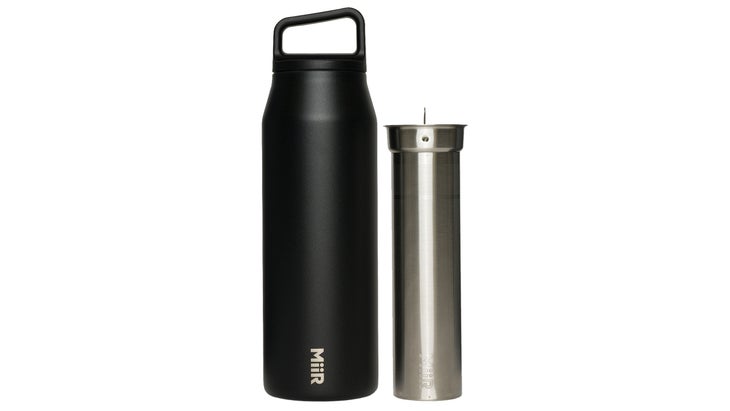 Weight: 1.6 oz
Pros: Sleek; durable
Cons: Proprietary vessel required
For backpackers that find regular ol' rocket fuel insufficient, this stainless steel cold brew filter is the key to a highly-caffeinated hike out of camp. It's efficient, too: You'll save time and fuel by drinking cold brew—as long as you're not married to a hot cup of coffee in the morning. Setup is dead-easy: Pour grounds into the filter, fill a 32- or 42-ounce wide-mouth Miir bottle with water, and let it steep overnight. One tester even slept with it right next to her pillow so she could sip coffee as soon as she opened her eyes. Bummer: The featherweight filter only fits the brand's proprietary double-walled thermoses, which are on the heavy side.
Bottom Line: Use the Miir Stainless Steel Coffee Filter for one of the easiest ways to make cold-brew in the backcountry.
Editor's Choice: Stowaway Gourmet ($13-20)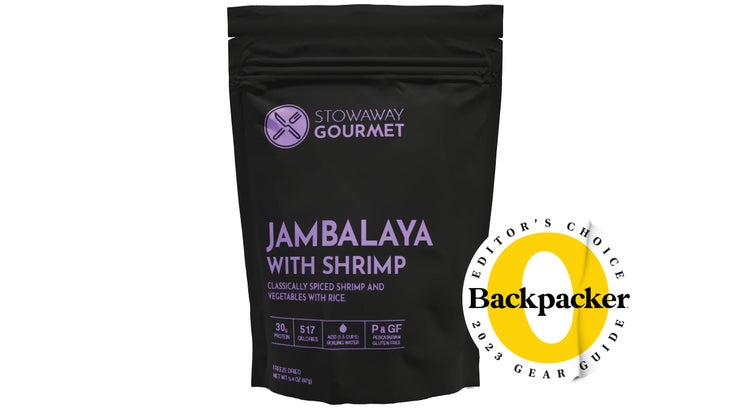 Pros: Category-defining flavor, texture, and diversity
Cons: Expensive, vertical orientation hard to eat from
In 2023, with more artisan backpacking food brands than ever before, choosing a dehydrated meal is still a crapshoot. Even some of our favorite all-star brands don't have a perfect batting average. And many of the old-school backpacking food offerings? You're playing Russian roulette with your digestive tract. That long-held apprehension changed when we tried the offerings from Stowaway Gourmet, a tiny Oregon-based operation that slowly came onto the scene in the midst of the pandemic three years ago. After extensive testing, Stowaway is the only dehydrated food brand in the country worthy of this absolute statement: of the brand's 13-odd flavors, there isn't a single bad apple.
One of the easiest ways to describe the difference between Stowaway's offerings and what we'll call "first-gen" backpacking meal brands is to say that it tastes like the difference between instant coffee and freshly-brewed pour-over. That's due, in large part, to texture. Stowaway owner Dan West is tight-lipped about his freeze-drying process, other than to say it's been entirely reinvented from the ground up since the days of mass-produced, shelf-stable military rations. The shrimp in a Thai curry are plump and juicy. Penne in a tomato-mushroom sauce is perfectly al dente. Sage-flecked scrambled eggs curds in a soon-to-be-released sausage and goat cheese-laden breakfast bowl are shockingly luscious and whole—a far cry from the soupy, powdered egg creations we're accustomed to. On a testing trip up New Mexico's Mt. Taylor, one Outside staffer literally had his face stuffed inside the zip-top bag in an attempt to suck down every last sweet, porcine morsel of breakfast sausage.
Ingredients and recipes have a worldly fluency that goes far beyond the token pad thai offering. You'll find carefully-researched culinary representation from India, Italy, Russia, France, the Middle East, Southeast Asia, and Japan, just to name a few. Miso Salmon Okayu, a salmon and tofu-filled Japanese rice porridge that works well for just about every meal, is simmered with daikon, miso, fresh ginger, kombu, and bonito flakes. The fact that salmon, a notoriously expensive and texture-challenged protein, can be rehydrated back into its original flakey, unctuous glory is an achievement. Benjamin Tepler, one of Outside's gear editors, found himself eating this particular meal for lunch on busy workdays, even after spending a fraught year taste-testing nearly a hundred different dehydrated backpacking pouches.
Our only criticisms: The pouches themselves are oriented vertically, making it hard to scoop up the last few bites of a meal with a normal-length spork. Stowaway's meals aren't cheap, either, averaging around $16 a pop. But when you'd rather eat a dehydrated backpacking meal than make a run into town for french fries, as one of our thru-hiker testers claimed, $16 starts to feel like a bargain.
Bottom Line: Stowaway Gourmet simply makes the best dehydrated backpacking food on the market.
When it's time to upgrade your gear, don't let the old stuff go to waste–donate it for a good cause and divert it from the landfill. our partner, Gear Fix, will repair and resell your stuff for free! Just box up your retired items, print a free shipping label, and send them off. We'll donate 100 percent of the proceeds to The Outdoorist Oath.