The Best Car Camping Sleeping Pads of 2023
These three deluxe mattresses cured our testers' campground insomnia.
Photo: Pascal Giroux/ iStock/Getty
Heading out the door? Read this article on the new Outside+ app available now on iOS devices for members! Download the app.
From tent to truck bed, these extra thick, super cush, hyper-insulated pads are nothing like the flimsy inflatable pool toys you deal with while backpacking. This year's winning car camping pads are closer to your memory foam mattress at home than ever before. Tuck in!
The Winners at a Glance
Best for Literal Car Campers: Exped MegaMat Auto
Best Guest Room Mattress: Big Agnes Captain Comfort
Best Value: REI Camp Dreamer Double Bed
How We Test
Number of testers: 9
Number of products: 9
Number of canine testers: 3
Number of campsites visited: 13
Unlike lightweight sleeping pads used for backpacking, the pads we focused on for this category ignored the confines of weight and size and embraced the luxury of toting your bedding in the trunk of your car. They're thick. They're wide. They're cozy. We rotated these pads through a cast of testers on a variety of camping trips—everything from a week of following the multi-stage BC Bike Race to a stint hanging with Vanlifers to weekends in touristy campgrounds. While comfort was the name of the game, we also took into consideration durability, packability, and inflation and deflation time.
Meet Our Lead Tester
Ryan Stuart usually sleeps better on a sleeping pad than on his bed at home. After innumerable nights spent beach camping for surf, mountain bike road-tripping, and bumming around crags across the West, Stuart has become a discerning connoisseur of luxurious car camp mattresses. For this category he tapped a team of avid campers all based on Vancouver Island, British Columbia.
The Reviews: The Best Car Camping Sleeping Pads of 2023
Best for Literal Car Campers: Exped MegaMat Auto ($400)
Weight: 8.5 lbs
Thickness: 4 inches
Sizing: One size
Pros: Specifically contoured to fit in a car; Warm; Stable
Cons: Expensive
Exped designed this pad specifically to turn the back of a Tesla Model X into a glass-ceilinged bedroom, but it also happens to work perfectly in most other compact SUVs, wagons, and even truck beds. The head of the T-shaped pad is 52 inches wide, filling up a three-seat back row or a three-person backpacking tent before slimming down to 39 inches to fit around wheel wells. Standing four inches high, it does an admirable job of smoothing out the bumps and humps of a vehicle's interior. Cracking the dedicated inflation valve nearly filled the open-cell foam pad on its own, and it tops off easily with the included hand/foot-style pump. Ryan Van Horne, a Campbell River, B.C.-based tester, reported that it held full inflation for six days of base camping on a rock climbing trip to Quadra Island. It deflates surprisingly quickly for such a big pad, and the roll-top- style stuff sack swallowed it without a struggle. Rated to R-8.1, it's plenty warm for winter use. Wherever we used it—in a Subaru Outback or a tent, solo or with a partner—the brushed 50-denier polyester top was, in the words of one tester, "wonderfully soft and quiet." The open cell PU foam didn't transmit movement, either—Van Horne slept right through the night next to a fidgety partner.
Bottom Line: The Exped MegaMat Auto is a high-end foam sleeping pad built for SUV interiors.
Best Guest Room Mattress: Big Agnes Captain Comfort ($250)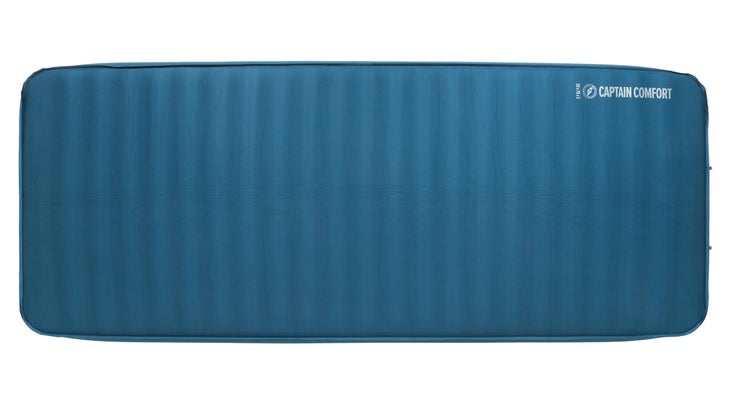 Weight: 6.4 lbs
Thickness: 5 inches
Sizing: 30" x 78"; 41 x 72"; 52" x 78"
Pros: Super wide and supportive
Cons: Hard to get back into stuff-sack
It looks like camping pad, but, according to our testers, it sure doesn't sleep like one. "Felt more like my mattress at home," reported Ryan Van Horne, a Campbell River, B.C.-based tester. The 50-denier polyester face fabric is cotton-soft and stretchy, and the high density foam, with horizontal coring for compression, creates a firm and supportive feel right to the edges. After self-inflating, just a couple of breaths topped it up to five inches high and 30 inches wide, with a winter-rated R-value of 8.3. It gobbles up tent space, but provides plenty of room to toss and turn. "I could sprawl like I do at home," says category manager Ryan Stuart, who used it on a mountain biking road trip in the B.C. Interior. Our only complaint came when it was time to pack up—we struggled to get the pad small enough to fit into its included stuff sack. The 75-denier polyester bottom fabric is about average for the category, and we didn't notice any durability issues after normal use and abuse. The Captain Comfort lived up to its name with solid sleeps, even over rocky, stick-ridden campgrounds.
Bottom Line: The Big Agnes Captain Comfort is a soft, supportive pad that's spacious enough for a guest room.
Best Value: REI Camp Dreamer Double Bed ($279)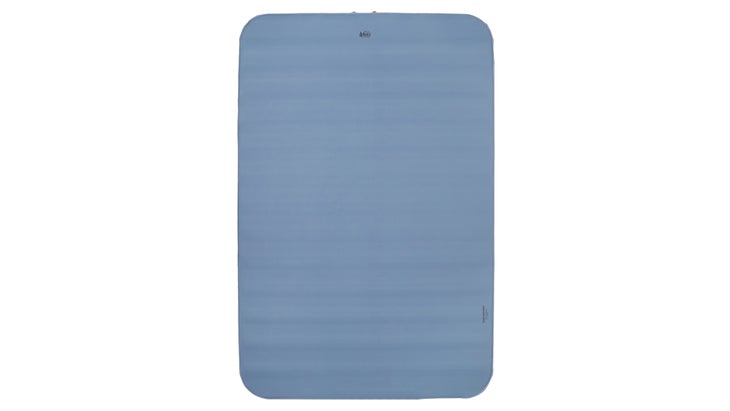 Weight: 9.3 lbs
Thickness: 4 inches
Sizing: XL (Single Person); Double
Pros: Easy inflation; Soft; Easy to pack
Cons: Slow deflation
At less than $300, the Camp Dreamer Double is one of the most affordable two-person car camping pads in the high-end memory foam mattress category, with little sacrifice to comfort or durability. Like many pads in this niche market, the Camp Dreamer uses horizontal polyurethane foam cores to provide stability and cushion, offering 4-inches of lift—less than some of the more deluxe models, but, for most sleepers, plenty plush and warm (with a cold weather-friendly R-Value of 6.6). After a 30 minute self-inflation time, the included pump sack delivered the final plumping through a designated inflation valve. "It's convenient enough that I've started bringing it even if it's just me and the dog," says category manager Ryan Stuart. The stretch 30-denier recycled polyester top fabric was soft next to skin and quiet, while the 75-denier bottom was tough enough to handle a gravel parking lot. Deflation was a bit arduous—we took a cat nap halfway through the two minute process—but once collapsed, it slid into a stuff sack the size of a large bear canister without a fight. At 55 inches wide (two inches wider than most standard double mattresses) and with all the bells-and-whistles of higher-priced competitors, the Camp Dreamer Double is a no-compromise solution for comfort-seeking couples.
Bottom Line: A deluxe double pad that's over $100 cheaper than comparable models
How to Buy
Car camping pads are thick, wide, and heavy. If you have a small car or limited storage, packed size is a major consideration. Start by picking a modern, self-inflating, foam-filled pad. A purely air-filled pad might save money, but won't be nearly as warm, comfortable, or supportive. Self-inflating foam pads should inflate most of the way within roughly a half hour, depending on the model, and come with inflation sacks or pumps to finish the job. Our favorite pumps have a snug connection point with the pad and a large air chamber that's easy to roll and push with minimal effort. Campers who don't want to wait can invest in an electric pump, like Exped's battery-operated Widget Pump. Almost all foam-insulated car camping pads have high enough R-Values for winter camping (above 5.0), but it's worth double-checking if your adventures will include sub-freezing nights. Lastly, aim for a higher-denier material on both top and bottom, especially if you plan on dragging it outside for stargazing, or share your bed with a canine.
When it's time to upgrade your gear, don't let the old stuff go to waste–donate it for a good cause and divert it from the landfill. our partner, Gear Fix, will repair and resell your stuff for free! Just box up your retired items, print a free shipping label, and send them off. We'll donate 100 percent of the proceeds to The Outdoorist Oath.