The Best Sleeping Bags of 2023
14 testers spent over two months sleeping outside. These five sleeping bags are the warmest, lightest, and coziest of the bunch.
Heading out the door? Read this article on the new Outside+ app available now on iOS devices for members! Download the app.
Choosing the right sleeping bag is one of the most personal decisions you can make on your quest to complete your backpacking kit. Between body shape, size, temperature preference, and hiking environment, finding the "right" bag is a different experience for every hiker. This year, these five cozy cocoons stood out from the crowd as the very best for almost every type of adventurer.
The Winners at a Glance
Most Comfortable: Patagonia Fitz Roy Down Sleeping Bag 30 Degrees
Most Packable: Big Agnes Pluton UL 40
Best Value: Big Agnes Greystone 20
Best for First-Timers: The North Face Trail Light Down 20
Most Affordable Quilt: EMS Anomaly Ultralight 30-Degree Backpacking Quilt
How We Test
Number of Testers: 14
Number of Nights Slept Outside: 60
Coldest Night: 18 degrees with three inches of snow
Warmest Night: 102 degrees
Highest Elevation Tested: 9,000 feet
Testing sleeping bags is a challenge. It happens in slow-motion. We all have different sleep routines, positions, and preferred temperatures. Add to that environmental variables like humidity and altitude, and it's nearly impossible to create a stable, objective testing environment. That's why we started the process in mid-August, completed it in early November, and rotated bags to testers in climates from the semi-tropical heat of South Texas to the alpine desert of New Mexico to the boreal forest of Minnesota to the Canadian Rockies of British Columbia.
We also chose 14 testers with varied interests and outdoor experience, ranging in age from 18 to 60. One is a recent high school graduate on his way to U.S. Army combat medic training. Others are veteran ultra-hikers, runners, and cyclists whose priority is to pack light. Two more are longtime paddlers who care less about weight and more about staying warm and dry in a wet environment.
When each tester finished using the bag, they filled out a feedback form gathering thoughts, critiques, and opinions related to each item's warmth-to-weight ratio, ventilation options, zipper quality, comfort, and many other factors. Then we compared notes and picked the winners.
By far the best part of the process: We slept outside on days we otherwise would have been tucked into our own cozy beds, which led to plenty of Milky Way encounters and at least one night of shimmering Northern Lights.
Meet Our Lead Testers
Stephanie Pearson
Sleeping bags and pads category manager Stephanie Pearson has slept in a cave in Tasmania, in a tent at Mount Everest Base Camp, and under the stars while lost in the Australian Outback. She's a fitful sleeper.
Patrick Greehan
Patrick Greehan is a coach for the Duluth Devo Mountain Bike Program. He currently races gravel, mountain, and fat bikes with a focus on long distance and ultra events. He is an avid bikepacker who takes trips year-round in Northern Minnesota.
Tim Pearson
Tim Pearson is a retired U.S. Army First Sergeant based in San Antonio, Texas, with 22-plus years of experience sleeping outdoors in the field in austere environments like Iraq and Afghanistan.
Joshua Pearson
Joshua Pearson lives in San Antonio, but recently enlisted as a combat medic for the U.S. Army. After basic training, he'll spend four years stationed in Alaska. He spends his summers outdoors hiking and solo camping.
The Reviews: The Best Sleeping Bags of 2023
Most Comfortable: Patagonia Fitz Roy Down Sleeping Bag 30 Degrees ($429 in regular)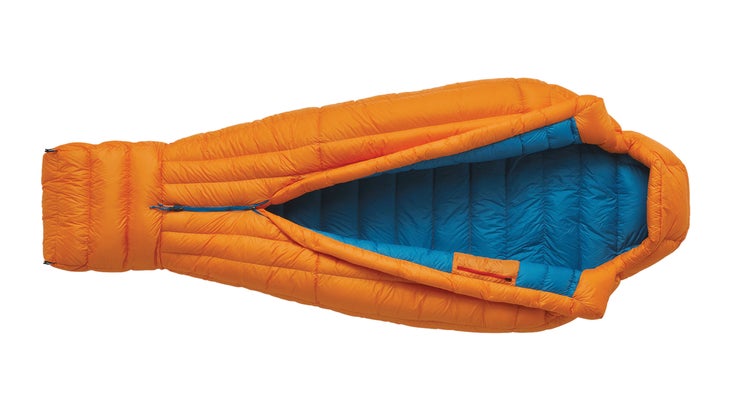 Weight: 1.8 lbs. (regular)
Size: Short, regular, long (unisex)
Pros: Lightweight and packable; front zip; no cold-spots; excellent hood
Cons: Pricey
We were expecting a good night's sleep in the newly updated Fitz Roy, but we weren't expecting to snooze until 9 am into broad daylight on a perfect September Minnesota morning. Blame the late start on the bag's improved engineering, which eliminates cold spots: The down is encapsulated with horizontal baffling on the head, shoulders, and feet to control migration, and vertical baffling in the middle to keep the weight as low as possible. While it didn't affect our sleep experience, the new Fitz Roy now checks all the eco-boxes: fair-trade certified, made from 100-percent recycled 20-denier nylon-ripstop coated with a PFC-free DWR finish, and stuffed with 800-fill traceable down. When packed, the Fitz Roy is roughly the size of a football, about two-thirds the bulk of comparable 800-fill mummies.
With an easy-to-grasp three-way zipper straight up the center, ventilating anywhere from head to toe was a cinch. The placement allowed the most restless sleepers among us to angle into a comfortable side position. "The center zip is super nice for regulating temperature without extraneous foot zippers," reported tester Ariella Gintzler, who slept in the bag in sub-freezing temps at just over 9,000 feet along the CDT in New Mexico. "Side-zip mummy bags can make it hard to vent without sliding out of the bag. I stayed put in the Fitz Roy."
Another feature that sets this bag apart from other top-end mummies? Its hood. That's not surprising, considering Patagonia's reputation for perfecting jacket hoods, like on the much-loved Grade VII Belay Parka. Uncinched, the Fitz Roy's hood holds enough structure to feel protective, yet opens wide enough to view the entire Milky Way. When cinched into a tight crescent with the two drawstrings at the neck, the baffling around the hood keeps out the cold, but the exposed area is still wide enough to avoid claustrophobia and, best of all, field-of-view is still unimpeded.
Bottom Line: The Patagonia Fitz Roy is an all-around excellent, super-comfortable bag.
Most Packable: Big Agnes Pluton UL 40 ($350)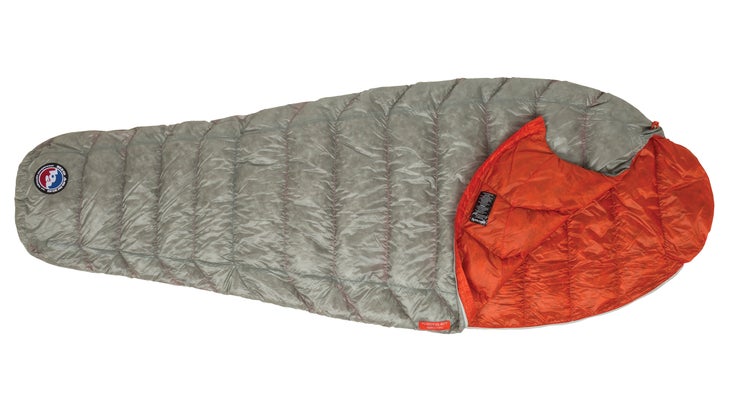 Weight: 1 lb (regular)
Size: Regular, long (unisex)
Pros: Very light, very packable; half-hood adds extra warmth
Cons: A fair-weather summer bag
"This excelled at everything I would want in a sleeping bag—packability, temperature control, and comfort," proclaimed Patrick Greehan, a veteran bikepacker who has raced tough events like Minnesota's Arrowhead 135, where the weight-to-warmth ratio of an ultralight bag can mean the difference between dropping out or finishing a race. The new Pluton, which uses the same 850-fill water-repellent DownTek and boasts the same 59-inches of girth around the shoulders as the last version—wide for such an ultralight bag—uses a beefier 12-denier nylon ripstop fabric coated with a PFC-free DWR finish. That fabric update results in a softer, less crinkly bag that still weighs a pound, compresses into roughly the size of a Nalgene, and can easily slide into a front handlebar pack. Other elements that impressed Greehan, who normally packs a quilt, were the two-way zipper, which allowed him to better regulate his temperature at head and feet, and the half-hood, which still necessitates wearing a beanie on colder nights, but added warmth and comfort around the neck (unlike a quilt) to this otherwise minimalist bag.
Bottom Line: The Big Agnes Pluton UL 40 is an ultralight, ultra packable bag for summer bikepackers and weight-conscious hikers
Best Value: Big Agnes Greystone 20 ($270)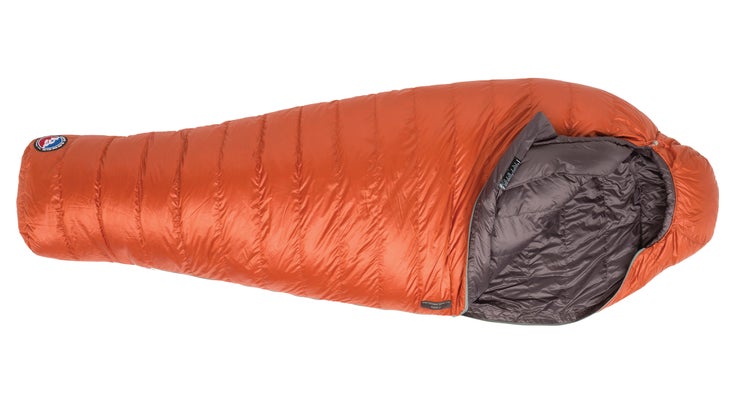 Weight: 2.2 lbs (Regular)
Size: Regular, long (men's and women's)
Pros: Impressive warmth-to-packability ratio; affordable
Cons: Minimal hood
The new mummy-style Greystone has what might be the golden packed size-to-warmth ratio—plus, it won't break the bank. It's filled with Bluesign-certified 600-fill water-repellent down surrounded by a soft recycled nylon shell and gossamer-smooth lining. It all scrunches down to an impressive 8.5 x 8.5 inches, roughly one quarter smaller than the other 20-degree bags we tested, thanks to a less bulky, minimalist hood. Most of our testing took place in the 30- to 50-degree range, but for three nights, testers used the bag on a freakishly cold late October camping trip on the flanks of 11,305-foot Mount Taylor, where the low temperature dropped to 18 degrees. With the help of warm layers and a hat, our tester survived those nights in comfort, even in temps two degrees below the bag's recommended temperature. That said, this bag—with its average fill power and slim hood—is most at home in moderate temps between 25 and 40 degrees. For most summer and early shoulder-season backpacking trips, the Greystone 20 is a bargain.
Bottom Line: The Big Agnes Greystone 20 is a packable bag at an affordable price.
Best for First-Timers: The North Face Trail Light Down 20 ($220)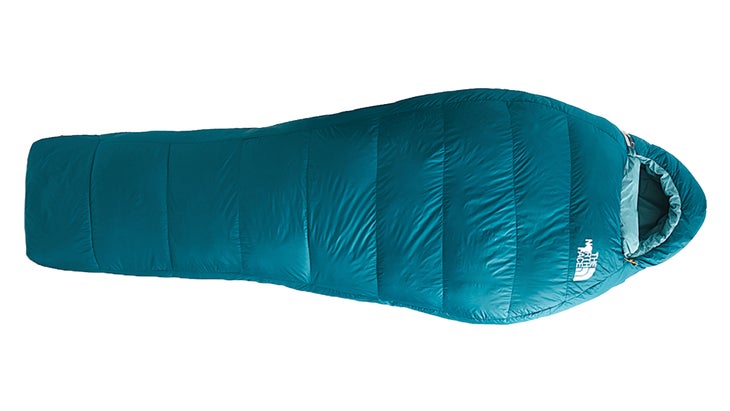 Weight: 2.2 lbs (m's regular)
Size: Short, regular, long, extra long (men's) / regular, long (women's)
Pros: Affordable; fully-featured
Cons: No full-length zipper; bulky
It's easy to get caught up in a numbers game when testing sleeping bags. The lower-weight, higher-fill, uber-compressible bags generally get all the glory. At 2 pounds, 4 ounces, and with 600-fill down, this mummy wins in neither category, but our testers were impressed with the higher-end bells and whistles that come at a fraction of the price, like a well-designed, fully-insulated hood with an elasticized cinchable collar, two vertical baffles running up and down the bag's sides to reduce cold spots and retain loft, and extra synthetic insulation around the toes for added warmth in the vaulted foot box. And like many far more expensive bags, sustainability is at its core: The DWR-finished nylon body, silky 30-denier nylon lining, and down insulation are all 100-percent recycled. "It's hard not to love this bag," says Elisabeth Kwak-Hefferan, Outside's women's shells category manager, who tested it over a few sub-freezing days on the CDT in New Mexico. "The hood was big enough to stuff my puffy in for a pillow and also accommodate my head (in a hat). It's also cut big enough for me to stuff my next day's clothes inside for preheating, but not so big that I struggled to stay warm." Our biggest gripes? The bag's sturdy, two-way zipper ends at the knee, which makes it nearly impossible to ventilate the feet. It's also bulky for backpackers. With top notch features, however, we don't mind the extra pack space considering this bag's price point.
Bottom Line: The North Face Trail Light Down is a featured-studded bag at an entry-level price.
Most Affordable Quilt: EMS Anomaly Ultralight 30-Degree Backpacking Quilt ($260)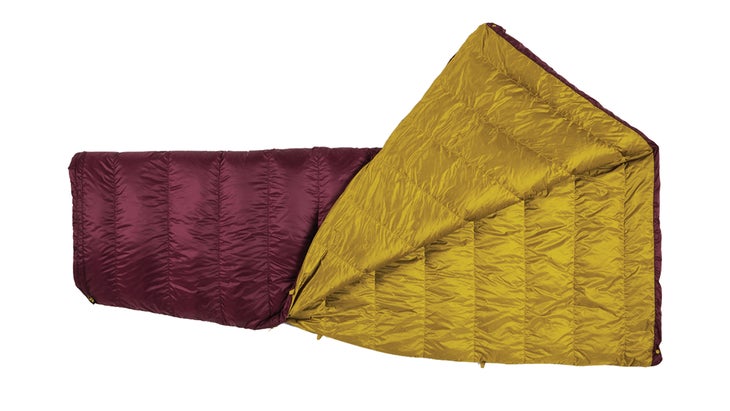 Weight: 1.2 lbs (regular)
Size: Short, regular, long (unisex)
Pros: Converts to a comforter for warm nights; adjustable feet and neck options; affordable
Cons: Too cold for shoulder seasons; straps don't fit all pads
Getting into the ultralight backpacking game is expensive. And, counterintuitively, minimalist quilts can be one of the priciest line-items. Not the EMS Anomaly. For $260, you get a fully-featured quilt for summer adventures that weighs just over a pound and packs down to the size of a Nalgene—comparable to quilts that cost $100 more. San Antonio-based ultrarunning tester Tim Pearson rarely uses a full sleeping bag, especially in the 90-plus-degree heat of Texas summer nights. But as a veteran who was forced to spend many nights in countries with snakes, scorpions, and other nocturnal enemies, he isn't wild about sleeping under the stars with limbs fully exposed. "The Anomaly was spectacular," said Pearson, who praised its ability to pull double-duty: Flayed open, the 850-fill, 20-denier ripstop nylon quilt can be thrown over the body just like a comforter. When the temperature dipped down near the 30-degree mark in northern Arizona in October, Pearson used the drawcord closure at the feet, a center zipper on the bottom half, and a drawcord and snap-closure at the neck to trap heat and keep out drafts. The quilt was still warm, especially when Pearson used the sliding toggle straps that secure the quilt to the sleeping pad. One shortcoming? The pad straps didn't fit some of the larger pads we tested.
Bottom Line: The EMS Anomaly Ultralight is a fully-featured summertime quilt at an outstanding price
How to Buy
Finding the ideal sleeping bag or quilt is a little like finding the ideal life partner. When you start looking, the options might seem overwhelming. But the more you focus on what you really want, the easier it is to narrow down. Four questions to help you find the perfect sleeping mate:
In What Season(s) Will I Use the Bag?
Bags generally fall into three temperature categories: Summer (rated 30 degrees F and warmer); three-season (rated between 15 and 20 degrees); and winter (rated 15 degrees and lower—some expedition bags are rated as low as -40 degrees). These temperature ratings are based on "average" sleepers and don't consider external factors like the thickness and rating of your sleeping pad; climatic factors like wind or humidity; or how quickly your body regulates heat loss or gain. If you tend to prefer cold sleeping environments, err on the side of buying a higher temperature bag—you can always open zippers, but making a bag warmer requires extra layers.
What Activity Will I Be Doing?
Recreationalists who need ultralight gear, like bikepackers, thru-hikers, or ultra-runners will want a bag that offers maximum warmth for minimal weight—something they can stuff down to the size of a Nalgene and jam into a pack. Quilts are a popular choice for those trying to cut weight. For shorter backpacking trips or where weight isn't a priority, you can find considerable savings and comfort in a bag that is slightly heavier or bulkier due to lower fill power or cheaper materials.
What Type of Insulation Is Best for Me?
Down bags are generally warmer for their weight and more compressible than bags with synthetic insulation. But down bags get wet, take longer to dry out than synthetic bags, and lose insulating capacity. Many manufacturers use down processed with a hydrophobic chemical that prevents it from absorbing as much water. Others keep the insulation dry with a water-repellant finish or fabric. Pay attention to fill power. That number measures the volume taken up by the amount of down in your sleeping bag; the more loft your sleeping bag has, the more efficiently it will trap warm air. It will also weigh less and pack down smaller than bags with a lower fill power rated to the same temperature. Synthetic bags are more affordable, and therefore an excellent choice for new campers who are unsure how often they want to sleep outside, or backpackers who are headed to wet environments.
How Much Space Do I Need?
Bags come in many shapes and sizes—rectangles, mummies, modified mummies, and double bags. Mummies are warmer and lighter-weight than rectangular bags, but can also be claustrophobic. Rectangular bags are excellent for restless sleepers who need to move and don't have space or weight constraints. Some quilts can be opened up to act as comforters, although they require a warm sleeping pad and don't come with hoods. Women-specific bags often come in modified mummy shapes to accommodate the curvier parts of a woman's body. Doubles are simply a sleeping bag built for two, although many solo bags can be zipped together to create a double bag.