The Best Car Camping Sleeping Bags of 2023
Six testers tried six different sleeping bags. These ones came out on top.
Photo: Mason Strehl/Stocksy
Heading out the door? Read this article on the new Outside+ app available now on iOS devices for members! Download the app.
Car camping is a whole different game than backpacking when it comes to sleeping bags. Sure, you want your bag to be rated for the temperature you'll be camping in, but that's where the similarities end. Weight, packed size, and waterproofing are mostly out the window. Instead, car camping bags endeavor to provide the cushest, softest, roomiest sleep experience possible. That said, while some of the bags we tested are essentially weighty boy scout bed rolls, many of today's "car camping" sleeping bags flirt with backpacking status and work great for campers who might want to occasionally head deeper into the wilderness.
The Winners at a Glance
Best Wearable Bag: Mountain Hardwear Yawn Patrol 30F
Best Quilt for Couples: Sea to Summit Tanami Tm II 35F
Best Bag for Couples: REI Siesta Hooded 20 Double Sleeping Bag
Best for Finicky Sleepers: Zenbivy Core Bed 25F Synthetic
How We Test
Number of testers: 6
Number of products: 6
Number of nights out: 15
Testing car camping sleeping bags is all about sleeping on the job. We handed six new bags to six testers for thorough, season-long testing. They stuffed them into cars and trucks and drove across the continent, from Vermont to British Columbia and down to Arizona, on a myriad of adventures. Our testers went surfing, mountain biked, base-camped on mountains, and road-tripped before setting up camp and getting some shut-eye. Because we all sleep differently, after a couple nights of getting cozy with each bag, we shuffled them around so other testers could give them a try. In our evaluations, we prioritized comfort over weight and packability. Anything that minimized movement, like narrow foot boxes, or reduced comfort and durability for the sake of weight, was out. Bags with wide openings, roomy interiors and cozy liners were in.
Meet Our Lead Tester
After hundreds of nights sleeping under the stars, category manager Ryan Stuart sleeps better in a sleeping bag than he does at home. Based on Vancouver Island, he approaches camping with the same laid-back vibe his island home is known for. As long as it's quiet, he doesn't care whether it's on a beach, a lake, or the middle of a logging road.
The Reviews: The Best Car Camping Sleeping Bags of 2023
Best Wearable Bag: Mountain Hardwear Yawn Patrol 30 F ($275)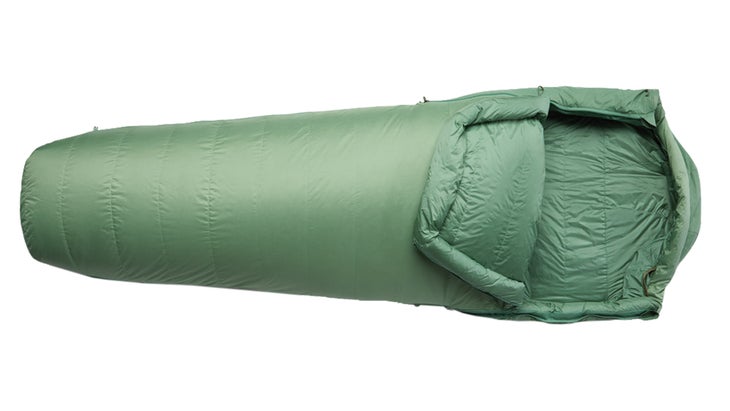 Weight: 2.1 lbs
Size: Regular, Long
Pros: Convenient temperature regulation; Packability
Cons: More restrictive than some rectangular bags
Most sleeping bags that also claim to be loungewear tend to be more on the gimmicky end of the spectrum. Not the Yawn Patrol, which is a sleeping bag, quilt, and extra long poncho all in one, thanks to clever zipper design. One smooth-running zipper extends from the top of the bag to the feet to split it into a quilt. Another runs a third of the way down for easy entry and to create sleeves for reading or drinking while inside the bag. Josie Boulding, a Union Bay, B.C.-based tester, loved the bag's poncho mode. "I could wear the whole thing in camp to stay warm around the campfire," she says. Tougher, 45-denier nylon protected the bottom of the bag from dirt, while a lighter-weight 30-denier nylon top shell and the interior were both soft next to skin. When she actually slept in the nearly rectangular bag, the insulated hood with a pillow pocket, phone pocket, draft collars, and 650-fill down kept Boulding toasty and all those zippers gave the bag a huge comfort range, from the 60s to its 30-degree limit. Bonus: At just 2.1 pounds, it can be pressed into service for short backpacking trips.
Bottom Line: A versatile sleeping bag that truly pulls double-duty.
Best Quilt for Couples: Sea to Summit Tanami Tm II 35F ($399)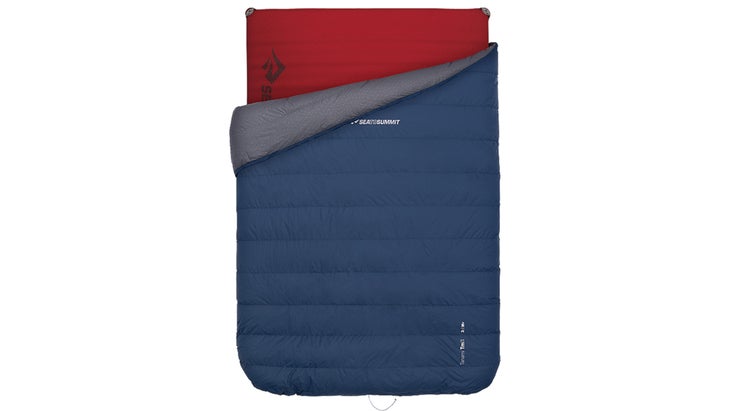 Weight: 2.6 lbs
Size: Regular
Pros: Works for singles and doubles; Lightweight
Cons: No material to fully close it
If the idea of a double sleeping bag sounds like an argument waiting to happen, the Tanami might be the answer to your relationship's camping woes. The 80-by-82-inch quilt isn't quite as expansive as a typical queen-size comforter, but it's plenty big for category manager Ryan Stuart and his partner to sleep comfortably on a double-wide pad with fabric to spare. "When I inevitably got too hot, I could pull some covers off, while my wife could snuggle deeper," Stuart says. A drawcord at the bottom snugs the quilt to a mattress, preventing drafts from penetrating and the quilt from shifting. Closer to the bag's temperature limit, the couple pulled them both and played footsie. Loops on the quilt's perimeter allow campers to strap it to a pad or close it into a bag (with additional hardware.) Sleeping in it solo, Stuart cinched up the bottom and burritoed his way in. Even in temperatures close to the bag's rating, he was comfortable, thanks to 24.7 ounces of water-resistant 750-fill down. And while it's by no means ultralight, the 30-denier exterior and 20-denier interior mean the Tanami is lightweight for two and packs down into a 10-liter stuff sack. For couples that prefer a quilt to a bag, it's a no-brainer for summer car camping or backpacking.
Bottom Line: The Tanami Tm II 35F is a great option for couples who don't want to share a double sleeping bag.
Best Bag for Couples: REI Siesta Hooded 20 Double Sleeping Bag ($239)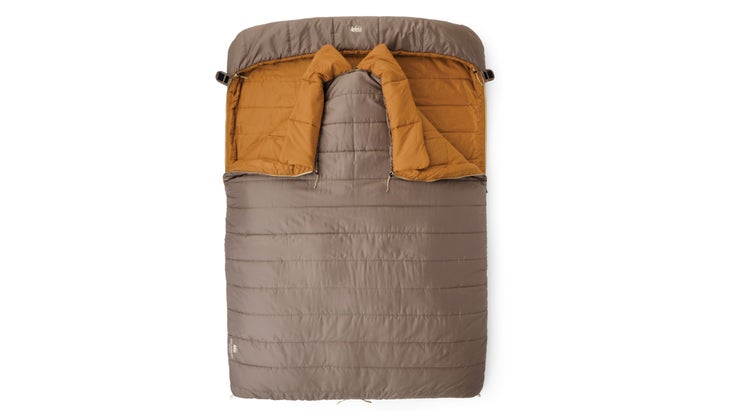 Weight: 7.8 lbs
Size: Regular, Long
Pros: Incorporates recycled material; Impressively warm
Cons: Bulky
When the thermometer dips, this is the bag you want to be snuggling in with your significant other. The Siesta reached edge-to-edge on a queen mattress when a tester and their partner used it in an unheated mountain cabin on the edge of Strathcona Provincial Park on Vancouver Island. Stuffed between the exterior and interior layers of 75-denier recycled polyester fabric are three weights of recycled synthetic, Bluesign-approved insulation: 160 grams on the back; 120 grams in the draft collar, and 220 grams on the top. The top and bottom are layered in a shingle pattern to help prevent cold spots. When snuggled into the oversized neck collar with the zippers closed, testers found the bag was true to its 20-degree rating. The couple had room to turn without elbowing the other and both had a chest pocket for stashing a phone or headlamp. Because each side of the bag has a two-way zip that extends to the bottom of the bag, they could vent top and bottom independently of each other. Bonus: If cohabitation doesn't work out, the top and bottom zip apart into two individual quilts. The bag's weak spots? It doesn't pack particularly well for storage (about two feet by 14 inches) and the insulated hood is small—while it stretches across the whole bag, wide enough to fit two home-sized pillows, it was shallow and barely covered our testers's heads.
Bottom Line: A warm, affordable double bag that works all the way down to its three-season rating.
Best for Finicky Sleepers: Zenbivy Core Bed 25F Synthetic ($209)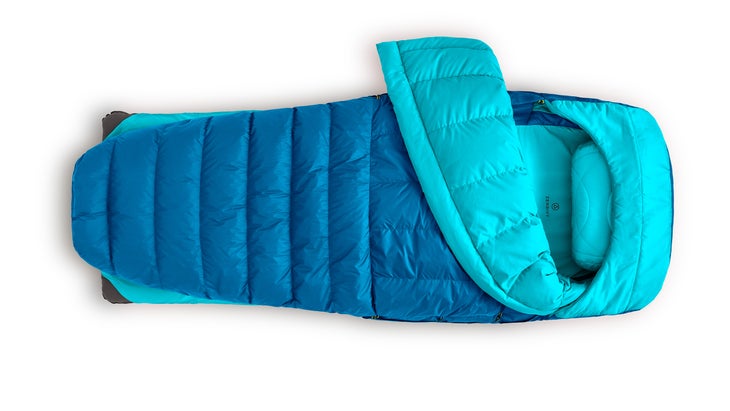 Weight: 3.2 lbs
Size: Regular, Large, XL
Pros: No zippers to deal with; Roomy; Packable
Cons: Hooks are hard to adjust
We were already fans of Zenbivy's hybrid bag design: a comfortable, packable sleeping bag-quilt fusion. But not everyone was onboard to drop $300 for a somewhat experimental sleep setup that divides the traditional sleeping bag into a quilt-style top and a hooded, fitted sheet that slips over a sleeping pad. With the Core Bed, Zenbivy made the barrier to entry lower by using a generic synthetic insulation and making the sheet portion optional. With the sheet included, it weighs about a pound more than the original version, but costs $100 less. The sheet is a soft-as-cotton, 50-denier pongee fabric that fits a sleeping pad up to 3.5 inches thick and connects to the 20-denier quilt with nine color-coded hooks. It's easy to set up outside the bag, but tough to adjust once snuggled in, although no one complained about the lack of zippers to snag. We mostly shimmied out of the top for pee breaks. When New Brunswick-based tester Paige Stuart set up the Zenbivy system on a breezy night, camping on the Bay of Fundy, she found it sealed out drafts as effectively as a full sleeping bag, but, because the quilt is fixed to the outline of the pad, she could easily switch sides without getting tangled. A hook near the bottom of the bag adjusted the roominess of the foot pocket from snug to wide-open. When she woke up a bit chilled (testers were comfortable down to about 30 degrees) she snuggled into the oversized neck baffle and slept soundly through the night.
Bottom Line: Like the freedom of a quilt, but want the cocoon of a traditional bag? This is the best compromise.
How to Buy
Temperature Rating
Shopping for a car camping-specific sleeping bag begins with the same question you'd ask about any sleeping bag. How cold are you planning to go? Take that number and subtract 10 degrees for a comfortable rating.
Car Camping vs. Backpacking Bags
That's where the similarities between car camping bags and backpacking bags end. Car camping is about comfort: look to prioritize roominess, fabric feel, and features, like pillow pockets and multiple zippers, rather than weight and packability. Cotton, fleece, or flannel-like interior linings will make sleeping that much more cozy than the usual polyester stickiness you experience with backpacking bags. Pillow pockets help corral those slippery suckers right where you want them. A pocket for a headlamp, phone, or watch is nice for keeping them close at hand. And extra zippers provide options for customizing warmth and lounging in camp.
Size/Design
If you're a cold sleeper, you'll likely want to go with a more traditional sleeping bag design that wraps more tightly around the body to eliminate cold spots over a wide, shapeless (but roomy) rectangular bag. If you like to sprawl, consider a quilt or hybrid-style design that allows more freedom to move.
When it's time to upgrade your gear, don't let the old stuff go to waste–donate it for a good cause and divert it from the landfill. our partner, Gear Fix, will repair and resell your stuff for free! Just box up your retired items, print a free shipping label, and send them off. We'll donate 100 percent of the proceeds to The Outdoorist Oath.