Forget Solar Panels: These 3 New Power Sources Eliminate the Need for Sun
When you can't count on the sunshine, these products come in handy.
Heading out the door? Read this article on the new Outside+ app available now on iOS devices for members! Download the app.
Bringing a solar panel into the backcountry to keep your devices charged is nothing new. Panels are cheap, light, and increasingly effective. But what if there's no sun? Whether you're suffering the bad luck of a trip in the clouds or rain, want to be able to charge at night, or you're just headed somewhere where flowing water or wind are more plentiful than solar rays, you still have options for keeping your electronics powered.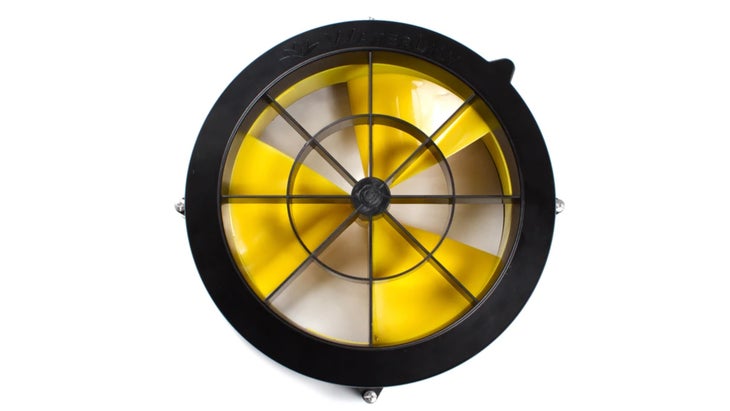 WaterLily Turbine
That stream rolling through your camp isn't just pretty: It's a great source of power, if you're carrying the WaterLily. The big benefit to water power is reliability: Unlike solar panels or wind turbines, the WaterLily isn't subjected to the whims of the weather. Water runs 24/7, so you can just drop the device in a stream and let it recharge your phone or power bank. 
To do so, look for moving water that's at least 8 inches deep (that's roughly how tall the circular turbine is), with water that moves about 7 mph (drop a leaf in the water and run alongside it—7 mph is a solid jog). At that speed, the WaterLily will generate 15 watts of power, though it can work in water that's as slow as 1 mph. Once you've found your stream, drop the device in and suspend it in the flow using the attached cords. 
The turbine is fairly heavy (2.9 pounds) for long trips, and setup can be finicky. On our test run in Colorado's San Juan Mountains, it took some experimenting (and some wet shoes) to figure out exactly how to suspend the turbine in the stream. Bring some extra paracord and look for a spot with trees or rocks to tie it to. Note: Run the 10-foot cord leading from the turbine and 12-volt outlet well away from the water to charge your electronics.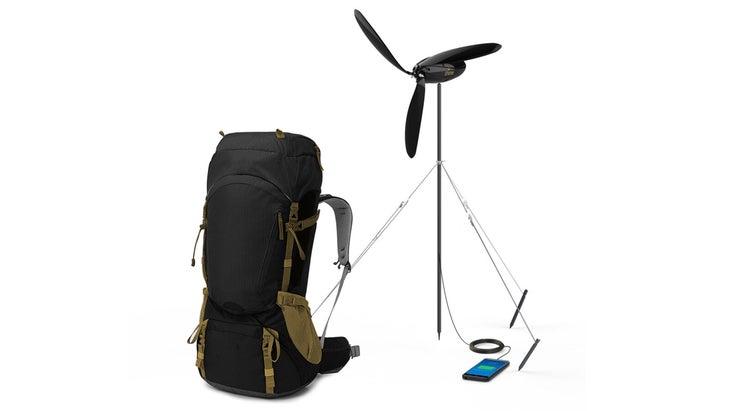 Shine Turbine
We've all hiked in places where the sun isn't a given, but a stiff breeze almost always is. The Shine Turbine capitalizes on these wind-whipped environments. This device—which weighs under 3 pounds—sets up on an included stand, which collapses down inside the elongated football-size package when not in use. Merely extend the blades, and the Shine will spin in the breeze and recharge its onboard power bank (which you can plug your devices into).
According to the brand, the turbine can function in winds between 8 and 28 mph. In steady wind (about 18 mph) expect the Shine to put out about 40 watts—that's enough to recharge a phone in a little over an hour. 
The Shine Turbine is expected to hit shelves next spring. 
PedalCell
There's a reason one of the metrics used to measure output on stationary bikes is watts: Your pedal power generates actual power as well. The PedalCell mounts onto the fork of your bike and places a spinning cylinder in contact with your tire so that, as your wheel spins, so goes the device. It can pump out between 15 and 20 watts, depending on how hard you're pushing. That makes the PedalCell ideal for long bikepacking trips, during which you'll be feeding it plenty of power.
A cable leads from the device to a handlebar-mounted hub, where you can plug in your phone, bike lights, action cameras, and more. Setting it all up is as easy as tightening a couple allen keys and running the wire so it doesn't catch anything else on your bike (zip-ties are handy). The PedalCell hub straps on like any other handlebar accessory and, while we didn't test it on our mountain bike, it all stayed put while riding dirt roads on our gravel bike. During a shakedown cruise around Ridgway, Colorado, we had a hard time feeling any resistance coming from the device, and we basically kept Strava open on our phone the entire ride without losing any juice. Keep an eye out for excessive mud, though: While the generator is made from high-grade aluminum and is weather-resistant, clogging it up with muck will mess with its effectiveness.