The 5 Best Backpacking Headlamps For Illuminating the Trail
These lights have your back when the sun goes down.
Heading out the door? Read this article on the new Outside+ app available now on iOS devices for members! Download the app.
Every hiker needs at least one good headlamp. A longstanding item on the Ten Essentials backcountry gear list, headlamps can make the difference between easily following a trail after dark, doing camp chores at night, and socializing before you hit the sack, or floundering around in the dark.
While all headlamps are designed to basically serve the same purpose—provide light for your outdoor adventures—models differ greatly when it comes to strengths and weaknesses: Battery life, fit, and illumination power vary from headlamp to headlamp, and a model that's perfect for one backpacker might not be what another hiker prefers. There's a headlamp out there for everyone, though, and here are our picks for the best ones available on the market right now.
What to Look For in a Backpacking Headlamp
Lumens and power
Headlamps measure their brightness in lumens. While a max of 300 or so lumens is typical for an average headlamp, some models can put out up to 1400 lumens on the highest setting. While that's bright enough to reveal the path far ahead of you while you trail run or ski, it can also quickly drain battery life. On the other end of the spectrum, some headlamps are able to dim down to the 25- to 100-lumen range, which can provide just enough light for close-up vision while also extending the batteries. 
Light settings
Brightness isn't the only thing that determines how easy it is to see with a headlamp. Spot beams give strong, direct light in a tight radius, and flood beams toss ambient light wide enough to help you catch the edges of the trail or illuminate your entire cooking area. The former are geared to throw light for long distances, while the latter illuminate a greater surface area only at close distances. It's also common for headlamps to have a cycle of settings for emergency strobe lighting and red lights for improved night vision inside your tent. 
Rechargeable vs. disposable batteries
Rechargeable headlamps commonly use lithium batteries, which can charge quickly and resist most temperature conditions better than disposable alkaline batteries. Lithium batteries also outperform alkaline in cold conditions, providing a steady reliable light with little chance of random fading. Another popular rechargeable option is nickel metal hydride (NiMH), which works as well as lithium compared to alkaline. Rechargeable batteries, while convenient, come with the downside of often losing power even when idle, and needing to charge at night when you need it most will majorly inconvenience you.
If you're not the kind of backpacker to come ready with a portable charger, cable, and bear the time spent juicing it back up, though, plan to pack a headlamp with alkaline batteries. They're excellent at holding their charge and often pretty cheap, but bringing backups can add some minor pack weight, and corrosion will likely set in if you leave them in your headlamp during the shoulder season.
Fit, buttons, and features
The synthetic bands found on most headlamps come with a strap adjustment for a universal fit, and hold up well to sweat and rapid movement. Some models come with top straps to offer stability for high-intensity activity or for headlamps with heavy battery packs on the back, though some of these are removable. The light housings should be able to withstand some precipitation, though only a few headlamps can face full immersion and live to tell the tale. 
Button design may appear simple on most headlamps, but many require you to memorize button press patterns to switch modes. The cycle system for headlamp settings is commonplace, so consider trying out different options in the store to get a feel for different systems. These do-everything buttons tend to be prominent on a headlamp, which can cause a light to turn on inadvertently while it's buried in your pack—a problem most manufacturers solve with a lock setting that stops presses until it's disabled.
Extra design features include tilt options for the light housing (great for reading in the tent) and external battery packs, usually situated on the opposite end of the trap and provide an extra boost when you need it most—though the balanced weight feels nice, they can be clunky and require wires running around your head.
Best Backpacking Headlamps on the Market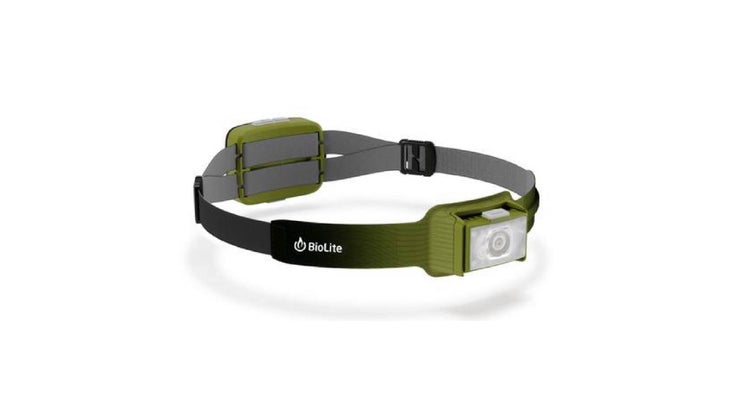 Most Versatile: BioLite HeadLamp 750
While they generate less waste over their lifespan and can top up from any USB port, rechargeable headlamps have one downside: They tend to drain faster and shine less brightly than their alkaline equivalents. BioLite's new model bucks the trend; it's bright enough for almost anything you might need to do in camp, and can last for a whopping 150 hours on low. At its brightest setting, it can put out a constant 500 lumens for two hours—long enough for our tester to bust out a 4-mile run through the pitch-black desert near Scottsdale, Arizona. (Need to quickly scout a path? It can push out a blinding 750 lumens in 30-second bursts.) For all that power, the HeadLamp 750 is still comfy to wear, thanks to a slim, rectangular body and a sweat-wicking headband, and it has a red light mode and rear red light. "I've run in lighter-weight headlamps, but the way the slim, form-fitting battery pack sits didn't feel heavy," our tester says. (Another reports it slipped a bit during vigorous activity.) Caveat: price. —Adam Roy
Lightest: Black Diamond Flare
Most emergency headlamps are just that—last-ditch lights for when things go wrong. With the Flare, Black Diamond designed a lamp that's compact enough that it can slip into a breast pocket, but capable enough to provide all the light we needed on dawn patrols and short overnights. The Flare's dustproof, waterproof aluminum body is about the size of a thimble, and it runs off coin batteries that last for about 4 hours on high. The light twists on and off and has low and high settings, a red light, and both strobe and SOS modes. On a camping trip to western Colorado's Unaweep Canyon, the Flare put out a respectable 40 lumens, enough for camp chores and hiking on straightforward terrain. The Flare's shock cord headband with a woven strap at the front sat comfortably on our foreheads and packs away small. Ding: We found we needed two hands to adjust the light, as trying to twist the dial one-handed just ended up twisting the entire assembly. —A.R.
Best All-Around: Petzl ACTIK CORE
If brighter is better, Petzl's ACTIK CORE is one of the best headlamps of its category out there. It packs 450 lumens into a compact, multi-beam headlamp that cut through the darkness on night runs up Boulder's Mesa Trail, providing enough power to scope out hazards in the distance. You get steady, strobe, and red light modes. The headlamp can run on either three AAAs or the Petzl CORE, a removable, micro-USB-rechargeable battery that can power the ACTIK for up to 160 hours on low (5 lumens) or 2 hours on full blast. "If I had to pick one headlamp for a multisport trip, it would be the ACTIK CORE," says our trail running, night-skiing editor. "It doesn't take up much room, but it's powerful enough to let me move fast." — A.R.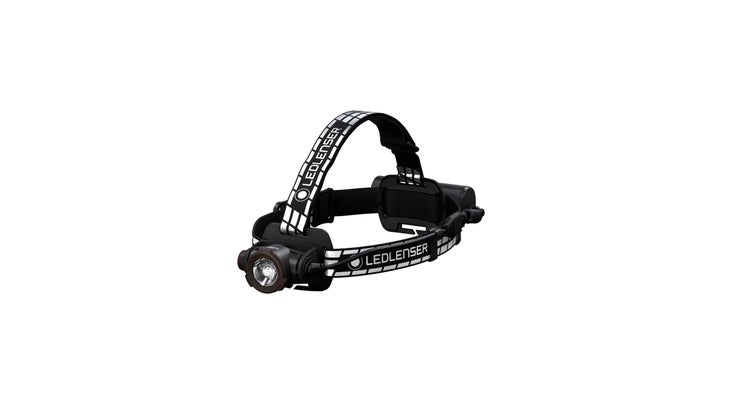 Brightest: Ledlenser H7R Signature
Most backpackers don't ask a lot of their headlamps—they just need something that's bright enough to illuminate the ground beneath their feet for alpine starts and midnight bathroom breaks. But sometimes, you just need raw power, and the H7R Signature delivers. On its maximum setting, this head cannon can put out a whopping 1,200 lumens, enough to illuminate just over 850 feet of trail for our nighttime bike rides and wildlife-spotting excursions around Colorado's Front Range. "I especially appreciated the peripheral range on the wide beam for mountain biking," one tester says. "It let me see what was coming up next on the trail while twisting downhill through switchbacks, so I could roll right over drops and roots without slowing down." The included rechargeable battery lasted longer than we expected—65 hours on its lowest, 15-lumen setting, and a more modest 3.5 hours on high. Cycling through low, medium, and high modes with the button on top was easy and intuitive The H7R is definitely a specialty tool, though: It's heavy and expensive, and one tester said the light's casing got uncomfortably warm on high. It also lacks a red light, but if you're trying to preserve your night vision, this is probably not what you're bringing anyway. —A.R.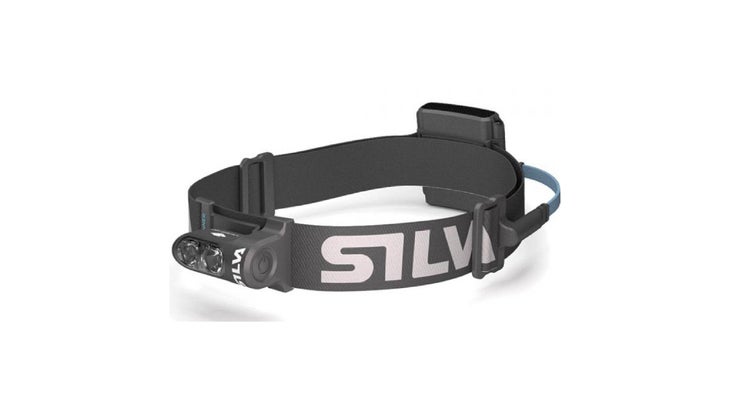 Best for Trail Running: Silva Trail Runner Free
Pick up this headlamp, and you'll notice right away that there's something missing: wires. Unlike most other lights with external battery packs, the Trail Runner Free weaves its wires straight into its stretchy, knit headband, making it comfier and less prone to tangling on hair or catching on a tree branch. The light packs a close-up flood beam and a longer-distance spot into a case about the size of the tip of your thumb (no red light). It puts out a respectable 400 lumens for up to 25 hours on its highest setting, which our tester appreciated on a cross-country winter backpacking trip in Nebraska National Forest. Nice touches include a hybrid battery case that lets it run on either three AAAs or a rechargeable, removable battery ($30 extra), as well as an extension cable so you can stash the battery pack in your jacket to prolong its life in frosty weather. Note: There's no lock, and the headlamp did turn on in our pack; disconnect the battery before storing it. —A.R.
What a Backpacker Editor Looks For in a Backpacking Headlamp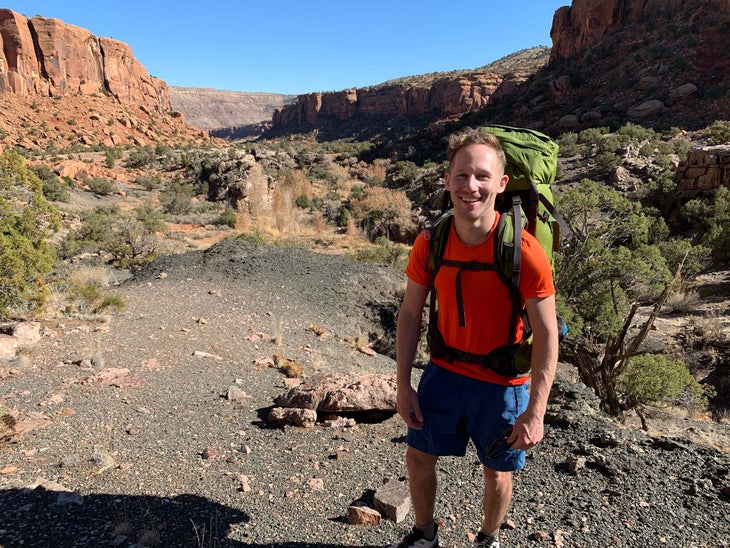 Eli Bernstein, Senior Gear Editor: "I'm all about tricked-out headlamps packed with user-friendly features. Dimmers, red light modes, memory modes for your favorite settings, and lock modes are all super helpful, and I don't mind cycling through a bushel of button pushes to find them. I've also found that 300 lumens or so is enough for most of my activities; I try not to run or ski after dark if I can help it, and 300 is bright enough for hiking during an alpine start or setting up camp."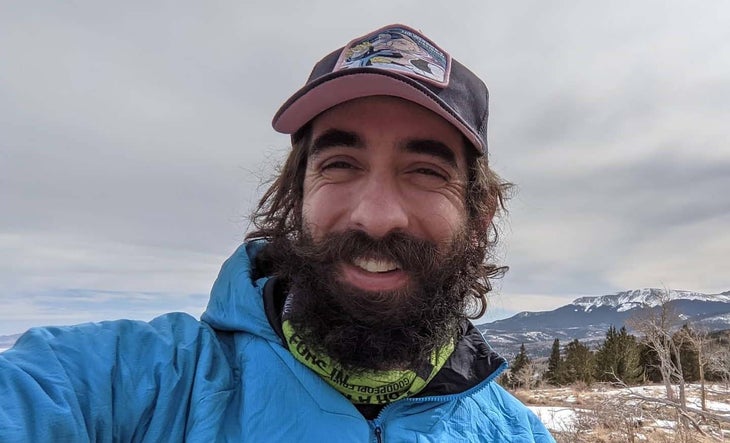 Adam Roy, Headlamp Maestro: I tend to go extreme with my headlamps. For normal hiking and backpacking, I go with an ultralight headlamp; the battery life may not be as good, but I'd rather carry my extra power in my backpack instead of on my head anyway. For night skiing or running, I get the biggest, brightest beam I can find–preferably with a good beam setting, so I can see all the bends in the trail ahead of me.
How to Care for Your Headlamp
Since the head strap acts as a sweatband, be sure to remove the lamp from the band if possible and hand-wash the elastic with soap and water, and then air dry it. Most low-profile headlamps have a simple mechanism for removing the band, but some with extra straps or battery packs could be harder to sort out. Some brands offer replacement for worn-out elastic, if you're just not ready to part with your longtime headlamp.
A faulty button mechanism is likely to turn on unexpectedly and wear down battery life, leaving you in the dark sooner than you expected, even on models that have button lock systems. A hard impact can dislodge the components of the button, and water buildup can corrode the inside—try your best to keep the headlamp stored separately from heavy pack items, and if you're planning to store it over the long term, find a cool, dry place. If you're hoping to troubleshoot button problems on your own, most headlamps are built with the mechanics stored behind the battery system; remove the plastic housing and start diagnosing there.
All batteries corrode and calcify at some point, but alkaline ones go quickly. Your best bet is to take the rechargeable battery pack or the alkaline batteries out of the pack when stored long-term. If you find your headlamp's batteries in any state of corrosion, or if they appear swollen, remove them with some protective handwear and clean the compartment with isopropyl alcohol for a quick and dry fix, or with white vinegar and let air dry before adding new batteries.