First Look: Skydio 2+
Document your adventures in a whole new way with the 4K Skydio 2+ drone
You already know that drones changed the action-footage game. With seemingly unlimited options for maneuverability and cameras that can now capture 4K HD footage, a solid drone is essentially an aerial film crew working just for you. What you might not know: autonomous drones have changed the game again, taking "set it and forget it" to a new level. Once the drone takes off, it follows a beacon signal, either from your phone or a small one-handed remote. Drones like this are perfect for trekking. All you have to do is click a button to launch, put the beacon in your pocket, and head out.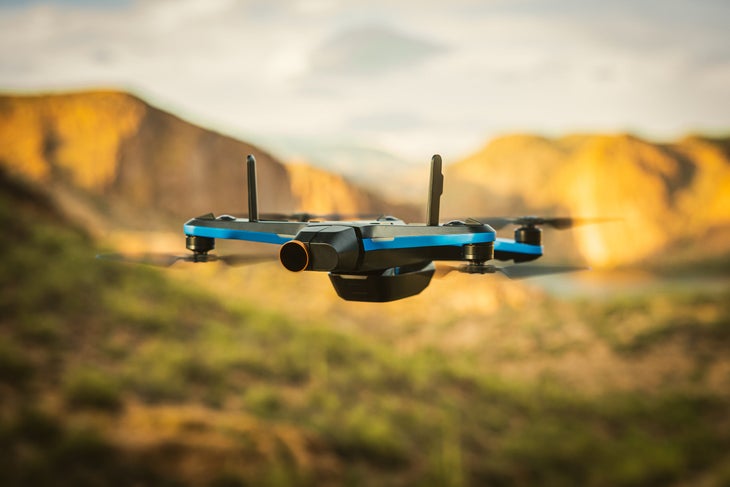 The Skydio 2+ is a 4K autonomous drone that actually sees you—and follows you—no matter where your next adventure leads. Whether you're hiking mountains, running trails, heading into the woods for a few days off-grid, or doing anything in between, the Skydio 2+ drone will be there to capture it in 4K60 HDR (basically a format that makes immaculate-looking content), all the while enlisting its autonomous 360-degree obstacle avoidance system so the camera stays focused on you and you stay focused on the task at hand.
The Skydio 2+ comes in four kits (Starter Kit, Sport Kit, Cinema Kit, and Pro Kit). If you're new to the world of drones and find yourself always looking for the next big adventure, the Sport Kit is the way to go. You'll receive the drone, the beacon controller (about the size of an old-school flip phone), three batteries, a dual charger, a 128MB micro SD card, and a protective case for all of it. You'll be able to control the Skydio with an app or with the Skydio Beacon. The latter is the most user-friendly way to fly—simply click a button on the drone to launch, choose where you want the drone to follow you (in front, behind, orbiting, etc.) and take off. Once the drone is up in the air, simply start your hike and the Skydio 2+ will capture the entire outing, creating an incredibly beautiful video, all while autonomously avoiding trees and getting aerial angles usually reserved for the pros. 
As virtuoso outdoor video-content creator Wade Holland says, "I love that Skydio allows me to capture all my solo adventures when otherwise I wouldn't be able to get an aerial perspective, especially when my hands are completely tied up. I can just focus on the adventure and trust that Skydio will get the shot. The keyframe feature gives the extra layer of creative shot building so I can put together more complex shots and again just focus on the adventure. It's been a total game changer!"
As for the brass tax, the Skydio 2+ measures about seven by nine inches and weighs just over a pound, so carrying it with the rest of your gear on the trail should be a breeze. All the components (camera, sensors, etc.) are securely attached to a durable magnesium skeleton, and in the unlikely event of a crash, Skydio offers a comprehensive support plan.
With autonomous tracking, a beacon range of up to 1.8 miles, the ability to shoot in 4K60 HDR, and total obstacle avoidance, the Skydio 2+ will absolutely have you saying last weekend's adventure was like a movie.
---
Skydio 2+ is the only drone that brings you new feature updates and fun new functionality long after your first flight. For those looking for a gift that keeps on giving, the company is offering the Skydio 2+ for $899 while supplies last. With a $200 discount across the entire Skydio 2+ Kit lineup, there has never been a better time to buy a Skydio. The Holiday promotion is live now at shop.skydio.com.