Use This Gear to Ace Your Next Winter Dayhike
Cruise snowy trails in comfort with this dialed-in kit.
Heading out the door? Read this article on the new Outside+ app available now on iOS devices for members! Download the app.
Sometimes, gear lessons come the hard way in the backcountry. A few years ago, I found myself on top of a ridge in the Bridger Range outside Bozeman, Montana, freezing in 30°F weather and a brisk wind. On the ascent I had gained 2,400 feet in a few miles, keeping my heart rate up (and my core warm), but now I was shivering on the exposed ridgeline. The descent was going to be miserable. When in doubt, bring more layers, I admonished myself. 
It took me far too long for me to dial in my winter dayhiking system, but since then, I haven't looked back. Layering for high-output winter activities can be difficult. Much of the dayhiking in my area is straight up on the way out, then all downhill on the way back. In cold weather, this means sweating hard on the ascent, and—if I'm not layered correctly—freezing on the way down.
To prevent this, I wear a wicking baselayer—either synthetic or a natural fiber like merino wool—and I like my outer layer to be as breathable as possible. The right shoes, accessories, and hydration tools round out this kit. Keep in mind these items do not comprise a complete gear list; you'll need to fill in the blanks yourself. I also made these picks for dayhikes, not technical ascents, so if you decide to use these on Mt. Rainier, you're on your own.
Jack Wolfskin Tasman Jacket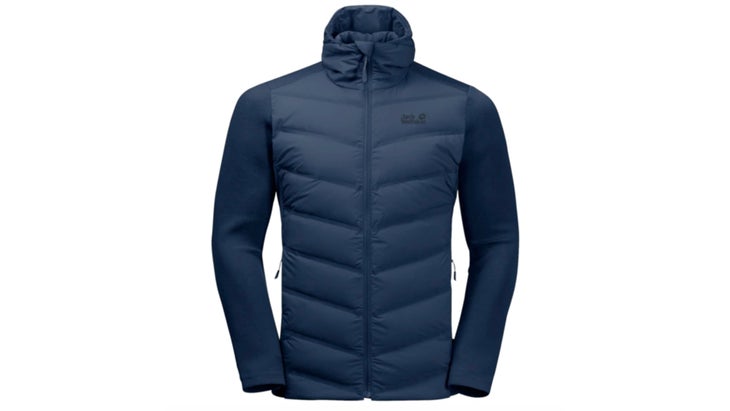 This hybrid jacket has duck down on the front for core insulation, along with a breathable, stretchy polyester/elastane softshell material on the sides, arms, and back. The Tasman's design vents heat without compromising core protection, and keeps me warm without sweating through the jacket when I exert myself. (The front face fabric is made with windproof, durable polyester for extra protection as well.) The combination of slim, athletic fit and breathability has made this my go-to active insulation layer in cold weather, but it still provides enough warmth for breaks and lower exertion on the downhills. This jacket performs during extended ascents over a wicking base layer in 20°F to 30°F weather, wicking enough sweat to keep me dry on the way up so I don't freeze on the way down, then providing enough insulation when my heart rate decreases on the descent. $180; Buy Now
CamelBak Snoblast 23L Winter Hydration Backpack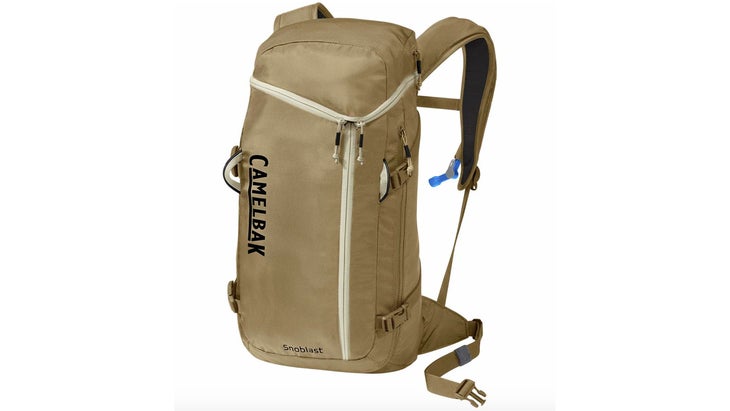 While I typically carry a 12-liter running pack for warm-weather dayhikes, a winter outing calls for more layers and gear in general. This pack is sized just right: small enough to prevent overpacking, but big enough to stash layers inside. While the Snoblast doesn't have cross-straps or webbing across the front, you can rig a pair of snowshoes using the side compression straps. This pack was made for cold-weather outings, with a three-way zipper opening to allow access to the whole front of the pack. This allows access to gear from either side or the top without dumping your stuff into the snow, but it doesn't have the backpanel access of other winter packs. When you're wearing all your layers, the Snoblast cinches down to 15 liters. It also comes with an insulated shoulder strap that protects the included reservoir's drinking hose to prevent it from freezing and clogging. $110; Buy Now
Smartwool Full Cushion Crew Socks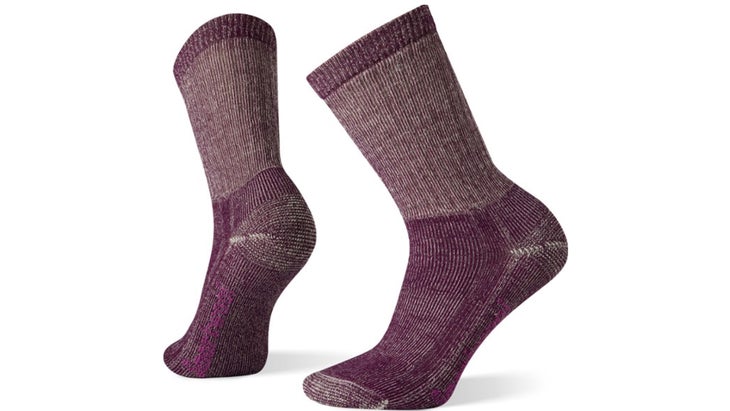 I've been wearing these classic socks for years during winter day hikes where I want something more substantial than my three-season, light-cushion socks. These are thicker than warm-weather socks but shorter and less bulky than heavy-duty ski socks, which makes them a good middle ground for winter hikes. They're made with a combination of merino and nylon, which means warmth and dry feet thanks to the wicking properties of both materials. The high percentage of merino (66 percent) means they stay warm even if they do get wet, and the nylon component adds durability and structure so they don't stretch out. The cushioning along the entire sock helps both with impact protection during longer hikes and warmth for colder days. I like a crew-length for winter socks so I can swap between trail running shoes and mid-height hiking boots without worrying that my socks will be too short. $21; Buy Now 
Outdoor Research Rocky Mountain Low Gaiters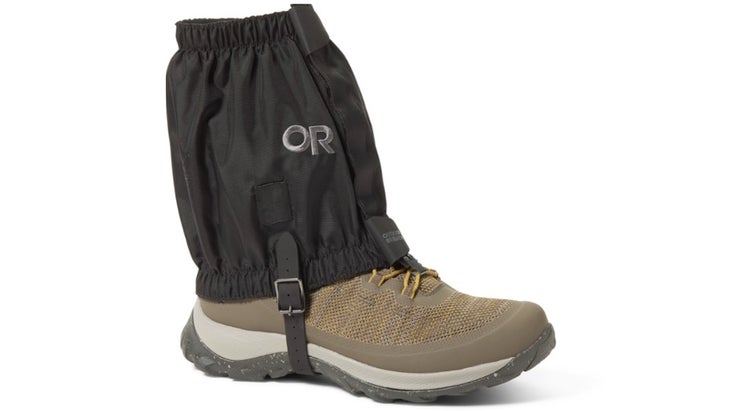 I always wear gaiters if I think the trail will have snowy sections that come up over the tops of my shoes or boots. This set from Outdoor Research stays securely up around my calves thanks to the elastic top with a wide hook-and-loop closure, but they don't feel constricting. These gaiters are 9.5 inches tall and come up to mid-calf. I like this shorter style for hikes with less snow; as I've found they stay up better than some taller gaiters, which can slouch after hours of wear thanks to added height and weight on the closures. The Rocky Mountain Low are made with a durable 420-denier nylon, which is abrasion-resistant and waterproof. I've had my gaiters for four years and aside from some minor fraying along the bottom, they look practically new, from buckles to material to top and bottom closure tabs. $39; Buy Now
Altra Lone Peak RSM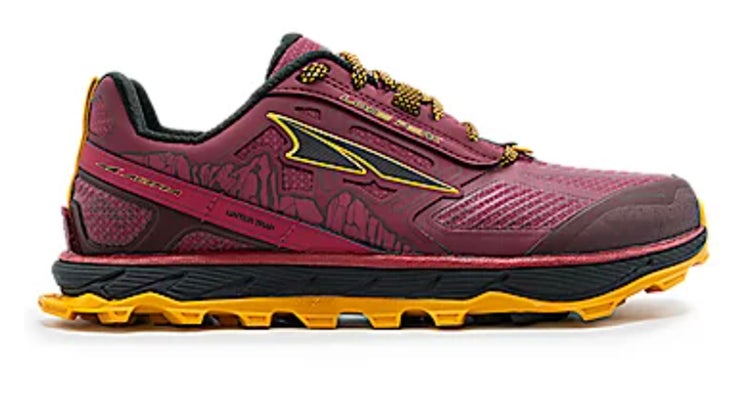 The Lone Peaks are among Altra's most popular trail runners,and the waterproof RSM (Rain / Snow / Mud) lives up to its name, thanks to an eVent membrane that keeps slop and precip on the outside. These have almost the exact same feel as the standard Lone Peaks;, you will feel a slight bit of resistance in the waterproof membrane, but I've found the RSMs to be more flexible than other waterproof shoes or boots, and less prone to splitting or cracking at flexion points like the forefoot. These have a 25-millimeter stack, which is right in the middle for cushioning, providing enough protection from the ground without feeling off balance. I pair these with gaiters, but you can also get them in a mid-height hiking boot style which keeps drafts and snow out for extra weather protection. The traction is excellent on packed snow, but when the trails are icy or conditions are questionable, I carry a pair of microspikes in my pack or wear them straight from the trailhead. While these shoes keep my feet dry in snow and slush, it's worth noting that these are best for winter day hikes that don't involve intense peak bagging or technical terrain. In those cases, you'll probably want a winter-specific boot with insulation. $150; Buy Now 
Merino Wool Buff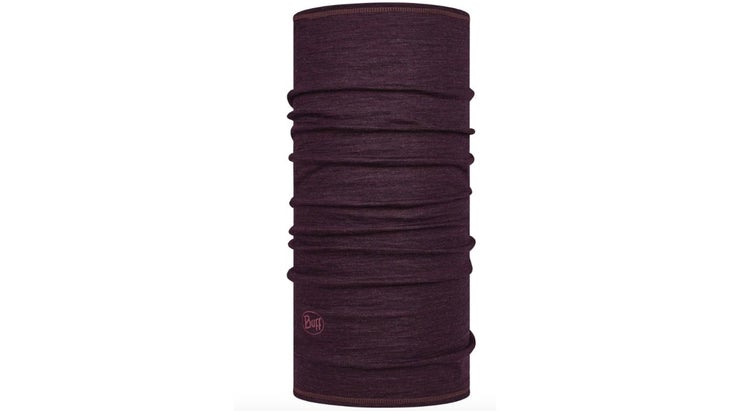 A neck gaiter is a must-have, and the Merino Wool Buff is my choice for winter hikes. At 26.5 inches long, this is longer than the 20.5-inch Original Buff, which means more insulation around your neck or twisted up into a beanie. This Buff is 100% merino, and has kept me warm down to 15 degrees, even when it's pulled up in front of my face and I'm breathing into it. It also wicks sweat while providing insulation so my head and ears don't feel clammy. I use this to cover my face, as well as reduce drafts down my neck and around my ears if I wear it pulled up and tucked under a hat. It's long enough that I've never had it slouch down; after three years of constant use I haven't noticed it stretching out or losing shape. It packs down to fist size, and weighs just 1.7 ounces, so for me, there's really no excuse not to throw it in my pack or stash it in a pocket. $29, Buy Now