Meet the 24-Year-Old Behind Mexico's First Ultralight Brand
Matteo Volpi hopes his packs will bring thru-hiking culture south of the border.
Photo: Courtesy Matteo Volpi
Heading out the door? Read this article on the new Outside+ app available now on iOS devices for members! Download the app.
Matteo Volpi found out about thru-hiking the way many of us did—through popular media. He remembers falling in love with the movie Into the Wild at age 12, particularly a short scene in which Chris McCandless drives to Tahoe and goes off-grid on the Pacific Crest Trail. Volpi turned to Google to find out more. 
"After that, I had my dream to hike the PCT," he says. Seven years later, Volpi set off to realize that dream. 
The world of thru-hiking is largely concentrated in the United States and Europe. But Volpi, who lives in Guadalajara, Mexico, has become a prominent voice in the community since his 2019 PCT trip. Now 24, he's an accomplished hiker, with multiple long-distance trails under his belt, and the founder of a fast-growing cottage company, Volpi Outdoor Gear. 
Like many other hikers, Volpi returned from the PCT with ambitions to turn hiking into a career. Though he's an admitted gearhead, his drive to start his own company had more practical origins. Living in Mexico, he found ultralight gear too expensive and hard to source. It wasn't long before he realized that Guadalajara was home to a number of cut-and-sew apparel companies—factories where everything from T-shirts to luxury handbags are made—and that he could produce his packs locally. 
"It was old school," he says. "I went to the zone of the city where the manufacturers are, and I just started asking people." Eventually, he ran into a factory manager who was willing to work with him to make five sample backpacks to Volpi's specifications.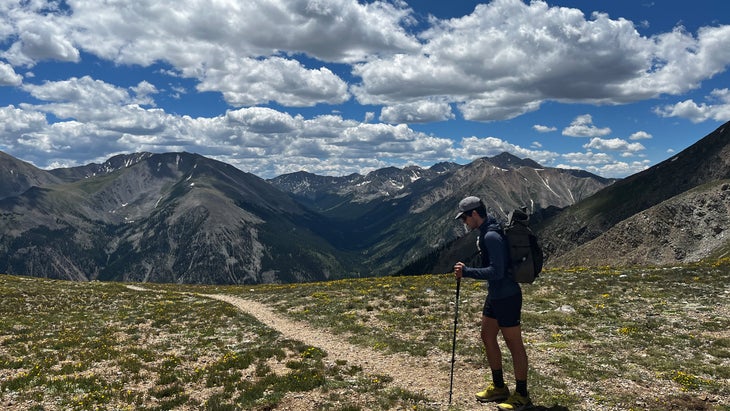 When it came time to order his first run of prototypes, he quickly discovered just how little it cost to make a backpack in Mexico. Volpi says he always pays above and beyond the cut-rate fees: "We try to pay high salaries," he says. "If you do that, people make better things with better quality, therefore you can sell internationally."
In the ultralight hiking market, where consumers are as familiar with high-tech fabrics and pack design as the brands are themselves, it's hard to get away with low-quality work. Volpi doesn't cut costs on materials, using only Ultra 100 and 200—the newest ultra-tough composite fabric that's become standard in premium backpacks—sourced from Connecticut-based Challenge Sailcloth.
Volpi backpacks are, by Western standards, a very good deal. His Ultra packs sell for just north of $200, a price more in line with what you'd pay for nylon packs from other brands. The relatively low prices are one reason why, in the past two years, he says business has "exploded." They're available on Garage Grown Gear, the burgeoning ultralight online retailer, and Volpi says he's shipped packs to more than 30 countries. He has his sights set even higher, and hopes to eventually see his packs available at REI and other major retailers. 
In Mexico, though, demand for Volpi's backpacks is a different story. While his ultralight packs are significantly cheaper for locals to buy than premium American brands—especially when you factor in customs and shipping fees—he's sold very few to fellow Mexicans. Early on, a local store put in a small order, but they never got in touch again. "There are almost no thru-hiking Mexicans," says Volpi.
Even though dayhiking—along with trail running and mountain biking—is a popular pursuit for  Guadalajara's five million-plus residents, backpacking is a different story. The same is true of Mexico more broadly.

The reason? Volpi says there isn't as much federally-managed public land in Mexico compared to places where thru-hiking is commonplace, like the United States. In Mexico, there are some federally-protected areas, but communal lands known as ejidos are far more common, which makes the kind of cooperation it takes to build long trails more difficult.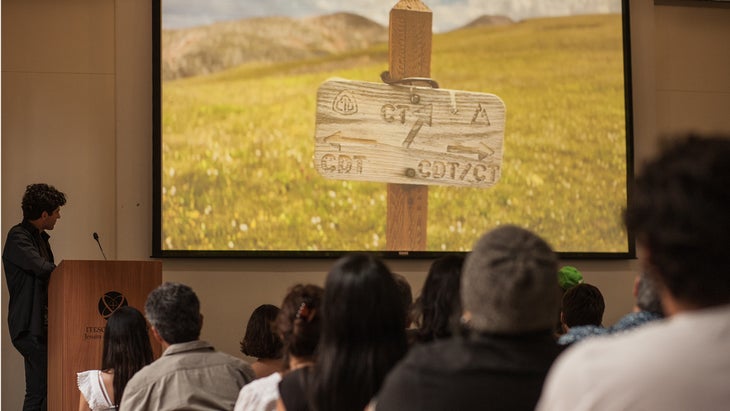 Another obstacle to long-distance hiking in Mexico is violence from drug cartels, which have de facto control over much of the remote wilderness in the country. 
"When you go through these mountains and remote beautiful places that Mexico has, that's where a lot of organized crime camps are, in the middle of nowhere," says Volpi. Any long-distance trail would likely have to exist with the blessing of the cartels, which can feel like a nearly insurmountable issue.
To Volpi, the absence of backpacking culture is a travesty. Growing up in Guadalajara, his father instilled a love for hiking in him on frequent, far-ranging treks around the city. Volpi describes Guadalajara and the surrounding region as a "hiker's paradise." "It's this special spot where you can take a short drive north or south and find prairies, pine forests, tropical forests, and deserts," he says. There are volcanic mountain peaks that reach nearly 14,000 feet in elevation, hot springs, and deep river canyons. 
Despite the hurdles to bringing backpacking and thru-hiking interest to Mexico, Volpi hopes to be part of the cultural shift. He's on track to graduate with a degree in geography in December, and wants to use his expertise to increase access and get trail projects underway. "I have the tools to understand the challenges, and the contacts to try to do something," he says. "Even [if it takes] five, or ten, or twenty years' time for thru-hiking to evolve in Mexico, I will be here," he says.