How to Stay Connected Anywhere
With ZOLEO, you can be off-grid without being out of touch
Whether you're beyond cell range for a day hike or a backcountry expedition, you can still send an urgent SOS or that thoughtful goodnight message to someone special. ZOLEO has led the charge on innovative technologies that put safety and connection in the hands of outdoor enthusiasts (like you). Here's what you need to know.
How does ZOLEO work?
The ZOLEO satellite communicator provides seamless global messaging that follows you in and out of cell coverage—plus added safety features you can count on worldwide, including industry-leading progressive SOS alerting. When you're beyond cell coverage, ZOLEO connects with a free app on your phone so you can send and receive messages anywhere on the planet via the Iridium® satellite network, the only network with no coverage gaps. When you're back within cell coverage, the ZOLEO app seamlessly routes messages over cellular and Wi-Fi via the lowest-cost network available.
Why is ZOLEO essential for off-grid travel?
ZOLEO offers unparalleled peace of mind for those who venture into the backcountry beyond the reach of mobile coverage—and for family and friends waiting for them to return. While smartphone technology is beginning to dabble in satellite communications, there are countless benefits to carrying a separate, purpose-built device. In addition to its rugged design and long-lasting battery, ZOLEO provides two-way satellite messaging, accurate hyperlocal weather forecasts, and free unlimited check-in messages, which include your GPS coordinates. Its industry-leading progressive SOS alerting comes with 24/7 expert monitoring with step-by-step updates. And when it comes to those times when help is needed in an emergency, the ZOLEO SOS stories speak for themselves.
Who should add this system to their adventure kit?
ZOLEO is ideal for anyone who lives on the fringe or travels outside mobile coverage but values having a connection wherever they go. With the low cost of the device and flexible plans that include more messages than alternatives, ZOLEO has been embraced by more and more year-round and seasonal hikers, backpackers, campers, overlanders, cyclists, hunters, anglers, snowmobilers, and skiers around the globe. Whether you depend on ZOLEO for work or play, you can count on the small-yet-mighty device for truly seamless global messaging and SOS alerting whenever you go.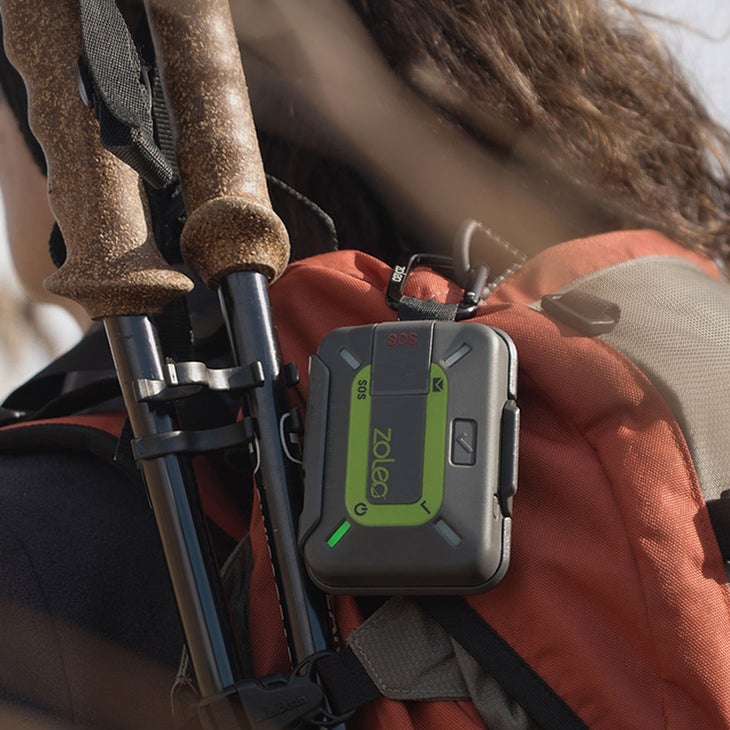 What sets ZOLEO apart from other satellite communicators?
Several factors enable ZOLEO to provide a better messaging and safety experience, and better value for your money, including:
>A dedicated SMS number that doesn't change, making it easy for folks to reach you
>Industry-leading SOS alerting with 24/7 monitoring and progressive updates throughout an emergency
>Long messages of 900+ characters for better communication, versus standard 160-character messages
>IP68 water and dust resistance, shock resistance, and a two-year warranty
>The ability to easily lend your device to others who have downloaded the free ZOLEO app
>A configurable message-check interval that lets you control your messaging experience
>A better value for your dollar, with the lowest-cost device and affordable plans with more messages included
How does ZOLEO enhance the outdoor experience?
ZOLEO provides a reliable means of communication in remote areas, ensuring safety and peace of mind for outdoor enthusiasts. It can be particularly useful for activities such as backcountry hiking, camping, paddling, skiing, and overlanding, when traditional cell phone coverage is limited or unavailable. Here are just a few ways ZOLEO enhances the outdoor experience:
Backcountry Hiking and Skiing
ZOLEO can keep you in touch with members of your group, share location breadcrumbs on a map, coordinate routes, check in with folks back home, and trigger an SOS alert if you become ill or injured. Plus, with ZOLEO you can easily share your device with friends: after downloading the free mobile app, they can use the device to check in with their contacts as well.
Camping in a National Park
With ZOLEO, you can use the messaging feature to stay in touch with family and friends and share updates on your trip when you're camping in an area with limited cell phone coverage. The weather forecast feature keeps you informed about changing weather conditions in the area so you can plan your activities accordingly.
Overlanding and Off-Roading
ZOLEO can also be useful during road trips where you drive in and out of cell phone coverage. It can keep you in contact with other members of your group, let you check in with folks back at home, track your location to coordinate meetups, coordinate help if you have a breakdown, and send emergency alerts if needed.
---
The award-winning ZOLEO satellite communicator is ideal for anyone who ventures beyond mobile coverage. ZOLEO has been embraced by more and more travelers and adventurers around the world, who can depend on it for truly seamless global messaging and SOS alerting wherever they work or play.