How to Build an Ultralight Kit for Under $500
You can have a gram-counter's backpacking setup without dropping a load of cash.
Heading out the door? Read this article on the new Outside+ app available now on iOS devices for members! Download the app.
It's no secret that going ultralight can be expensive. Whether it's a 1000-fill-power down jacket or carbon fiber tent poles, there's no shortage of ways to lighten your wallet as you lighten your pack. That's enough to put many backpackers off the idea altogether. But hidden among all the high-end products are dependable, low-cost options that are decidedly lightweight. Here are our top picks, starting with an ultralight "Big Four"—tent, backpack, sleeping bag, and pad—that clocks in at about six pounds and less than $500.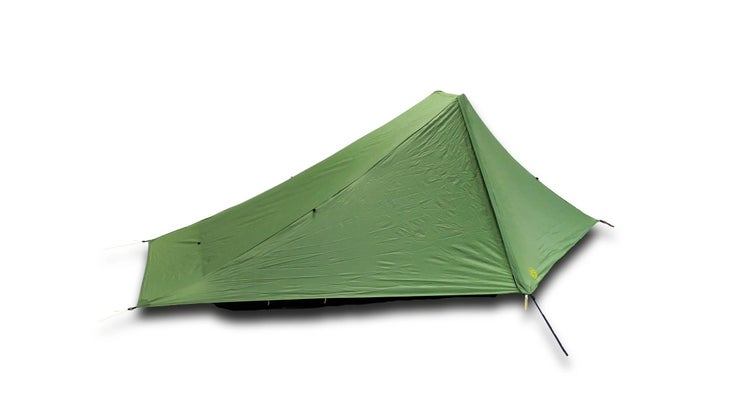 Shelter: Six Moon Designs Skyscape Scout
Price: $160
Weight: 2 lbs. 6 oz.
Buy Now
For the Scout, Six Moon Designs lifted the design of its more expensive models but replaced pricier nylon and Dyneema fly materials with polyurethane-coated polyester, a durable but slightly heavier option. Another perk: Polyester absorbs less water than nylon, so it won't sag as much after it's pitched. The tent has what Six Moon Designs calls "hybrid double-wall" construction, meaning that a mesh inner is sewn into the polyester canopy, creating a double wall over about 80 percent of the interior. In the field, this reduces the chance of condensation dripping into the tent, a common issue with single-wall tents and tarps that can put off would-be ultralighters. The Scout can be set up with tent poles ($30 for two) or trekking poles.
Pack: Granite Gear Virga 2
Price: $112
Weight: 1 lb. 3 oz. (regular size)
Buy Now
The Virga 2 is a no-frills frameless pack that has long been a mainstay on long-distance trails. With no top lid or zippered pockets, packing the 54-liter Virga 2 might feel foreign if you're used to the extra organization, but it makes up for that with two large side pockets and an expansive stretch pocket on the front. All of that minimalism comes with a vastly reduced weight penalty—the standard size comes in at just 19 ounces. A word of caution: If you're upgrading to ultralight gear one piece at a time, the pack should be your last purchase. Trying to carry a load of more than 25 pounds with this frameless pack would overwhelm the pack's lightweight suspension system, leaving most of the load on your shoulders.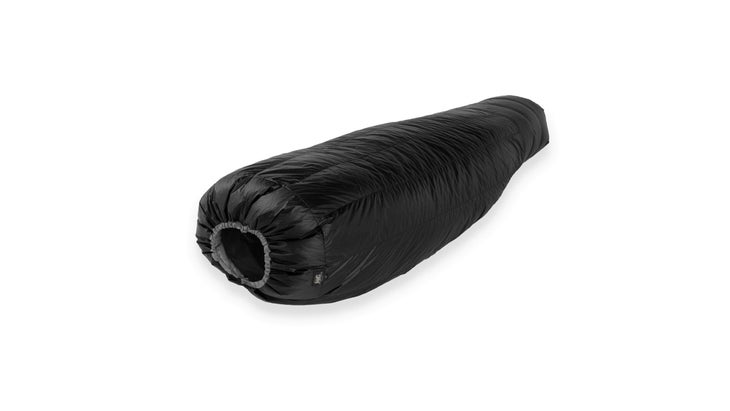 Sleeping Quilt: Hammock Gear Economy Burrow Quilt
Price: $200 (30 degree standard length)
Weight: 1 lb. 6 oz. (30 degree standard length)
Buy Now
Don't let the name throw you—though the company designs its products for hammock campers, these quilts work just as well on the ground. The no-nonsense quilts offered by Hammock Gear sound too good to be true: 800-fill-power hydrophobic down, made in the USA, all for $200 and 22 ounces. For an additional charge, the company will also add custom features like extra width, extra down to increase loft and warmth, and a strapping system to attach the quilt to a sleeping pad. A few caveats: With its hoodless design, you might want to add a beanie to your sleep system to keep your head warm. And as a small company, Hammock Gear can have a lead time of 5-6 weeks, so order well in advance.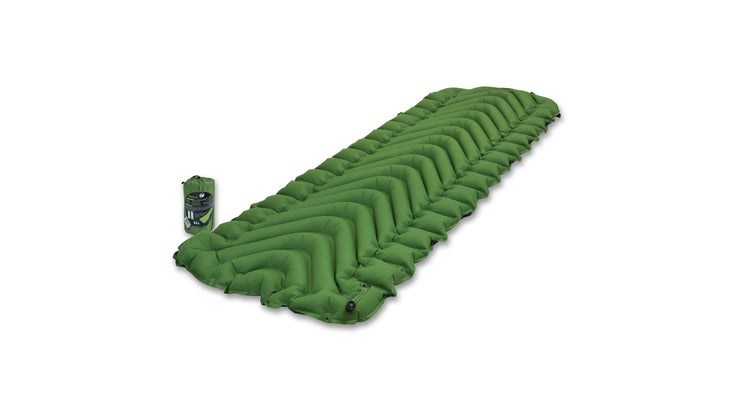 Sleeping Pad: Klymit Static V
Price: $60
Weight: 1 lb. 3 oz.
Buy Now
It's easy enough to find an affordable closed-cell foam pad, but let's face it: inflatable pads are far more comfortable. In most cases, they're also more expensive. Klymit's most cheapest model, the Static V, is one exception. Once inflated, it provides a 2.5-inch cushion from the ground, on par with most premium pads. With a 75-denier coated polyester construction, it's also more durable than most ultralight pads, though it does weigh a few more ounces. That said, with an R-value of 1.3, the Static V is not the warmest pad and wouldn't be appropriate on shoulder-season or winter trips. Packing tip: Leave the pad partially inflated and use it as a suspension system in your new frameless pack by rolling it into a cylinder and packing the rest of your gear inside this makeshift frame. 
Complete Your Kit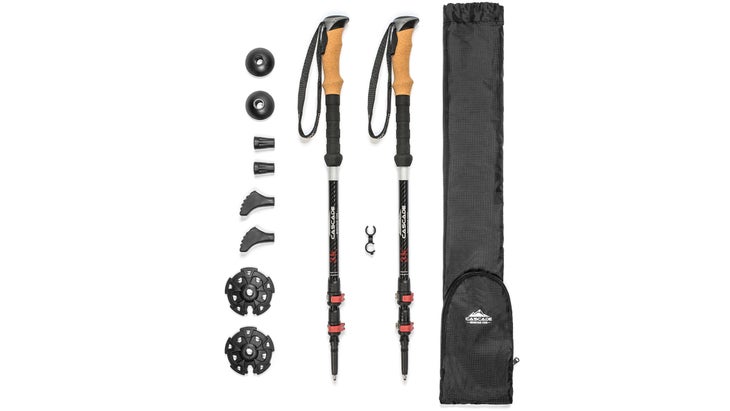 Trekking Poles: Cascade Mountain Tech Carbon Fiber Trekking Poles
Price: $65
Weight: 1 lb. / pair
Buy Now
Trekking poles might seem like a luxury, but they can save your knees on long trips and provide structure for many ultralight shelters. These poles from Cascade Mountain Tech come in at a scant 8 oz each while still offering the durability to stand up to rock strikes and miles of use. Most of the features you'd find on more expensive options are here as well: quick-lock mechanisms, four tips for different trail conditions, and a three-piece design that allows them to pack down to 26 inches long.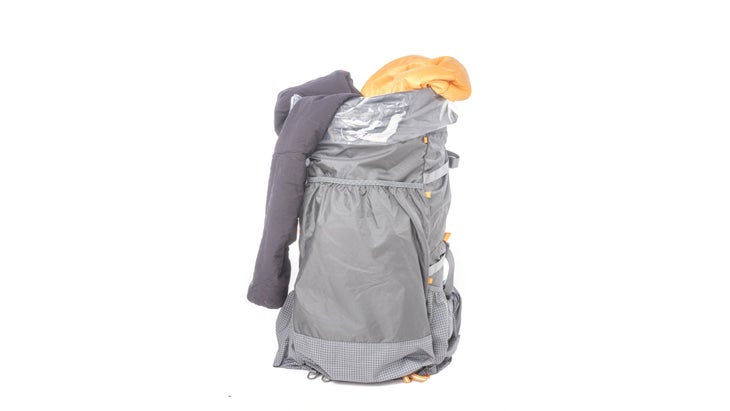 Pack Organization: Gossamer Gear Pack Liners
Price: $5 for a 2-pack
Weight: 1.2 oz.
Buy Now
Rather than stocking up on expensive dry bags or compression sacks, use one of these polyethylene pack liners to protect the bulk of your gear (a separate dry bag or bear canister for food is still a good idea). They're cheaper and lighter, and using a single pack liner also helps you use every inch of a frameless pack, since lumpy compression sacks can leave dead space.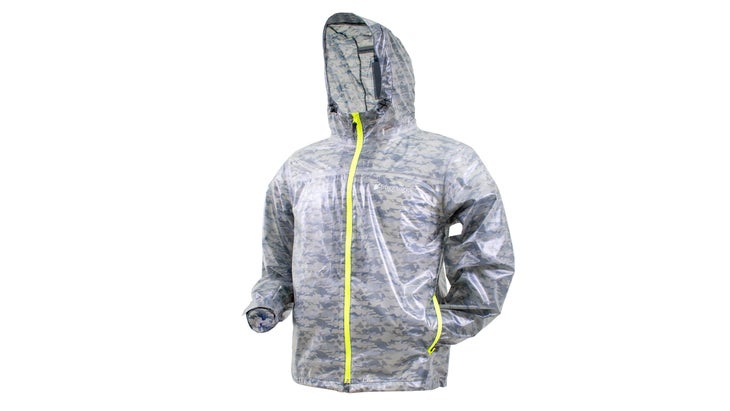 Rain Protection: Frogg Toggs Xtreme Lite Rain Jacket
Price: $60
Weight: 7.5 oz. (m's medium)
Buy Now 
Frogg Toggs' Ultra-Lite jacket, popular with gram counters and thru-hikers, might be a bit lighter, but it's also less durable and offers a poor fit. For a few extra dollars, upgrade to this two-ply polyester jacket, with two zippered side pockets, drawcords to cinch the hood and waist, and less risk of tearing on a wayward branch. It's also compressible enough to pack down into its own side pocket.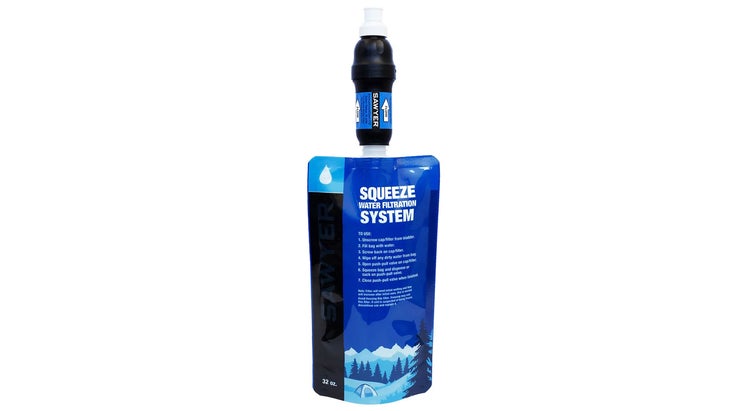 Water Filter: Sawyer Squeeze Water Filter
Price: $30
Weight: 3 oz.
Buy Now
The tried-and-true Sawyer Squeeze is hard to beat when it comes to water filtration. It's simple to use, relatively cheap, and will easily stand up to the needs of the average user. Plus, it screws onto most narrow-mouth plastic bottles, so there's no need to buy expensive compatible vessels.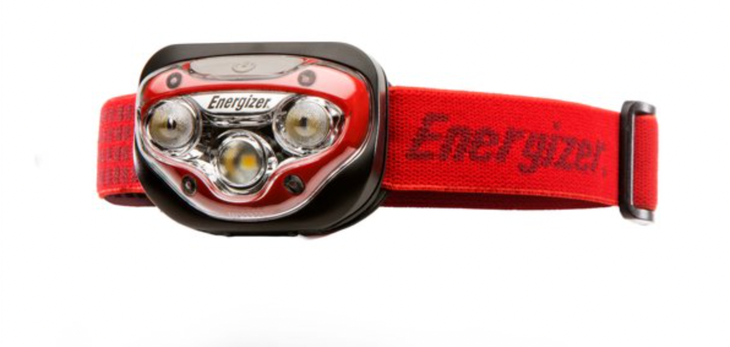 Flashlight: Energizer Vision HD Headlamp
Price: $13
Weight: 3.5 oz.
Buy Now
It might seem weird to buy a headlamp from a battery manufacturer, but Energizer's line of headlamps surprised us. Its 300-lumen Vision model is bright enough for most camp duties, has dimming and red light options, and stays secure with a comfortable, stretchy headband. On the low setting, its LEDs have a 35-hour runtime. One ding: it's not USB-rechargeable, a feature that's increasingly common among backpacking headlamps, so you'll need to carry batteries.