Hiking the Whites In Every Season? This is the Gear You Need.
Photo: Courtesy Rebecca Sperry
Heading out the door? Read this article on the new Outside+ app available now on iOS devices for members! Download the app.
After a brutal, two year struggle with breast cancer, avid New Hampshire-based hiker Rebecca Sperry embarked on the White Mountain Trails Objective. Her plan? To hike and record every single step of every single trail in her native White Mountains, the fabled East Coast range that runs from New Hampshire into Maine. "The White Mountain Trace was a gift and a goal to myself for getting through treatment, doing the thing I like most—hiking," explains Sperry. 
For Sperry, diving into the objective offered a different take on the list culture of northeastern hikers. The daunting, 1,470 mile-plus challenge, originally designed as a way to encourage hikers to visit lesser-known trails, has only 84 known finishers. A major motivation for Sperry's ambitious goal is to collect data on every single trail in the Whites, down to the shortest spur. One of the impediments to people exploring the lesser-known parts of the East Coast's most majestic ranges is the dearth of route data, even in established guidebooks. Sperry tracks every hike using a Garmin Fenix 7 and adds it to her spreadsheet. 
After Covid foiled a first attempt at the project in 2020, Sperry took up the mantle again last June, with hopes to finish by mid-September—14 months to tackle 193 hikes, while also maintaining her substitute teaching job in Manchester, New Hampshire. The series of day hikes and backpacking trips often requires driving to multiple trailheads on the same day. (She's already put over 30,000 miles on her odometer criss-crossing New Hampshire.) It's a project with continually changing gear to match the conditions and the terrain. "I don't do 30-mile days or 10k vert days, so I planned it with that in mind. How would a normal person do these hikes? That's the data that I want to put out there."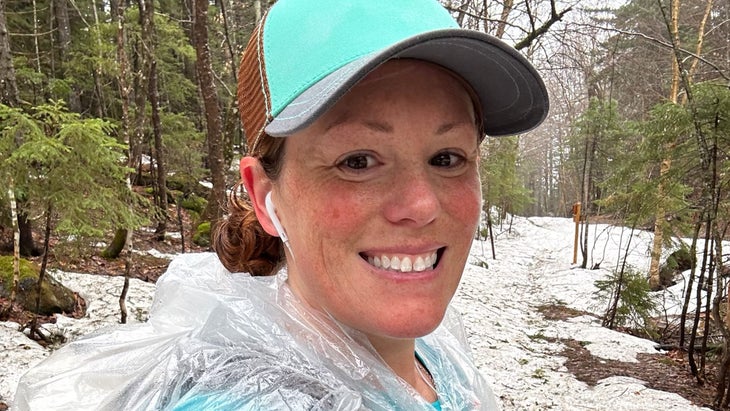 The Route
The total project will cover 1,470 miles of White Mountain trails, but requires over 2,000 miles of hiking because of dead-ends, out-and-backs, spurs, and summits. In May, Sperry had completed 836 miles of the Objective already, but it took more than 1,318 miles of actual hiking and 377,758 miles of vertical gain to get to 56.8% completion. That trail data will be available to the public on her website and FastestKnownTime.com after Sperry finishes her project, enabling future hikers to explore New England's wilderness. She currently posts the routes and her progress on Instagram. 
Many of the lesser-used trails in the objective are rocky, muddy, overgrown, and rugged. The trails of the White Mountains are diverse but rarely flat: one trail near Pinkham Notch gains 2,086 feet in 1.3 miles. PUDs are everywhere, especially when covering every step of every trail.
Sperry's plan required her to hike 50 days over New Hampshire's winter season in temperatures that dropped far below zero, especially with the region's notorious windchill. Many trails were simply too dangerous to attempt in the winter months, forcing her to add miles to the warm-weather season. In the summer months, Sperry plans to average five days of hiking per week, with many day hiking trips that involve multiple trails and trailheads in the same day. She leaves the house at 6 a.m. and doesn't get back until late in the evening.
What Worked
There are few regions in the country with more difficult winter hiking conditions. In the winter, she wears the Salomon Speedcross trail runners, which have bigger lugs to provide traction in deep snow. (She opts for the lighter Salomon Sense Ride trail runners for snowless trails.) Tubbs Flex Vrt Snowshoes were the key to hiking through snowier conditions. They added a decent amount of weight at nearly five pounds, but worked well in the deep snow and semi-technical terrain. Boa bindings made them easy to take on and off. On extremely cold days, Sperry added in a pair of cheap Lavolly ski goggles to shield her eyes from wind and cold. 
Sperry has done plenty of improvising with her gear, too: Every couple of weeks, she sprayed Pam cooking oil on her Black Diamond Access Spike traction devices to keep snow from clumping and dig into the ice more easily. On her first hike in winter conditions, her feet got wet, forcing her to pull Ziploc bags around her Darn Tough socks, wrap herself in an emergency blanket, and stuff hand warmers in her gloves. 
Sperry loves the Garmin Fenix 7 for its easy route-finding and precision (although she wishes the battery lasted longer.) Her Dyneema Hyperlite 2400 Southwest pack is dependable for both day hikes and overnights, and versatile for summer and winter conditions. The fast flow of the squeeze-style Katadyn BeFree has been a major help on her fast-paced daily hikes. Sperry's most essential summer items? Eye drops and Q-Tips for cleaning out the hordes of black flies that attack her face.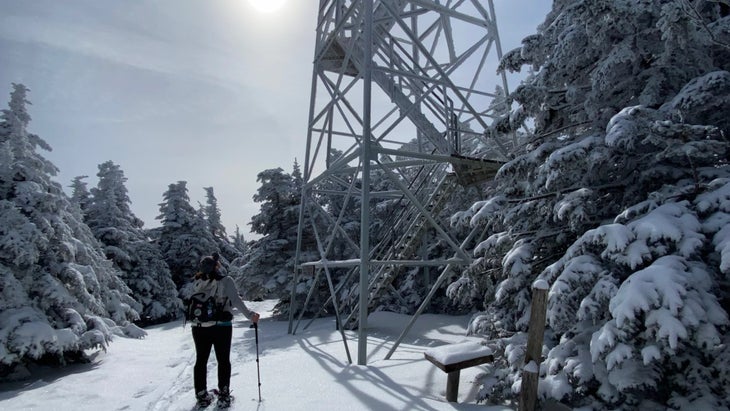 What Didn't
Sperry's biggest gear fail came from her Kahtoola Microspikes. The Kahtoolas didn't bite into the ice well enough to offer stability or stay put on her feet. She switched to Black Diamond's Access Spikes, which have sharper teeth and a toe bar to help them stay in place. 
Another major fail? A lack of information in the widely-used and well-respected White Mountain Guidebook. This exact book outlines the routes and trails that Sperry must complete for her challenge, but didn't have adequate information to help her find them. In fact, a few of the shorter White Mountain Trails aren't mentioned at all.
"It doesn't matter how you do it, but you have to hit every section, even if it is 100 feet. There was this 0.1-mile unmarked spur path on a trail, but I couldn't find it. So, I had to go back to the same hike with a better map just to complete that one short section while re-hiking the original trail."
Here is the gear that Rebecca Sperry is using on her White Mountain Trails Objective: