Hiking in the Rain? This Gear will Help Salvage Your Trip.
Seven products that will help keep you and your gear dry
Heading out the door? Read this article on the new Outside+ app available now on iOS devices for members! Download the app.
At BACKPACKER, we take our responsibility to provide readers with fair and accurate gear advice seriously. When you make a purchase through our site, we may earn a commission. 
Contrary to popular belief, the key to hiking in the rain isn't staying completely dry. On foul-weather backpacking trips I accept that I'm going to get wet as I walk, but I try hard to ensure that my extra clothes and gear don't suffer the same fate. The products below help me deal with—and even enjoy—soggy trips with a minimum of discomfort. 
Columbia OutDry Ex NanoLite Shell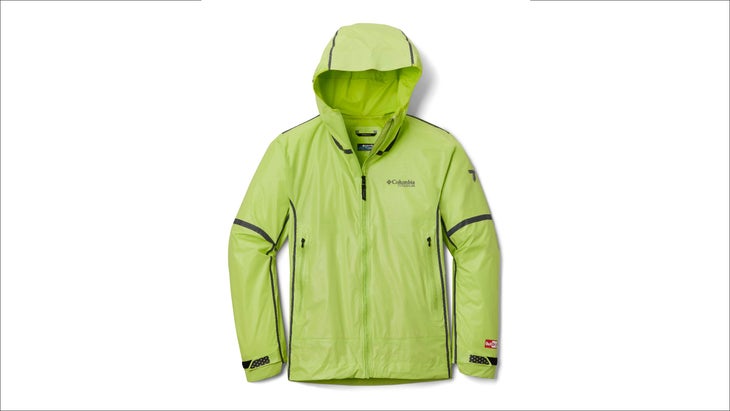 A backpacking rainshell should be breathable, lightweight, and have a cut that accommodates layering without feeling too binding. I typically opt for a waterproof/breathable membrane as opposed to a PU laminate (membranes are more breathable). This one puts the membrane on the outside to disperse even more sweat vapor and heat. The design is ideal for when I'm wearing this shell in the rain while moving through challenging terrain, and a drop tail makes sure water doesn't run down my pants. (Find out more about what makes a jacket waterproof and breathable, and read our full review of the NanoLite.) $250; Buy Now
Enlightened Equipment Rain Wrap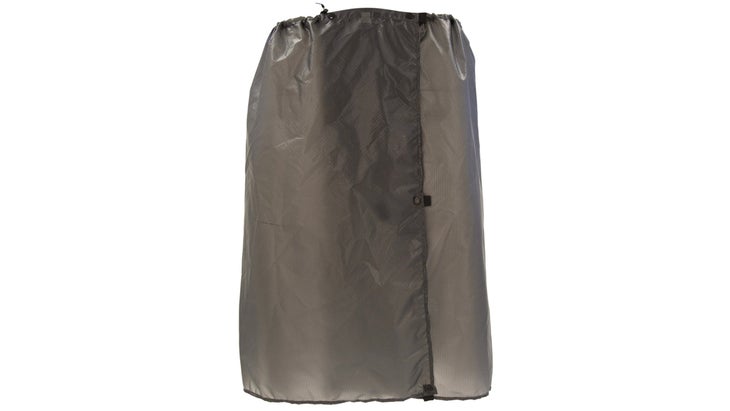 Nothing's worse than sticky, sweaty rain pants that bind up your legs and break your natural stride. A rain skirt solves that problem by leaving your legs free, but still reasonably protected from rain and wet undergrowth. This model from Enlightened Equipment weighs less than 2 ounces, and you can pull it on in a jiff when the weather goes south. This is definitely an ultralight piece of gear, so I wouldn't go whacking through thorny underbrush in it, but for wider trails with rain coming at you from all angles, I appreciate the protection of the skirt. $40; Buy Now
Osprey Ultralight Backpack Liner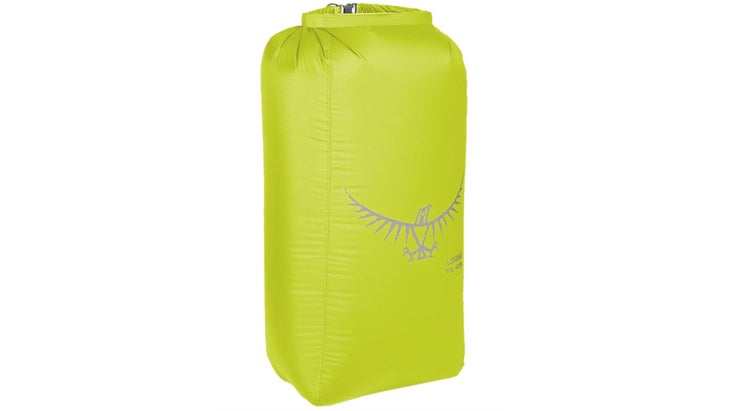 If you don't mind the outside of your pack getting wet, a liner is the way to go. And even if you do, let me state my case: After using a pack cover for 500 miles of the Appalachian Trail, I switched to a pack liner and never looked back. The cover collected water at the bottom, but this liner kept everything important protected, plus I was able to separate my wet tent from my dry items by stashing the tent on top of the liner. This model from Osprey has a roll-top closure and coated seams, and the structured shape doesn't waste space. It makes packing large items easier while leaving room to tuck small items into corners. This liner comes in small (fits up to a 50-liter pack) and large (fits up to an 85-liter pack). $35-45; Buy Now
Sea to Summit Lightweight Dry Sacks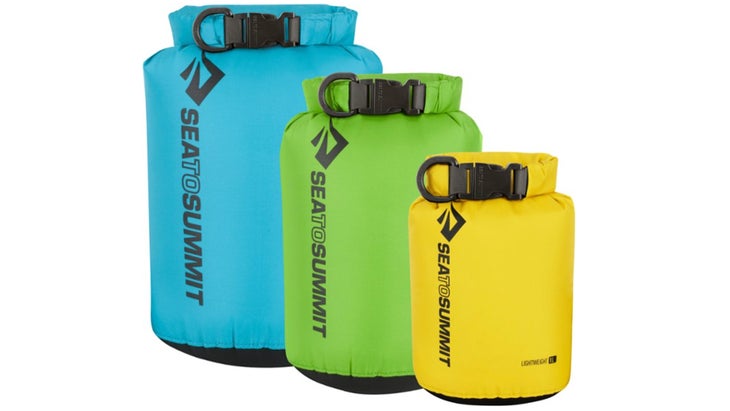 The more protected the gear inside your pack is, the better. I've used this set of three stuff sacks for years: The smallest one holds my electronics and personal items, the largest one ensures my camp clothes stay dry, and the middle one swallows everything in-between. Their roll-top closures are compressible, and the waterproof face fabric and taped seams add another layer of security if you find yourself digging around in your pack during a downpour. Plus, the varying sizes and bright colors make organizing (and finding) the bags easy in a cavernous pack. Note: You will have to make sure the air is out of the bags before rolling the tops shut, as they're hard to purge once they're sealed. $43; Buy Now
PackTowl Personal Towel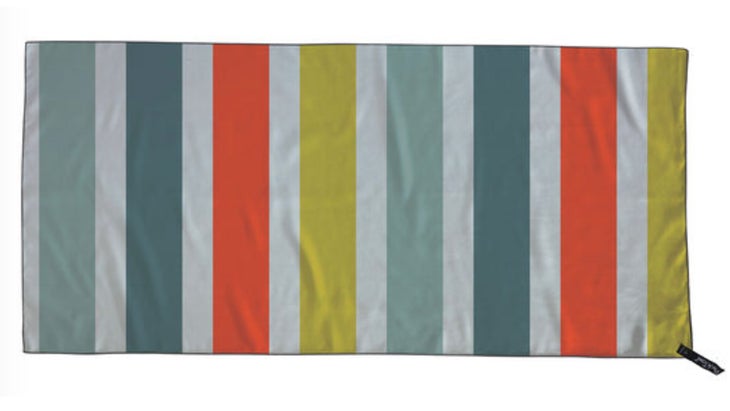 This isn't just any towel. It's compact, packing down to the size of a deck of cards, absorbs four times its weight in water, and can be wrung out immediately to an almost-dry state after use. I use the PackTowl to wipe down the inside of my tent before spreading out my sleeping bag, and to soak up some of the extra condensation and rainwater on my gear. This towel comes in a few sizes, but the "hand towel" version makes the most sense for an extra pack item. $22; Buy Now
Hyperlite Mountain Gear 3400 Southwest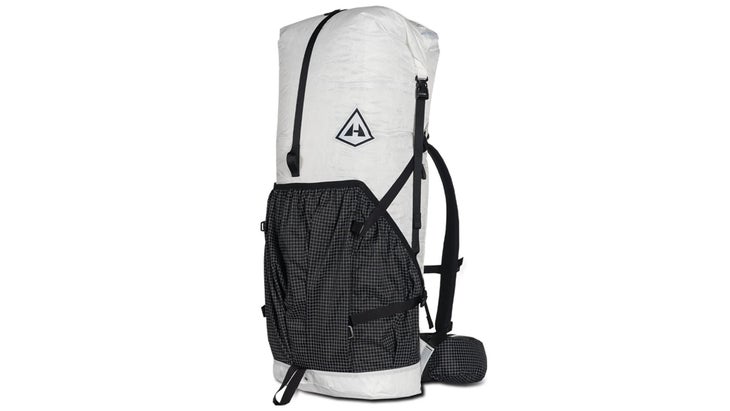 Carrying a pack made from waterproof material—like the Southwest's DCF—is an aggressive and expensive rain-beating strategy, but this pack has performed flawlessly during wet hikes, like a soggy week on the Oregon Coast Trail last November. I had plenty of backup with my dry bags and pack liner, but the roll-top closure and DCF worked wonders at keeping the interior entirely dry.  The added layer of protection from a waterproof pack also brings much-needed peace of mind over a long trek, and means the pack itself won't saturate if you opt for a pack liner instead of a pack cover. The Southwest sits tight against my back and has wide, comfortable shoulder straps and a similar hipbelt for weight distribution and load support. The hip belt pockets are wide with water-resistant zippers. The DCF is incredibly durable, too: I've put about 1,000 miles on mine and I've hardly noticed any wear on the fabric. $355; Buy Now
Smartwool Merino 150 Base Layer Long-Sleeve Shirt and Bottom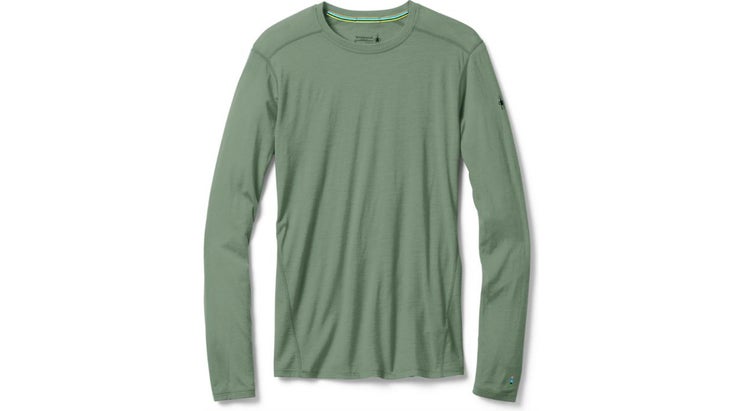 Being wet during the day means I want something dry to change into at camp. Ultralighters might shake their head at carrying camp clothes, but pulling these lightweight, warm layers from a dry bag can be a huge morale boost at the end of a rainy hike. There are plenty of good baselayers out there, but Smartwool has long been one of my go-to's for a reliable fit and durable knit. I don't wear these merino layers while I hike, but they do have flatlock seams to prevent chafing and stay stink-free, even if worn every night for weeks on end. $85 each; Buy Now