Here's What it Takes to Test Cold-Weather Gear
Gear testing isn't all beautiful vistas and sunny days. Sometimes it means sleeping outside when it's below zero.
Heading out the door? Read this article on the new Outside+ app available now on iOS devices for members! Download the app.
Ask any gear tester what the most difficult part of the job is, and he or she will tell you: true cold-weather sleep testing. I'm not just talking "go walk around in the snow" here, but "let's find the coldest, snowiest conditions possible and see if we can stay warm and dry."
Recently, I had a chance to do just that in a truly wild place. Along with two friends, I headed up to the northeast corner of Yellowstone National Park for a two-night trip. Conditions called for lows around -10°F at night, making it a perfect opportunity to test sleeping bags and pads from Marmot and Zenbivy and a four-season tent from NEMO. I also had baselayers from Cotopaxi that I'd ski toured in but hadn't exposed to frigid temps yet. 
I had snagged a permit for a campsite along Cache Creek, which feeds into Yellowstone's famed Lamar River. In summer, this corner of the park is teeming with people; in mid-February, however, bison, elk, and bighorn sheep outnumber humans. Once we left the trailhead, we didn't see a trace of other people until we returned to the car.
Although camp was only four miles away, getting to it was slow going. I pulled a 30-pound sled—loaded with our tents, sleeping bags, food, and fuel—while my companions broke trail ahead. For much of the route we traversed snow that had a breakable crust over soft powder underneath, which made pulling the sled even harder. Pro: I was able to test how well the Cotopaxi baselayers wicked sweat while I strained against the weight. Con: By the time we reached camp almost four hours later, I was completely bushed.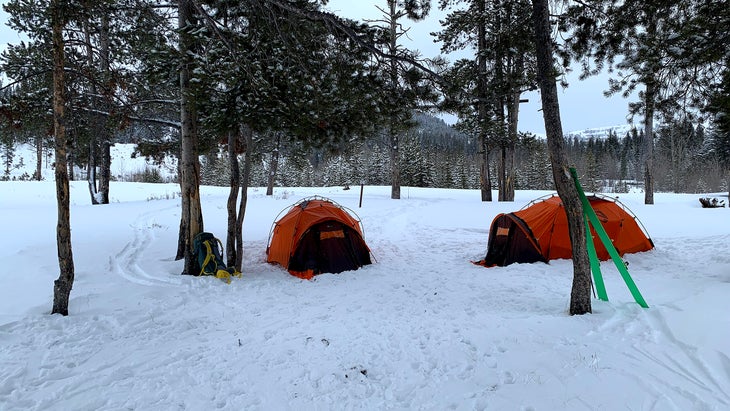 Luckily, there were plenty of positives on the way in that helped alleviate the fatigue. We passed small gatherings of bison who paid us no mind as they swung their enormous heads through the snow, digging for grass. The slopes of Mt. Norris and Specimen Ridge rose above us, offering views of the tantalizing lines we'd come to ski. And our campsite turned out to be a quiet spot beneath trees that had shielded the ground from the worst of the season's snow; as we stamped out tent platforms we were grateful to find frozen dirt not very far beneath our feet.
After a quick ski tour on a hill above camp—low-angle wiggle turns always seem more fun in a remote location, and with bison close to the skin track—we boiled water for the next day and settled in for the night. I always experience a bit of apprehension about whether my gear will hold up in situations that could result in hypothermia if things go awry, but the sled allowed us to bring backups: a closed-cell foam pad and a wool sleeping bag liner gave me (some) peace of mind.
When dawn came, bringing balmy 0°F temperatures with it, we emerged from our tents well-rested. The bags and pads had done their job, and nobody shivered through the night. Although we didn't experience high winds or snow the tent proved easy to set up and harbored enough space for gear-heavy winter camping (it did have plenty of frozen condensation on the inside, though). Confident our gear had passed the test, we shifted our focus back to the powder—and the bison.