Get Creative With Our Favorite Ultralight Hacks and Mods
From growing your own food on the trail (really) to cutting down your headlamp's weight, these are some of our favorite ultralight hacks.
Photo: Devi Puspita Amartha Yahya
Heading out the door? Read this article on the new Outside+ app available now on iOS devices for members! Download the app.
When you're an ultralighter, buying the lightest gear on the market doesn't always cut it. Sometimes, you need to go further, modifying your equipment, figuring out workarounds, or even growing your own food (just keep reading). If you're ready to join the toothbrush choppers, we canvassed the UL community about some of their most memorable mods and hacks; here are some of our favorites. 
Personal growth
Ultrahiker Justin "Trauma" Lichter, who once hiked more than 10,000 miles in a calendar year and completed the only known winter thru-hike of the PCT, chooses to go green for one of his most interesting hacks. On long treks, he'd grow sprouts in a small plastic jar or a webbed sack. Lichter says the system is great for any stretch of four or more days on the trail between resupplies. "It's really nice to have something fresh to add to my cheese sandwiches. You just need to carry some sprouting seeds," he says. "I grew a bunch of different types.They all work. I'd either put them in an outside pocket or inside the pack and take them out to dry out during breaks and overnight."
Sounds weird, but it may be more common than you think. A quick Google search of "hiking sprouts" shows other hikers have come up with methods of sprouting seeds on the trail using a hemp bag attached on the front of their pack. It gives them enough sunlight to get going, and sprouts are ready to eat in as little as three days, and provide everything from vitamin A to essential minerals. Outdoor Herbivore, a company that makes vegetarian backpacking food, says its most popular mix for the trail is a mix of red clover, radish, alfalfa and broccoli seeds. Other companies, like Sproutman, even make sprouting bags and seed mixes ideal for hikers.
Bugging out
Ultralight tarps are tried-and-true for cutting down on pack weight, but they're notoriously poor at keeping out biting insects. Hikers like Larry Soucie, though, have taken the quest for a bug-free night's sleep into their own hands. Soucie hiked the Appalachian Trail in 1982 and began using a tarp on that trip. In 1983 he modified the tarp by adding bug netting on the ends, and used that setup on the Long Trail in Vermont, hundreds of miles on the Pacific Crest Trail, and other trips. He's gone even lighter since then. 
"My current setup is a Zpacks 7×9 DCF tarp, which with the added netting, tie-out lines, stakes, and groundsheet comes in at just under a pound. I've used this on three overnight trips so far and I am really liking it," he says. That's even lighter—and way cheaper—than a fully-enclosed model like Tarptent's $599 Notch Li.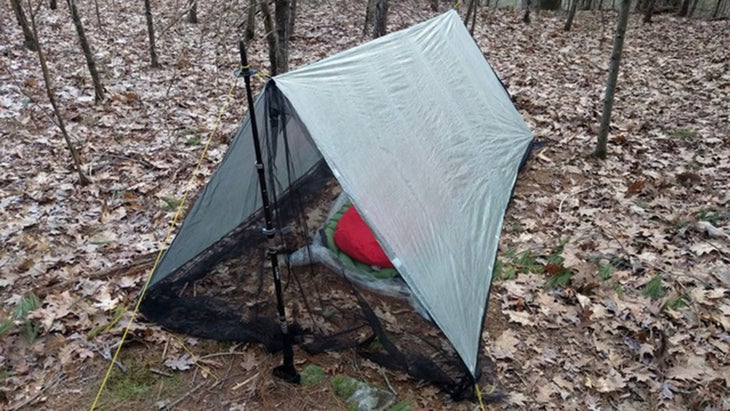 "I modify my tarps with mosquito netting sewn around the edges," says Soucie. The netting, which is available at fabric stores, hangs to the ground on the ends and edges of the tarp. He says it keeps out bugs like mosquitoes, but he still has to deal with some crawling bugs, which he doesn't mind. 
Soucie had some trial and error in trying to attach netted curtains. "I tried attaching [the netting] with velcro but it didn't work, so my dear mother sewed it for me," he says. "She is an expert at sewing and has done two other tarps for me in the past," 
An enlightening mod
Sometimes a hack is more about the pride of saving a few grams and the fun of DIYing rather than a useful means of paring your pack down. Take this popular headlamp mod for the 360-lumen Nitecore NU25, which already weighs a feathery 58 grams. 
"You buy the headlamp, rip off the band, and replace it with some very lightweight bungee cord. All just to save 1 ounce," says Nate Thompson, a part-time instructor of adventure education and facilitation at Kennesaw State University. TheMTaylor's Youtube video "How to make a Shock Cord headband for the Nitecore NU25" claims the hack reduces the headlamp's weight to 38 grams—a smidge under the weight of a Snickers bar. That's almost as light as some other ultralight headlamps out there, like the 35-gram Petzl Bindi. However, the NU25 boasts 160 more lumens and better battery performance. (Nitecore claims the NU25 lasts for 5 hours at 190 lumens.)
Snap to it
Snaps are an easy modification that can add bonus functionality to ultralight gear, says outdoor adventure photographer Jordan Chapell. "I add plastic snaps to so many things—almost no weight penalty, easy, minimum destruction, and great functionality," he says. "[I] make a small hole, the snap sandwiches the material on each side, and a special tool compresses the plastic so that it will stay on."
Chapell says he's added extra snaps to down quilts to make them close more like a sleeping bag. He's also put them on sleeping pads to make a double pad when camping with his wife or kids, and uses snaps to attach removable hipbelt pockets to packs without them. Chapell even put side snaps on a poncho. 
Swedish innovation
This one's for the craftiest ultralighters among us: Those enormous IKEA bags aren't just for shopping or storing climbing ropes.
"I saw a guy who built his entire backpack out of blue IKEA bags," reports David Weinberg, who glimpsed the sight on a section hike of the Appalachian Trail.
Weinberg didn't make the mods himself, but he points us to an ultralight named Mitch, who designed an IKEA bag pack and claims his trail weight was 8 pounds with a two-person tent.