The Best Hiking Shoes of 2018
Somewhere between trail running shoes and mid-cut boots, there are light hikers. Find your happy medium with our picks.
Heading out the door? Read this article on the new Outside+ app available now on iOS devices for members! Download the app.
You've got trail running shoes for your light-and-fast days, and boots for slogging through wet, uneven terrain. These are the best hiking shoes for the in-between days. Balanced between support and weight, and reinforced with toe bumpers and burlier materials, these models will take you through everything from after-work dayhikes to weekend treks.
Arc'teryx Konseal FL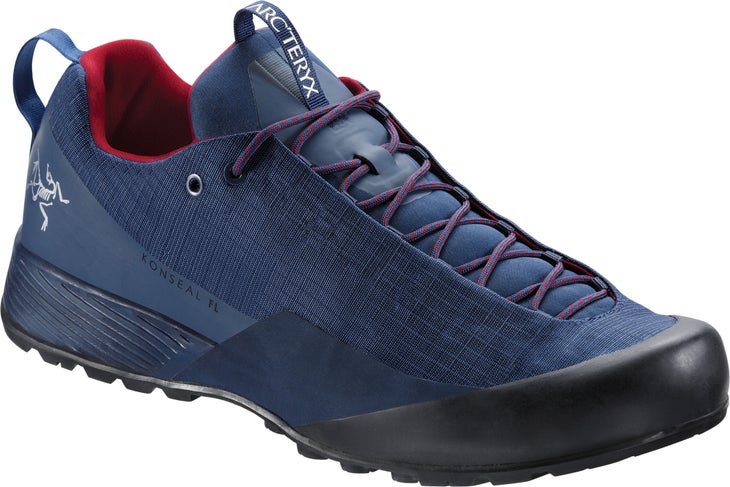 Our take Most shoes that aim to split the difference between climbing and hiking are great for scrambling, but less so for hammering out big miles. Enter the Konseal. A 4mm OrthoLite insole sits atop a bouncy EVA midsole, creating a plush ride more comfortable than any other approach shoe we tested this season. This combo protected one tester from rocks and roots during 100 trail miles outside Chamonix, France. (Tradeoff: The extra cushioning decreases ground feel.) A TPU frame also provides more stability than a typical low-cut hiker, allowing one tester to shoulder 60 pounds of climbing gear to and from the crag.
The details The ultrasticky Vibram Megagrip outsole held tight to slick, polished limestone in France's Verdon Gorge, but the shallow, 3mm circular lugs weren't much help in slush on Alaska's Hatcher Pass. The relatively stiff sole and pointy toe help the Konseal edge, and our testers had no problems torquing it into cracks and small pockets. Note: The Konseals are available in a Gore-Tex version for $200.
Trail cred "The insoles are so comfy that I pulled them out to use in my mountain boots," said one Alaska-based tester after a summer with the Konseals.
$165; 1 lb. 5 oz.; m's 7-13, w's 5-10
La Sportiva Spire GTX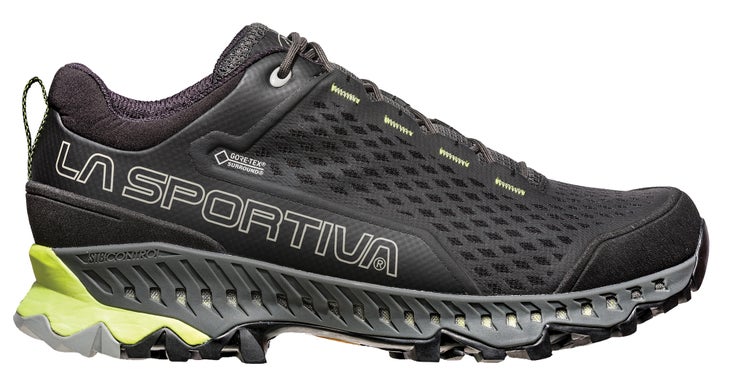 Our take The shoe buyer's dilemma: Do you want waterproofing or breathability? One usually comes at the expense of the other, but the Spire GTX does a pretty good job of eliminating the tradeoff. Our feet never got too sweaty in the light-duty kicks—even while tracking through Joshua Tree National Park on a 90°F day—thanks to the year's best use of Gore-Tex Surround. With Surround, each step compresses a liner in the midsole that squeezes sweat vapor out through the sides and under the foot; paired with the Spire GTX's meshy upper, it's the most breathable waterproof shoe in this lineup.
The details A PU web overlaid on the upper protects the lightweight shoe from errant rocks and sticks without compromising breathability. One tester, who carried a 40-pound load for 20 miles in Yosemite National Park, complimented the Vibram XS Trek outsole. Its chunky, rectangular lugs bit into loose gravel without issue.
Trail cred "I scree-skied through some coarse rock in J-Tree without any damage to the sole," said our tester after 100 miles in the Spires.
$190; 1 lb. 15 oz.; m's 6-13.5, w's 5-12
SCARPA Hydrogen GTX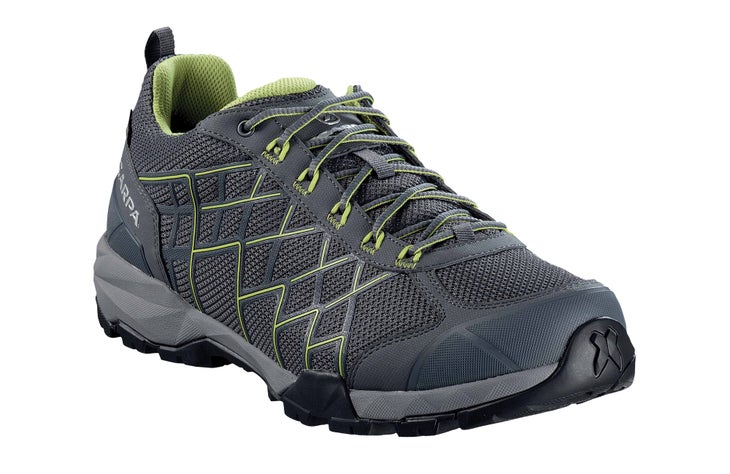 Our take For fast-and-light missions on rough terrain, consider the Hydrogens your chariot. They're stiffer than trail runners—not buckling or folding under us on a fastpacking trip on the rocky trails of Idaho's Sawtooth Range—but at 13 ounces per foot, they're just as light. SCARPA slices weight by using a mostly mesh upper (though leather and TPU overlays still preserve durability) and an hourglass-shaped outsole (saving ounces in the arch area). The formula kept us stable and comfortable under a 30-pound pack.
The details The Vibram XS Trek outsole and its 5mm, multidirectional lugs gripped muddy paths near Oregon's Owyhee River and dry rock in Idaho. Thanks to Gore-Tex Surround technology (see La Sportiva, above), the Hydrogens kept us dry when we slogged through high-alpine slush, but still breathed well on warm days. Fit note: One wide-footed tester felt pinched in the heel.
Trail cred "These shoes gave me confidence on uneven, rocky terrain, but were light enough that I didn't want to rip them off my feet at the end of the day," says our tester, who logged 200 miles in the Hydrogens.
$180; 1 lb. 10 oz.; m's 7.5-15, w's 5-10
Columbia Conspiracy III Titanium OutDry Extreme ECO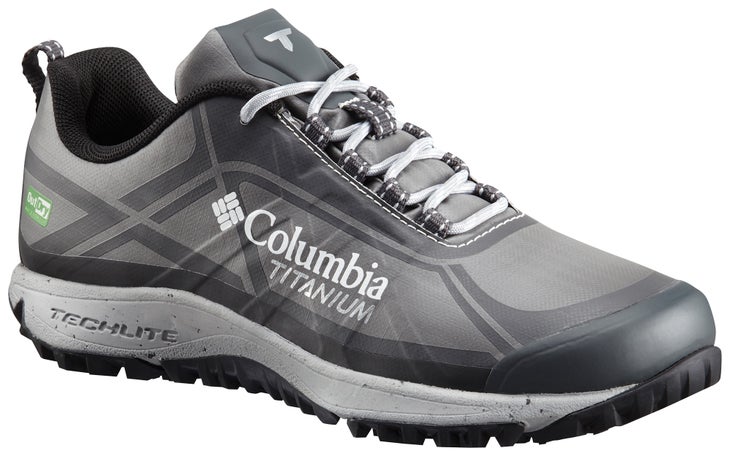 Our take Apparel has been getting greener for some time, but, frankly, it's hard to make an eco-friendly shoe. So consider us pleasantly surprised by the new Conspiracy III. The low-top is made up of 40 percent recycled materials, including the polyester upper and regrind EVA in the midsole, and still stands up to the trail. A TPU shank keeps the Conspiracy III stable on uneven terrain, while OutDry Extreme ECO technology (which puts a PU membrane on the outside of the shoe) seals out water. Our feet stayed dry, even when splashing through the shallows on a rafting trip down the Upper Colorado River near Kremmling, Colorado.
The details The Conspiracy III's upper is naturally either charcoal-colored (pictured) or bright-white, not dyed. By skipping the traditional dyeing process, Columbia saves an additional 15 liters of water per pair. Fit note: The OutDry Extreme doesn't have much give in the upper, so testers with wider-volume feet felt pinched at the forefoot.
Trail cred "I use these shoes for hiking and mountain biking now," one Colorado-based tester says. "The Omni-Grip outsole is sticky enough to hold onto flat pedals, and the lug pattern—which isn't aggressive—gives me plenty of contact area."
$150; 1 lb. 8 oz.; m's 7-15, w's 5-12
Mammut Alnasca Knit Low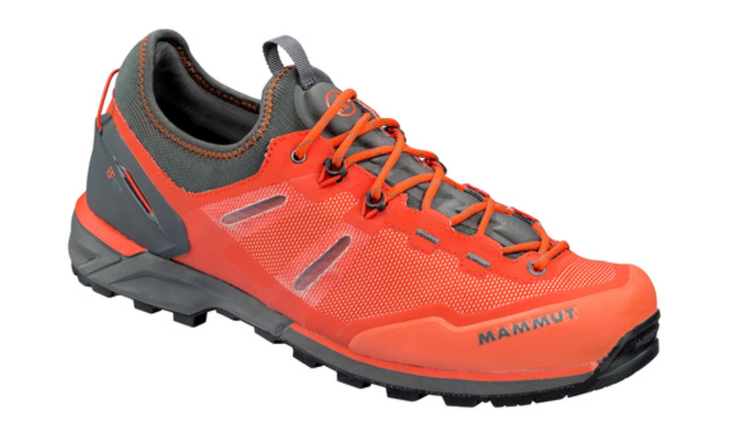 Comfort Testers lauded the elastic-knitted upper for its sock-like feel. But the Alnasca trades cushioning for support, and one tester reported sore feet after a 7-mile screefest in Rocky Mountain National Park.
Support & stability A board-lasted construction makes this shoe extra stiff, enabling it to handle heavier loads than is typical for models in this weight class. Its EVA midsole is stiffer than average in the forefoot, making technical moves easier. Stability bonus: The Alnasca's lacing system has a wire that tightens the heel when the laces are cinched down. A TPU heel stabilizer combats over-pronation.
Traction Mammut turned to Michelin for the rubber outsole, which adhered well to slickrock. You won't want to go mudding in the Alnasca, though, as its 3mm lugs faltered in sloppy conditions.
Durability Minimal stitching on the PU mesh upper means debris doesn't have a place to snag, and our tester praised the Alnasca's tough rubber toe cap. "I've bushwhacked for miles through prickly shrubs and over sharp rocks, and these barely look used," she says.
$139; 1 lb. 9 oz.; m's 7.5-14, w's 5.5-10; Buy Mammut Alnasca Knit Low Now
The North Face One Trail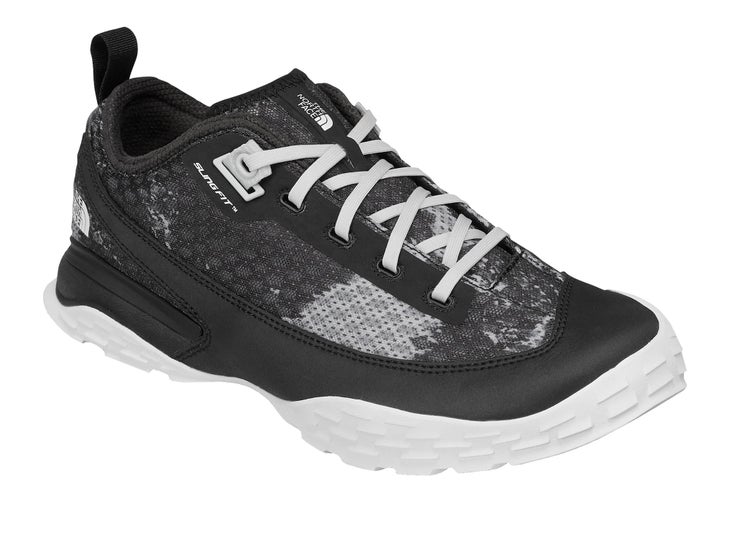 Comfort "These shoes remind me of the Vans I wore as a kid," our tester says. "They're super comfy, and have a roomy toebox that let my toes splay naturally." An EVA midsole that's 8mm at the toe and a plush, 4mm insole account for the One Trail's comfort, while the mesh upper's large vents made it the most breathable we tested. It kept sweat buildup at bay over a hot, humid summer hiking in New York's Adirondacks.
Support & stability Although comfy, the One Trail's midsole lacks support for technical terrain and heavier loads. "The sweet spot for these shoes is definitely a fast-and-light dayhike," our tester says.
Traction Our tester touted the One Trail's sticky rubber sole and evenly-spaced, oblong lugs. "Wet rocks were no issue, even while running downhill on 4,059-foot Porter Mountain in the Adirondacks," he says.
Durability A rubber toe guard combined with wraparound leather offers extra protection, but if you really like to hammer on rough trails, be warned: The exposed sliver of midsole that runs down the center of the shoe's bottom got chewed up easily.
$120; 1 lb. 8 oz.; m's 7-14, w's 5-11; Buy The North Face One Trail Now 
Xero DayLite Hiker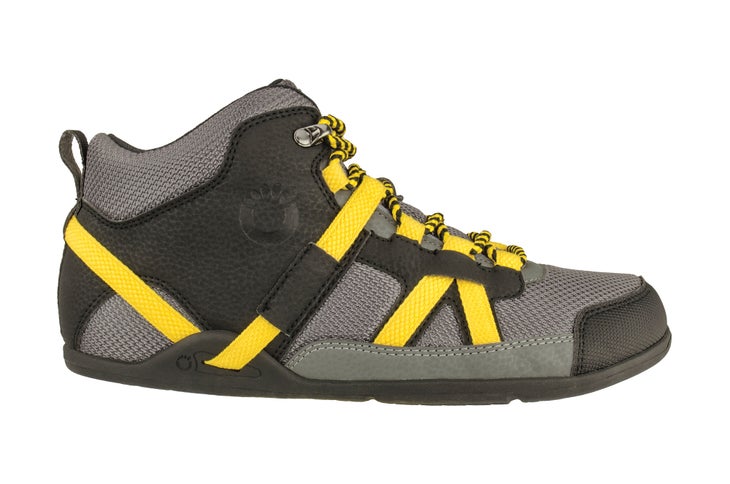 Comfort Members of the barefoot hiking tribe who also desire the benefits of a full shoe's durability and protection, this one's for you. A thin, minimalist sole means you feel every bump on the trail, but that's by design. "When moving through mixed terrain, you feel connected to the ground since your feet 'glove' onto obstacles," our tester says. A wide toebox provides room for toe splay, and zero-drop design lets feet bend and flex naturally. Note: The DayLite runs small; go up a full size.
Support & stability The 2mm insole offers almost no cushion, which barefoot enthusiasts prefer for strengthening their feet and preventing stress injuries. And while the sole is the stiffest Xero makes, it's still far less supportive than traditional footwear; ultimately, our California hiker deemed the DayLite adequate to support day-mission loads, but nothing heavier. A mid-cut cuff locks in the ankle, which he appreciated on root-infested sections of trail.
Traction The DayLite's shallow, 1mm chevron-shaped lugs shone on dry and sandy trails, but the rubber outsole has its limits. "I slipped multiple times on damp slickrock," said a tester after a trek on the Palos Verdes Peninsula in California.
Durability Rocks and scree barely left a mark on the DayLite's ballistic mesh upper, and the outsoles sustained no visible damage during our tester's month of use.
$110; 1 lb. 4 oz.; m's 6.5-14, w's 5-11; Buy Xero DayLite Hiker Now