What Happens When You Walk Every Day
Libby DeLana never misses a day outdoors. Here's what she's learned—and here are the shoes that keep her going.
Every single morning for the past 11 years, Libby DeLana has walked out her back door at 5:30 no matter the weather, how tired she may be, or even how sick. "It's not about the miles or the number of steps," says DeLana, author of the book Do Walk: Navigate earth, mind, and body. Step by step. and co-host of the podcast The Morning Walk. "This practice is about fidelity to myself and knowing what it is that creates a sense of well-being in my body, and that includes significant time in the outdoors and putting my eyes to the sun and feeling the breeze on my face."
DeLana, who lives just north of Boston, Massachusetts, walks through all four seasons and regularly covers eight to ten miles per day. Even when she's sick, she says, she'll get out for a slow, gentle walk around the block just to move and put one foot in front of the other.
"For me, the walk is like a seated practice of meditation," says DeLana. "The quiet is revealing. Obviously, there's the sound of the natural world—the sound of the waves or the wind or the birds, but there are a lot of messages from the quiet."
Daily movement has been part of human evolution for thousands of years, and DeLana has found that making movement a nonnegotiable part of her own daily routine is good for mind, body, and spirit. But keeping up that consistency, day after day, in all kinds of weather and trail conditions, requires good gear—especially shoes.
Lately, DeLana has been wearing the new HOKA Trail Code. "They felt supportive straight out of the box, sort of like a hug," she says. While she also likes to walk in the HOKA Bondi and Clifton, DeLana explains how in the Trail Code, her feet feel particularly "cozy, safe, and just…stable."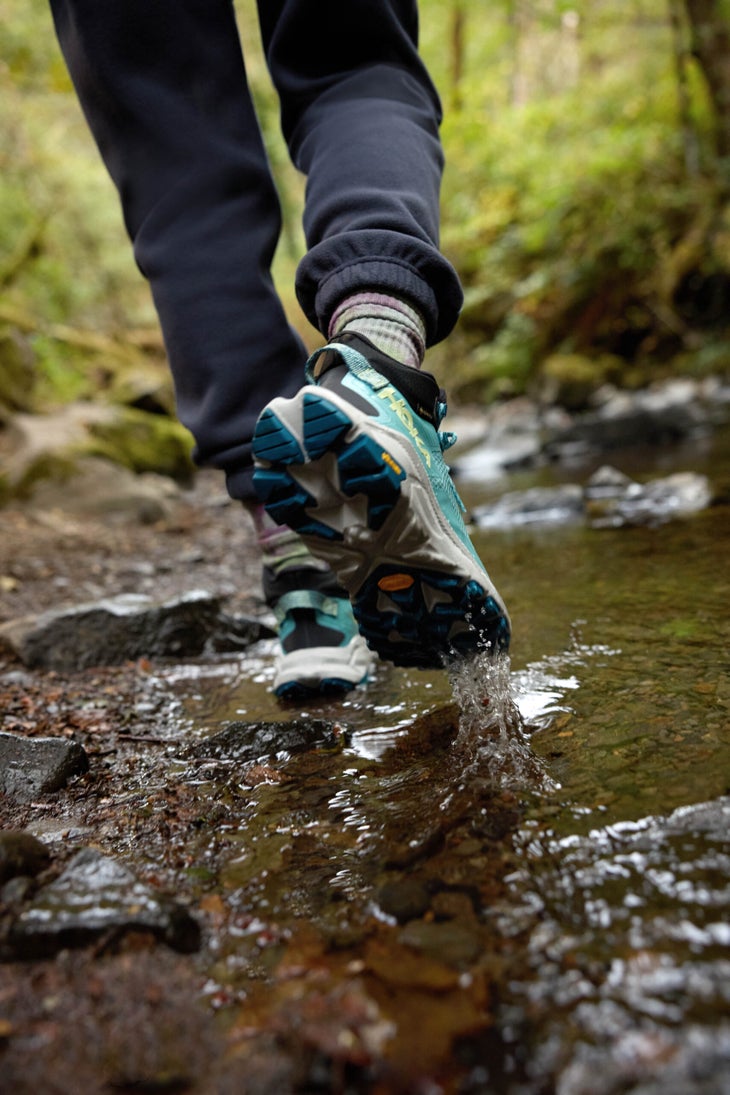 The Trail Code's compression-molded EVA foam midsole features a Swallowtail extension that protrudes slightly off the back of the shoe. DeLana says this midsole shape contributes to her feeling more secure and confident, "especially on the icy and crusty winter ground." Adding to the surefootedness, five-millimeter lugs made of Vibram Megagrip provide traction on surfaces from snow and ice to mud and loose dirt while also being able to grip rock and wet surfaces, like concrete sidewalks after a spring rain.
DeLana regularly walks a loop that switches back and forth from sidewalk to country road (where she likes to listen to the wild turkeys and coyotes and sense the changing morning light), and she marvels at the comfort of the Trail Code. She likes that the Gore-Tex-lined upper is watertight and that the shoe keeps her feet warm and dry without overheating. She's considering taking them on trekking in Bhutan this spring.
The Trail Code's upper is made from 100 percent recycled ripstop with a gusseted, padded tongue and a high heel collar that enhances stability. Recycled polyester laces wrap easily around metal top hooks to securely, comfortably support the ankles (likely contributing to the gentle "hug" DeLana loves so much). The upper is treated with a PVC-free water-repellent coating, and 3D screen-printed overlays add support and structure without adding bulk.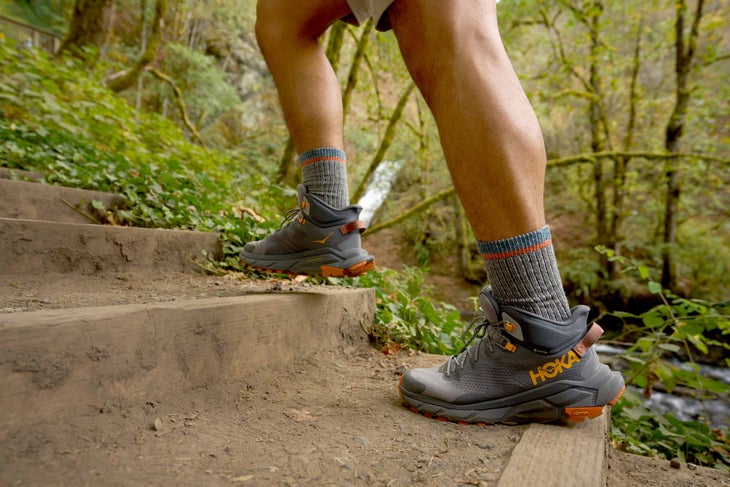 The Trail Code is a lightweight, cushioned, and nimble alternative to a traditional hiking boot and a more supportive, adventure-ready option than walking or running shoes. "When you have the right gear," says DeLana, "you just feel more capable and comfortable. It's almost like you get your brave on because you know the gear is going to support you."
And when you have the right gear—the right footwear, in particular—you can walk or hike where your heart or mind leads you at any given moment. Walk down a trail, a meandering path, or simply a neighborhood sidewalk. Splash through a puddle. Climb a big rock to sit and marvel at the world. On a quiet walk at any time of day, you may be surprised to find the exploration is not only physical, but mental.
"The outdoors is medicine for me," DeLana adds. "It's healing and nurturing and inspiring and creative. My morning walk has become an absolutely nonnegotiable part of my day."
---
HOKA empowers a world of athletes to fly over the Earth. With a problem-solving ethos, and a bold approach to footwear and apparel, HOKA empowers all folks to meet their running, walking, fitness and outdoor goals; to feel invited to and welcome in those spaces; and to engage in those activities more easily and more enjoyably than they thought possible.