We Asked Appalachian Trail Hikers to Show Us Their Shoes. This Is What We Saw.
Our hiking columnist went to the AT's legendary Trail Days this year with one mission—to figure out what hikers were and weren't putting on their feet
Photo: Grayson Haver Currin
Heading out the door? Read this article on the new Outside+ app available now on iOS devices for members! Download the app.
I spent my weekend staring at the ground—or, specifically, the shoes and feet of a few thousand Appalachian Trail thru-hikers in southern Virginia.
For the first time since my own 2019 trek of the country's preeminent footpath, I returned to Trail Days, a legendary gathering of current hikers, AT alumni, gearheads, vendors, and those merely looking for a smelly good time at the edge of the southern summer. I was hoping not only to get in the mood for my own upcoming attempt of the Continental Divide Trail but also to gather some evidence for a question I think about perhaps a bit too much: What's the best thru-hiking shoe for walking a few thousand miles across rugged mountain wilderness?
Damascus, the perennial home of Trail Days, is a perfect place to take such a query. It is nearly 440 miles, or exactly 20 percent, into a northbound stretch of the AT. By the time they reach this point, some hikers have learned the hard way that the shoes in which they left Georgia don't work for their feet. Others have hobbled into town on now-threadbare kicks, hoping to replace them at one of Damascus' several outfitters. They're worried about stress fractures and chronic blisters, trench foot and bunions—really, what the next 80 percent of the AT might do to their soles, toes, and souls. I wanted to know how they felt about their footwear choices so far and what they'd learned. So, yes, I stared at the ground all weekend, looking for and finding many shoes of interest.
What Are the Best Thru-Hiking Shoes? You May Be Surprised.
Before I introduce my finds, though, two general observations on thru-hiking shoe trends: First, it seems that the great trail-runner hegemony is slowly collapsing. Inspired in part by Ray Jardine's foundational backpacking writing, hikers in recent decades have swapped clunky boots for sleek trail runners. They're lighter and often cheaper, and they tend to dry faster. But at Trail Days this year, the typical glut of Altras and Hokas seemed to be in a downturn. There were more people in big boots or spindly sandals, both extremes on the continuum of thru-hiking foot protection. (And I was happy to see more of my beloved Topos, a lightweight but rugged compromise that hasn't failed me yet.)
Second, you don't need to hike with Crocs for camp shoes, as most every thru-hiker this year seemed to do. I did it on my first thru-hike, too, and I've regretted it ever since. They're heavy and bulky, and you can get similar protection from a pair of tiny sandals or even tying shoelaces around a pair of insoles you no longer need. If you're still out there with Crocs, mail that unnecessary pound home the next chance you get. Remember: thru-hiking lighter is usually better.
And now, without further ado, here are the six hikers whose shoes (or lack thereof) caught my downward gaze. Taken together, they affirm that you can hike the AT however you want, so long as you start.
Customized Old-School Altra Olympus
Elena Kennedy, a.k.a. Potato, 27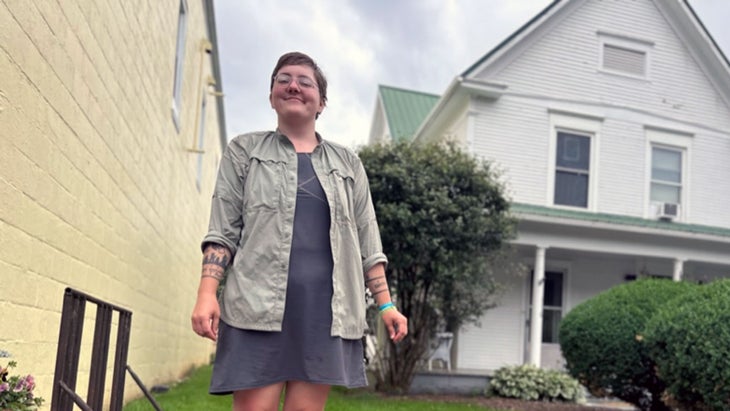 The weekend's real what-are-those-things? moment came on a sidewalk outside one of the two Damascus coffee shops when I realized I could see a hiker's socks and shoes at the same time. I chased her for a block (thru-hikers on off-days are easy to catch) and then asked her where her toe box had gone? The delightful Potato—a long-ass-section hiker, or Lasher, who started the AT in 2017 and might actually reach Maine this year—patiently explained.
When she decided to head back to the trail this year, there wasn't an outfitter in her nearby Pennsylvania town. But for years, she'd kept a nearly decade-old pair of Altra Olympus 1.5s in her car as casual slip-ons for errands. Her mom had bought them, disliked them, and passed them to Potato, even though they were two sizes too small. In her pre-trail pickle, Potato read about ultramarathon runners who sometimes excise their toe box as their feet swell during a race. So she gave it a shot. Perhaps Potato should've been a surgeon, given how clean the cuts and beautiful the curves on her modified discards turned out. She doesn't worry about toe blisters, and her shoes dry much faster than her previous kicks. Her Altras have already made it 200 miles, and Potato thinks she'll amputate the toe box on whatever pair she gets next, even if they fit.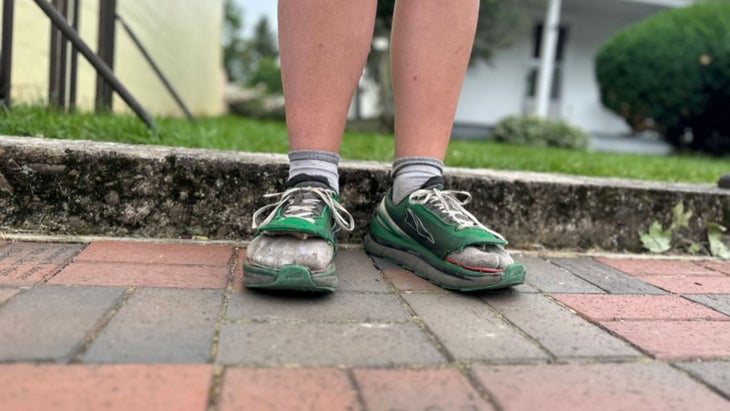 Mismatched Ubiquitous Altra Lone Peak 6
Eddie Thomas, a.k.a. Two Shoes, 43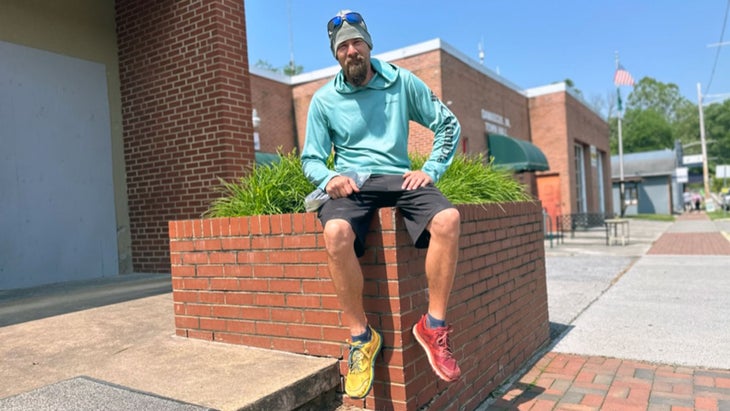 Signature trail looks are a real thing. I've seen people hike from Georgia to Maine dressed like pale grapes, bold butterflies, Mortal Kombat characters, and championship-belt-wielding wrestlers. Two Shoes found his trademark without having to worry about wardrobe malfunctions or unnecessary weight. Given the trail name of the 43-year-old Florida man, you've probably guessed what it is: same shoe, different colors.
Two Shoes spent a year testing Altra's popular Lone Peak 6 before he struck north from Springer Mountain. When he decided he indeed loved them, he bought three pairs in different colorways during a holiday bonanza. Walking out the door for the AT, he decided to wear two colors at once because, of course, "it was a real conversation starter," he says. Two Shoes made it an astounding 710 miles—almost twice what the average Altra gets—on his first pair by relearning how to walk during his first week, he says. "My knees and ankles were just ruined," he confesses. "So now I hover my feet out here, just rolling with the ground."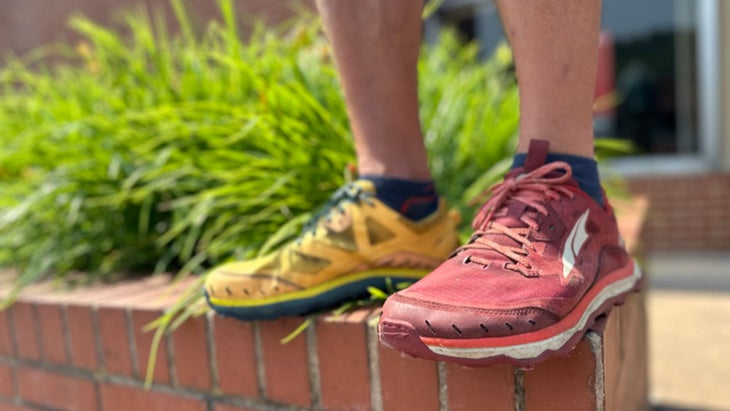 Big Ol' German Hiking Boots
Christian Jobst, a.k.a. Sonic, 39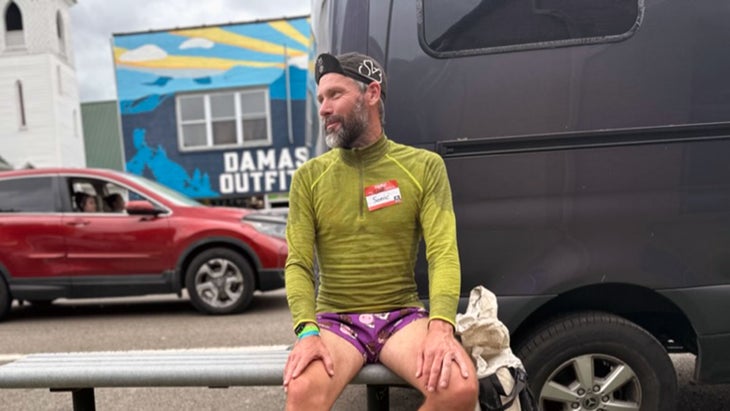 If you gathered together every current AT hiker sporting boots and put them in a (rather short) lineup, Sonic would still stand out. A leggy man from Munich in little purple shorts and a black cycling cap, Sonic sports big black leather boots rising well above his ankle, laces pulled tight a quarter up his shin. The German military issued Sonic two pairs of Haix Mountain Troopers when he enlisted more than a decade ago, and he fell for their stability and protection. Drawn to the AT by a documentary, he brought the boots for his 2012 thru-hike. "I've had 10 pairs, not a single blister," he tells me with a grin. "Never change a winning team."
It's true: waterproof shoes or boots trap in the moisture from sweaty feet, Sonic says. When it's hot and he's speeding uphill, he takes an hour break each afternoon to let his socks dry. But he doesn't worry much about rain storms or crossing rivers. And after a recent full-day downpour, he was the only hiker in a crowded trail shelter without saturated socks or shoes, so he felt pretty content with the five extra pounds strapped to his legs. What's more, he expects to go through just two pairs of the $200 boots on the trail, meaning he'll spend about half of what his trail-runner-wearing peers will.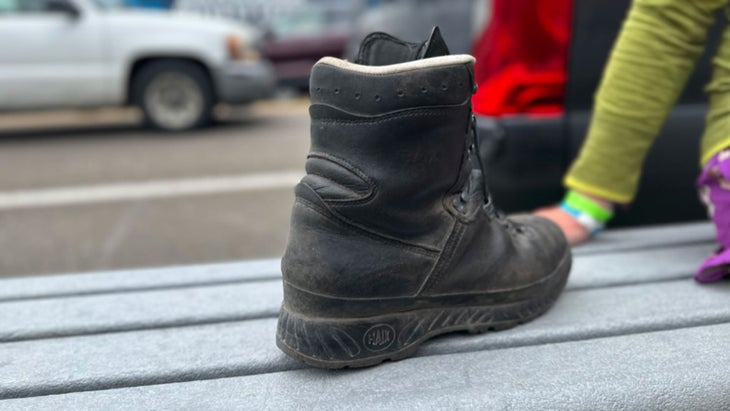 Barefoot or Ultralight Sandals
Stefan Von Aulock, a.k.a. Feet, 34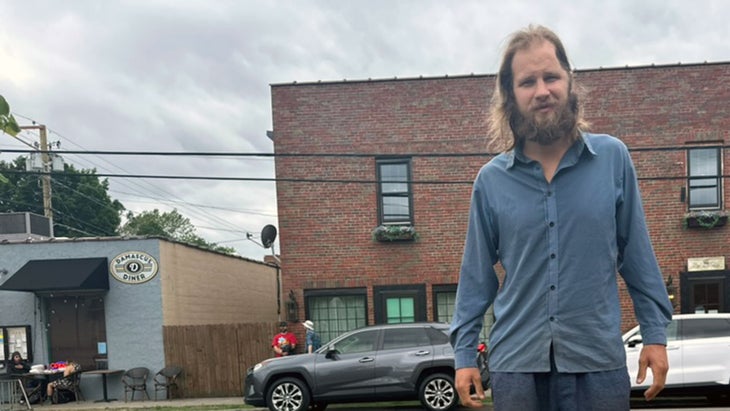 Almost as rare as the thru-hiker in military boots? The au naturel walker—that is, someone who opts to wear nothing and feel everything as they move through rugged, rocky, and rooty Appalachia. In fact, 34-year-old Chicago native Feet (get it?) says he's heard of only two others attempting that feat (got it?) this year. In part, because it hurts and forces hikers to walk slowly. Though he normally moves at 2.5 miles per hour, Feet is now heading to Maine at about half that clip, a relative crawl as he navigates stones and sticks barefoot.
Still, slipping off his tiny sandals that he occasionally wore during the first 100 miles and now uses mostly in camp or town, Feet was quick to extol the philosophical virtues of his decision. "It's about a connection with the Earth," he says. "And it's a freedom. Now people think they need shoes, and that bothers me." As he showed me his feet, he said they felt good, no worse for wear than any other hiker's. A few hours later, though, he'd forgotten about our interview and told me he was headed back to a hostel for a few days. Feet's feet, he admitted, needed rest.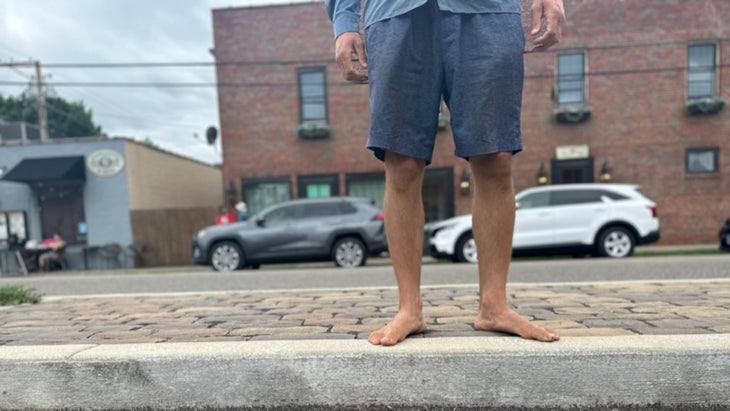 The New Lone Peaks, Already Beat to Hell
Rachel Frisco, a.k.a. Wreck-It Ralph, 26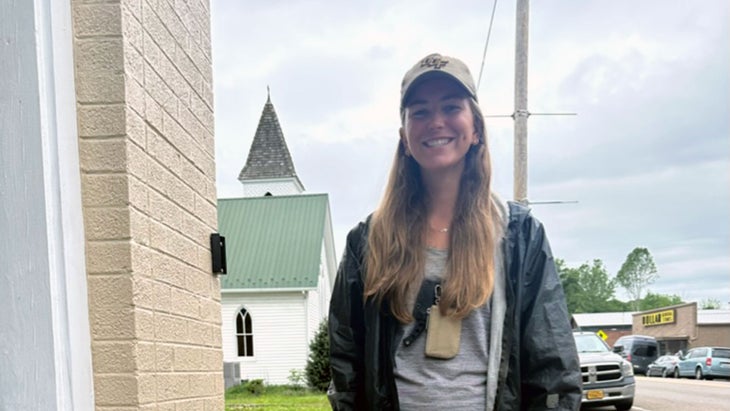 Wreck-It Ralph was only a few hundred miles into the AT when she learned an important shoe lesson: feet only expand as you keep walking. The 26-year-old Florida native started from Georgia in burgundy Altra Lone Peak 7s. (If you're keeping score, that's the same color Two Shoes wore on his left foot, just one iteration later.) But by the time she hit Erwin, Tennessee, she had developed a serious blister as her swollen foot rubbed the toe box on her size 8.5s with every step. At an outfitter in that mountain town, she traded up, nabbing a size 9.
The blister is better, but after only 200 miles, Wreck-It Ralph's Altras were perhaps the most damaged kicks I saw in Damascus. They were once pink, but beneath cloudy skies, they looked more like wan sandalwood. ("What do you mean, they were pink?" I ask her, worried I'd gone colorblind. She laughs.) The toe box and heel were already tattered, the laces beginning to fray. Suddenly, hiking in heavy boots—or teaching yourself how to walk anew—didn't seem so hard.
Air Jordans to the Appalachian Trail
Bryce Bianchi, a.k.a. Turtle Hermit, 36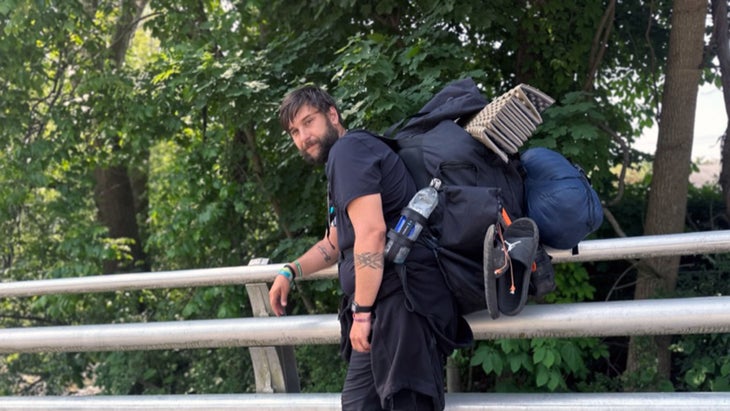 Let's get straight to the ask: Michael Jordan, if you're reading this, Turtle Hermit wants you to sponsor his thru-hike. Late Sunday morning, in the waning hours of Trail Days, I spotted a hiker wearing all black, a silver cross dangling from his neck. He was digging his hiking poles into the sidewalk and racing through town lugging a monstrous backpack. I was curious about him before I noted his tattered black canvas Air Jordans or the bulky Jordan slides strapped to his bag. But when I saw his footwear, I had to know his deal.
A 36-year-old landscaper from northeast Ohio, Turtle Hermit has been collecting Air Jordans for years. At one point, he even rocked the same pair for a decade. Why, he wondered, should he worry about buying Altras, Topos, Salomons, or Hokas when he had more than a half-dozen of the GOAT shoes on hand? Basketball and long-distance hiking—same thing, yeah? So he pulled on his least favorite pair and split. After 440 miles, he's confident they've still got a few hundred left. And when he needs to swap, he hopes the replacements will be free, as he's been sending Michael Jordan's Facebook account repeated pleas. No response yet, but that never stopped Sonny Vaccaro. And no, Turtle Hermit hasn't seen Air.