The Best Trail Running Shoes of 2023
We put thousands of miles on 85 different shoes over six months to find the best new models for every type of terrain
Heading out the door? Read this article on the new Outside+ app available now on iOS devices for members! Download the app.
There is no such thing as the single best running shoe for everyone. Every runner's body, gait, speed, experience, and ride preferences are different, so every runner will interact differently with each running shoe. The shoe that your best friend or your sister-in-law loves may be uncomfortable for you and make running feel slow, sluggish, or even painful. Finding the perfect pair of running shoes is a seriously personal affair.
While we can't tell you the definitive best shoe, we can steer you toward models that have impressed a variety of testers with their comfort, support, traction, protection, and ride, and tell you where they excel. From this list you will need to select which shoes best complement and enhance your running stride and experience.
The Winners at a Glance
Best for Short, Steep Racing: Merrell MTL Skyfire 2
Best Combo of Comfort and Performance: Altra Lone Peak 7
Best for Multi-Terrain Runs: Inov-8 Trailfly UltraG 280
Best for Charging Up (and Down) Mountains: Nike Wildhorse 8
Best for Peppy Propulsion: Brooks Catamount 2
Best for Soft Trails: Saucony Peregrine 13 ST
Most Verstatile: Salomon Sense Ride 5
Best Speedy Carbon-Plated Trail Racer: The North Face Summit Vectiv Pro
Best for Rugged Adventures: La Sportiva Jackal II BOA
Most Comfortable: New Balance Fresh Foam X More Trail v3
Best for Technical Terrain: Hoka Torrent 3
How We Test
Number of Testers: 26
Number of shoes tested: 85
Number of miles: 10,000+ over six months
Most Memorable Trail Run: The short but mighty Lanikai Pillbox trail run on Hawaii's Oahu island, so steep and slippery you need to hold onto ropes tied to trees to stay upright and keep moving.
To test running shoes, we begin by researching every brand's upcoming offerings for the coming season. We wind up with dozens of samples of the models (85 this season) that are most promising—not just for us, but for 25 testers that range in age, ability, running form, geographical location, terrain, and preferred shoe types. We try to put each tester in models from within the same category (all rugged, backcountry trail shoes, or all road-to-trail crossovers) so everyone can test apples-to-apples.
After three to six months of running in each model on varied terrain and in all conditions, our crew members report back with their assessments of fit, comfort, traction, cushioning, flexibility, stiffness, pop, what type of running the model is best used for, how the shoe compares to other models, and more. We also run in every shoe ourselves, and, combining all the tester feedback with years of personal experience, hone in on the best.
Meet Our Lead Testers
Lisa Jhung
Freelance journalist, editor, and author Lisa Jhung has researched, tested, and written about running shoes for the past decade and a half, much of that time for Outside and Outside Buyer's Guides. She coordinates a fleet of female shoe testers out of Boulder, Colorado, and says her home office is a perpetual obstacle course of cardboard boxes and piles of running shoes. Lisa's written about gear of all kinds for numerous national magazines as both an editor and freelancer, including a stint as the Shoes & Gear blogger and trail running microsite editor for Runner's World. A high school jumper and occasional sprinter/hurdler, she started running—really running—after walking off the collegiate volleyball team, and moved on to road and trail races of any distance, triathlons, adventure races, and mountain running. She's happiest testing rugged trail shoes on gnarly terrain, and also loves a good neighborhood jaunt…but is almost always looking for ribbons of dirt. Lisa is the author of "Running That Doesn't Suck: How to Love Running (Even If You Think You Hate It)" (2019) and "Trailhead: The Dirt on All Things Trail Running" (2015).
Cory Smith
Cory's passion for running started over 25 years ago in high school when he became the number six ranked runner in the nation at 3000 meters his senior year. After high school, he competed at Villanova University, earning two NCAA Division I Championship showings. Today, he's determined not to let age slow him down and competes on the national master's circuit, running a 4:12 (4:30 mile pace)) 1500 meters and 9:04 (4:52 mile pace) 3000 meters in 2021 at age 43. He prefers a hard track workout or tempo run over an easy long run any day but also appreciates a challenging trail or mountain run. His obsession with running shoes started in 2014 when he wrote his first shoe review for Gear Institute. Since then, he's tested and reviewed hundreds of running shoes, clothing, and gear for Outside, Runner's World, Footwear News, and other outlets. He has a soft spot for speedy shoes over heavy trainers but loves dissecting all shoes equally and thinking like a product engineer to explain the why behind every design detail. Cory is the Founder of Run Your Personal Best, an online running coaching business, and since its inception in 2014, has coached runners' to over 100 Boston Marathon Qualifying times.
Jonathan Beverly
Jonathan fell in love with running his freshman year of high school and quickly became fascinated with finding the perfect pair of running shoes. That quest got a boost when he became editor of Running Times in 2000 and started receiving every new model as they were released. The parade of shoes continued while he served as shoe editor for Runner's World, then editor of PodiumRunner, and currently running gear editor at Outside. Having now worn nearly every running shoe created in this century—and a fair amount of those dating back to the early running models of the late 70s—he's given up on finding the one best and now relishes the wide variety of excellent options. Once a 2:46 marathoner regularly doing 50+ mile weeks, recent injuries and his age have reduced his volume by about half and slowed his easy training pace to around nine-minute miles—but he says he still enjoys an uptempo workout or two each week. Beverly is the author of Your Best Stride, which explores how each individual's gait—and thus shoe preference—is unique. He enjoys getting biomechanical researcher's take on new shoe trends, and, as a tester, trying to describe the nuances of each shoe's ride.
The Reviews: The Best Trail Running Shoes of 2023
Best for Short, Steep Racing: Merrell MTL Skyfire 2 ($200)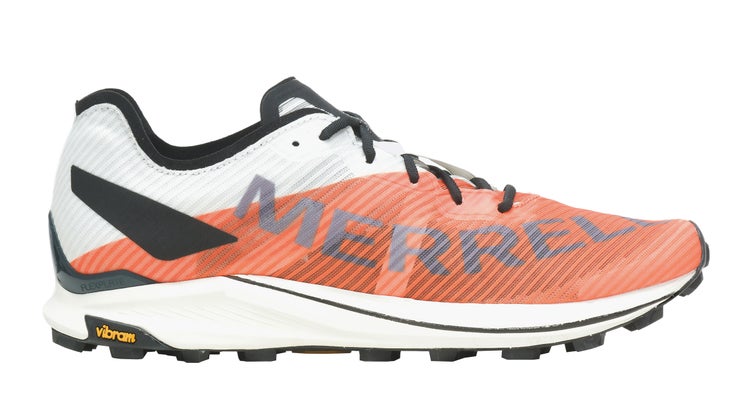 Weight: 7.0 oz (men's), 6.3 oz (women's)
Stack Height: 25–19mm
Drop: 6 mm
Sizes: 7–15 (men's), 5–11 (women's)
Strengths: Lightweight; grippy, tactile ground connection
Weaknesses: Minimal cushioning
Merrell's stripped-down, ready-to-rage trail racer is one of the best technical tools we've ever tested for short, fast, rocky, steep trail and mountain running. The lightly cushioned, dual-density midsole isn't the bounciest, but paired with a springy bio-based nylon rock plate and grippy five-millimeter lugs, it provides the tactile ground connection you want for speeding over rough terrain. "The Skyfire 2 absolutely rips with a lean, minimalist approach," said one hard-charging tester. "A sky-running machine, it feels like a rocket up hills," said another. The thin, engineered mesh upper is phenomenally airy but holds form nicely thanks to a sturdy heel counter and taped lateral midfoot wraps. If you're looking for the equivalent of a high-performance track spike for technical trails, this is it.
Best Combo of Comfort and Performance: Altra Lone Peak 7 ($150)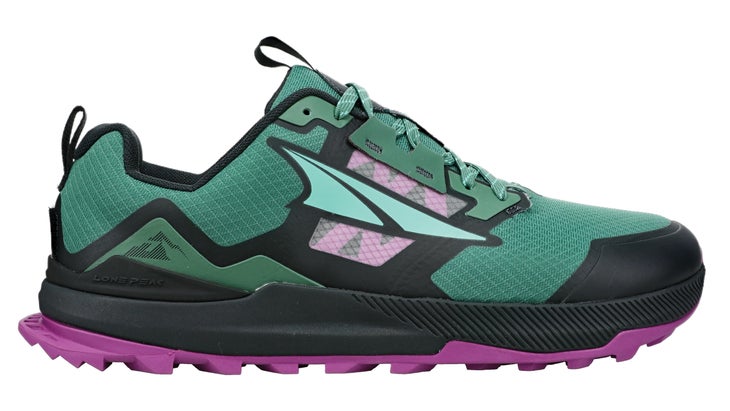 Weight: 11 oz (men's), 9.2 oz (women's)
Stack Height: 25 mm
Drop: 0 mm
Sizes: 7–16 (men's), 5.5–12 (women's)
Strengths: Comfortable, footshaped forefoot; low, bouncy ride
Weaknesses: Zero-drop geometry hard on some achilles
Our longtime Lone Peak tester praised Altra for not changing the signature foot-shaped forefoot and generous toebox he's come to love. Also unchanged is the 25 millimeters of Altra's reliable, responsive AltraEGO midsole foam underfoot, delivering a ride that "feels the same at mile 1, mile 100, and mile 500," said another tester (a crazy high-mileage runner). The midsole is thin enough to allow a strong, stable, and sensitive connection to the ground, while thick enough to ease impacts and smooth pressures from rough surfaces underfoot.
What's new is a stitch-free toe bumper that doesn't rub, a more durable and supportive upper, and a TPU clip around the base of the heel to enhance stability. The most significant update is to the outsole, which gets additional, more densely-spaced lugs that testers said resulted in slightly better traction than provided by previous versions.
Best for Multi-Terrain Runs: Inov-8 Trailfly Ultra G 280 ($185)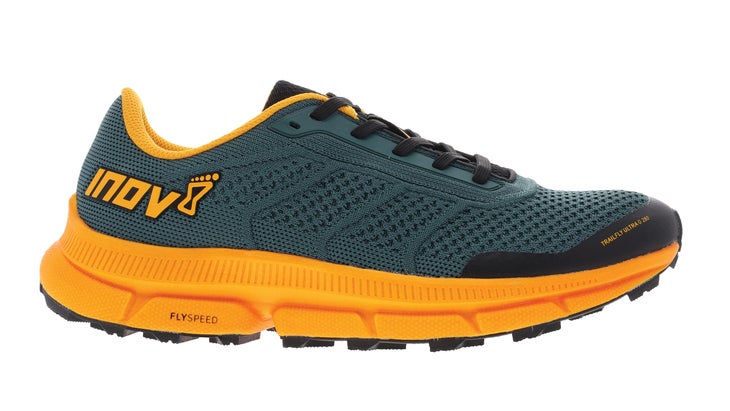 Weight: 9.8 oz
Stack Height: 33–25mm
Drop: 8 mm
Sizes: 7–15 (men's), 5.5–11 (women's)
Strengths: Versatile, cushioned and agile ride; durable, grippy tread
Weaknesses: Upper gains weight when wet
Inov-8 wrapped its renowned graphene grip outsole around a hefty layer of nitrogen-infused midsole foam to produce the bounciest ride we've tested from the brand. Even concrete-hard Southern California trails—which have historically been too firm for Inov-8's traditional deep-lugged, soft-surface trail grabbers—felt smooth and flowy in the UltraG 280. Yet testers also praised how adeptly it tip-toed through technical terrain thanks to the segregated outsole with deep-cut midsole grooves that allow for natural foot flexion and adaptation to uneven surfaces. A mildly stretchy, breathable, engineered mesh upper and accommodating toe box provide a comfortable, uncontrolling but secure fit. Bottom Line: the Trailfly Ultra G 280 is a remarkably terrain-versatile and foot-friendly shoe that you'll reach for on most days and will carry you comfortably from doorstep to mountain-top.
Best for Charging Up (and Down) Mountains: Nike Wildhorse 8 ($130)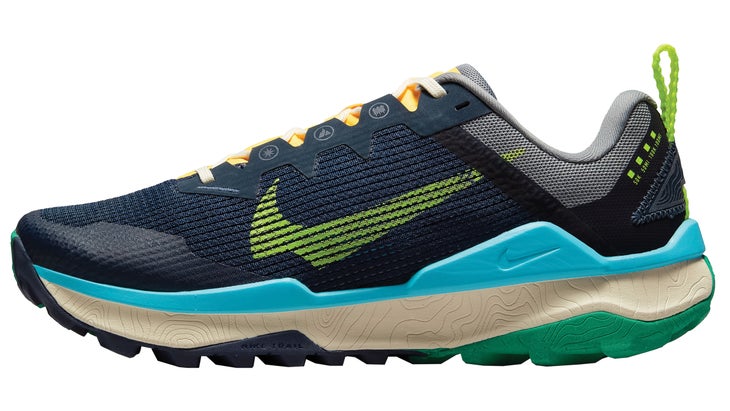 Weight: 12.3 oz (men's), 10.1 oz (women's)
Stack Height: 37–28mm
Drop: 9 mm
Sizes: 6–15 (men's), 5–12 (women's)
Strengths: Supremely comfortable, with cush, protection, and control
Weaknesses: On the heavier side
We loved saddling up in the Wildhorse and charging through runs ranging from dry, rocky front-country trail jaunts to marshy alpine adventures. This eighth iteration of the always-supportive trail shoe bounces and energizes more than previous versions thanks to its full Nike React foam (a TPE-EVA blend) midsole. The updated, soft, slightly stretchy mesh upper, combined with what testers called the "perfect" amount of cushioning around the heel collar and tongue, made for all-day comfort. Testers appreciated the added foothold from a stretchy band surrounding the arch that minimized internal slippage on off-camber and rocky terrain.
The look of this shoe has gone from crazy-wild to sleek and modern—and we dig it. That good-looking upper also breathes well for summer miles, and the TPU film at the toe bumper is just rugged enough to increase durability and protection without adding bulk or weight.
Best for Peppy Propulsion: Brooks Catamount 2 ($170)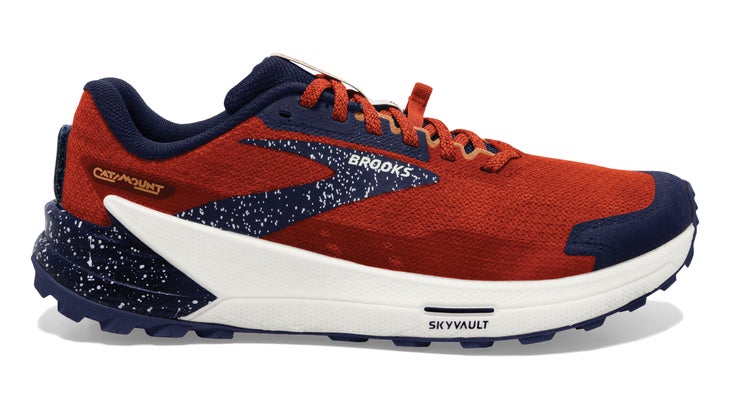 Weight: 9.7 oz (men's), 8.6 oz (women's)
Stack Height: 31–25mm
Drop: 6 mm
Sizes: 7–15 (men's), 5–12 (women's)
Strengths: Nimble, stable, quick-footed ride; rugged upper
Weaknesses: Can feel firm underfoot at slower speeds
This shoe gave testers confidence to run fast going up and downhill. A new, lightweight, bio-based polymer plate, shaped like foot tendons and sandwiched within the nitrogen-infused midsole cushioning, gave the shoe a lively pep that seemed to help propel quick ascents while also adding a touch of stability on descents. The midsole is tuned to be softer and more flexible than the foam in the original Catamount, which testers reported made the shoe more comfortable but didn't interfere with the nimble, quick-footed ride. Up top, a highly-durable, hydrophobic TPEE mesh outer layer surrounds a soft, stretchy, 100-percent-recycled polyester interior, with thin, flexible internal midfoot straps enhancing the sure-footed security.
Great traction on any surface also contributes to the nimble, fun feel of this shoe, which one tester called, "Very speed-inspiring due to the ease of striking and the overall lightness." While originally designed for elite runners racing 100 miles, we found ourselves grabbing this shoe for lunchtime runs up the local hill, quick after-work sunset runs, or anytime we felt like feeling light, fast, and springy (but still wanted some cush).
Best for Soft Trails: Saucony Peregrine 13 ST ($150)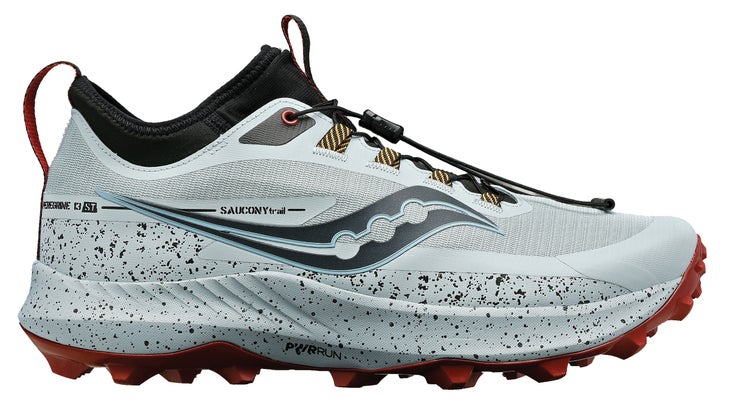 Weight: 9.7 oz (men's), 8.5 oz (women's)
Stack Height: 30–26mm
Drop: 4 mm
Sizes: 7–12 (men's), 5–12 (women's)
Strengths: Surefooted grip on soft trails; simple, protective upper
Weaknesses: Fit is somewhat sloppy for narrow-footed runners
Working off Saucony's perennially high-performing Peregrine, this new model is built to excel in soft terrain (aka: "ST"). Widely-spaced, toothy lugs made out of 6.5-millimeter-thick tacky rubber (compared to the Peregrine's more densely-spaced 5-millimeter-deep lugs), did an admirable job of digging into Nebraska mud and Colorado mountain slush. Quick-pull laces secure the midfoot wrap to hold feet in place on sloppy ground, and a debris-eschewing ankle gaiter tops the stretchy inner booty (though the gaiter doesn't secure entirely around small ankles). While the cushioning stacks high at 30 millimeters under the heel and 26 millimeters under the forefoot, testers noted good ground-feel, which enhanced the shoe's nimbleness on slick, soft surfaces. Note: Note: Some of our narrow-footed tested felt like the ST's fit ran wider than the regular Peregrine.
Most Verstatile: Salomon Sense Ride 5 ($140)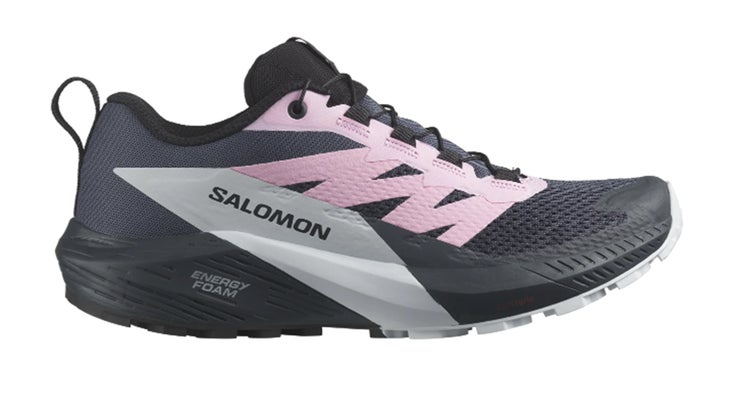 Weight: 10 oz (men's), 8.7oz (women's)
Stack Height: 30–22 mm
Drop: 8 mm
Sizes: 7–14 (men's), 5–11 (women's)
Strengths: Comfortable and confidence-inspiring from street to single-track
Weaknesses: Quicklace system can over-tighten around toes
From dusty singletrack in the Arizona desert to steep mountain climbs of the Colorado Rockies and rooty trails of Northern California, this Sense Ride 5 had us feeling ready and able for whatever lay around the bend. An outsole equipped with 3.5mm, widely spaced lugs grabbed smooth rock slabs and allowed us to pick our way through rough ruts. All the testers raved about the versatility of these shoes, noting that the flexible outsole also ran like a road shoe (albeit one with considerable traction and underfoot protection). On any surface, testers agreed that the EVA /Olefin-based midsole provided just the right amount of cushioning and the ride felt light and speedy for a daily trainer. One tester gushed that the shoe "felt sturdy enough for high elevation trails that have mixed terrain, and lightweight enough for everyday local trail runs." We also love the uber-breathable, yet protective, mesh upper, and Salomon's Kevlar quik-lace system secured our feet from slipping around even on the most wonky, off-camber trails. The Sense Ride 5 promises to be our summer go-to shoe for trails of all sorts.
Best Speedy Carbon-Plated Trail Racer: The North Face Summit Vectiv Pro ($250)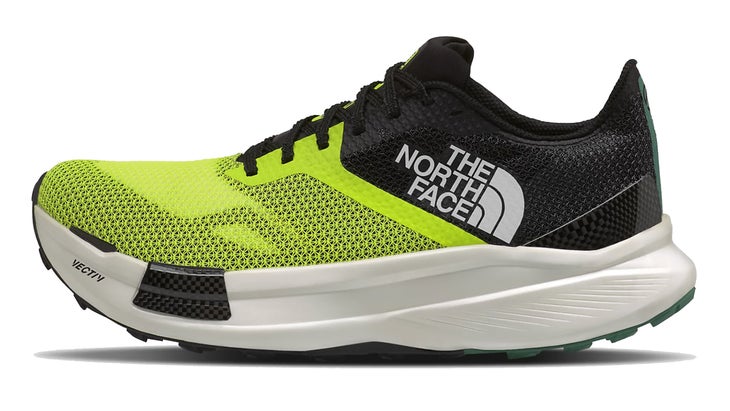 Weight: 10.1 oz (men's), 8.5 oz (women's);
Stack Height: 32–26mm
Drop: 6 mm
Sizes: 7–14 (men's), 5–11 (women's)
Strengths: Bouncy, responsive ride; stable stance
Weaknesses: External forefoot posts rub some testers' toes raw
Worn on the feet of the 2022 Ultra-Trail du Mont-Blanc winner, Katie Schide, this high stack, high octane carbon fiber shoe raises the bar for all other performance-minded trail shoes. Designed with an all-new proprietary midsole that blends PEBAX with a high-rebound EVA for durability, testers were in awe with how cushioned yet bouncy the foam felt—a stark contrast to the firm midsole seen on the brand's first carbon-plated shoe, the Flight Vectiv. "It runs with a responsiveness, cadence, and zest that I haven't seen in many trail shoes," said one tester. Even slower paces somehow felt easier. Sandwiched in the midsole is a full-length carbon-fiber plate with an aggressive rocker that is shaped into two forks, one extending into the forefoot and one reaching back to the heel. "Rolling singletrack, gravelly flats, and the occasional steep kicker become noticeably more approachable," said one tester, crediting the propelling feel of the rockered profile.
Exposed carbon "wings" that extend from the carbon-fiber plate wrap down the sides of the forefoot midsole to reduce lateral roll. Most testers agreed they enhanced the stability of the stance and push-off; one, however, found that the top edge dug into his toes painfully. The upper features a dual-layer TPU mesh that's breathable, hydroponic, and extremely durable. We found the toe box to fit on the wider end of the spectrum but felt the extra space appealing, enhancing the comfort without becoming sloppy. Moderate 3.5-millimeter lugs offered adequate grip for fire roads, well-groomed singletrack, and even road miles without feeling distracting.
Best for Rugged Adventures: La Sportiva Jackal II BOA ($185)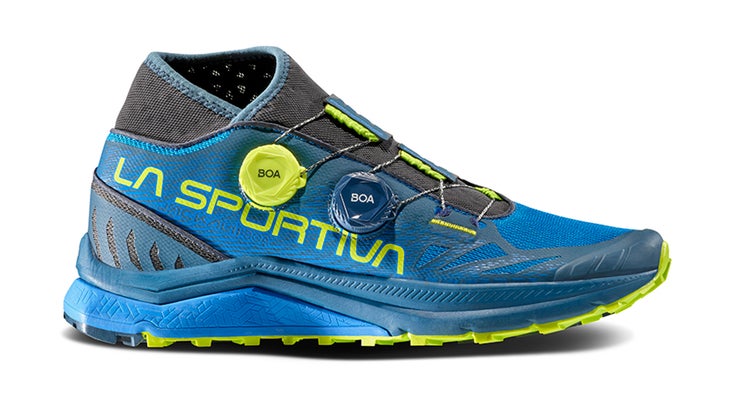 Weight: 10.5 oz (men's), 9.5 oz (women's)
Stack Height: 29–22mm
Drop: 7 mm
Sizes: 6–14.5 (men's), 5.5–11 (women's)
Strengths: Customizable fit with dual BOA dials; built-in gaiter; responsive ride
Weaknesses: Too close to the ground for some
For rugged mountain running adventures of all distances, this shoe had us feeling locked, loaded, protected, and capable. Testers praised the BOA fit system with two dials that enabled them to micro-adjust the tightness of the heel and forefoot separately, creating the most custom fit of any shoe in this round-up. They also loved the unique, asymmetrical design of the gaiter-like ankle collar. It's soft, breathable, and doesn't rub or hinder movement while keeping trail gunk—tiny rocks, sticks, or excessive dirt—from getting inside and causing irritation. The fit is slightly wider than La Sportiva's traditional narrow shape, although it has a more secure, performance-oriented feel than the original Jackal.
A surefooted ride on mountain terrain comes from super-sticky rubber shaped into aggressively sharp lugs for supreme traction uphill and down on varied terrain, while a reinforced TPU toe bumper shields from unexpected collisions (toes v. rock). A combination of cushioning and support is the product of compression-molded EVA with responsive PU inserts (10 millimeters thick in the heel and five millimeters in the forefoot). Testers noted the springy cush under the heel, in particular, and appreciated the pep in their step. "I felt like I was dancing lightly over the terrain every time I took these out, and inevitably found myself running faster," raved one.
Most Comfortable: New Balance Fresh Foam X More Trail v3 ($160)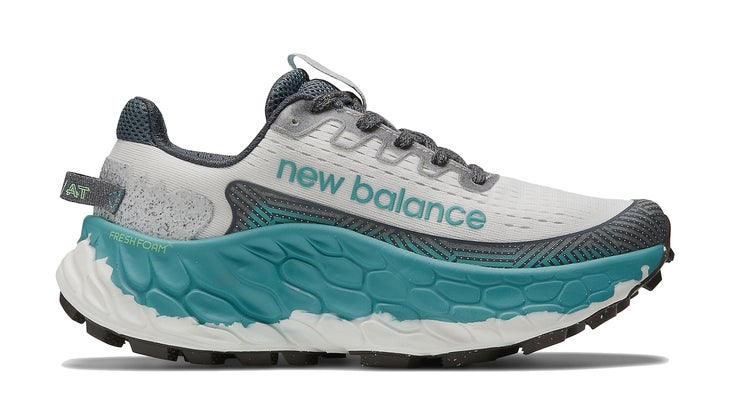 Weight: 11.3 oz (men's), 9.2 oz (women's)
Stack Height: 30.5–25.9 mm
Drop: 4 mm
Sizes: 4–16 (men's), 5–13 (women's)
Strengths: Über-cushioned, relatively stable ride; plush upper
Weaknesses: Overly squishy and sluggish for some
Everything about this shoe screams comfort: The soft-and-bouncy Fresh Foam X midsole foam extends up the sides of the foot, making the cushioning appear more massive than it is (and adding some stability to the ride). Heathered laces and insole look and feel like your favorite cotton t-shirt. Despite appearances, testers reported the More Trail v3 didn't feel "heavy or bulky at all." One even said these felt like "a light racing shoe." Many raved about the cushioning being "responsive" and "lively." But not everyone was a fan: one tester said running in the shoe "felt like slogging through a bog"—particularly if the trail surface was at all soft underfoot.
While this shoe had most of us springing happily down smooth dirt and gravel roads, it surprised us by also performing well on rocky, technical trails. Dual-density foam (softer on top of firmer) cushioned like an underinflated mountain bike or car/truck tire: the shoes absorbed obstacles and allowed us to just roll right over anything in our way. The More Trail v3 doesn't try to be fast or nimble, but if you're looking for comfort, it delivers with one of the cushiest rides you'll find anywhere.
Best for Technical Terrain: Hoka Torrent 3 ($130)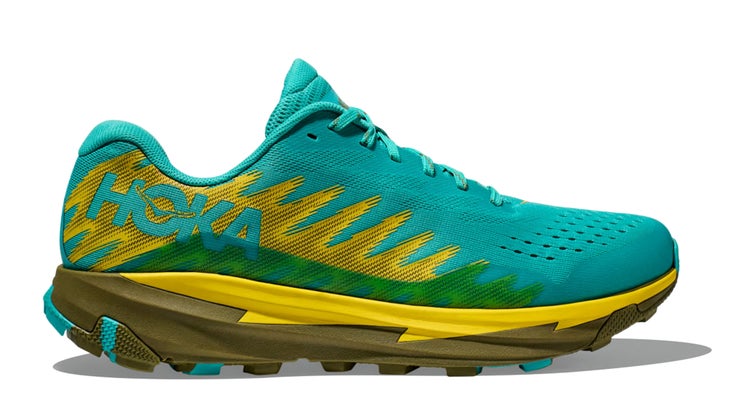 Weight: 8.7 oz (men's), 7.5 oz (women's)
Stack Height: 23–18 mm (men's), 21–16 mm (women's)—not including insole
Drop: 5 mm
Sizes: 7–15 (men's), 5–11 (women's)
Strengths: Nimble, low-profile ride; accommodating fit
Weaknesses: Lacks the cushioning expected from Hoka
The Hoka Torrent 3 breaks from the traditional maximum-cushioned Hoka mold in favor of a firmer, lower-profile, more agile frame. Testers praised the Torrent 3's chops in tippy, technical terrain that they would balk at attempting in any other Hoka shoe with their typical thick, unstable stack. Testers also appreciated the Torrent's firmer underfoot feel on soft-surface trails where they didn't want any additional squish. They warned, however, that the Torrent's ride is quite different from the comfy squish that many want out of a Hoka shoe. Fans of the model, however, will rejoice to learn that one tester reported: "they look, fit and feel exactly like the previous version." Underfoot you'll find the same dual-density Profly midsole—an EVA blend that's tuned softer on the top and firmer closer to the ground—and moderate stack height that delivers a stable, responsive, and connected ride. What's new: the upper is made of a more streamlined single-layer engineered mesh utilizing a high-performance yarn and a TPU overlay that gives the Torrent 3 a more accommodating fit, especially in the forefoot, while still feeling snug and locked in. Hoka also re-tuned the outsole rubber compound to provide a better grip and durability, especially for wet surfaces. Bottomline, the Hoka Torrent 3 shines for shorter-distance trail runs through technical terrain—at a fantastic price.
Selecting a Trail Shoe
If you're in the market for a trail shoe, first consider the type of trails you run on regularly: do you tackle rugged, mountainous terrain, or stick to mellow dirt paths? Some trail shoes can handle both adequately, while others are specialized and excel in one or the other. Shoes with smaller lugs are generally better on less technical terrain, whereas shoes with deeper, more aggressive outsoles are optimized for steep, rocky, or muddy trails. If you like to feel the trail and dance around rocks and roots, you'll likely prefer a light, minimal shoe, but if you'd rather let the shoe cushion and protect you from trail variations while you zone out, look for a shoe with a maximal midsole.
How to Choose the Best Running Shoes for You
Fit and Feel
Choosing the best running shoes for you is a matter of finding the models that best fit your foot and deliver the best feel when you're running. To determine fit and feel, there's no substitute for trying the shoes on and running in them.
Fit: Match Your Foot Shape
When assessing fit, first pay attention to length. You need room at the end of your toes as your feet lengthen during their dynamic movements on the run and swell if you're going long distances. A rule of thumb is to allow a thumb's width between your longest toe and the end of the shoe. Runners often wear a running shoe a half or full size bigger than their street shoes.
Ensure that the shape of the sole and the upper matches your foot shape. The sole should be as wide or wider than your foot for the whole length, and match the curve of your arch comfortably. The shoe should hold your foot securely over the instep, while allowing the ball of the foot and the toes to splay and flex when you roll forward onto them. Your heel shouldn't slip when you lift it, and the arch should be able to dome and lengthen naturally. Nothing should bind or rub as you roll through the stride.
Feel: Match Your Movement Path
If the shoe fits, it's time to take them on a short run on a treadmill, around the store, or, ideally, down the block and back. Every running shoe has a unique ride created primarily by the type and density of foam in the midsole and the geometry of that foam—its thickness, width, heel-to-toe drop, and forefoot flexibility or rocker shape. These elements interact with each other and your stride to determine how the shoe reacts on landing, how much it cushions, how stably it supports, how smoothly it transitions from landing to toe-off, and how quickly and powerfully it rebounds.
The best way to choose the shoes that complement your body and stride is to find the ones that feel right on the run. Benno Nigg, the world-leading biomechanics professor who proposed this method of shoe selection, calls it the "comfort filter."  Comfort, however, is far more than how plush the shoe feels when you step into it. What you want to assess is whether the shoe allows your feet to move the way they want to move, what Nigg calls your "preferred movement path." In the right shoe, while running at your normal pace, you will touch down gently where you expect to land, roll smoothly and stably through the stride, feel both cushioned from and connected to the ground, and push off naturally, quickly, and powerfully. The shoe shouldn't feel like it is controlling your foot or altering your stride—it will feel so right it disappears. When this comes together you'll know that you've found your pair.
It's likely that several shoes will feel good on your feet. To find the most comfortable, it helps to compare them back to back, like an eye doctor will do with corrective lenses, flipping between "A" or "B," "1" or "2." You may also find that different shoes feel better at different paces or level of fatigue, and you may want more than one pair. In fact, research shows that wearing a variety of different shoes is one of the few proven ways to reduce injury risk as it appears to vary the stresses on your feet and joints.
What About Injury Prevention?
Running shoes have long been marketed and sold as prescriptive devices to help runners stay healthy, but there is little scientific evidence correlating shoes, or any specific shoe properties—like cushioning or pronation control—with running injuries. Medical professionals say that it is highly difficult to determine whether a runner needs a certain type of shoe, and studies have shown that prescribing shoes with traditional methods like treadmill gait analyses or wet-foot arch height tests doesn't consistently reduce injuries.
Don't assume that you need more cushioning or more stability if you have sore joints, or if you're a heavier runner, or if you're a beginner—evidence doesn't support many common beliefs. The best way prevent injury is to find two or three different pairs that feel right on the run, ease into using them, and vary your shoes, your running surface, and your pace regularly, while avoiding rapid increases in your training load.
When it's time to upgrade your gear, don't let the old stuff go to waste–donate it for a good cause and divert it from the landfill. our partner, Gear Fix, will repair and resell your stuff for free! Just box up your retired items, print a free shipping label, and send them off. We'll donate 100 percent of the proceeds to The Outdoorist Oath.