How to Choose the Right Hiking Shoes for Beginners
There's no faster way to ruin your first big trip than by wearing shoes or boot that aren't up to the task. We break down what beginners need to know about buying their first pair of trail shoes.
Heading out the door? Read this article on the new Outside+ app available now on iOS devices for members! Download the app.
Wearing the wrong shoes is an express ticket to ruining your first backpacking trip. Don't misunderstand: You don't need to spring for custom-made, $800 boots to have fun on the trail. But if the footwear you pick isn't comfortable, well-fitting, and suited for the kind of hiking you're doing, you could end up with blisters, twisted ankles, and other pains and strains.
If you haven't hiked in a while—or ever—your first instinct might be to opt for a pair of classic, full-leather boots. Resist that urge: With a few notable exceptions, those old-school hikers aren't the right choice for most beginners or most people looking for an all-around shoe. For one thing, they're stiff. While technology's gotten a lot better over the past few decades, most all-leather boots will still require some break-in to flex to your feet's contours while you walk (other types of hiking shoes don't). More importantly, they're heavy: A 1984 study by the U.S. Army famously found that 1 pound of weight on the feet takes as much energy to carry as 5 pounds in a pack, so those extra ounces add up quickly.
So what kind of footwear should beginner hikers wear? While there's no single right answer, there are a few rules that can help you find your perfect pair. In general, hikers have two options for what kind of footwear to buy: trail runners and hiking boots.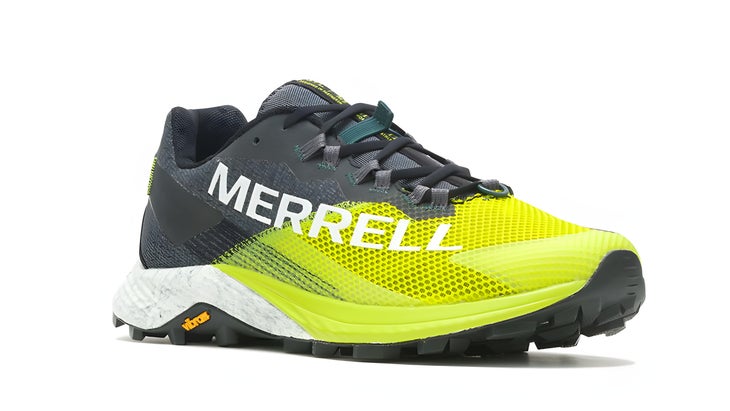 Trail Runners
It's often a good idea to err on the lighter side when you're shopping for hiking shoes (see: that Army study we just talked about). If you plan on backpacking with a lightweight pack, will mostly be hiking on level or well-maintained trails, or are a dayhiker who's planning on branching out into the occasional overnight, a pair of trail runners or low-cut hiking shoes might be what you're looking for. 
Look for a model with some stability and a moderate heel drop. Zero-drop trail runners—shoes with no difference in height between the toe and heel—are popular with experienced hikers; Altra's Lone Peak line is one of the most widely-used shoes for hikers on long trails like the Pacific Crest Trail. But they also take some getting used to, and can make hiking, especially on uphills, feel a little more tiring if you're new to hiking or are used to shoes with a higher drop. One favorite from our reviewers: The Merrell MTL Long Sky 2, a durable, toothy trail runner that handles hardpack, mud, and loose trail surfaces with equal versatility. They're lightweight, too, at about 8 ounces (women) to 10 ounces (men) per pair.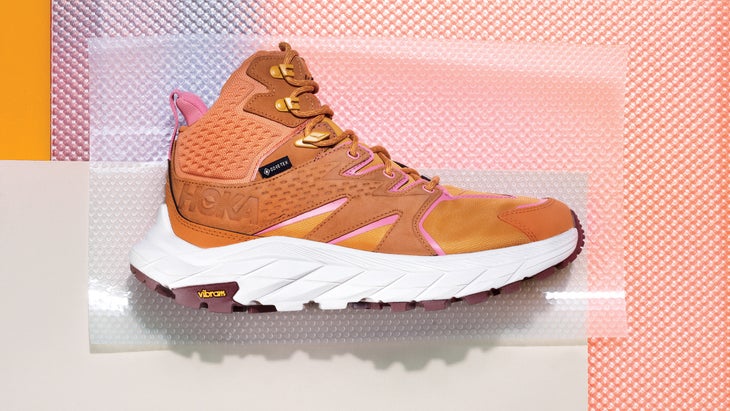 Hiking Boots
If you regularly lug packs with a base weight heavier than 20 pounds, are prone to ankle injuries, or plan on backpacking in rough terrain, you may appreciate the support of a mid-cut boot. Unlike the boots of yesteryear, most models on the market today require relatively little break-in, and are usually much slimmer than old-school clunkers. Even more than with a trail runner, it's essential to try out a new pair of boots before you buy—because of the added stiffness and reduced range of motion of a boot, you're likely to end up with hotspots if your kicks don't fit right.
If you're looking for an all-around, beginner-friendly boot, the Hoka Anacapa Mid Boots won an Editors' Choice award from us in 2022. They handled every environment we could think of—from sodden jungle to desert hardpack—well. They feature the same, cushy design that Hoka's other shoes are known for—the thick EVA midsole is supremely comfortable on the trail—and the wide last provides as close to barefoot comfort as you'll find in a hiking boot. At 2 pounds for a men's pair, they're about as lightweight as a full-featured pair of boots gets.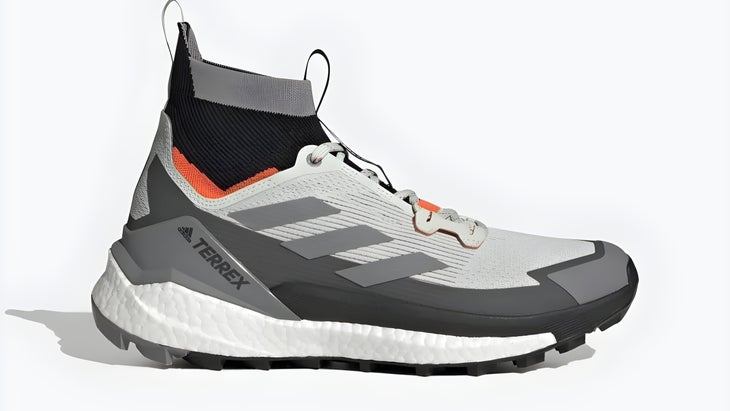 The Compromise Option: Hiking Shoes
Looking for a compromise between a boot and trail runner? A hiking shoe can provide much of the stability of a boot with more flexibility. They're generally a little more supportive and a little less flexible than trail runners, but don't have the ankle cuffs or the weight of a boot. One personal favorite of mine: The Adidas Terrex Free Hiker 2.0 Hiking Shoe, which combines a snug, socklike fit and a built-in gaiter with a cushy, stable EVA frame; it weighs approximately 1 pound 13 ounces per pair, about the same as a lightweight pair of boots, but feel significantly less clunky. (It's also on sale now for $140 for men's or $160 for women's, down from $200.)
Shoe Buying Tips for Beginner Hikers
Buy insoles. You'll thank us later. Tread Labs' Pace insole kit comes with swappable foam covers that attach to an arch support with hook-and-loop attachments, which lets you swap the same pair of insoles between several different shoes.
Don't automatically go for waterproof-breathable shoes. Models that use membranes like Gore-Tex can be useful for wet climates, but if you're hiking somewhere warm and dry, you're better off going without and buying a pair that dries quickly instead. You'll appreciate that extra breathability when your feet start to sweat. 
Trust your feet above all else. All the expert advice in the world will never tell you as much as your own body. If you find a shoe that works for you, stick with it.