The Shoe Designed for Thru-Hikers
Developed and tested on the Pacific Crest Trail—the new adidas TERREX Free Hiker 2.0 is your next long-distance shoe
Each spring, eager northbound thru-hikers arrive at the small town of Campo on the United States-Mexico border in Southern California. By now, they've likely weighed, tested, and packed each piece of gear they'll carry with them on the 2,650-mile hike along the Pacific Crest Trail. Each selected item has passed a rigorous evaluation, including the shoes on their feet. That's where adidas TERREX found its inspiration for the Free Hiker 2.0. Designed for long-distance hikers, tested on the PCT, and available at REI stores nationwide, this new hiking shoe is already a favorite of thru-hikers. We tapped adidas TERREX design director Jan Vierjahn and senior product manager Hendrik Enders to learn more about the Free Hiker 2.0's development and PCT-worthy features.
Outside: Why make a hiking shoe designed for thru-hikers?
Jan: Thru-hiking is a fascinating trend in the hiking community, with more and more hikers taking on long-distance trails like the Pacific Crest Trail. Completing these trails takes several months, meaning hikers are living in their boots 24/7. It requires products that can withstand the rigors of extended wear, while providing exceptional comfort and support. Designing such a product offers a unique challenge for us as a performance brand, as we need to craft a product with uncompromised performance, while keeping in mind that young consumers are looking for a sleek and stylish interpretation of a classic hiking boot.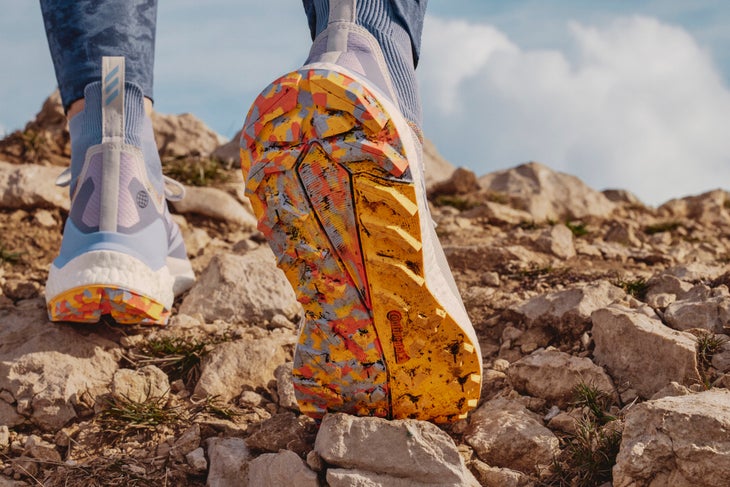 How did adidas TERREX develop the Free Hiker 2?
Jan: We applied a rigorous development process that included both lab testing and real-world trials on some of the most demanding thru-hiking trails in the U.S. We collaborated with experienced testers, providing them with several prototypes at different development stages. Their feedback was invaluable in identifying areas for improvement and ultimately driving the final performance of the product. For example, tester feedback helped us find the right balance of having enough lugs and rubber in areas where traction is needed and abrasion is high, while being able to reduce rubber and save weight in less critical areas. 
What's special about the new sock-like fit?
Hendrik: The snug fit is achieved using our Primeknit technology. It provides a premium level of comfort that elevates the overall experience of wearing the shoe. We recognized the challenge of balancing a snug fit with practical considerations like keeping debris out during hikes. Overall, the new construction allows for a snug fit paired with the flexibility of a knitted material that adjusts to your foot shape, while still providing the functionality and durability hikers need for their adventures.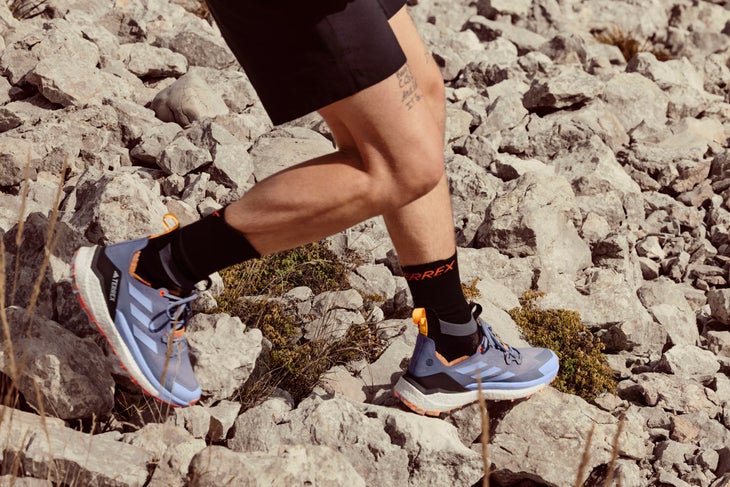 What sets the adidas TERREX Free Hiker 2.0 apart from other hiking shoes?
Hendrik: The benefit of the Free Hiker 2.0 is its focus on exceptional comfort, particularly for long-distance hikes. The midsole is inspired by our best trail running shoes paired with our BOOST technology. This combination provides hikers with responsive and supportive cushioning for every step. The upper is crafted from a combination of soft, knitted materials and carefully placed overlays that provide both durability and protection. Blending our trail running DNA with high-performance materials offers a really unique and modern proposition for a long-distance hiking shoe.
In addition to thru-hikers, who else could benefit from the Free Hiker 2.0?
Hendrik: Although the Free Hiker 2.0 was designed with thru-hikers in mind, the benefits translate well to other hiking activities. For example, the lightweight construction and responsive cushioning are benefits that day hikers or people on their first backpacking adventure are equally going to appreciate. The carefully engineered and placed layers of added protection and durability are key elements for anyone who is spending time on rugged trails but is looking for a sleek, modern interpretation of an outdoor shoe. And lastly, having a shoe with excellent grip in wet and dry conditions is necessary on any trail, no matter the length or duration of your trip. 
---
Designed for the outdoors, adidas TERREX shoes are built for hiking, trail running, and climbing, with a lightweight design that can handle any terrain. adidas TERREX is on a mission to enable all humans to live a more connected, conscious, and adventurous life. We are adidas TERREX. We are #UnitedBySummits