Best Winter Hiking Boots of 2023
Shoes to get you moving down the trail—no matter the conditions
Photo: Cavan Images/Getty
Heading out the door? Read this article on the new Outside+ app available now on iOS devices for members! Download the app.
Many people assume that hiking season is over once winter rolls around. Those people are wrong. Winter is a great time to explore: the local trails are less crowded and are often prettier thanks to all the snow. But it's only fun if you have footwear to keep your feet warm and dry, and with good traction to bite into slippery terrain.
How We Test
Last fall we offered our Outside+ members the chance to test winter hikers. We heard back from more than a dozen, and selected finalists from a diverse range in geography. Those with the right size feet (early samples only come in one size) got the chance to thrash and evaluate the next year's new boots. Our crew spanned the entire country—from New Mexico to Indiana to Washington, D.C—and included men and women of all ages, from recent college graduates to established retirees. We put each model to the test in the rain, slush, and knee-deep snow, and in temperatures ranging from the mid-fifties all the way down to the teens. The shoes that got the highest marks are the ones that not only kept our feet warm and dry, but also were plenty supportive, comfortable to wear for long miles, and kept our dogs happy during the worst days.
Tester Stats
Number of testers: 7
Number of products tested: 15
Number of miles: 250
Meet Our Testers
Jakob Schiller
Jakob Schiller is a former Gear Editor at Outside and now a columnist for the magazine. A father of four, he's a platinum-level weekend warrior, knows how to squeeze in a run or ride between Zoom meetings and kid dropoffs, and has his trip calendar planned out a year in advance. He's most happy when backpacking, backcountry skiing, or overlanding with his family.
Kip Malone
Kip Malone—Kip is based down in Albuquerque, New Mexico and we've had him test a pile of boots over the past five years for two main reasons. First, he has picky feet. His feet are so picky that if a boot's fit isn't generally calibrated for a wide range of feet he knows almost instantly. Even on the first wear he can tell whether the toe box will be too narrow or whether the heel cup will be too wide. And second, Kip is methodical. He'll often wear two different boots at the same time and go back and forth over one kind of terrain—say kitty litter rocks—just to see which one grips better.
Reviews: The Best Winter Hiking Boots of 2023
Editor's Choice: The North Face Vectiv Fastpack Insulated Futurelight ($195)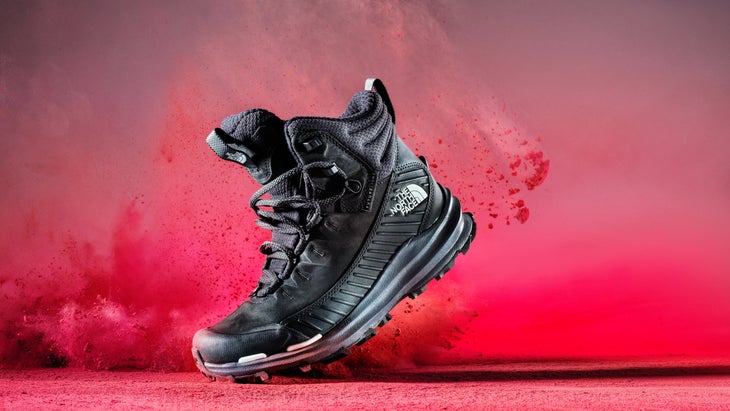 Size: Men's 7-14 / Women's 5-11
Weight: Men's 16.7 oz / Women's 13.9 oz
I've always been a big fan of the Steve Jobs approach: find one piece of apparel that you can wear every day, no matter the situation. For winter hiking, that's the Vectiv Fastpack Insulated Futurelight. A rockered, high-rebound EVA midsole that doesn't stiffen in the cold yields a propulsive, poppy ride that had us feeling fast on the trail and fresh at the end of a long hike. This boot came with a rockered sole that tested well on dirt trails here in New Mexico, a high-rebound EVA midsole that added forward momentum on gravel or snow, and a TPU plate under the forefoot that kept the boots stable over any terrain.
Packed with 200 grams of eco-friendly insulation across the entire upper of the boot, and lined with a waterproof, breathable membrane, the boots stood up to old man winter without blinking. Tester Zoe Gates wore them in deep, wet snow in Greenland and said her feet were totally dry, even after hours of postholing. (They're high-cut enough to manage four to six inches of snow; add a gaiter and you can tackle full-on snow banks). Meanwhile, in mild Santa Fe, I found that the waterproof membrane breathed well enough to keep my feet from getting sweaty (and blistered). Thoughtful features were icing on the cake, like a knob on the heel that helped keep a rear snowshoe strap in place for long walks. Overall, our testers were impressed with how much effort TNF put into building a boot that's not just designed for warmth, or deep snow, or wet trails, but for anything you'll face from October all the way to March.
Read the full review for a more in-depth look at strengths, weaknesses, and tester feedback.
---
Merrell Moab Speed Thermo Mid WP ($170)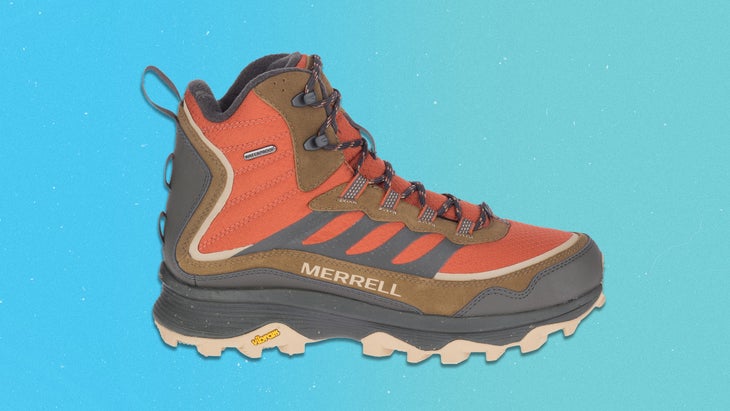 Best Traction
Size: Men's 7-15 / Women's 5-11
Weight: Men's 1.1 lbs / Women's 14.5 lbs
Much like winter tires, this waterproof hiker has an odd-looking but highly-effective outsole. Half of the six-millimeter lugs have micro-edges (essentially mini lugs), which help bite into packed snow; the other half of the lugs are siped, which means they open up and clamp down as the bottom of the shoe bends and then makes contact with the ground. A few lugs around the outer edges of the sole boast semi-rigid plastic studs, for a further boost to lateral stability. The result is incredible traction in snowy and slippery conditions, like where we tested them throughout the Rockies. Even though it's just four ounces lighter per-boot than something like the Scarpa Rush, this boot felt significantly lighter on the trail the longer we wore it. It was more like an insulated lightweight hiker than an insulated backpacking boot. It also has 200 grams of Primaloft Gold Eco, resulting in enough insulation throughout the forefoot to keep our feet warm well below freezing.
The bottom line: The best boot for keeping you on your feet in slippery conditions.
---
Scarpa Rush Polar GTX ($300)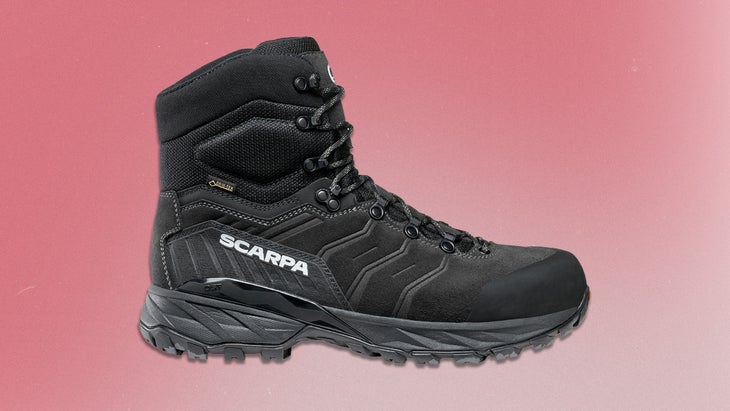 Best for Bushwhacking
Size: Unisex 36-46 (half-sizes), 47 and 48 whole sizes
Weight: Unisex 1.5 lbs
These are the boots we'd wear to stalk an animal. Translation for all non-hunters: they excel at handling the kind of miserable terrain and conditions that hunters often face while bushwhacking through the forest in pursuit of an animal. They come with a torsional stability plate underfoot: a full-length EVA midsole with a stout, stiff TPU frame that's narrower up front and wider in the heel, to prevent unwanted twisting of the sole.
Stout and stiff TPU material covered with EVA goes from the midsole to the heel of the boot. The TPU frame gets wider in the heel to control and prevent too much twisting of the sole. This resulted in the stiffest, most reliably supportive, and most durable sole we tested all winter. That, plus an above-the-ankle build, made them great for carrying a heavy pack full of meat and for scrambling over sharp rocks and rough trails all over New Mexico. Matched with a wool sock, the Primaloft Gold Eco insulation performed well down to about 20 degrees, and a Gore-Tex membrane kept our feet dry even after slogging through deep mud that did its best to wet them out. At nearly 24 ounces per-boot, these boots are not the lightest, but you get a lot of much-appreciated support and protection for that extra weight.
The bottom line: Best for hunters and anyone looking to tackle rough winter terrain.
---
Keen Circadia Mid Polar ($155)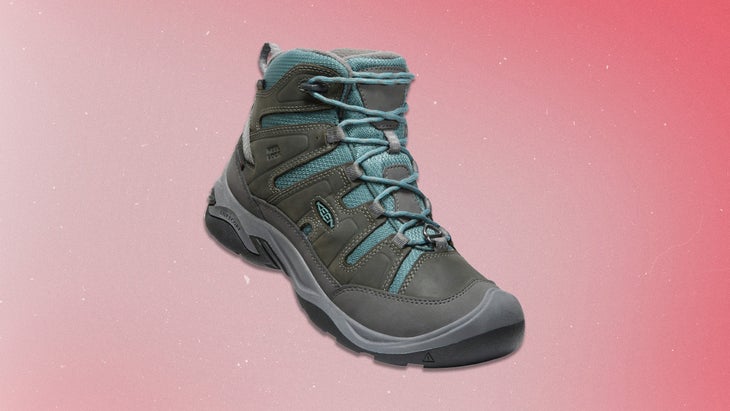 Best All Arounder
Size: Men's 7-15 / Women's 5-12
Weight: Men's 1.3 lbs / Women's 1.1 lbs
The Circadia Mid Polar is the winter version of the good old, sorta boring, ultra-reliable and well-loved, non-insulated Circadia hiking boot. They feature the same standard design that thousands of people have come to love—a mid-ankle cut, a reliable and durable leather build, and a solid fit accentuated by a roomy toe box. What makes them winter ready: 200 grams of insulation plus a proprietary waterproof membrane. Our principal tester on this boot was Sarah Ryerson, an Illinois-based Outside reader who put it through the best the Midwest has to offer, including rain, heavy snow, ice, and plenty of rocky trails. Her feet stayed dry and warm—but never sweaty, even when temps rose above freezing. The rubber soles are nothing fancy—dense, lugs on Keen's standard rubber sole material— but they provided dependable traction, even while trudging over nasty, fall-inducing ice. Her only dig was that the boots are a tad heavier than some other hikers she tested, but she was happy to trade the weight for the versatility. At the end of the day, the Keens are for folks who want affordable and reliable everyday winter boots. If you really want to get after it, look at something like The North Face Vectiv.
The bottom line: A no-frills all-around winter boot.
---
Lowa Renegade Warm GTX Mid ($275)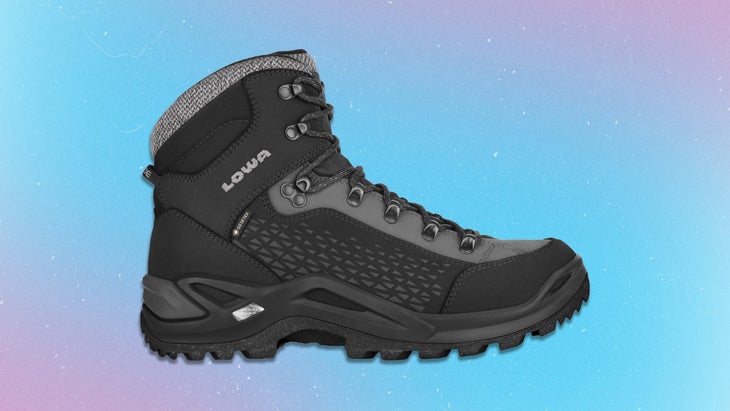 Most Comfortable
Size: Women's 5.5 to 11, Men's: 7.5-14
Weight: Men's 1.2 lbs, Women's 1.05 lbs
For this boot, Lowa took the chassis of the Renegade—a well loved mid-cut, all-around favorite among many hikers—and packed it with Gore-Tex insulation. The resulting boot performs in much colder conditions, for example on snowshoe hikes down to the mid-20s. The neither roomy nor narrow fit nails a nice middle ground that the Renegade is known for. Proof: our main tester, Kip Malone, whose in his late 50s who is known for picky feet, said the Renegade Warm GTX were comfy right out of the box. More specifically, he loved how both the snug instep and toe box kept his feet from sliding around but were also roomy enough to allow for plenty of blood flow (and a thick sock), which helps prevent icy digits. Even after three hours of tromping through the snow on a 35-degree day in the Sandia mountains outside Albuquerque, his notoriously cold feet were warm. Down below, these boots boast an outsole made from Vibram rubber that's a little softer than what you'd find on normal winter boots; it's designed to grip better in cold conditions, just like the rubber used for a winter tire. No sole grips perfectly on slick ice, but according to our tester, these came pretty damn close. The upper is made with mostly leather, and trends on the burlier side, but it's still not a long-distance backpacking boot. We'd categorize this as a tough day hiker. It has enough support for those who want to carry weight or tackle a long trail.
The bottom line: The most comfortable winter hiker we tested.
---
Oboz Bangtail Mid Insulated B-DRY ($220)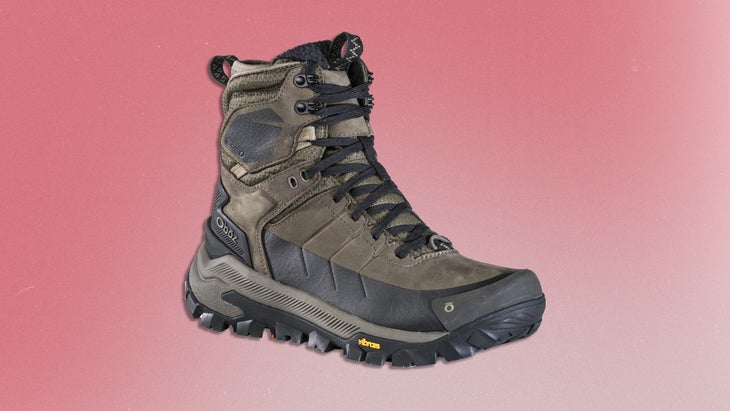 Best for Deep Snow
Size: Men's 8-12, 13, 14 / Women's 5-11, 12
Weight: Men's 1.3 lbs / Women's 1.1 lbs
When you're walking through powder, you want a tall boot. That's why the waterproof Bangtail, with its above-the-ankle cuff, was our choice for deep snow. It's more tailored, and thus far less bulky than a typical snow boot. But it's almost as warm thanks to 200 grams of Primaloft Bio insulation. Translation: the Bangtails were great for longer miles in the snow, either with or without a snowshoe (they're high enough to tromp through ankle-deep snow without a snowshoe, but will fit in one if the going gets deeper). Our tester Rob Douangpanya took them on a slogfest up to a 11,000-foot lake outside Taos, New Mexico and said they were easy to hike in and still kept his feet warm, even when he spent hours with his shoes completely submerged in the snow. When he had to break trail in deep drifts, he said the high cuff kept all the snow out. Just as important: Vibram Arctic Grip sole, which uses a special rubber compound for wet ice, plus siped lugs that latch on to the snow for more bite.
The bottom line: Made for deep snow.
---
La Sportiva Cyklon Cross GTX ($235)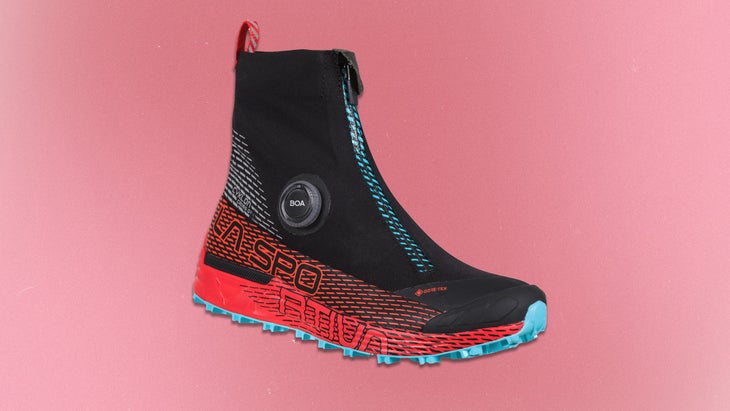 Best for Winter Trail Running
Size: Men's 38-47.5 / Women's 36-43
Weight: Men's 12.5 oz / Women's 10.5 oz
Unlike every other shoe on this page, the Cyklon Cross does not come with insulation. Instead, it's marketed as a trail running shoe, and comes with a Gore-Tex liner and a built-in gaiter. It's made for people who want to cover a lot of ground as fast as possible. Our Washington D.C.-based tester Chandler Sam took it out on runs, hikes, and light backpacking trips in typically poor East Coast weather and said it was most at home in muddy conditions because it kept his feet totally dry. Plus, the rubber outsole packed with seven-millimeter lugs is designed to grip variable surfaces, including wet rocks. He also said that it excelled in cold conditions—even without insulation—thanks to the svelte, form-fitting gaiter made from two-way stretch mesh, which helped keep warm air in. Another highlight is the BOA fit system, which synches the laces around the foot comfortably in seconds. This was a particular delight, since La Sportiva shoes are notoriously finicky when it comes to fit. While any running shoe with a built-in gaiter winds up looking a bit funny, we'd argue the performance and protection is still worth the aggro vibes.
The bottom line: Your go-to shoe for winter trail running.
---
Muck Boot Company Apex PAC ALT Closure ($180)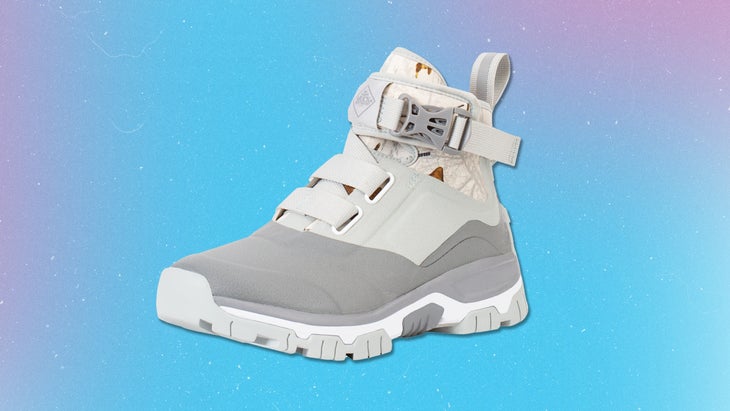 Best for Slushy Winter Chores
Size: Men's 7-15 / Women's 5-12
Weight: Men's 1.4 lbs / Women's 1.1 lbs
Most winter hikers feature Gore-Tex technology with a leather outer, which eventually wets out.Even though your feet stay dry thanks to the Gore-Tex membrane, you're still carrying around the water within the leather outer. Muck says these boots are 100 percent waterproof. How? A four-millimeter-thick, fleece-lined neoprene upper reinforced with an abrasion-resistant rubber coating around the forefoot and a top cuff that synches closed with webbing and a buckle, to totally seal out moisture. To verify this claim, we wore them in the shower to see if water would seep in. After fifteen minutes, our feet were completely dry. However, we will say that the traction didn't stand out in particular. The outsole features medium-sized lugs in a semi-dense pattern that didn't seem to do anything special. That makes these hikers the best for wearing around town and getting chores done as opposed to long, technical hikes. People who live in supremely wet but also cold conditions—think thick Midwest mud or dirty New York City mush—will love these boots because they'll keep your dogs warm even on the worst days. Anyone who lives in a warmer climate should steer clear, however, because the neoprene and fleece build doesn't breathe well.
The bottom line: Impermeable waterproofing for around-town activities in horrible winter conditions.
---
How To Buy
The three things that differentiate winter hiking boots from one another more than anything else are waterproofing and outsole material. Regardless of whether you live somewhere frigid or mild, if you plan to hike in winter, you need footwear that seals out moisture and keeps you upright on snow, mud, and ice. Beyond that, choosing the right boots is a matter of what kind of hiking you do. Live in a place where it snows a lot? Go for a high-cut style like the Oboz Bangtail. Thinking about hunting this fall? We'd suggest something extremely stiff and burly, like the Scarpa Rush Polar GTX. After narrowing the use cases down, it's always wise to try the boots on. Retail shops will likely carry many of these models.