3 Life-List Hikes and the Shoes to Match
Put these world-class treks on your bucket list, and get the right footwear for success
The Hike: Alta Via 2, Dolomites, Italy
Among the world's great hut-to-hut trekking destinations, nothing compares to the Dolomites in northern Italy, thanks to a unique Alpine trifecta: sharply etched limestone mountains, rifugios that serve up some of the best food and drink in the Alps, and the chance to climb a via ferrata. A via ferrata, or "iron path," is a route that uses metal rungs, cables, and ladders to enable even non-climbers to safely scale vertical rock. Built by Italian soldiers during World War I, they dot the Dolomites, making a journey here a choose-your-own-adventure of classic trekking and heart-pumping climbing. You can hike for as little as a few days to as long as two weeks; the best bet for experienced hikers is the 112-mile Alta Via 2, which is longer and a tad more exciting than the better-known Alta Via 1. Need a little visual convincing? Check out this time-lapse video.
The Shoe: Zamberlan 1996 Vioz Lux GTX RR
Shortly after the via ferratas were constructed, a local craftsman named Giuseppe Zamberlan started making boots by hand—boots that could handle the Alpine terrain where he lived—and nearly a century later, his descendants carry on the tradition. For three generations of the Zamberlan family, the Dolomites have been a refuge, testing ground, gym, and school. So it should come as no surprise that the bootmaker still makes its premium, handmade boots in its own factory at the base of the Dolomites, prioritizing old-world craftsmanship that Giuseppe would recognize. Case in point: the 1996 Vioz Lux GTX RR, which is ideal for the Alta Via 2. Made with waxed Tuscan full-grain leather, these boots deliver comfort, performance, and durability in the roughest terrain. A Gore-Tex liner guarantees waterproof-breathable protection, and a rubber toe rand provides armor for both the boot and your foot. Back in the 1930s, Guiseppe partnered with Vitale Bramani to help launch Vibram and its trademark all-rubber outsoles. That partnership lives on today in the Zamberlan-exclusive Vibram 3D outsoles, whose excellent traction and forward rocker make it feel like the boots are propelling you upward. Additionally, the calf-leather-lined collars add luxurious comfort around the upper ankle. In short, this boot is a lot like the land where it comes from: classic. Available in both men's and women's versions.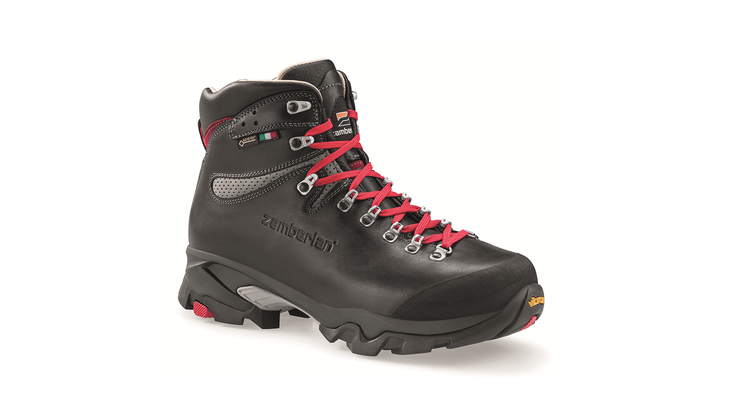 The Hike: The Wonderland Trail, Mount Rainier National Park, Washington
North America's perfect circle, this 93-mile trail loops around Mount Rainier, weaving through rainforests and alpine meadows, all in the shadow of the lower 48's most glaciated peak. When the wildflowers are blooming midsummer, you'll need to pad your schedule with plenty of stop-and-smell-the-lupines moments. But it isn't just the scenery that makes the Wonderland Trail so great. Because it's a loop, there's no need to hassle with (or pay for) a shuttle, and the distance is doable in a standard week's vacation. There are 18 backcountry campsites along the route, so you can devise an itinerary that suits your pace, but you will need a wilderness permit and reserving one can be a challenge. No luck? A third of the park's permits are available for first-come, first-served walk-ins at the Wilderness Information Center.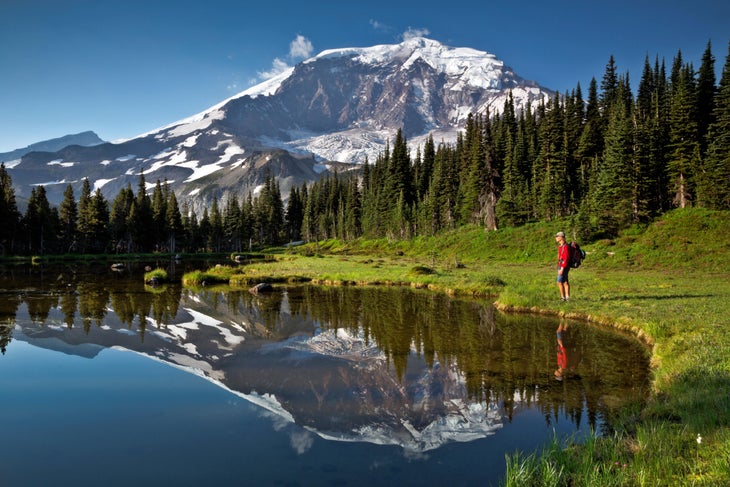 The Shoe: Zamberlan  219 Anabasis Mid GTX
The fastest known time on the Wonderland Trail is just under 17 hours, and plenty of speedy fastpackers do it in three days. While most backpackers will be happy to spend a week or more on the spectacular route, it's true that the trail invites a light-and-fast approach. For that, you want the lightweight feel of a trail runner combined with the support, protection, and traction of hiking boot. The Anabasis is made with Zamberlan's X-Active last and a cushioned EVA midsole, which together provide maximum comfort for moving fast over many miles. The mid-height synthetic upper of the Anabasis blends Italian craftsmanship with modern, lightweight materials to provide critical ankle support without weight and bulk. When the trail gets rough, highly anatomical Vibram Junko outsoles use extra width in the heel and forefoot for added stability, while the Megagrip compound gives superior traction. Like all of Zamberlan's premium shoes, the Anabasis is handmade in Italy and resoleable in the U.S.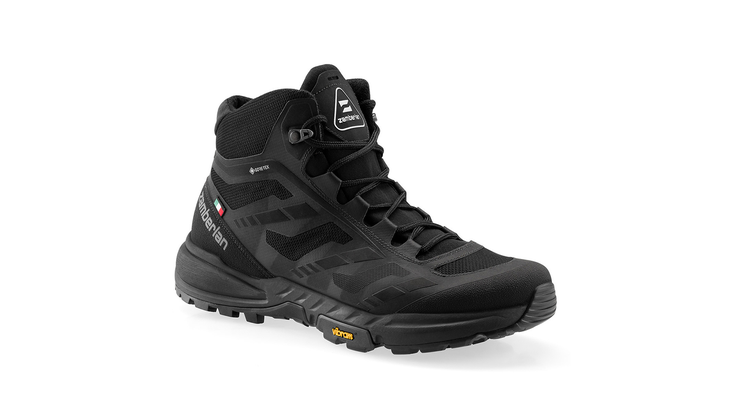 The Hike: Longs Peak, Rocky Mountain National Park, Colorado
The first thing to know about the Keyhole Route up Longs Peak is that it's not actually a hike, at least according to the National Park Service. On its official page, the agency is careful to warn that the popular route is actually a climb, because it requires scrambling up sheer terrain where a fall could be fatal. That's true for the last 1.5 miles of the 7.5-mile route, from the Keyhole to the summit. But the scrambling is not technically difficult, and thousands of non-climbers ascend the 14,259-foot peak every year. It's a magnificent alpine journey that ascends more than 6,000 vertical feet from the trailhead to flat-topped summit, where you get a 360-degree view of the Rockies. For fit, well-prepared hikers, it's one of the best one-day ascents in the country. 
The Shoe: Zamberlan 215 Salathe GTX RR
For the Keyhole Route, with its long approach on a well-trodden trail and steep ascent up rocky terrain, you want a shoe that excels at hiking and scrambling. That means superior traction and mobility, paired with boot-like support and protection. Enter the Salathe. You get the freedom of movement of a low-cut shoe, with to-the-toe lacing that allows for a performance fit, for better control on tricky terrain. Vibram Pepe Megagrip outsoles stick to rock and provide smooth forward flex for easy striding. And while a lot of shoes in this category are made with synthetic uppers, the Salathe's all-leather uppers enhance durability and comfort. That's in keeping with Zamberlan's DNA—prioritizing craftsmanship—which is why this low-cut scrambler is handmade in Italy, just like the company's more traditional models.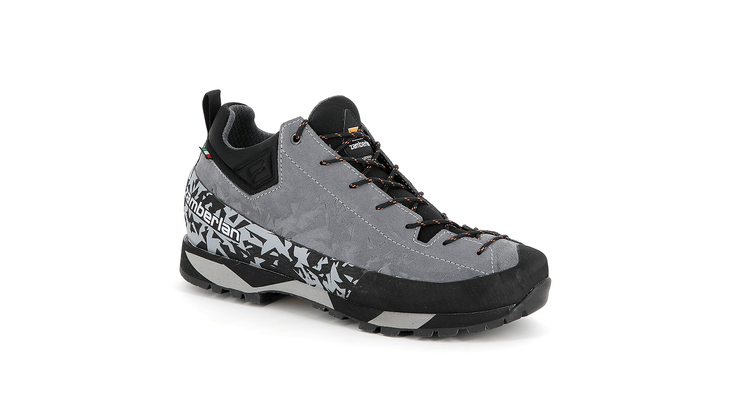 Since 1929, Zamberlan has manufactured high-quality, technical outdoor footwear from its factory in Torrebelvicino, Italy. A third-generation, family-owned and -operated business, Zamberlan is acclaimed for handcrafted construction combined with cutting-edge technologies and materials. Today, Zamberlan boots are globally renowned for exceptional quality, comfort, durability, and timeless style in the tradition of fine Italian bootmaking.